Darren Collins
Darren Collins
Born 24 May 1967 (Age 27 at debut)
Position: Forward
(Diamonds player #34)
Total appearances 288 – 153 goals
(211 League, 26 FA Cup, 23 FA Trophy, 15 League Cup, 1 Championship Shield, 10 Hillier Senior Cup 2 Maunsell Cup)
Debut:
2 August 1994 (Home Peterborough United)
Final game:
24 October 2000 (Home Stevenage Borough)
Darren was born in Winchester, Hampshire, and started his footballing career with nearby Petersfield Town, before joining Northampton Town in January 1989. In just over two years with the Cobblers, he played just over 50 games, scoring 9 times, before moving to Aylesbury Town early in January 1991 for a five figure transfer fee – the club's record signing to this day. He scored a hat-trick on his debut for the Ducks, and scored on his final game in December 1992, before joining Enfield in a swap deal which took striker and future Diamonds manager Graham Westley from Enfield to Aylesbury.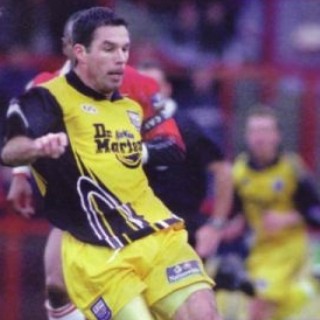 Whilst at Enfield, his goalscoring exploits came to the attention of Roger Ashby, and is a deal worth £20,000, he arrived at Nene Park in July 1994, prior to Diamonds first season in the Southern League Premier Division. Darren's goal scoring record for Rushden and Diamonds was nothing short of phenomenal. Few could have predicated the impact Collins was to have on the club and his ability to produce a goal out of nothing when Diamonds needed it the most became legendary. After being out scored by Dale Watkins in his first season, Darren went on to become Diamonds most prolific scorer for the next five seasons. His most impressive hauls were in the 1995 / 1996 and 1997 / 1998 seasons where he scored 40 and 35 goals respectively. His haul for that 1995 / 1996 season earned him the supporters player of the season award, however, he improved his all round game over the following seasons. In the 1997 / 1998 season, he won the player of the season award from the supporters and also the award from his fellow players. He went on to score 152 goals for Diamonds in 288 appearances – a feat unlikely to be beaten, and a statistic which will always ensure him legendary status.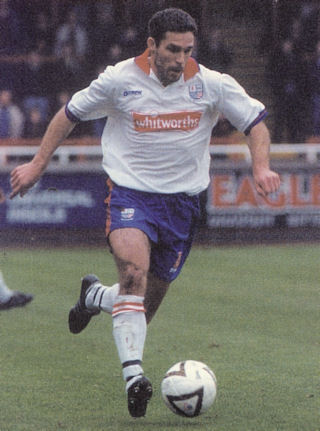 Following the arrival of marksmen Justin Jackson and Duane Darby, Darren found himself out of the starting line-up, and he was sold to Kettering Town in November 2000, for a £25,000 transfer fee and was captain when the Poppies won promotion from the Southern League back into the Conference. In June 2002, he joined Cambridge City, before having a spell with Tamworth in December 2002 until the end of the season, as they too were promoted into the Conference. In the summer of 2003, he joined Grantham Town, before a period with Nuneaton Borough, making his debut in November 2003, and scoring twice. In the summer of 2004, Darren joined UCL side Cogenhoe United and was a key member of the title winning side that season. After two years with the Cooks, where he became comfortable played as a centre back, he joined Wellingborough Town in August 2006, but returned back to Cogenhoe United as player/manager in March 2007. On 12 July 2010, he left Cogenhoe to join Southern League Premier side Brackley Town to take up the position of assistant manager to another former Diamond, Jon Brady. He is still registered to play, and made his debut for the Saints in August 2010, at the age of 43. After he and Brady had many successful seasons with the Saints they left in September 2015.
Appearances
1994/1995
| | | | |
| --- | --- | --- | --- |
| MCF | 2.8.94 | Peterboro Utd (H) | |
| BHP | 20.8.94 | Cheltenham Tn(H) | |
| BHP | 23.8.94 | Gravesend&Nflt(A) | |
| BHP | 27.8.94 | Halesowen Tn (H) | 2 goals |
| BHP | 29.8.94 | Trowbridge Tn (H) | 1 goal |
| BHP | 3.9.94 | BurtonAlbion (H) | |
| BHP | 6.9.94 | Crawley Town (A) | 1 goal |
| FAC1q | 10.9.94 | Eastwood H'ley(A) | |
| FAT1rq | 17.9.94 | Hendon (H) | |
| FAT1r | 20.9.94 | Hendon (A) | 2 goals |
| HSC1 | 27.9.94 | Desborough (H) | |
| BHP | 1.10.94 | Gresley Rovers(A) | |
| DMC1/1 | 4.10.94 | Rothwell Town (H) | |
| BHP | 8.10.94 | Crawley Town (H) | 1 goal |
| FAT2q | 15.10.94 | Wembley (H) | 1 goal |
| DMC1/2 | 18.10.94 | Rothwell Town (A) | |
| BHP | 22.10.94 | Dorchester Tn (A) | |
| HSC2 | 25.10.94 | N'ton Spencer (H) | |
| BHP | 29.10.94 | Gloucester City(H) | |
| BHP | 5.11.94 | Burton Albion (A) | 1 goal |
| DMC2 | 8.11.94 | Bedworth Utd (H) | 1 goal |
| BHP | 12.11.94 | VS Rugby (H) | 1 goal |
| BHP | 15.11.94 | Trowbridge Tn (A) | |
| FAT3q | 26.11.94 | Crawley Town(H) | |
| BHP | 3.12.94 | Leek Town (A) | 1 goal |
| BHP | 10.12.94 | Halesowen Tn (H) | |
| DMC3 | 14.12.94 | Baldock Town (H) | 1 goal |
| BHP | 17.12.94 | Solihull Boro (H) | |
| BHP | 26.12.94 | Cambridge City(A) | |
| BHP | 31.12.94 | Hastings Town (A) | |
| BHP | 2.1.95 | Chelmsford City(H) | |
| BHP | 7.1.95 | Worcester City(H) | 1 goal |
| FAT1 | 24.1.95 | Sudbury Town (H) | 1 goal |
| BHP | 28.1.95 | Cheltenham Tn(A) | |
| BHP | 4.2.95 | Sittingbourne (H) | 2 goals |
| DMCQr | 7.2.95 | Worcester City(H) | 1 goal |
| BHP | 18.2.95 | Atherstone Utd(A) | 1 goal |
| FAT2 | 20.2.95 | Farnborough Tn(A) | |
| BHP | 25.2.95 | Gresley Rovers(H) | |
| DMCS/1 | 28.2.95 | Leek Town (H) | |
| FAT3 | 4.3.95 | Halesowen Tn (H) | 2 goals |
| DMCS/2 | 7.3.95 | Leek Town (A) | |
| BHP | 11.3.95 | Corby Town (H) | 1 goal |
| HSCSF | 14.3.95 | Rothwell Town (A) | as sub |
| BHP | 18.3.95 | Gloucester City(A) | |
| BHP | 21.3.95 | Leek Town (H) | 2 goals |
| FAT4 | 25.3.95 | Enfield (A) | |
| FAT4r | 28.3.95 | Enfield (H) | 2 goals |
| BHP | 1.4.95 | Atherstone td (H) | |
| BHP | 3.4.95 | Hednesford Tn (A) | 1 goal |
| FATS/1 | 8.4.95 | Woking (H) | |
| BHP | 11.4.95 | Hednesford Tn (H) | 1 goal |
| FATS/2 | 15.4.95 | Woking (A) | |
| BHP | 2.5.95 | Dorchester Tn (H) | |
| BHP | 4.5.95 | Sudbury Town (A) | |
| BHP | 6.5.95 | Sudbury Town (H) | |
1995/1996
| | | | |
| --- | --- | --- | --- |
| HSCF | 29.7.95 | Kettering Town(H) | |
| HSCFr | 31.7.95 | Kettering Town(A) | 1 goal |
| BHP | 19.8.95 | Salisbury City (H) | 1 goal |
| BHP | 21.8.95 | Chelmsford City(A) | |
| BHP | 26.8.95 | Crawley Town (H) | |
| BHP | 28.8.95 | Burton Albion (A) | 1 goal |
| BHP | 2.9.95 | Hastings Town(A) | |
| NHP | 5.9.95 | VS Rugby (H) | |
| FAC1q | 9.9.95 | Grantham Town(H) | 3 goals |
| BHP | 16.9.95 | Worcester City(A) | |
| BHP | 19.9.95 | Chelmsford City(H) | 1 goal |
| FAC2q | 23.9.95 | EastwoodH'ley(H) | 1 goal |
| BHP | 30.9.95 | Cheltenham Tn(A) | 1 goal |
| FAC3q | 7.10.95 | Sandwell Boro (A) | 2 goals |
| BHP | 14.10.95 | Gresley Rovers(A) | 1 goal |
| FAC4 | 21.10.95 | Purfleet (A) | |
| FAC4r | 24.10.95 | Purfleet (H) | 1 goal |
| BHP | 28.10.95 | Merthyr Tydfil (A) | 1 goal |
| DMC1/1 | 1.11.95 | Kings Lynn (H) | 1 goal |
| HSCQF | 7.11.95 | Long Buckby (H) | |
| FAC1 | 11.11.95 | Cardiff City (H) | |
| BHP | 15.11.95 | VS Rugby (A) | |
| BHP | 18.11.95 | Gravesend&Nflt(A) | 1 goal |
| BHP | 21.11.95 | Burton Albion (H) | 1 goal |
| BHP | 25.11.95 | Atherstone Utd(H) | 4 goals |
| BHP | 28.11.95 | Baldock Town (H) | 1 goal |
| BHP | 2.12.95 | Crawley Town (A) | 1 goal |
| DMC1/2 | 5.12.95 | Kings Lynn (A) | as sub |
| BHP | 9.12.95 | Dorchester Tn (A) | |
| BHP | 12.12.95 | Gloucester City(H) | 2 goals |
| BHP | 16.12.95 | Hastings Town(H) | |
| BHP | 23.12.95 | Ilkeston Town (H) | |
| BHP | 13.1.96 | Atherstone Utd(A) | 2 goals |
| FAT1 | 20.1.96 | Purfleet (H) | |
| HSCSF | 30.1.96 | Raunds Town (H) | 1 goal |
| BHP | 3.2.96 | Worcester City(H) | 1 goal |
| BHP | 10.2.96 | Gravesend&Nflt(H) | 1 goal |
| BHP | 13.2.96 | Baldock Town (A) | 2 goals |
| BHP | 17.2.96 | Cheltenham Tn(H) | |
| BHP | 24.2.96 | Newport (A) | |
| BHP | 5.3.96 | Sudbury Town (H) | 1 goal |
| BHP | 16.3.96 | Cambridge City(A) | 1 goal |
| BHP | 19.3.96 | Halesowen Tn (A) | |
| BHP | 23.3.96 | Ilkeston Town (A) | |
| HSCF | 26.3.96 | Rothwell Town (A) | |
| BHP | 30.3.96 | Halesowen Tn (H) | |
| BHP | 4.4.96 | Dorchester Tn (H) | |
| BHP | 6.4.96 | Cambridge City(H) | 1 goal |
| BHP | 8.4.96 | Sudbury Town (A) | |
| BHP | 13.4.96 | Newport (H) | 1 goal |
| BHP | 16.4.96 | Gresley Rovers(H) | 1 goal |
| BHP | 20.4.96 | Gloucester City(A) | 1 goal |
| BHP | 24.4.96 | Salisbury City (A) | 1 goal |
| BHP | 27.4.96 | Stafford Rgrs (A) | |
| BHP | 4.5.96 | Merthyr Tydfil (H) | 1 goal |
1996/1997
| | | | |
| --- | --- | --- | --- |
| SLCS | 10.8.96 | Nuneaton Boro (H) | 2 goals |
| Conf | 17.8.96 | Altrincham (A) | 1 goal |
| Conf | 20.8.96 | Slough Town (A) | |
| Conf | 24.8.96 | Northwich Vic (H) | 1 goal |
| Conf | 26.8.96 | Hayes (A) | |
| Conf | 31.8.96 | Stalybridge Cltc(H) | |
| Conf | 3.9.96 | Macclesfield Tn(H) | |
| Conf | 7.9.96 | Halifax Town (A) | 1 goal |
| Conf | 9.9.96 | Northwich Vic (A) | |
| FAC1q | 14.9.96 | Westfields (A) | |
| Conf | 17.9.96 | Farnborough (H) | |
| Conf | 24.9.96 | Stevenage Boro(H) | |
| FAC2q | 28.9.96 | Gresley Rvrs (H) | 1 goal |
| Conf | 30.9.96 | Hednesford Tn (A) | |
| Conf | 5.10.96 | Welling Utd (H) | |
| SC1 | 8.10.96 | Dover Athletic (A) | |
| FAC3q | 12.10.96 | Bilston Town (H) | 1 goal |
| Conf | 14.10.96 | Kidderminster (A) | |
| Conf | 19.10.96 | Gateshead (H) | |
| FAC4q | 26.10.96 | Bognor Regis (H) | 2 goal |
| Conf | 2.11.96 | Southport (A) | |
| Conf | 9.11.96 | Dover Athletic (H) | |
| HSC2 | 12.11.96 | Kettering Town (A) | |
| FAC1 | 16.11.96 | Boreham Wood(A) | |
| SC1 | 19.11.96 | Stevenage Boro(H) | 1 goal |
| Conf | 23.11.96 | Morecambe (A) | |
| FAC1r | 26.11.96 | BorehamWood(H) | 1 goal |
| Conf | 30.11.96 | Bath City (H) | 1 goal |
| Conf | 7.12.96 | Telford Utd (A) | 2 goals |
| Conf | 14.12.96 | BromsgroveRvrs(H) | |
| SC3 | 16.12.96 | Kidderminster (A) | |
| Conf | 21.12.96 | Kidderminster (H) | |
| FAT1 | 18.1.97 | Farnborough Tn(H) | |
| Conf | 25.1.97 | Farnborough Tn(A) | |
| Conf | 1.2.97 | Morecambe (H) | |
| Conf | 8.2.97 | Hednesford Tn (H) | |
| Conf | 15.2.97 | Macclesfield Tn(A) | |
| Conf | 22.2.97 | Gateshead (A) | |
| Conf | 1.3.97 | Slough Town (H) | as sub |
| Conf | 8.3.97 | Kettering Town (A) | as sub |
| Conf | 29.3.97 | Dover Athletic (A) | as sub |
| Conf | 31.3.97 | Hayes (H) | 1 goal |
| Conf | 5.4.97 | Southport (H) | |
| Conf | 12.4.97 | Bath City (A) | |
| Conf | 21.4.97 | Stevenage Boro(A) | |
| Conf | 26.4.97 | Halifax Town (H) | |
| Conf | 29.4.97 | Woking (H) | 1 goal |
| Conf | 3.5.97 | Altrincham (H) | |
1997/1998
| | | | |
| --- | --- | --- | --- |
| Conf | 16.8.97 | Northwich Vic (H) | |
| Conf | 20.8.97 | Farnborough Tn(A) | |
| Conf | 23.8.97 | Leek Town (A) | |
| Conf | 25.8.97 | Hednesford Tn (H) | 1 goal |
| Conf | 30.8.97 | Gateshead (H) | 1 goal |
| Conf | 2.9.97 | Slough Town (A) | 1 goal |
| Conf | 6.9.97 | Cheltenham Tn (A) | |
| Conf | 13.9.97 | Farnborough Tn(H) | |
| Conf | 20.9.97 | Yeovil Town (A) | 1 goal |
| Conf | 27.9.97 | Southport (A) | |
| Conf | 4.10.97 | Woking (H) | |
| SC1 | 7.10.97 | Hayes (A) | |
| Conf | 11.10.97 | Hereford Utd (H) | 1 goal |
| Conf | 18.10.97 | Kidderminster (A) | |
| FAC4q | 25.10.97 | Boreham Wood(H) | |
| FAC4qr | 28.10.97 | Boreham Wood(A) | |
| Conf | 1.11.97 | Slough Town (H) | |
| Conf | 8.11.97 | Welling Utd (A) | |
| Conf | 15.11.97 | Kidderminster (H) | 1 goal |
| HSCQF | 18.11.97 | Brackley Town (A) | 3 goals |
| Conf | 22.11.97 | Morecambe (A) | |
| Conf | 25.11.97 | Kettering Town (H) | 1 goal |
| Conf | 29.11.97 | Hayes (H) | |
| Conf | 6.12.97 | Northwich Vic (A) | 2 goals |
| Conf | 13.12.97 | Dover Athletic (H) | 2 goals |
| Conf | 20.12.97 | Hayes (A) | 1 goal |
| Conf | 26.12.97 | Stevenage Boro(H) | |
| Conf | 1.1.98 | Stevenage Boro(A) | 1 goal |
| FAT1 | 10.1.98 | Farnborough Tn(H) | 2 goals |
| Conf | 17.1.98 | Southport (H) | 1 goal |
| FAT2 | 31.1.98 | Cheltenham Tn (A) | 1 goal |
| Conf | 7.2.98 | Halifax Town (H) | 2 goals |
| Conf | 14.2.98 | Gateshead (A) | 1 goal |
| Conf | 21.2.98 | Kettering Town (A) | |
| Conf | 28.2.98 | StalybridgeCltc(H) | 1 goal |
| Conf | 7.3.98 | Cheltenham Tn (H) | 1 goal |
| Conf | 23.3.98 | Hednesford Tn (A) | |
| Conf | 28.3.98 | Morecambe (H) | 2 goals |
| Conf | 4.4.98 | Telford Utd (A) | 1 goal |
| Conf | 13.4.98 | StalybridgeCltc(A) | 3 goals |
| Conf | 18.4.98 | Leek Town (H) | |
| Conf | 21.4.98 | Yeovil Town (H) | 1 goal |
| Conf | 25.4.98 | Hereford Utd (A) | 1 goal |
| Conf | 28.4.98 | Welling Utd (H) | |
| Conf | 2.5.98 | Telford Utd (H) | 2 goals |
1998/1999
| | | | |
| --- | --- | --- | --- |
| Conf | 15.8.98 | Forest Green (A) | |
| Conf | 18.8.98 | Welling Utd (H) | 2 goals |
| Conf | 22.8.98 | Barrow (H) | |
| Conf | 25.8.98 | Kingstonian (A) | 1 goal |
| Conf | 29.8.98 | Southport (A) | 1 goal |
| Conf | 31.8.98 | Hayes (H) | 2 goals |
| Conf | 5.9.98 | Yeovil Jct (A) | |
| Conf | 8.9.98 | Dover Athletic (A) | |
| Conf | 12.9.98 | Telford Utd (H) | 1 goal |
| Conf | 19.9.98 | Doncaster Rvrs (A) | |
| Conf | 26.9.98 | Hereford Utd (H) | 1 goal |
| Conf | 10.10.98 | Farnborough Tn(A) | 1 goal |
| FAC3q | 17.10.98 | Forest Green (H) | 1 goal |
| Conf | 24.10.98 | Morecambe (H) | 1 goal |
| Conf | 7.11.98 | Hednesford Tn (A) | |
| FAC4q | 9.11.98 | Leatherhead (A) | |
| FAC4qr | 11.11.98 | Leatherhead (H) | 1 goal |
| FAC1 | 14.11.98 | Shrewsbury Tn (H) | |
| Conf | 28.11.98 | Cheltenham Tn (A) | |
| FAC2r | 15.12.98 | Doncaster Rvrs (H) | |
| FAT4 | 6.2.99 | Woking (A) | |
| FAT4r | 9.2.99 | Woking (H) | |
| Conf | 13.2.99 | Kidderminster (A) | |
| Conf | 16.2.99 | Welling Utd (A) | 1 goal |
| Conf | 20.2.99 | Hednesford Tn (H) | 1 goal |
| Conf | 23.2.99 | Southport (H) | |
| Conf | 6.3.99 | Hayes (A) | |
| Conf | 9.3.99 | Stevenage Boro(H) | 2 goals |
| Conf | 13.3.99 | Leek Town (H) | 1 goal |
| Conf | 16.3.99 | Dover Athletic (H) | |
| Conf | 20.3.99 | Morecambe (A) | |
| Conf | 27.3.99 | Kettering Town (A) | |
| Conf | 3.4.99 | Cheltenham Tn (H) | |
| Conf | 5.4.99 | Woking (A) | |
| Conf | 20.4.99 | Kingstonian (H) | |
| Conf | 24.4.99 | Hereford Utd (A) | 1 goal |
| Conf | 26.4.99 | Forest Green (H) | 1 goal |
| Conf | 1.5.99 | Kettering Town (H) | |
1999/2000
MCF

31.7.99

NorthamptonTn(H)

as sub

Conf

14.8.99

Morecambe (A)

as sub

Conf

28.8.99

Sutton Utd (A)

2 goals

Conf

30.8.99

Welling Utd (H)

Conf

4.9.99

Northwich Vic (A)

1 goal

Conf

7.9.99

Hayes (H)

Conf

11.9.99

Woking (H)

Conf

18.9.99

Southport (H)

1 goal

Conf

25.9.99

Hednesford Tn (A)

Conf

28.9.99

Hereford Utd (A)

Conf

2.10.99

Altrincham (A)

Conf

9.10.99

Kingstonian (H)

1 goal

FAC4q

16.10.99

Sutton Utd (H)

1 goal

Conf

23.10.99

Scarborough (A)

1 goal

FAC1

29.10.99

Scunthorpe Utd(H)

Conf

2.11.99

Nuneaton Boro (A)

Conf

6.11.99

Dover Athetic (H)

Conf

13.11.99

Yeovil Town (A)

FAC2

20.11.99

Ilkeston Town (A)

NT2

23.11.99

Telford Utd (H)

FAT2

27.11.99

Havant & W (H)

1 goal

FAC2r

30.11.99

Ilkeston Town (H)

1 goal

Conf

4.12.99

Hayes (A)

FAC3

12.12.99

Sheffield Utd (A)

Conf

18.12.99

Telford Utd (A)

FAC3r

21.12.99

Sheffield Utd (H)

Conf

27.12.99

Stevenage Boro(H)

1 goal

Conf

3.1.00

Stevenage Boro(A)

1 goal

FAT3

15.1.00

Bath City (A)

1 goal

Conf

22.1.00

Forest Green (A)

Conf

29.1.00

Northwich Vic (H)

1 goal

FAT4

5.2.00

Billericay Tn (A)

FAT4r

8.2.00

Billericay Tn (H)

Conf

15.2.00

Forest Green (H)

as sub

2 goals

Conf

19.2.00

Doncaster Rvrs(A)

Conf

7.3.00

Yeovil Town (H)

as sub

FAT6

11.3.00

Sutton Utd (A)

FAT6r

14.3.00

Sutton Utd (H)

Conf

28.3.00

Kettering Town (H)

as sub

Conf

1.4.00

Nuneaton Boro (H)

as sub

Conf

4.4.00

Morecambe (H)

as sub

Conf

29.4.00

Scarborough (H)

as sub

Conf

1.5.00

Welling (A)

as sub

Conf

6.5.00

Doncaster Rvrs(H)
2000/2001
| | | | |
| --- | --- | --- | --- |
| Conf | 8.10.00 | Boston Utd (H) | as sub |
| NWT2 | 24.10.00 | Stevenage Boro(H) | |