Sean Connelly
Born 26 June 1970 (Age 34 at debut)
Position: Defender
(Diamonds player #180)
Total appearances 46
(42 League, 2 FA Cup, 1 League Cup, 1 League Trophy)
Debut:
7 August 2004 (Home Kidderminster Harriers)
Final game:
30 April 2005 (Home Cambridge United)
Sheffield born Sean was studying for a degree in Physiotherapy and playing for local side Hallam when he was spotted by Stockport County, and he signed a contract in 1992 on the understanding that he was able to finish his degree course. He went on to stay at Edgeley Park for some nine years and make a total of 363 appearances. Towards the end of his time with the Hatters, he went on loan to Wolverhampton Wanderers before signing on a free transfer in July 2001. First team opportunities were limited however, and in October 2002, he joined Tranmere Rovers. After 82 games for Tranmere, Sean became one of Ernie Tippett's first signings, together with former team-mates Graham Allen and Alex Hay. Sean quickly established the right-back role as his own, and was one of the success stories of that season. It came as a surprise when he declined a new contract at the end of the 2004/2005 season, but he had been offered the job of physiotherapist with Cardiff City under Dave Jones, one of his former managers at Stockport., so he made the decision to retire from playing to take up the role. He continued that role for a period in Switzerland before taking up the physio role with Crystal Palace. in 2017 he became Medical Services Manager and Lead Physiotherapist for the Football Association of Wales.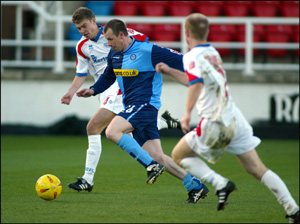 Appearances
2004/2005 – squad number 2
| | | | |
| --- | --- | --- | --- |
| CCL2 | 7.8.04 | Kidderminster (H) | |
| CCL2 | 10.8.04 | Northampton Tn(A) | |
| CCL2 | 14.8.04 | Lincoln City (A) | |
| CCL2 | 21.8.04 | Grimsby Town (H) | |
| CC1 | 24.8.04 | Swindon Town (H) | |
| CCL2 | 28.8.04 | Yeovil Town (A) | |
| CCL2 | 30.8.04 | Bristol Rvrs (H) | |
| CCL2 | 4.9.04 | Southend Utd (H) | |
| CCL2 | 11.9.04 | Oxford Utd (A) | |
| CCL2 | 18.9.04 | Cheltenham Tn(H) | |
| CCL2 | 25.9.04 | Swansea City (A) | |
| LDV1 | 28.9.04 | Walsall (A) | |
| CCL2 | 2.10.04 | Rochdale (H) | |
| CCL2 | 8.10.04 | Shrewsbury Tn(A) | |
| CCL2 | 16.10.04 | Chester City (H) | |
| CCL2 | 19.10.04 | Wycombe Wdrs(A) | |
| CCL2 | 23.10.04 | Bury (A) | |
| CCL2 | 6.11.04 | Darlington (H) | as sub |
| FAC1 | 13.11.04 | Bradford City (A) | |
| CCL2 | 20.11.04 | Cambridge Utd(A) | |
| CCL2 | 27.11.04 | Macclesfield Tn(H) | |
| FAC2 | 4.12.04 | Colchester Utd(H) | |
| CCL2 | 8.12.04 | Boston Utd (A) | |
| CCL2 | 11.12.04 | Mansfield Town(A) | |
| CCL2 | 26.12.04 | Oxford Utd (H) | as sub |
| CCL2 | 28.12.04 | Leyton Orient (A) | |
| CCL2 | 3.1.05 | Swansea City (H) | |
| CCL2 | 8.1.05 | Shrewsbury Tn(H) | |
| CCL2 | 15.1.05 | Cheltenham Tn(A) | |
| CCL2 | 22.1.05 | Leyton Orient (H) | |
| CCL2 | 29.1.05 | Rochdale (A) | |
| CCL2 | 5.2.05 | Chester City (A) | |
| CCL2 | 12.2.05 | Wycombe Wdrs(H) | |
| CCL2 | 19.2.05 | Notts County (A) | |
| CCL2 | 22.2.05 | Bury (H) | |
| CCL2 | 26.2.05 | Mansfield Tn (H) | |
| CCL2 | 5.3.05 | Scunthorpe Utd(A) | |
| CCL2 | 12.3.05 | Northampton Tn(H) | |
| CCL2 | 19.3.05 | Kidderminster (A) | |
| CCL2 | 25.3.05 | Lincoln City (H) | |
| CCL2 | 28.3.05 | Grimsby Town (A) | |
| CCL2 | 2.4.05 | Yeovil Town (H) | |
| CCL2 | 9.4.05 | Bristol Rvrs (A) | |
| CCL2 | 16.4.05 | Boston Utd (H) | |
| CCL2 | 23.4.05 | Darlington (A) | |
| CCL2 | 30.4.05 | Cambridge Utd(H) | |