Garry Butterworth
Garry Butterworth
Born 8 September 1969 (Age 24 at debut)
Position: Midfielder
(Diamonds player #35)
Total appearances 371 – 11 goals
(286 League, 31 FA Cup, 28 FA Trophy, 12 League Cup, 1 Championship Shield, 11 Hillier Senior Cup, 2 Maunsell Cup)
Debut:
2 August 1994 (Home Peterborough United)
Final game:
6 May 2002 (Millennium Stadium Cheltenham Town)
Garry became a living legend with many Rushden & Diamonds fans, the midfielder making a massive 371 appearances over eight seasons at Nene Park. His impact on the club was immeasurable at a time when the club needed a natural leader on the pitch. He had begun his career as a YTS player at Peterborough United in 1986/1987, making his League debut in the final game of that season at Halifax Town. He played more games the following season, and was rewarded with a professional contract in June 1988. He became a regular in the first team in the 1989/1990 season, and won the "Player of the Season" award the following year after switching from midfield to left back. The following season however, he found himself on the bench more often than not, and was an unused substitute on no less than 24 occasions. After Peterborough's promotion in May 1992, he was released after 153 appearances (and 3 goals), and joined the newly merged Dagenham & Redbridge.
He spent two seasons with the Daggers and it was in July 1994, that Roger Ashby brought him to Nene Park for a £22,500 transfer fee and it soon became apparent why such a fee was paid for him. He was established as captain the following season, and captained Diamonds to the Beazer Homes Premier Division title in 1996. His energetic displays in the midfield endeared him to the fans and his natural fitness – which led to Butterworth making a record 104 consecutive appearances – was a real asset. Garry picked up several awards while in with the club, winning the supporters "Player of the Season" in 1995 and 1997 and earning accolades from his fellow players in 1997. After winning his second "Player's Player of the Season" award in 2000, he was a consistent and integral figure in Diamonds promotion season to the Football League. He also captained the England C side on several occasions.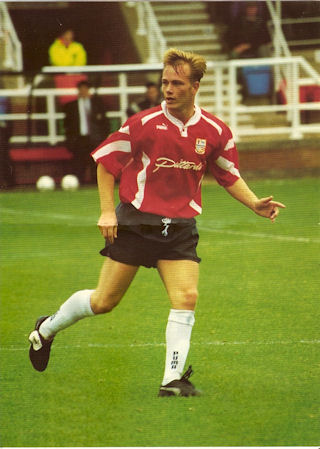 Garry's final season at Nene Park saw him continue to impress in the Football League and despite the step up, he never looked out of his depth. His final appearance for Diamonds came fittingly at the Millennium Stadium where a narrow 3-1 defeat to Cheltenham failed to dampen the occasion. In total, Garry made 371 appearances for the club, scoring 11 goals. This record has never come close to being broken and it is unlikely that it ever will. Such is the appreciation towards him that his testimonial against West Ham United in August 2001 gathered a gate of over 4,000 spectators – a glowing tribute to player.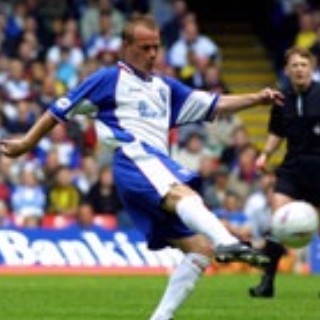 He was released in May 2002, and joined Farnborough Town for the following season, making 30 appearances. He then joined Kettering Town in the summer of 2003, before joining King's Lynn in February 2004. After a spell with Stamford, he joined Wisbech Town in August 2005, remaining there for the season. In June 2006, he became player/manager at his hometown side Whittlesey United of the Peterborough & District Premier League. In the summer of 2007, he joined Coates Athletic from the same League and promptly won the Player "Player of the Season". He was still playing for them during the 2009/2010 season.
Appearances
1994/1995
| | | | |
| --- | --- | --- | --- |
| MCF | 2.8.94 | Peterboro Utd (H) | |
| BHP | 20.8.94 | Cheltenham Tn (H) | |
| BHP | 23.8.94 | Gravesend&Nflt(A) | |
| BHP | 27.8.94 | Halesowen Tn (H) | |
| BHP | 29.8.94 | Trowbridge Tn (H) | |
| BHP | 3.9.94 | BurtonAlbion (H) | |
| FAT1rq | 17.9.94 | Hendon (H) | |
| FAT1r | 20.9.94 | Hendon (A) | |
| HSC1 | 27.9.94 | Desborough (H) | |
| BHP | 1.10.94 | Gresley Rovers (A) | |
| DMC1/1 | 4.10.94 | Rothwell Town (H) | |
| BHP | 8.10.94 | Crawley Town (H) | |
| FAT2q | 15.10.94 | Wembley (H) | |
| DMC1/2 | 18.10.94 | Rothwell Town (A) | |
| BHP | 22.10.94 | Dorchester Tn (A) | |
| HSC2 | 25.10.94 | N'ton Spencer (H) | |
| BHP | 29.10.94 | Gloucester City (H) | |
| BHP | 5.11.94 | Burton Albion (A) | |
| DMC2 | 8.11.94 | Bedworth Utd (H) | |
| BHP | 12.11.94 | VS Rugby (H) | |
| BHP | 15.11.94 | Trowbridge Tn (A) | |
| BHP | 19.11.94 | Corby Town(A) | |
| FAT3q | 26.11.94 | Crawley Town(H) | |
| BHP | 3.12.94 | Leek Town (A) | |
| BHP | 10.12.94 | Halesowen Tn (H) | |
| DMC3 | 14.12.94 | Baldock Town (H) | |
| BHP | 17.12.94 | Solihull Boro (H) | |
| BHP | 26.12.94 | Cambridge City (A) | |
| BHP | 31.12.94 | Hastings Town (A) | |
| BHP | 2.1.95 | Chelmsford City (H) | |
| BHP | 7.1.95 | Worcester City (H) | |
| BHP | 14.1.95 | VS Rugby (A) | |
| DMCQ | 16.1.95 | Worcester City (A) | |
| FAT1 | 24.1.95 | Sudbury Town (H) | |
| BHP | 28.1.95 | Cheltenham Tn (A) | |
| BHP | 4.2.95 | Sittingbourne (H) | |
| DMCQr | 7.2.95 | Worcester City (H) | |
| BHP | 18.2.95 | Atherstone Utd (A) | |
| FAT2 | 20.2.95 | Farnborough Tn (A) | |
| BHP | 25.2.95 | Gresley Rovers (H) | |
| DMCS/1 | 28.2.95 | Leek Town (H) | |
| BHP | 11.3.95 | Corby Town (H) | |
| HSCSF | 14.3.95 | Rothwell Town (A) | |
| BHP | 18.3.95 | Gloucester City (A) | |
| BHP | 21.3.95 | Leek Town (H) | |
| FAT4 | 25.3.95 | Enfield (A) | |
| FAT4r | 28.3.95 | Enfield (H) | |
| BHP | 30.3.95 | Gravesend&Nflt(H) | |
| BHP | 1.4.95 | Atherstone Utd (H) | |
| BHP | 3.4.95 | Hednesford Tn (A) | |
| FATS/1 | 8.4.95 | Woking (H) | |
| BHP | 11.4.95 | Hednesford Tn (H) | |
| FATS/2 | 15.4.95 | Woking (A) | |
| BHP | 17.4.95 | Cambridge City (H) | |
| BHP | 22.4.95 | Solihull Boro (A) | |
| BHP | 23.4.95 | Hastings Town (H) | |
| BHP | 24.4.95 | Chelmsford City (A) | |
| BHP | 26.4.95 | Sittingbourne (A) | |
| BHP | 29.4.95 | Worcester City (A) | |
| BHP | 2.5.95 | Dorchester Tn (H) | |
| BHP | 4.5.95 | Sudbury Town (A) | |
| BHP | 6.5.95 | Sudbury Town (H) | |
1995/1996
| | | | |
| --- | --- | --- | --- |
| HSCF | 29.7.95 | Kettering Town (H) | |
| HSCFr | 31.7.95 | Kettering Town (A) | |
| BHP | 19.8.95 | Salisbury City (H) | |
| BHP | 21.8.95 | Chelmsford City (A) | |
| BHP | 26.8.95 | Crawley Town (H) | 1 goal |
| BHP | 28.8.95 | Burton Albion (A) | |
| BHP | 2.9.95 | Hastings Town (A) | |
| BHP | 5.9.95 | VS Rugby (H) | |
| FAC1q | 9.9.95 | Grantham Town (H) | |
| BHP | 16.9.95 | Worcester City (A) | |
| BHP | 19.9.95 | Chelmsford City (H) | |
| FAC2q | 23.9.95 | EastwoodHanley(H) | |
| BHP | 30.9.95 | Cheltenham Tn (A) | |
| FAC3q | 7.10.95 | Sandwell Boro (A) | |
| BHP | 14.10.95 | Gresley Rovers (A) | 1 goal |
| FAC4 | 21.10.95 | Purfleet (A) | |
| FAC4r | 24.10.95 | Purfleet (H) | |
| BHP | 28.10.95 | Merthyr Tydfil (A) | |
| BHP | 4.11.95 | Stafford Rgrs (H) | |
| HSCQF | 7.11.95 | Long Buckby (H) | |
| FAC1 | 11.11.95 | Cardiff City (H) | |
| BHP | 15.11.95 | VS Rugby (A) | |
| BHP | 18.11.95 | Gravesend&Nflt(A) | |
| BHP | 21.11.95 | Burton Albion (H) | |
| BHP | 25.11.95 | Atherstone Utd (H) | |
| BHP | 28.11.95 | Baldock Town (H) | |
| BHP | 2.12.95 | Crawley Town (A) | |
| BHP | 9.12.95 | Dorchester Tn (A) | |
| BHP | 12.12.95 | Gloucester City (H) | |
| BHP | 16.12.95 | Hastings Town (H) | |
| BHP | 23.12.95 | Ilkeston Town (H) | |
| BHP | 13.1.96 | Atherstone Utd (A) | |
| FAT1 | 20.1.96 | Purfleet (H) | |
| HSCSF | 30.1.96 | Raunds Town (H) | |
| BHP | 3.2.96 | Worcester City (H) | |
| BHP | 10.2.96 | Gravesend&Nflt(H) | |
| BHP | 13.2.96 | Baldock Town (A) | |
| BHP | 17.2.96 | Cheltenham Tn (H) | |
| BHP | 24.2.96 | Newport (A) | |
| BHP | 5.3.96 | Sudbury Town (H) | |
| BHP | 16.3.96 | Cambridge City (A) | |
| BHP | 19.3.96 | Halesowen Tn (A) | |
| BHP | 23.3.96 | Ilkeston Town (A) | |
| BHP | 30.3.96 | Halesowen Tn (H) | |
| BHP | 4.4.96 | Dorchester Tn (H) | |
| BHP | 6.4.96 | Cambridge City (H) | |
| BHP | 8.4.96 | Sudbury Town (A) | |
| BHP | 13.4.96 | Newport (H) | |
| BHP | 16.4.96 | Gresley Rovers (H) | |
| BHP | 20.4.96 | Gloucester City (A) | |
| BHP | 24.4.96 | Salisbury City (A) | |
| BHP | 27.4.96 | Stafford Rgrs (A) | |
| BHP | 4.5.96 | Merthyr Tydfil (H) | 1 goal |
1996/1997
| | | | |
| --- | --- | --- | --- |
| SLCS | 10.8.96 | Nuneaton Boro (H) | |
| Conf | 17.8.96 | Altrincham (A) | |
| Conf | 20.8.96 | Slough Town (A) | |
| Conf | 24.8.96 | Northwich Vic (H) | |
| Conf | 26.8.96 | Hayes (A) | |
| Conf | 31.8.96 | Stalybridge Ctc(H) | |
| Conf | 3.9.96 | Macclesfield Tn (H) | |
| Conf | 7.9.96 | Halifax Town (A) | |
| Conf | 9.9.96 | Northwich Vic (A) | |
| FAC1q | 14.9.96 | Westfields (A) | |
| Conf | 17.9.96 | Farnborough (H) | |
| Conf | 21.9.96 | Woking (A) | |
| Conf | 24.9.96 | Stevenage Boro(H) | |
| FAC2q | 28.9.96 | Gresley Rvrs (H) | |
| Conf | 30.9.96 | Hednesford Tn (A) | |
| Conf | 5.10.96 | Welling Utd (H) | |
| SC1 | 8.10.96 | Dover Athletic (A) | |
| FAC3q | 12.10.96 | Bilston Town (H) | |
| Conf | 14.10.96 | Kidderminster (A) | |
| Conf | 19.10.96 | Gateshead (H) | |
| FAC4q | 26.10.96 | Bognor Regis (H) | |
| Conf | 2.11.96 | Southport (A) | |
| Conf | 9.11.96 | Dover Athletic (H) | |
| HSC2 | 12.11.96 | Kettering Town (A) | |
| FAC1 | 16.11.96 | Boreham Wood (A) | |
| Conf | 23.11.96 | Morecambe (A) | |
| FAC1r | 26.11.96 | Boreham Wood (H) | |
| Conf | 30.11.96 | Bath City (H) | |
| Conf | 7.12.96 | Telford Utd (A) | |
| Conf | 14.12.96 | BromsgroveRvrs(H) | |
| SC3 | 16.12.96 | Kidderminster (A) | |
| Conf | 21.12.96 | Kidderminster (H) | |
| Conf | 28.12.96 | Stalybridge Ctc(A) | |
| FAT1 | 18.1.97 | Farnborough Tn (H) | |
| Conf | 25.1.97 | Farnborough Tn (A) | |
| Conf | 1.2.97 | Morecambe (H) | |
| Conf | 8.2.97 | Hednesford Tn (H) | |
| Conf | 22.2.97 | Gateshead (A) | |
| Conf | 1.3.97 | Slough Town (H) | |
| Conf | 8.3.97 | Kettering Town (A) | 1 goal |
| Conf | 15.3.97 | BromsgroveRvrs(A) | |
| Conf | 18.3.97 | Kettering Town H) | |
| Conf | 22.3.97 | Telford Utd (H) | |
| Conf | 25.3.97 | Welling Utd (A) | |
| Conf | 29.3.97 | Dover Athletic (A) | |
| Conf | 31.3.97 | Hayes (H) | |
| Conf | 5.4.97 | Southport (H) | |
| Conf | 12.4.97 | Bath City (A) | |
| Conf | 21.4.97 | Stevenage Boro(A) | |
| Conf | 26.4.97 | Halifax Town (H) | |
| Conf | 29.4.97 | Woking (H) | |
| Conf | 3.5.97 | Altrincham (H) | 1 goal |
1997/1998
| | | | |
| --- | --- | --- | --- |
| Conf | 25.8.97 | Hednesford Tn (H) | |
| Conf | 30.8.97 | Gateshead (H) | |
| Conf | 2.9.97 | Slough Town (A) | |
| Conf | 6.9.97 | Cheltenham Tn (A) | |
| Conf | 13.9.97 | Farnborough Tn(H) | |
| Conf | 20.9.97 | Yeovil Town (A) | |
| Conf | 27.9.97 | Southport (A) | |
| Conf | 4.10.97 | Woking (H) | |
| SC1 | 7.10.97 | Hayes (A) | |
| Conf | 11.10.97 | Hereford Utd (H) | |
| Conf | 18.10.97 | Kidderminster (A) | |
| FAC4q | 25.10.97 | Boreham Wood(H) | 1 goal |
| FAC4qr | 28.10.97 | Boreham Wood(A) | |
| Conf | 15.11.97 | Kidderminster (H) | |
| Conf | 22.11.97 | Morecambe (A) | |
| Conf | 25.11.97 | Kettering Town (H) | |
| Conf | 29.11.97 | Hayes (H) | |
| Conf | 6.12.97 | Northwich Vic (A) | |
| Conf | 13.12.97 | Dover Athletic (H) | |
| Conf | 20.12.97 | Hayes (A) | |
| Conf | 26.12.97 | Stevenage Boro(H) | |
| Conf | 1.1.98 | Stevenage Boro(A) | |
| FAT1 | 10.1.98 | Farnborough Tn(H) | |
| Conf | 17.1.98 | Southport (H) | |
| Conf | 24.1.98 | Dover Athletic (A) | |
| HSCSF | 27.1.98 | Raunds Town (H) | |
| FAT2 | 31.1.98 | Cheltenham Tn (A) | |
| Conf | 7.2.98 | Halifax Town (H) | 1 goal |
| Conf | 14.2.98 | Gateshead (A) | |
| Conf | 28.2.98 | Stalybridge Ctc(H) | |
| Conf | 7.3.98 | Cheltenham Tn (H) | |
| Conf | 14.3.98 | Woking (A) | |
| Conf | 21.3.98 | Halifax Town (A) | |
| Conf | 4.4.98 | Telford Utd (A) | |
1998/1999
| | | | |
| --- | --- | --- | --- |
| Conf | 10.10.98 | Farnborough Tn (A) | |
| FAC3q | 17.10.98 | Forest Green (H) | |
| Conf | 24.10.98 | Morecambe (H) | |
| Conf | 7.11.98 | Hednesford Tn (A) | |
| FAC4q | 9.11.98 | Leatherhead (A) | |
| FAC4qr | 11.11.98 | Leatherhead (H) | |
| FAC1 | 14.11.98 | Shrewsbury Tn (H) | |
| FAT2 | 21.11.98 | Bath City (H) | |
| Conf | 28.11.98 | Cheltenham Tn (A) | |
| FAC2 | 5.12.98 | Doncaster Rvrs (A) | |
| Conf | 12.12.98 | Telford Utd (A) | |
| FAC2r | 15.12.98 | Doncaster Rvrs (H) | |
| Conf | 19.12.98 | Farnborough Tn(H) | |
| Conf | 26.12.98 | Stevenage Boro(A) | |
| Conf | 28.12.98 | Woking (H) | |
| FAC3 | 2.1.99 | Leeds Utd (H) | |
| Conf | 9.1.99 | Barrow (A) | |
| FAC3r | 13.1.99 | Leeds Utd (A) | |
| Conf | 23.1.99 | Doncaster Rvrs (H) | |
| FAT3 | 25.1.99 | Slough Town (A) | |
| Conf | 30.1.99 | Northwich Vic (A) | |
| Conf | 2.2.99 | Kidderminster (H) | |
| FAT4 | 6.2.99 | Woking (A) | |
| FAT4r | 9.2.99 | Woking (H) | |
| Conf | 13.2.99 | Kidderminster (A) | |
| Conf | 6.3.99 | Hayes (A) | |
| Conf | 20.3.99 | Morecambe (A) | as sub |
| Conf | 23.3.99 | Leek Town (A) | as sub |
| HSCSr | 10.4.99 | Cogenhoe Utd (H) | |
| HSCF | 18.4.99 | Raunds Town (A) | |
| Conf | 20.4.99 | Kingstonian (H) | |
| Conf | 24.4.99 | Hereford Utd (A) | |
| Conf | 26.4.99 | Forest Green (H) | |
| Conf | 1.5.99 | Kettering Town (H) | |
1999/2000
| | | | |
| --- | --- | --- | --- |
| MCF | 31.7.99 | Northampton Tn(H) | |
| Conf | 14.8.99 | Morecambe (A) | |
| Conf | 17.8.99 | Telford Utd (H) | |
| Conf | 21.8.99 | Kidderminster (H) | |
| Conf | 28.8.99 | Sutton Utd (A) | |
| Conf | 30.8.99 | Welling Utd (H) | |
| Conf | 4.9.99 | Northwich Vic (A) | |
| Conf | 7.9.99 | Hayes (H) | |
| Conf | 11.9.99 | Woking (H) | |
| Conf | 14.9.99 | Kettering Town (A) | |
| Conf | 18.9.99 | Southport (H) | |
| Conf | 25.9.99 | Hednesford Tn (A) | |
| Conf | 28.9.99 | Hereford Utd (A) | |
| Conf | 2.10.99 | Altrincham (A) | |
| Conf | 9.10.99 | Kingstonian (H) | |
| FAC4q | 16.10.99 | Sutton Utd (H) | |
| Conf | 23.10.99 | Scarborough (A) | |
| FAC1 | 29.10.99 | Scunthorpe Utd (H) | |
| Conf | 2.11.99 | Nuneaton Boro (A) | |
| Conf | 6.11.99 | Dover Athetic (H) | |
| Conf | 13.11.99 | Yeovil Town (A) | |
| FAC2 | 20.11.99 | Ilkeston Town (A) | |
| NT2 | 23.11.99 | Telford Utd (H) | |
| FAT2 | 27.11.99 | Havant & W (H) | |
| FAC2r | 30.11.99 | Ilkeston Town (H) | |
| Conf | 4.12.99 | Hayes (A) | |
| FAC3 | 12.12.99 | Sheffield Utd (A) | |
| FAC3r | 21.12.99 | Sheffield Utd (H) | |
| Conf | 27.12.99 | Stevenage Boro(H) | |
| Conf | 3.1.00 | Stevenage Boro(A) | |
| FAT3 | 15.1.00 | Bath City (A) | |
| Conf | 22.1.00 | Forest Green (A) | |
| Conf | 29.1.00 | Northwich Vic (H) | |
| FAT4 | 5.2.00 | Billericay Tn (A) | |
| FAT4r | 8.2.00 | Billericay Tn (H) | |
| Conf | 12.2.00 | Dover Athletic (A) | |
| Conf | 15.2.00 | Forest Green (H) | |
| Conf | 19.2.00 | Doncaster Rvrs (A) | |
| Conf | 22.2.00 | Hednesford Tn (H) | |
| FAT5 | 26.2.00 | Marine (H) | |
| Conf | 4.3.00 | Kingstonian (A) | |
| Conf | 7.3.00 | Yeovil Town (H) | |
| FAT6 | 11.3.00 | Sutton Utd (A) | |
| FAT6r | 14.3.00 | Sutton Utd (H) | |
| Conf | 18.3.00 | Sutton Utd (H) | 1 goal |
| Conf | 25.3.00 | Hereford Utd (H) | |
| Conf | 28.3.00 | Kettering Town (H) | |
| Conf | 1.4.00 | Nuneaton Boro (H) | |
| Conf | 4.4.00 | Morecambe (H) | |
| Conf | 8.4.00 | Kidderminster (A) | |
| Conf | 11.4.00 | Woking (A) | |
| Conf | 15.4.00 | Altrincham (H) | |
| Conf | 22.4.00 | Southport (A) | |
| Conf | 29.4.00 | Scarborough (H) | |
| Conf | 1.5.00 | Welling (A) | |
| Conf | 6.5.00 | Doncaster Rvrs (H) | |
2000/2001
| | | | |
| --- | --- | --- | --- |
| Conf | 19.8.00 | Chester City (H) | |
| Conf | 21.8.00 | Hednesford Tn (A) | |
| Conf | 26.8.00 | Dagenham&Red(A) | |
| Conf | 28.8.00 | Southport (H) | |
| Conf | 2.9.00 | Telford Utd (A) | |
| Conf | 5.9.00 | Stevenage Boro (H) | |
| Conf | 9.9.00 | Forest Green (H) | |
| Conf | 12.9.00 | Scarborough (A) | |
| Conf | 16.9.00 | Woking (A) | |
| Conf | 23.9.00 | Kettering Town (H) | |
| Conf | 26.9.00 | Dagenham&Red (H) | |
| Conf | 30.9.00 | Kingstonian (A) | |
| Conf | 3.10.00 | Leigh RMI (A) | |
| Conf | 8.10.00 | Boston Utd (H) | |
| Conf | 14.10.00 | Hereford Utd (A) | |
| Conf | 21.10.00 | Morecambe (A) | |
| FAC4q | 28.10.00 | Grantham Town (H) | as sub |
| Conf | 31.10.00 | Hayes (H) | |
| Conf | 4.11.00 | Yeovil Town (H) | |
| Conf | 11.11.00 | Doncaster Rvrs (A) | |
| Conf | 2.12.00 | Dover Athletic (A) | |
| Conf | 16.12.00 | Hednesford Tn (H) | as sub |
| Conf | 26.12.00 | Nuneaton Boro (A) | |
| Conf | 1.1.01 | Nuneaton Boro (H) | |
| Conf | 6.1.01 | Southport (A) | |
| FAT3 | 13.1.01 | Hayes (A) | |
| Conf | 27.1.01 | Stevenage Boro (A) | |
| FAT4 | 3.2.01 | Marine (A) | |
| Conf | 10.2.01 | Forest Green (A) | |
| Conf | 17.2.01 | Scarborough (H) | |
| Conf | 20.2.01 | Northwich Vic (H) | |
| FAT5 | 24.2.01 | Forest Green (A) | |
| Conf | 3.3.01 | Woking (H) | |
| Conf | 10.3.01 | Boston Utd (A) | |
| Conf | 13.3.01 | Kettering Town (A) | |
| Conf | 17.3.01 | Kingstonian (H) | |
| Conf | 25.3.01 | Northwich Vic (A) | |
| Conf | 31.3.01 | Leigh RMI (H) | |
| Conf | 7.4.01 | Morecambe (H) | |
| Conf | 14.4.01 | Hereford Utd (A) | |
| Conf | 16.4.01 | Doncaster Rvrs (H) | |
| Conf | 21.4.01 | Yeovil Town (A) | |
| Conf | 24.4.01 | Telford Utd (H) | 1 goal |
| Conf | 28.4.01 | Dover Athletic (H) | |
| Conf | 5.5.01 | Chester City (A) | |
2001/2002 – squad number 7
| | | | |
| --- | --- | --- | --- |
| D3 | 11.8.01 | York City (A) | |
| D3 | 16.8.01 | Lincoln City (H) | |
| WC1 | 21.8.01 | Burnley (A) | |
| D3 | 25.8.01 | Macclesfield Tn(A) | |
| D3 | 27.8.01 | Plymouth Arg (H) | |
| D3 | 1.9.01 | Oxford Utd (A) | |
| D3 | 18.9.01 | Torquay Utd (H) | |
| D3 | 22.9.01 | Cheltenham Tn (H) | |
| D3 | 25.9.01 | Exeter City (A) | |
| D3 | 29.9.01 | Darlington (A) | |
| D3 | 5.10.01 | Hartlepool Utd (H) | |
| D3 | 13.10.01 | Rochdale (A) | |
| D3 | 20.10.01 | Hull City (H) | |
| D3 | 23.10.01 | Shrewsbury Tn (A) | |
| D3 | 27.10.01 | Mansfield Town (H) | |
| D3 | 3.11.01 | Swansea City (A) | |
| D3 | 10.11.01 | Halifax Town (A) | |
| FAC1 | 17.11.01 | Worcester City (A) | |
| D3 | 20.11.01 | Scunthorpe Utd(H) | |
| D3 | 24.11.01 | Kidderminster (A) | |
| D3 | 1.12.01 | Bristol Rvrs (H) | |
| FAC2 | 8.12.01 | Brighton &HA (A) | |
| D3 | 15.12.01 | Luton Town (A) | |
| D3 | 22.12.01 | Carlisle Utd (H) | |
| D3 | 26.12.01 | Southend Utd (A) | 1 goal |
| D3 | 29.12.01 | Plymouth Arg (A) | |
| D3 | 12.1.02 | Lincoln City (A) | |
| D3 | 19.1.02 | York City (H) | |
| D3 | 2.2.02 | Darlington (H) | as sub |
| D3 | 26.2.02 | Torquay Utd (A) | |
| D3 | 2.3.02 | Cheltenham Tn (A) | |
| D3 | 20.4.02 | Halifax Town (A) | |
| D3PO/1 | 27.4.02 | Rochdale (H) | 1 goal |
| D3PO/2 | 30.4.02 | Rochdale (A) | |
| D3POF | 6.5.02 | Cheltenham Tn (N) | |