Jason Taylor
Jason Taylor
Born 12 October 1985 (Age 18 at debut)
Position: Forward
(Diamonds player #189)
Total appearances 37 – 4 goals
(32 League, 1 FA Cup, 1 League Cup, 1 League Trophy, 2 Maunsell Cup)
Debut:
11 September 2004 (Away Oxford United)
Final game:
22 November 2005 (Away Swansea City)
Jason was a product of the Youth set up at Nene Park, being offered a contract following his apprenticeship. His appearances were mainly limited to coming off the bench, although he made 9 starts for Diamonds before going out on loan to Nuneaton Borough for the latter part of the 2005/2006 season.
He was released by Diamonds at the end of the season and joined Rugby Town in July 2006 where he scooped several awards during his first year, scoring 24 goals. He suffered cruciate ligament damage in April 2007 and the injury kept him out for some 16 months. Although he returned to action in August 2008, he decided to follow his former manager to Bromsgrove Rovers on 29 October 2008, but returned to re-join Rugby Town in December 2008. He was released during the summer, and joined Southern League Premier side Banbury United in August 2009. In March 2011, Jason joined Southern League Division One Central side Arlesey Town until the end of the season, but injuries have meant he has played little football since. Jason returned to playing a a lower level after a long lay off, and joined UCL Division One side Raunds Town in mid-October 2012. He made 7 appearances for the Shopmates, scoring 3 times, but left during early-December 2012, joining UCL Premier side Wellingborough Town. Jason left at the end of the season, and signed for UCL Divison One side Thrapston Town in July 2014. No record of his involvement with the game has been found between 2015 and 2018.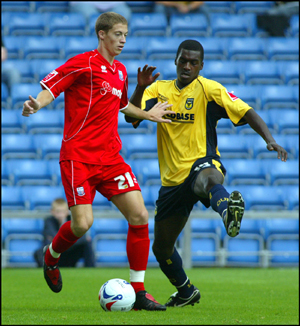 Appearances
2004/2005 – squad number 26
CCL2

11.9.04

Oxford Utd (A)

as sub

MCSF

14.9.04

Northampton Tn (H)

CCL2

18.9.04

Cheltenham Tn (H)

as sub

CCL2

2.10.04

Rochdale (H)

as sub

CCL2

8.10.04

Shrewsbury Tn (A)

CCL2

30.10.04

Notts County (H)

as sub

FAC1

13.11.04

Bradford City (A)

CCL2

8.12.04

Boston Utd (A)

as sub

CCL2

11.12.04

Mansfield Tn (A)

as sub

CCL2

26.12.04

Oxford Utd (H)

as sub

1 goal

CCL2

28.12.04

Leyton Orient (A)

CCL2

1.1.05

Southend Utd (A)

CCL2

3.1.05

Swansea City (H)

as sub

CCL2

8.1.05

Shrewsbury Tn (H)

as sub

CCL2

15.1.05

Cheltenham Tn (A)

1 goal

CCL2

22.1.05

Leyton Orient (H)

as sub

CCL2

29.1.05

Rochdale (A)

as sub

CCL2

12.3.05

Northampton Tn (H)

as sub

CCL2

2.4.05

Yeovil Town (H)

as sub

CCL2

9.4.05

Bristol Rovers (A)

as sub

CCL2

23.4.05

Darlington (A)

as sub

CCL2

7.5.05

Macclesfield Tn (A)

as sub
2005/2006 – squad number 21
| | | | |
| --- | --- | --- | --- |
| CCL2 | 6.8.05 | Darlington (H) | as sub |
| CCL2 | 9.8.05 | Mansfield Tn (A) | as sub |
| CCL2 | 20.8.05 | Chester City (H) | as sub |
| CC1 | 24.8.05 | Coventry City (H) | as sub |
| CCL2 | 27.8.05 | Lincoln City (H) | as sub |
| CCL2 | 29.8.05 | Grimsby Tn (A) | |
| CCL2 | 2.9.05 | Peterborough (H) | |
| CCL2 | 10.9.05 | Oxford Utd (A) | 1 goal |
| CCL2 | 13.9.05 | Macclesfield Tn (A) | |
| CCL2 | 17.9.05 | Stockport Co (H) | as sub |
| CCL2 | 24.9.05 | Notts County (A) | as sub |
| CCL2 | 27.9.05 | Northampton Tn (H) | as sub |
| CCL2 | 7.10.05 | Bury (H) | as sub |
| MCSF | 8.11.05 | Rothwell Town (A) | 1 goal |
| LDV2 | 22.11.05 | Swansea City (A) | as sub |