Simeon Jackson
Simeon Jackson
Born 28 March 1987 (Age 17 at debut)
Position: Forward
(Diamonds player #188)
Total appearances 104 – 43 goals
(90 League, 5 FA Cup, 5 FA Trophy, 4 Maunsell Cup)
Debut:
10 August 2004 (Away Northampton Town)
Final game:
29 January 2008 (Away Burton Albion)
Having previously had trials at Gillingham and Dulwich Hamlet, Simeon was being signed as a 15 year old scholar by Geoff Harrop and progressed through the Diamonds youth ranks. After a number of impressive performances for the U18's and the reserves, Simeon was named on the bench a number of times at the end of the 2003 / 2004 season, but had to wait until the following season before making his debut.
His first taste of action in the League Two saw him coming off the bench in the local derby away at Northampton Town at the start of the 2004 / 2005 season. Simeon's impressive performances brought him to the attention of a number of high profile clubs, and resulted in trials at both Manchester United and Manchester City. He went out on a one month loan to Raunds Town in December 2005, and towards the end of the 2005 / 2006 season, Simeon proved a revelation up front, scoring 5 goals in 16 appearances. He signed his first professional contract on 28 April 2006, keeping him at Nene Park until the summer of 2008. His form continued to improve into the 2006 / 2007 season scoring consecutive hat-tricks in September 2006 against Altrincham and Tamworth. By the end of the season, he was the club's top scorer with a total of 19 goals. Although born in Jamaica, Simeon had spent the early part of his life with his parents in Canada and through them, qualified for the Canadian Under 20 side and he took part in the FIFA U20 World Cup in Canada.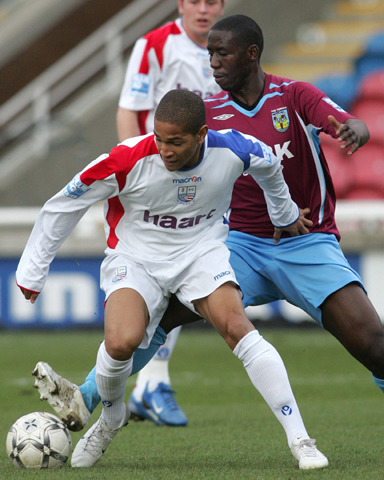 Despite interest from League sides, Simeon agreed offered a three year contract in the summer of 2007 and scored scored some 18 goals in the first half of the following season attracting further interest in the January transfer window. On 31 January 2008, he signed a 3½ year contract with League One club Gillingham for a £150,000 transfer fee, plus a sell-on clause. He scored just four goals in the remaining games in the 2007 / 2008 season, but his 21 goals the following season saw him being linked with a number of Championship clubs. He won his first full International cap with Canada on 30 May 2009, scoring the only goal in a 1-0 win over Cyprus and has since become a regular in the side. He finished his time at Gillingham with 42 goals from 115 appearances, before he signed a two year contract with Championship side Norwich City on 15 July 2010 for an undisclosed fee. After assisting Norwich into the Premiership, he was offered a further one year contract in May 2012. He made a total of 86 appearances for the Canaries, scoring 21 goals, before being released on 20 May 2013. On 10 July 2013, Simeon signed for newly promoted Bundesliga side Eintracht Braunschweig on a two-year deal. Simeon was released by the German side on 31 January 2014 after 9 appearances, and signed an end of season deal the following day with Championship side Millwall. He was released on a free transfer, and joined League One side Coventry City on 18 August 2014, on a one year deal. After short spells with Barnsley (2015) and Blackburn Rovers (2016) he joined Walsall for the 2016-17 season, remaining there for the following season apart from a loan spell at Grimsby Town from the start of 2018, before being released by the Saddlers at the end of the 2017-18 season. He signed for St Mirren in September 2018. His Wikipedia entry is here.
Appearances
2004/2005 – squad number 35
| | | | |
| --- | --- | --- | --- |
| CCL2 | 10.8.04 | Northampton Tn(A) | as sub |
| CCL2 | 28.8.04 | Yeovil Town (A) | as sub |
| MCSF | 14.9.04 | Northampton Tn(H) | |
| CCL2 | 7.5.05 | Macclesfield Tn (A) | as sub |
2005/2006 – squad number 28
MCSF

8.11.05

Rothwell Town (A)

CCL2

21.1.06

Stockport Co (A)

as sub

1 goal

MCF

24.1.06

Peterborough U (H)

CCL2

28.1.06

Oxford Utd (H)

as sub

CCL2

4.2.06

Northampton Tn(A)

as sub

CCL2

4.3.06

Grimsby Town (H)

as sub

1 goal

CCL2

11.3.06

Lincoln City (A)

as sub

1 goal

CCL2

18.3.06

Leyton Orient (H)

CCL2

25.3.06

Cheltenham Tn (A)

1 goal

CCL2

1.4.06

Torquay Utd (H)

CCL2

8.4.06

Bristol Rvrs (A)

CCL2

15.4.06

Rochdale (H)

CCL2

18.4.06

Shrewsbury Tn (A)

CCL2

22.4.06

Wycombe Wdrs(H)

CCL2

29.4.06

Boston Utd (A)

CCL2

6.5.06

Barnet (H)

as sub

1 goal
2006/2007 – squad number 12
Conf

12.8.06

Crawley Town (A)

as sub

Conf

15.8.06

Grays Athletic (H)

as sub

Conf

19.8.06

Forest Green (H)

1 goal

Conf

26.8.06

Southport (A)

Conf

28.8.06

York City (H)

Conf

1.9.06

Kidderminster (A)

Conf

9.9.06

Altrincham (H)

3 goals

Conf

12.9.06

Tamworth (A)

3 goals

Conf

16.9.06

Stafford Rgrs (A)

Conf

19.9.06

Gravesend&Nflt (H)

Conf

23.9.06

Woking (A)

Conf

30.9.06

Burton Albion (H)

Conf

3.10.06

Morecambe (A)

Conf

6.10.06

Stevenage Boro (H)

as sub

Conf

10.10.06

Halifax Town (H)

as sub

Conf

14.10.06

Northwich Vic (A)

1 goal

Conf

21.10.06

Weymouth (A)

FAC4q

28.10.06

Altrincham (H)

1 goal

Conf

4.11.06

Dagenham&Red(H)

FAC1

11.11.06

Yeovil Town (H)

as sub

Conf

18.11.06

St.Albans (A)

as sub

Conf

25.11.06

Aldershot Tn (H)

Conf

9.12.06

Oxford Utd (H)

FAT1

16.12.06

Scarborough (H)

as sub

Conf

26.12.06

Cambridge Utd (A)

Conf

30.12.06

Gravesend&Nflt (A)

as sub

Conf

1.1.07

Tamworth (H)

as sub

Conf

6.1.07

Altrincham (A)

FAT2

13.1.07

Witton Albion (A)

Conf

20.1.07

Stafford Rgrs (H)

1 goal

Conf

23.1.07

Cambridge Utd (H)

1 goal

Conf

29.1.07

Oxford Utd (A)

FAT3

3.2.07

Gravesend&Nflt (A)

Conf

10.2.07

Dagenham&Rdg(A)

1 goal

Conf

17.2.07

St.Albans (H)

Conf

20.2.07

Exeter City (A)

Conf

24.2.07

Aldershot Town (A)

1 goal

Conf

3.3.07

Exeter City (H)

1 goal

Conf

6.3.07

Morecambe (H)

Conf

13.3.07

Halifax Town (A)

Conf

23.3.07

Crawley Town (H)

Conf

27.3.07

Grays Athletic (A)

as sub

1 goal

Conf

31.3.07

Forest Green (A)

1 goal

Conf

3.4.07

Weymouth (H)

Conf

7.4.07

Southport (H)

1 goal

Conf

10.4.07

York City (A)

1 goal

Conf

14.4.07

Kidderminster (H)

Conf

21.4.07

Woking (H)

1 goal

Conf

23.4.07

Northwich Vic (H)

as sub

Conf

28.4.07

Burton Albion (A)

1 goal
2007/2008 – squad number 10
MCF

4.8.07

Northampton Tn(H)

Conf

11.8.07

Woking (A)

as sub

Conf

14.8.07

Farsley Celtic (H)

as sub

Conf

18.8.07

Ebbsfleet Utd (H)

Conf

25.8.07

Torquay Utd (A)

Conf

27.8.07

Kidderminster (H)

Conf

30.8.07

York City (A)

as sub

Conf

4.9.07

Crawley Town (H)

as sub

1 goal

Conf

8.9.07

Salisbury City (A)

Conf

15.9.07

Burton Albion (H)

as sub

Conf

18.9.07

Weymouth (A)

1 goal

Conf

22.9.07

Halifax Town (A)

1 goal

Conf

25.9.07

Grays Athletic (H)

1 goal

Conf

29.9.07

Stafford Rgrs (H)

1 goal

Conf

6.10.07

Altrincham (A)

1 goal

Conf

9.10.07

Cambridge Utd(A)

Conf

12.10.07

Forest Green (H)

1 goal

Conf

20.10.07

Exeter City (A)

2 goals

FAC4q

27.10.07

Solihull Moors (H)

Conf

1.11.07

Oxford Utd (H)

2 goals

FAC1

10.11.07

Macclesfield Tn(H)

2 goals

Conf

17.11.07

Aldershot Tn (A)

1 goal

Conf

24.11.07

Northwich Vic (A)

FAC2

1.12.07

Bristol Rvrs (A)

Conf

4.12.07

Histon (H)

1 goal

Conf

8.12.07

Droylsden (A)

1 goal

FAT1

15.12.07

Bamber Bdge (A)

Conf

26.12.07

Stevenage B (H)

Conf

29.12.07

Northwich Vic (H)

Conf

5.1.08

Salisbury City (A)

as sub

FAT2

12.1.08

Exeter City (H)

Conf

19.1.08

Crawley Tn (A)

Conf

26.1.08

Weymouth (H)

2 goals

Conf

29.1.08

BurtonAlbion(A)