Jon Challinor
Jon Challinor
Born 2 December 1980 (Age 18 at debut)
Position: Midfielder
(Diamonds player #112)
Total appearances 63 – 12 goals
(45 League, 3 FA Cup, 4 FA Trophy, 6 League Cup, 3 Hillier Senior Cup, 2 Maunsell Cup)
First spell
Debut: 22 December 1998 (Away Farnborough Town)
Final game: 25 January 2000 (Away Kettering Town)
Second spell
Debut: 4 August 2007 (Home Northampton Town)
Final game: 26 July 2008 (Home Peterborough United)
Jon was a member of the Diamonds youth team which included Andy Burgess and Gary Mills, and made his debut as a 17 year old in the League Cup game against Farnborough in December 1998. The midfielder was offered a contract at the end of his apprenticeship, but Jon was unable to break into the first team squad, making just a single Hillier Senior Cup appearance during the following year.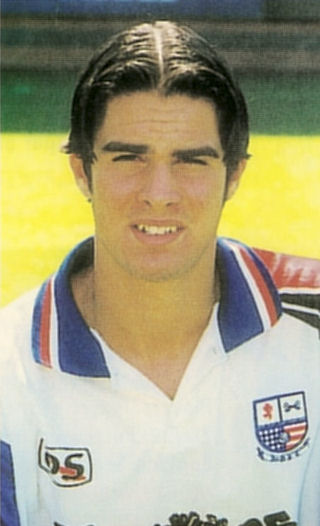 He was released in May 2000, and joined Stamford, before a move to Southern League Premier side Cambridge City in February 2001. After 1½ seasons, he spent the summer of 2002 in Florida with the Kalamazoo Kingdom before returning to the UK to join St.Albans City in August 2002. After one season, he moved to Aldershot in August 2003 and in two seasons, he made some 86 appearances, scoring 21 goals. On 20 May 2005, he signed for Exeter City, and spent two seasons with the Grecians, scoring 21 times in 92 games and helping them to the Conference Play-offs.
Manager Garry Hill brought Jon back to Nene Park on 28 May 2007 on a one year contract He appeared in the first 45 league games of the season, narrowly missing out on an "ever-present" record when an injury in the game against Grays meant he missed the final game of the season against his old club Aldershot Town.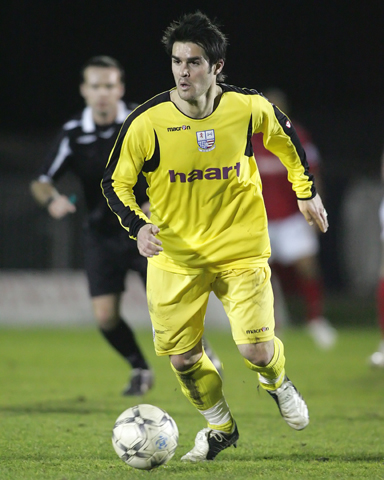 He had spent the early part of the season in midfield, but when switched to play up front in late February 2008, he scored in four consecutive games. Although still with Diamonds during the pre-season for the following year, he was surprisingly released just prior to the start of the season, joing Cambridge United on 6 August 2008 on a two year deal. He was however transfer listed in the summer of 2009 and went of loan deals to Forest Green Rovers in August 2009, and Mansfield Town in November 2009. He joined the Stags on a half-season deal on 6 January 2010, but was released at the end of the season. He joined Southern League side Brackley Town in the summer, but was released during October. On 29 October 2010, Jon joined Conference side Newport County on a short term contract, before signing for Kettering Town on 18 January 2011. Although he started the following season with the Poppies on non contract terms, he left after just a couple of games into the season, and signed for York City on 25 August 2011. After a successful campaign where the Minstermen gained promotion to the Football League via the Play-offs, Jon signed a further one year deal in July 2012, but was released in the summer of 2013. He joined NPL Premier side Stamford AFC during mid-July for their pre-season programme, while still hoping to gain a deal with a club at a higher level. After a lack of interest from other clubs,  Jon decided to sign for the Daniels in mid-August. He scored four times in 31 appearances for the Daniels, before signing dual registration forms to join Conference Premier side FC Halifax Town on 7 January 2014, although he continued playing for the Daniels for the following seasons, and he now also has a coaching role with the club. He was still playing for the Daniels in the 2021-22 season. His Wikipedia page is here.
Appearances
1998/1999
| | | | |
| --- | --- | --- | --- |
| ET2 | 22.12.98 | Farnborough Tn (A) | |
1999/2000
| | | | |
| --- | --- | --- | --- |
| HSC2 | 25.1.00 | Kettering Town (A) | |
2007/2008 – squad number 7
| | | | |
| --- | --- | --- | --- |
| MCF | 4.8.07 | Northampton Tn(H) | |
| Conf | 11.8.07 | Woking (A) | |
| Conf | 14.8.07 | Farsley Celtic (H) | |
| Conf | 18.8.07 | Ebbsfleet Utd (H) | |
| Conf | 25.8.07 | Torquay Utd (A) | |
| Conf | 27.8.07 | Kidderminster (H) | |
| Conf | 30.8.07 | York City (A) | |
| Conf | 4.9.07 | Crawley Town (H) | |
| Conf | 8.9.07 | Salisbury City (A) | 1 goal |
| Conf | 15.9.07 | Burton Albion (H) | |
| Conf | 18.9.07 | Weymouth (A) | |
| Conf | 22.9.07 | Halifax Town (A) | |
| Conf | 25.9.07 | Grays Athletic (H) | |
| Conf | 29.9.07 | Stafford Rgrs (H) | as sub |
| HSC1 | 3.10.07 | Corby Town (A) | |
| Conf | 6.10.07 | Altrincham (A) | |
| Conf | 9.10.07 | Cambridge Utd (A) | |
| Conf | 12.10.07 | Forest Green (H) | |
| Conf | 20.10.07 | Exeter City (A) | |
| FAC4q | 27.10.07 | Solihull Moors (H) | |
| Conf | 1.11.07 | Oxford Utd (H) | |
| FAC1 | 10.11.07 | Macclesfield Tn(H) | 1 goal |
| Conf | 17.11.07 | Aldershot Tn (A) | |
| Conf | 24.11.07 | Northwich Vic (A) | |
| FAC2 | 1.12.07 | Bristol Rvrs (A) | |
| Conf | 4.12.07 | Histon (H) | |
| Conf | 8.12.07 | Droylsden (A) | |
| FAT1 | 15.12.07 | Bamber Bdge (A) | |
| SS4 | 21.12.07 | Cambridge Utd (A) | as sub |
| Conf | 26.12.07 | Stevenage B (H) | as sub |
| Conf | 29.12.07 | Northwich Vic (H) | |
| Conf | 1.1.08 | Stevenage B (A) | as sub |
| Conf | 5.1.08 | Salisbury City (A) | as sub |
| FAT2 | 12.1.08 | Exeter City (H) | as sub |
| Conf | 19.1.08 | Crawley Tn (A) | as sub |
| HSCSF | 21.1.08 | North'ton Spcr (H) | 1 goal |
| Conf | 26.1.08 | Weymouth (H) | |
| Conf | 29.1.08 | BurtonAlbion (A) | |
| FAT3 | 2.2.08 | Halifax Town (A) | |
| Conf | 9.2.08 | Halifax Town (H) | |
| Conf | 16.2.08 | Altrincham (H) | as sub |
| FAT4 | 23.2.08 | York City (H) | as sub |
| SS5 | 26.2.08 | Kidderminster (A) | 2 goals |
| Conf | 1.3.08 | Woking (H) | 1 goal |
| Conf | 4.3.08 | Farsley Celtic (A) | 1 goal |
| SSQF | 8.3.08 | Northwich Vic (A) | 2 goals |
| Conf | 11.3.08 | Ebbsfleet Utd (A) | 1 goal |
| Conf | 15.3.08 | Histon (A) | |
| Conf | 22.3.08 | York City (H) | |
| Conf | 24.3.08 | Kidderminster (A) | as sub |
| SSSF | 27.3.08 | Halifax Town (H) | |
| Conf | 29.3.08 | Droylsden (H) | as sub |
| SSF | 3.4.08 | Aldershot Tn (A) | |
| Conf | 8.4.08 | Cambridge Utd (H) | |
| Conf | 12.4.08 | Forest Green (A) | as sub |
| Conf | 15.4.08 | Stafford Rgrs (A) | |
| Conf | 17.4.08 | Torquay Utd (H) | 1 goal |
| Conf | 19.4.08 | Exeter City (H) | as sub |
| Conf | 22.4.08 | Oxford Utd (A) | |
| Conf | 24.4.08 | Grays Athletic (A) | |
2008/2009 – squad number 7
| | | | |
| --- | --- | --- | --- |
| MCF | 26.7.08 | Peterborough U (H) | 1 goal |