Jon Brady
Jon Brady
Born 14 January 1975 (Age 23 at debut)
Position: Midfielder
(Diamonds player #100)
Total appearances 166 – 24 goals
(128 League, 14 FA Cup, 12 FA Trophy, 4 League Cup, 1 Conference Shield, 5 Hillier Senior Cup, 2 Maunsell Cup)
Debut:
15 August 1998 (Away Forest Green Rovers)
Final game:
6 May 2002 (Away Cheltenham Town)
Born in Newcastle, Australia, Jon was a good rugby player as well as a footballer but playing for his local NSW side Adamstown Rosebud, he made the Australian Under-17 squad for their tour of England and Denmark in 1990. After a warm up against Tottenham Hotspur's youth team, he won a cap against a Denmark Under-17 side. During the tour, he was spotted by a scout for Brentford scout and returned to the UK for a trial some two years later after leaving school. He failed to break into the first team however, and after a period on trial with Swansea City he played a few games for Norwegian side Mjolner. Once back in England, the right-back tried out at Wycombe Wanderers, but again, failed to make a first team appearance.
In November 1994, Jon stepped down to non-league football and joined Hayes. He was renowned for going forward down the right wing and was instrumental in their 1996 Isthmian Premier title which won them promotion to the Conference. He was eventually converted into a winger for the 1996/97 season and played against Diamonds on several occasions. Brian Talbot brought Jon to Nene Park in June 1998 after agreeing a £50,000 fee with Hayes and he made his debut at Forest Green Rovers in August. He spent four seasons at Nene Park and helped the Diamonds into the Football League, playing in all but one League game during that 2000/2001 Championship season. After being in and out of the team during the inaugural Football League season, he was released in May 2002, having made 166 appearances for the club – his final appearance being as a substitute in the Play-off final at the Millennium Stadium in Cardiff.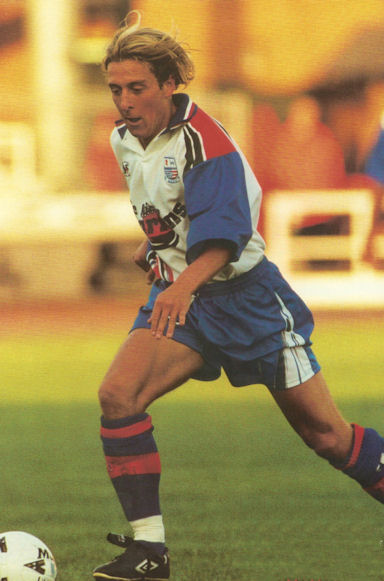 He was released in May 2002 and joined Woking prior to the following season. After just 12 games however, he moved to Chester City in October 2002, and was once again a part of the promotion winning side that got Chester back into the Football League the following season. In December 2003, Jon joined Stevenage Borough in their title quest and scored in their Play-off semi-final game the following season, but they lost to Carlisle United in the Final.
He joined Hereford United in the summer of 2005, before moving to Cambridge United in January 2006 on 1½ year deal. After 53 games for the U's, he went on loan to Kidderminster Harriers in March 2007 before returning to be released. In June 2007, Jon joined Kettering Town and was also involved with the soccer schools initiative as a Youth Development Officer at Arsenal. He helped the Poppies to the Conference North title during the 2007/2008 season. In January 2009, he joined Southern League Premier side Brackley Town and was appointed manager in April that year. The following season saw the club fail to gain promotion into the Conference after a Play-off defeat. In July 2010, he brought in another former Diamonds, Darren Collins as his assistant manager. After many successful seasons he left Brackley in September 2015 to focus on Coaching, Scouting and Soccer Schools. That led to a role managing the Northampton Town U-18 setup. From there he took over the First Team Manager role, firstly on a caretaker basis before being confirmed as the Cobblers Manager in May 2021. His Wikipedia page is here.
Appearances
1998/1999
| | | | |
| --- | --- | --- | --- |
| Conf | 15.8.98 | Forest Green (A) | |
| Conf | 18.8.98 | Welling Utd (H) | |
| Conf | 22.8.98 | Barrow (H) | 1 goal |
| Conf | 25.8.98 | Kingstonian (A) | |
| Conf | 29.8.98 | Southport (A) | |
| Conf | 31.8.98 | Hayes (H) | |
| Conf | 5.9.98 | Yeovil Jct (A) | |
| Conf | 8.9.98 | Dover Athletic (A) | |
| Conf | 12.9.98 | Telford Utd (H) | |
| Conf | 19.9.98 | Doncaster Rvrs (A) | |
| Conf | 26.9.98 | Hereford Utd (H) | |
| Conf | 3.10.98 | Northwich Vic (H) | |
| Conf | 24.10.98 | Morecambe (H) | |
| Conf | 7.11.98 | Hednesford Tn (A) | |
| FAC4q | 9.11.98 | Leatherhead (A) | as sub |
| FAC4qr | 11.11.98 | Leatherhead (H) | 1 goal |
| FAT2 | 21.11.98 | Bath City (H) | 1 goal |
| Conf | 28.11.98 | Cheltenham Tn (A) | as sub |
| HSC2 | 1.12.98 | Rothwell Town (A) | |
| FAC2r | 15.12.98 | Doncaster Rvrs (H) | 1 goal |
| Conf | 19.12.98 | Farnborough Tn(H) | |
| Conf | 26.12.98 | Stevenage Boro(A) | |
| FAC3r | 13.1.99 | Leeds Utd (A) | as sub |
| Conf | 23.1.99 | Doncaster Rvrs (H) | as sub |
| Conf | 30.1.99 | Northwich Vic (A) | |
| Conf | 2.2.99 | Kidderminster (H) | as sub |
| FAT4r | 9.2.99 | Woking (H) | |
| Conf | 13.2.99 | Kidderminster (A) | |
| Conf | 16.2.99 | Welling Utd (A) | |
| Conf | 20.2.99 | Hednesford Tn (H) | |
| Conf | 23.2.99 | Southport (H) | |
| HSCSF | 2.3.99 | Cogenhoe Utd (A) | |
| Conf | 6.3.99 | Hayes (A) | |
| Conf | 9.3.99 | Stevenage Boro(H) | |
| Conf | 13.3.99 | Leek Town (H) | |
| Conf | 16.3.99 | Dover Athletic (H) | |
| Conf | 20.3.99 | Morecambe (A) | |
| Conf | 23.3.99 | Leek Town (A) | |
| Conf | 27.3.99 | Kettering Town (A) | |
| Conf | 5.4.99 | Woking (A) | |
| HSCSr | 10.4.99 | Cogenhoe Utd (H) | |
| Conf | 13.4.99 | Yeovil Jct (H) | |
| HSCF | 18.4.99 | Raunds Town (A) | |
| Conf | 20.4.99 | Kingstonian (H) | |
| Conf | 24.4.99 | Hereford Utd (A) | as sub |
| Conf | 26.4.99 | Forest Green (H) | 1 goal |
| Conf | 1.5.99 | Kettering Town (H) | |
1999/2000
| | | | |
| --- | --- | --- | --- |
| Conf | 21.8.99 | Kidderminster (H) | |
| Conf | 28.8.99 | Sutton Utd (A) | |
| Conf | 30.8.99 | Welling Utd (H) | |
| Conf | 4.9.99 | Northwich Vic (A) | |
| Conf | 7.9.99 | Hayes (H) | |
| Conf | 11.9.99 | Woking (H) | |
| Conf | 14.9.99 | Kettering Town (A) | |
| Conf | 18.9.99 | Southport (H) | |
| Conf | 25.9.99 | Hednesford Tn (A) | |
| Conf | 28.9.99 | Hereford Utd (A) | |
| Conf | 2.10.99 | Altrincham (A) | 1 goal |
| Conf | 9.10.99 | Kingstonian (H) | |
| FAC4q | 16.10.99 | Sutton Utd (H) | 1 goal |
| Conf | 23.10.99 | Scarborough (A) | |
| FAC1 | 29.10.99 | Scunthorpe Utd (H) | |
| Conf | 2.11.99 | Nuneaton Boro (A) | |
| Conf | 6.11.99 | Dover Athetic (H) | |
| Conf | 13.11.99 | Yeovil Town (A) | |
| FAC2 | 20.11.99 | Ilkeston Town (A) | |
| NT2 | 23.11.99 | Telford Utd (H) | |
| FAT2 | 27.11.99 | Havant & W (H) | |
| FAC2r | 30.11.99 | Ilkeston Town (H) | |
| Conf | 4.12.99 | Hayes (A) | 1 goal |
| FAC3 | 12.12.99 | Sheffield Utd (A) | 1 goal |
| FAC3r | 21.12.99 | Sheffield Utd (H) | |
| Conf | 27.12.99 | Stevenage Boro(H) | 1 goal |
| Conf | 3.1.00 | Stevenage Boro(A) | |
| FAT3 | 15.1.00 | Bath City (A) | |
| Conf | 22.1.00 | Forest Green (A) | |
| Conf | 29.1.00 | Northwich Vic (H) | |
| FAT4 | 5.2.00 | Billericay Tn (A) | |
| FAT4r | 8.2.00 | Billericay Tn (H) | |
| Conf | 19.2.00 | Doncester Rvrs(A) | as sub |
| FAT5 | 26.2.00 | Marine (H) | |
| Conf | 7.3.00 | Yeovil Town (H) | as sub |
| FAT6 | 11.3.00 | Sutton Utd (A) | |
| FAT6r | 14.3.00 | Sutton Utd (H) | |
| Conf | 8.4.00 | Kidderminster (A) | |
| Conf | 11.4.00 | Woking (A) | |
| Conf | 29.4.00 | Scarborough (H) | as sub |
| Conf | 6.5.00 | Doncaster Rvrs (H) | as sub |
2000/2001
Conf

19.8.00

Chester City (H)

Conf

21.8.00

Hednesford Tn (A)

Conf

26.8.00

Dagenham&Red(A)

Conf

28.8.00

Southport (H)

1 goal

Conf

2.9.00

Telford Utd (A)

1 goal

Conf

5.9.00

Stevenage Boro (H)

Conf

9.9.00

Forest Green (H)

Conf

12.9.00

Scarborough (A)

Conf

16.9.00

Woking (A)

1 goal

Conf

23.9.00

Kettering Town (H)

Conf

26.9.00

Dagenham&Red(H)

Conf

30.9.00

Kingstonian (A)

2 goals

Conf

3.10.00

Leigh RMI (A)

Conf

8.10.00

Boston Utd (H)

Conf

14.10.00

Hereford Utd (A)

Conf

21.10.00

Morecambe (A)

FAC4q

28.10.00

Grantham Town (H)

as sub

Conf

4.11.00

Yeovil Town (H)

as sub

Conf

11.11.00

Doncaster Rvrs (A)

as sub

1 goal

FAC1

17.11.00

Luton Town (A)

Conf

2.12.00

Dover Athletic (A)

Conf

9.12.00

Hayes (A)

Conf

16.12.00

Hednesford Tn (H)

1 goal

NWT3

19.12.00

Kingstonian (A)

Conf

26.12.00

Nuneaton Boro (A)

Conf

1.1.01

Nuneaton Boro (H)

1 goal

Conf

6.1.01

Southport (A)

FAT3

13.1.01

Hayes (A)

Conf

27.1.01

Stevenage Boro (A)

FAT4

3.2.01

Marine (A)

Conf

10.2.01

Forest Green (A)

Conf

17.2.01

Scarborough (H)

Conf

20.2.01

Northwich Vic (H)

FAT5

24.2.01

Forest Green (A)

Conf

3.3.01

Woking (H)

Conf

10.3.01

Boston Utd (A)

Conf

13.3.01

Kettering Town (A)

Conf

17.3.01

Kingstonian (H)

Conf

25.3.01

Northwich Vic (A)

Conf

31.3.01

Leigh RMI (H)

Conf

7.4.01

Morecambe (H)

1 goal

HSCF

10.4.01

Kettering Town (H)

Conf

14.4.01

Hereford Utd (A)

Conf

16.4.01

Doncaster Rvrs (H)

Conf

21.4.01

Yeovil Town (A)

Conf

24.4.01

Telford Utd (H)

1 goal

Conf

28.4.01

Dover Athletic (H)

Conf

5.5.01

Chester City (A)

1 goal
2001/2002 – squad number 8
D3

11.8.01

York City (A)

D3

16.8.01

Lincoln City (H)

WC1

21.8.01

Burnley (A)

D3

25.8.01

Macclesfield Tn(A)

D3

27.8.01

Plymouth Arg (H)

D3

1.9.01

Oxford Utd (A)

D3

8.9.01

Southend Utd (H)

WC2

11.9.01

Crewe Alex (A)

D3

15.9.01

Leyton Orient (A)

D3

22.9.01

Cheltenham Tn (H)

as sub

D3

25.9.01

Exeter City (A)

as sub

D3

29.9.01

Darlington (A)

as sub

D3

5.10.01

Hartlepool Utd (H)

D3

27.10.01

Mansfield Town(H)

as sub

D3

3.11.01

Swansea City (A)

as sub

MCSF

6.11.01

Northampton Tn(H)

2 goals

D3

10.11.01

Halifax Town (A)

as sub

CS

13.11.01

Chester City (H)

FAC1

17.11.01

Worcester City (A)

as sub

D3

24.11.01

Kidderminster (A)

as sub

D3

1.12.01

Bristol Rvrs (H)

FAC2

8.12.01

Brighton &HA (A)

MCF

12.12.01

Peterborough (H)

D3

29.1.02

Macclesfield Tn(H)

as sub

D3

5.2.02

Oxford Utd (H)

as sub

1 goal

D3

9.2.02

Hull City (A)

as sub

D3

16.3.02

Bristol Rvrs (A)

as sub

D3

30.3.02

Mansfield Town(A)

as sub

D3

13.4.02

Kidderminster (H)

as sub

D3POF

6.5.02

Cheltenham Tn (N)

as sub