Matt Johnson
Matt Johnson
Born 15 April 1990 (Age 20 at debut)
Position: Midfielder
(Diamonds player #346)
Total appearances 47 – 3 goals
(44 League, 1 FA Cup, 2 FA Trophy)
Debut:
14 August 2010 (Home Fleetwood Town)
Final game:
30 April 2011 (Away Darlington)
Matt began his career with Harlow Town as a 15 year old, making 11 appearances for the Southern League Division One East club. He moved on to Erith & Belvedere before helping Isthmian Division One North side Aveley to promotion to the Premier Division for the first time in their history during the 2008/2009 season. The following season, they made the play-offs, narrowly losing to Boreham Wood. Manager Justin Edinburgh brought the tall strong midfielder to Nene Park on 9 June 2010, and he made his debut as a substitute in the opening game of the season, at home to Fleetwood Town.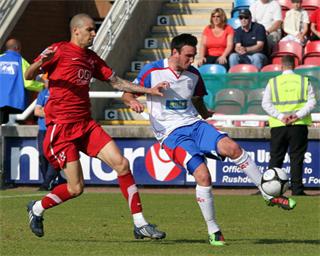 He went on to play in all but two of the Conference games during the season. With the uncertainty about the future of the club, he was allowed to leave at the end of the season, and joined Conference South side Dover Athletic on 7 June 2011. Matt failed to gain a regular place in the side however, and was released by mutual consent in mid September, joining Conference newcomers Braintree Town on 23 September 2011. On 19 January 2012, Matt joined Conference North side Bishop's Stortford. He spent the following two seasons with the Bishops, becoming captain and winning Player of the Year awards  before signing for Conference South side Ebbsfleet United on 30 May 3014. He left Ebbsfleet after 3 years to join Chelmsford City ahead of the 2017-18 season. In March 2018 he joined Enfield Town. He moved to AFC Hornchurch ahead of the 2019-20 season, but left there in October 2020, prior to returning to Braintree Town.
Appearances
2010/2011 – squad number 18
Conf

14.8.10

Fleetwood Tn (H)

as sub

Conf

17.8.10

Bath City (A)

as sub

Conf

21.8.10

Barrow (A)

Conf

24.8.10

Wimbledon (H)

Conf

28.8.10

Grimsby Town (H)

Conf

30.8.10

Kettering Town (A)

Conf

4.9.10

York City (A)

Conf

11.9.10

Newport Co (H)

as sub

Conf

18.9.10

Southport (A)

as sub

1 goal

Conf

21.9.10

Histon (H)

as sub

Conf

26.9.10

Crawley Town (H)

as sub

Conf

29.9.10

Eastbourne B (A)

Conf

2.10.10

Altrincham (A)

Conf

5.10.10

Darlington (H)

Conf

9.10.10

Mansfield Tn (H)

Conf

16.10.10

Tamworth (A)

FAC4q

23.10.10

Kettering Town (A)

Conf

30.10.10

Barrow (H)

Conf

9.11.10

Kidderminster (A)

as sub

Conf

13.11.10

Fleetwood Tn (A)

Conf

20.11.10

York City (H)

as sub

Conf

27.11.10

Forest Green (A)

as sub

FAT1

11.12.10

Eastwood Tn (H)

Conf

1.1.11

Luton Town (A)

Conf

8.1.11

Altrincham (H)

as sub

FAT1r

11.1.11

Eastwood Tn (A)

Conf

18.1.11

Hayes&Yeading(A)

as sub

Conf

22.1.11

Newport Co (A)

as sub

1 goal

Conf

29.1.11

Tamworth (H)

as sub

Conf

5.2.11

Cambridge U (A)

as sub

Conf

12.2.11

Gateshead (H)

as sub

Conf

22.2.11

Eastbourne B (H)

as sub

Conf

1.3.11

Bath City (H)

as sub

Conf

5.3.11

Hayes&Yeading(H)

Conf

8.3.11

Forest Green (H)

Conf

12.3.11

Wrexham (A)

as sub

Conf

19.3.11

Southport (H)

1 goal

Conf

22.3.11

Luton Town (H)

Conf

26.3.11

AFC Wimbledon(A)

Conf

2.4.11

Mansfield Town (A)

as sub

Conf

5.4.11

Histon (A)

Conf

9.4.11

Wrexham (H)

Conf

13.4.11

Grimsby Town (A)

as sub

Conf

16.4.11

Gateshead (A)

as sub

Conf

22.4.11

Crawley Town (A)

Conf

25.4.11

Kidderminster H (H)

Conf

30.4.11

Darlington (A)

as sub