Alan Power
Alan Power
Born 23 January 1988 (Age 22 at debut)
Position: Midfielder
(Diamonds player #343)
Total appearances 45 – 3 goals
(41 League, 2 FA Cup, 2 FA Trophy)
Debut:
14 August 2010 (Home Fleetwood Town)
Final game:
30 April 2011 (Away Darlington)
The Irish born midfielder started his career with Nottingham Forest, becoming captain of their reserve side, and gaining several caps at Youth and Under 21 level for the Republic of Ireland. Alan also spent 3 months on loan at Grays Athletic commencing November 2007. After being released by Forest in the summer of 2008, he signed for Hartlepool United in June 2008, but in two seasons, he only played 8 games. He signed for Diamonds on 11 June 2010 although he had to wait until his previous contract ended on 1 July before the paperwork was completed and made his Diamonds debut in the 1-1 draw against Fleetwood Town on 14 August 2010. He scored his debut goal for the club on 16 October to give the Diamonds a late victory over Tamworth.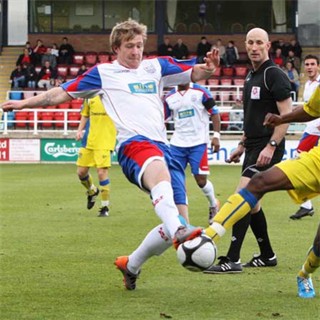 He picked up the Players' Player of the Season award for the 2010/2011 season before being released at the end of the season. On 6 July 2011, Alan joined Lincoln City for their first season back in the Conference following their relegation from the Football League, and extended his contract for a further year in May 2012. The following summer, Alan signed a further two year deal with the Imps. He remained at Sincil Bank until the summer of 2017, when he signed a two-year deal with Kilmarnock. He then signed a one-year deal at St Mirren in prior to the 2021/22 season. His Wikipedia page is here.
Appearances
2010/2011 – squad number 14
| | | | |
| --- | --- | --- | --- |
| Conf | 14.8.10 | Fleetwood Tn (H) | |
| Conf | 17.8.10 | Bath City (A) | |
| Conf | 21.8.10 | Barrow (A) | |
| Conf | 24.8.10 | AFC Wimbledon(H) | |
| Conf | 28.8.10 | Grimsby Town (H) | |
| Conf | 30.8.10 | Kettering Town (A) | |
| Conf | 4.9.10 | York City (A) | |
| Conf | 11.9.10 | Newport Co (H) | |
| Conf | 18.9.10 | Southport (A) | |
| Conf | 21.9.10 | Histon (H) | |
| Conf | 26.9.10 | Crawley Town (H) | |
| Conf | 9.10.10 | Mansfield Tn (H) | |
| Conf | 16.10.10 | Tamworth (A) | 1 goal |
| FAC4q | 23.10.10 | Kettering Town (A) | |
| Conf | 30.10.10 | Barrow (H) | |
| FAC1 | 6.11.10 | Yeovil Town (H) | |
| Conf | 9.11.10 | Kidderminster (A) | |
| Conf | 13.11.10 | Fleetwood Tn (A) | |
| Conf | 20.11.10 | York City (H) | |
| Conf | 27.11.10 | Forest Green (A) | 1 goal |
| FAT1 | 11.12.10 | Eastwood Tn (H) | |
| Conf | 1.1.11 | Luton Town (A) | |
| Conf | 3.1.11 | Kettering Town (H) | |
| Conf | 8.1.11 | Altrincham (H) | |
| FAT1r | 11.1.11 | Eastwood Tn (A) | |
| Conf | 18.1.11 | Hayes&Yeading(A) | |
| Conf | 22.1.11 | Newport Co (A) | |
| Conf | 29.1.11 | Tamworth (H) | 1 goal |
| Conf | 1.2.11 | Cambridge U (H) | |
| Conf | 5.2.11 | Cambridge U (A) | |
| Conf | 12.2.11 | Gateshead (H) | |
| Conf | 22.2.11 | Eastbourne B (H) | |
| Conf | 1.3.11 | Bath City (H) | |
| Conf | 5.3.11 | Hayes&Yeading(H) | |
| Conf | 8.3.11 | Forest Green (H) | as sub |
| Conf | 12.3.11 | Wrexham (A) | |
| Conf | 19.3.11 | Southport (H) | |
| Conf | 22.3.11 | Luton Town (H) | |
| Conf | 26.3.11 | AFC Wimbledon(A) | |
| Conf | 2.4.11 | Mansfield Town (A) | |
| Conf | 5.4.11 | Histon (A) | |
| Conf | 9.4.11 | Wrexham (H) | |
| Conf | 22.4.11 | Crawley Town (A) | |
| Conf | 25.4.11 | Kidderminster (H) | |
| Conf | 30.4.11 | Darlington (A) | |