Shane Huke
Shane Huke
Born 2 October 1985 (Age 25 at debut)
Position: Midfielder
(Diamonds player #339)
Total appearances 42 – 2 goals
(40 League, 2 FA Cup)
Debut:
27 March 2010 (Away AFC Wimbledon)
Final game:
30 April 2011 (Away Darlington)
Born in Reading, Shane was raised in Queensland, Australia, and started his career as a 16 year old with Brisbane side Rochedale Rovers. In 2003, he moved to England to progress his football ambitions, and joined Peterborough United, playing 29 games for the Posh. During his four years at London Road, he had loan spells at King's Lynn, Bedford Town, Heybridge Swifts, Cambridge City and AFC Hornchurch. After his release from Peterborough, he signed for Dagenham & Redbridge in June 2007. He played 36 times for the Daggers before being released for personal reasons. He then returned to his native Australia playing for Central Coast Mariners.
The central midfielder signed for Diamonds on 25 March 2010, initially until the end of the 2009 / 2010 season, but agreed an extension prior to the end of the season. He made his debut at AFC Wimbledon on 28 March 2010 and made six starts and three substitute appearances, both in midfield and covering in the wing-back position as the Diamonds pushed for the playoffs prior to signing the extended contract. The following season, Shane found himself covering at centre back and played 33 games during that 2010 / 2011 season.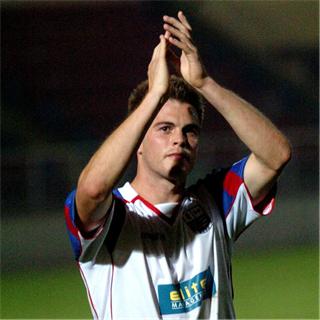 He was released in May 2011, and signed for Dover Athletic on 17 May 2011. After two seasons at the Crabble, Shane joined Conference South side Ebbsfleet United on 10 June 2013. He stayed there until 2015 when a short spell with Maidstone United was followed by his retirement from the game due to injury.
Appearances
2009/2010 – squad number 22
| | | | |
| --- | --- | --- | --- |
| Conf | 27.3.10 | Wimbledon (A) | as sub |
| Conf | 30.3.10 | Kettering Tn (A) | as sub |
| Conf | 2.4.10 | Crawley Tn (H) | |
| Conf | 5.4.10 | Kidderminster (A) | |
| Conf | 13.4.10 | Mansfield Tn (A) | |
| Conf | 17.4.10 | Wrexham (A) | |
| Conf | 24.4.10 | Luton Tn (H) | |
| POSF1 | 29.4.10 | Oxford Utd (H) | as sub |
| POSF2 | 3.5.10 | Oxford Utd (A) | |
2010/2011 – squad number 20
| | | | |
| --- | --- | --- | --- |
| Conf | 14.8.10 | Fleetwood Tn (H) | as sub |
| Conf | 21.8.10 | Barrow (A) | as sub |
| Conf | 24.8.10 | AFC Wimbledon(H) | |
| Conf | 18.9.10 | Southport (A) | |
| Conf | 21.9.10 | Histon (H) | |
| Conf | 26.9.10 | Crawley Town (H) | |
| Conf | 29.9.10 | Eastbourne B (A) | |
| Conf | 2.10.10 | Altrincham (A) | |
| Conf | 5.10.10 | Darlington (H) | |
| Conf | 9.10.10 | Mansfield Tn (H) | |
| Conf | 16.10.10 | Tamworth (A) | |
| FAC4q | 23.10.10 | Kettering Town (A) | |
| Conf | 30.10.10 | Barrow (H) | |
| FAC1 | 6.11.10 | Yeovil Town (H) | |
| Conf | 20.11.10 | York City (H) | |
| Conf | 27.11.10 | Forest Green (A) | |
| Conf | 1.1.11 | Luton Town (A) | |
| Conf | 22.2.11 | Eastbourne B (H) | |
| Conf | 1.3.11 | Bath City (H) | |
| Conf | 5.3.11 | Hayes&Yeading(H) | |
| Conf | 8.3.11 | Forest Green (H) | |
| Conf | 12.3.11 | Wrexham (A) | 1 goal |
| Conf | 19.3.11 | Southport (H) | |
| Conf | 22.3.11 | Luton Town (H) | |
| Conf | 26.3.11 | AFC Wimbledon(A) | |
| Conf | 2.4.11 | Mansfield Town (A) | |
| Conf | 5.4.11 | Histon (A) | 1 goal |
| Conf | 9.4.11 | Wrexham (H) | |
| Conf | 13.4.11 | Grimsby Town (A) | |
| Conf | 16.4.11 | Gateshead (A) | |
| Conf | 22.4.11 | Crawley Town (A) | |
| Conf | 25.4.11 | Kidderminster (H) | |
| Conf | 30.4.11 | Darlington (A) | |