Mark Byrne
Mark Byrne
Born 9 November 1988 (Age 20 at debut)
Position: Midfielder
(Diamonds player #327)
Total appearances 47 – 7 goals
(42 League, 3 FA Cup, 2 FA Trophy)
Debut:
18 August 2009 (Home Hayes & Yeading)
Final game:
3 May 2010 (Away Oxford United)
The tenacious midfielder joined Diamonds on a half season loan deal from Nottingham Forest on 20 July 2009, but the loan was later extended until the end of the season. He had featured prominently for Forest's reserve team after graduating from their academy and earned his first team debut under manager Billy Davies in April 2008. While with Forest, Mark had a loan spell at Conference side Burton Albion towards the end of the 2008-09 season during their promotion campaign.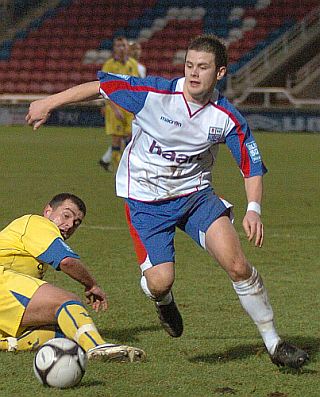 Mark made his Diamonds debut on 18 August 2009 as a substitute in the 2-1 victory over Hayes & Yeading United, and then scored his debut goal for the club four days later against Forest Green Rovers. After a successful season at Nene Park, during which he helped the club reach the end of season play-offs, he was rewarded with the Players' "Player of the season" award.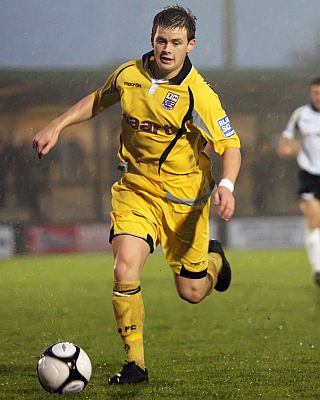 He returned to his parent club at the end of the loan period in May 2010, where his contract was renewed. Despite efforts to secure another loan deal at Nene Park, on 14 July 2010, he signed a half-season loan deal with League Two side Barnet, but had to return to Nottingham Forest in November due to injury. After recovery however, he returned back to Barnet on 2 March 2011 on loan until the end of the season. On 17 June 2011, Mark signed a two year permanent deal with Barnet. He was released at the end of his contract on 13 May 2014, and was on trial with former manager Justin Edinburgh at League Two side Newport County for pre-season, signing a half season contract on 14 July 2014. He stayed with Newport until the summer of 2016, when he rejoined Justin Edinburgh at Gillingham. He left Priestfield in 2020 to return to Irish football, firstly for Shelbourne and then for Bray Wanderers. In February 2022 he joined his former club Crumlin United. His Wikipedia entry is here.
Appearances
2009/2010 – squad number 20
Conf

18.8.09

Hayes&Yeading(H)

as sub

Conf

22.8.09

Forest Gn Rvrs(H)

1 goal

Conf

29.8.09

Stevenage Boro(A)

Conf

31.8.09

Cambridge Utd (H)

Conf

5.9.09

Barrow (A)

Conf

8.9.09

Ebbsfleet Utd (A)

Conf

12.9.09

Grays Athletic (H)

Conf

19.9.09

Mansfield Tn (H)

Conf

22.9.09

Gateshead (A)

Conf

26.9.09

Crawley Tn (A)

Conf

29.9.09

Wimbledon (H)

Conf

3.10.09

Altrincham (H)

Conf

17.10.09

Tamworth (H)

as sub

FAC4q

24.10.09

Workington (A)

as sub

Conf

31.10.09

Luton Town (A)

as sub

1 goal

FAC1

7.11.09

Hinckley Utd (A)

1 goal

Conf

14.11.09

Histon (H)

Conf

21.11.09

Salisbury City (A)

Conf

24.11.09

Cambridge Utd (A)

FAC2

28.11.09

Brighton&HA (A)

Conf

1.12.09

York City (H)

Conf

5.12.09

Forest Gn Rvrs(A)

FAT1

12.12.09

Billericay Tn (H)

Conf

28.12.09

Kidderminster H(H)

FAT2

19.1.10

Workington (A)

Conf

23.1.10

Barrow (H)

Conf

26.1.10

Wrexham (H)

Conf

30.1.10

Hayes&Yeading(A)

Conf

6.2.10

Grays Athletic (A)

Conf

9.2.10

EastbourneBoro(H)

Conf

13.2.10

Stevenage Boro(H)

Conf

16.2.10

Oxford Utd (A)

Conf

27.2.10

Kettering Tn (H)

Conf

3.3.10

Histon (A)

Conf

6.3.10

Tamworth (A)

Conf

13.3.10

Gateshead (H)

1 goal

Conf

20.3.10

Altrincham (A)

Conf

24.3.10

Oxford Utd (H)

Conf

27.3.10

Wimbledon (A)

Conf

30.3.10

Kettering Tn (A)

1 goal

Conf

2.4.10

Crawley Tn (H)

Conf

10.4.10

Ebbsfleet Utd (H)

Conf

13.4.10

Mansfield Tn (A)

Conf

17.4.10

Wrexham (A)

as sub

Conf

24.4.10

Luton Tn (H)

1 goal

POSF1

29.4.10

Oxford Utd (H)

1 goal

POSF2

3.5.10

Oxford Utd (A)