Max Porter
Max Porter
Born 29 June 1987 (Age 22 at debut)
Position: Midfielder
(Diamonds player #325)
Total appearances 96 – 8 goals
(88 League, 5 FA Cup, 3 FA Trophy))
Debut:
8 August 2009 (Home Salisbury City)
Final game:
30 April 2011 (Away Darlington)
Max started his career with Southend United's youth team, and joined Conference side Cambridge United in November 2005. He made his debut the following month, and played some nine games for them that season. He was released in the summer however, and joined Bishop Stortford for the 2006/2007 season. In July 2007, he signed for League Two side Barnet and played some 66 games for the Bees over the following two years. Max signed for Diamonds on 27 May 2009 on a one year deal.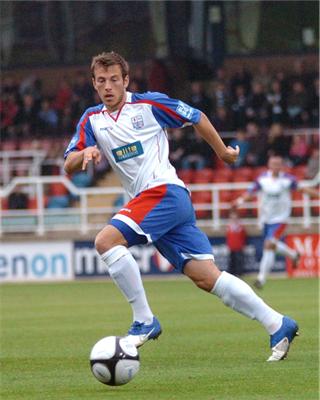 He made his Diamonds debut on 8 August 2009 as a substitute in the 2-0 defeat by Salisbury City at Nene Park and scored his first goal on 6 March 2010 to give the Diamonds a 1-0 victory at Tamworth. He then went on to score in both of the following two games. During his first season at Nene Park, he was almost an "ever-present" in the Diamonds side with 45 appearances in the Conference, 50 overall in all Competitions, and scored four goals.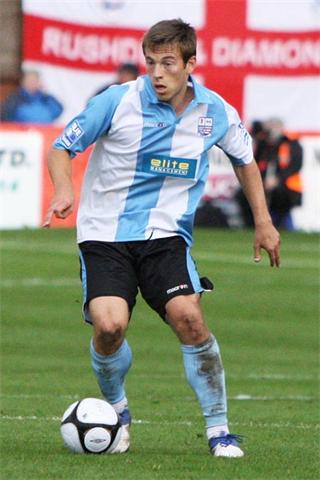 Max played many of those at central midfield, but also deputised as a wing back when required. His efforts saw him also getting call ups to the England C side where he has faced the Republic of Ireland U23, The East of Scotland League XI, and Poland U23, scoring the decisive goal against Ireland, and he was also on the scoresheet against the East of Scotland. After a successful first season with the club, he signed to remain at Nene Park for the 2010/2011 season and won further England C caps, and captained the side in their victory in Estonia that sealed qualification from the Group Stage of the International Challenge Trophy. He went on to captain the England C team as they reached the final of the International Challenge Tournament before leaving the club at the end of the Season, moving to AFC Wimbledon on 2 June 2011 following their promotion to the Football League. Max was expected to leave during January 2012, but an ankle injury meant he was unable to secure a deal elsewhere. Following his recovery, he went on an end of season loan to Newport County on 1 March 2012, joining his former boss Justin Edinburgh. On returning to Wimbledon in May 2012, he was released and signed a one-year deal with Newport County on 29 June 2012. A persistent groin injury kept him sidelined in January 2013, missing the remainder of the season, but he agreed a further one year deal with the club in April 2013, and again for the following season. Max suffered a further groin injury on 8 July 2014 during a pre-season game, keeping him out for another six weeks.
He left Newport after helping them win promotion to League 2, moving to Bromley in May 2015, staying there for just over a season before joining Chelmsford City. He left there shortly after the start of the 2019/20 season to take on a coaching role at Arsenal, where he has taken on a Team Manager role for various Youth Teams. His Wikipedia page is here.
Appearances
2009/2010 – squad number 4
| | | | |
| --- | --- | --- | --- |
| Conf | 8.8.09 | Salisbury City (H) | as sub |
| Conf | 11.8.09 | York City (A) | |
| Conf | 15.8.09 | Eastbourne B (A) | |
| Conf | 18.8.09 | Hayes&Yeading(H) | |
| Coinf | 22.8.09 | Forest Green (H) | |
| Conf | 29.8.09 | Stevenage Boro(A) | |
| Conf | 31.8.09 | Cambridge Utd (H) | |
| Conf | 5.9.09 | Barrow (A) | |
| Conf | 8.9.09 | Ebbsfleet Utd (A) | |
| Conf | 12.9.09 | Grays Athletic (H) | |
| Conf | 19.9.09 | Mansfield Tn (H) | as sub |
| Conf | 22.9.09 | Gateshead (A) | |
| Conf | 26.9.09 | Crawley Tn (A) | as sub |
| Conf | 3.10.09 | Altrincham (H) | as sub |
| Conf | 17.10.09 | Tamworth (H) | |
| FAC4q | 24.10.09 | Workington (A) | |
| Conf | 31.10.09 | Luton Town (A) | |
| FAC1 | 7.11.09 | Hinckley Utd (A) | |
| Conf | 14.11.09 | Histon (H) | |
| Conf | 21.11.09 | Salisbury City (A) | |
| Conf | 24.11.09 | Cambridge Utd (A) | |
| FAC2 | 28.11.09 | Brighton&HA (A) | |
| Conf | 1.12.09 | York City (H) | |
| Conf | 5.12.09 | Forest Green (A) | |
| FAT1 | 12.12.09 | Billericay Tn (H) | |
| Conf | 28.12.09 | Kidderminster (H) | |
| FAT2 | 19.1.10 | Workington (A) | |
| Conf | 23.1.10 | Barrow (H) | as sub |
| Conf | 26.1.10 | Wrexham (H) | as sub |
| Conf | 30.1.10 | Hayes&Yeading(A) | |
| Conf | 6.2.10 | Grays Athletic (A) | |
| Conf | 9.2.10 | Eastbourne B (H) | |
| Conf | 13.2.10 | Stevenage Boro(H) | |
| Conf | 16.2.10 | Oxford Utd (A) | as sub |
| Conf | 27.2.10 | Kettering Tn (H) | |
| Conf | 3.3.10 | Histon (A) | |
| Conf | 6.3.10 | Tamworth (A) | 1 goal |
| Conf | 13.3.10 | Gateshead (H) | 1 goal |
| Conf | 20.3.10 | Altrincham (A) | 1 goal |
| Conf | 24.3.10 | Oxford Utd (H) | |
| Conf | 27.3.10 | AFC Wimbledon(A) | |
| Conf | 30.3.10 | Kettering Tn (A) | |
| Conf | 2.4.10 | Crawley Tn (H) | |
| Conf | 5.4.10 | Kidderminster (A) | 1 goal |
| Conf | 10.4.10 | Ebbsfleet Utd (H) | |
| Conf | 13.4.10 | Mansfield Tn (A) | as sub |
| Conf | 17.4.10 | Wrexham (A) | as sub |
| Conf | 24.4.10 | Luton Tn (H) | |
| POSF1 | 29.4.10 | Oxford Utd (H) | |
| POSF2 | 3.5.10 | Oxford Utd (A) | |
2010/2011 – squad number 4
| | | | |
| --- | --- | --- | --- |
| Conf | 14.8.10 | Fleetwood Tn (H) | |
| Conf | 17.8.10 | Bath City (A) | 1 goal |
| Conf | 21.8.10 | Barrow (A) | |
| Conf | 24.8.10 | AFC Wimbledon(H) | |
| Conf | 28.8.10 | Grimsby Town (H) | 1 goal |
| Conf | 30.8.10 | Kettering Town (A) | |
| Conf | 4.9.10 | York City (A) | |
| Conf | 11.9.10 | Newport Co (H) | |
| Conf | 18.9.10 | Southport (A) | |
| Conf | 21.9.10 | Histon (H) | |
| Conf | 26.9.10 | Crawley Town (H) | |
| Conf | 29.9.10 | Eastbourne B (A) | |
| Conf | 2.10.10 | Altrincham (A) | |
| Conf | 5.10.10 | Darlington (H) | |
| Conf | 9.10.10 | Mansfield Tn (H) | |
| Conf | 16.10.10 | Tamworth (A) | |
| FAC4q | 23.10.10 | Kettering Town (A) | |
| Conf | 30.10.10 | Barrow (H) | 1 goal |
| FAC1 | 6.11.10 | Yeovil Town (H) | |
| Conf | 9.11.10 | Kidderminster (A) | |
| Conf | 13.11.10 | Fleetwood Tn (A) | |
| Conf | 20.11.10 | York City (H) | |
| Conf | 27.11.10 | Forest Green (A) | |
| Conf | 3.1.11 | Kettering Town (H) | |
| Conf | 8.1.11 | Altrincham (H) | |
| FAT1r | 11.1.11 | Eastwood Tn (A) | |
| Conf | 18.1.11 | Hayes&Yeading(A) | |
| Conf | 22.1.11 | Newport Co (A) | |
| Conf | 29.1.11 | Tamworth (H) | |
| Conf | 1.2.11 | Cambridge U (H) | |
| Conf | 5.2.11 | Cambridge U (A) | |
| Conf | 12.2.11 | Gateshead (H) | |
| Conf | 22.2.11 | Eastbourne B (H) | |
| Conf | 1.3.11 | Bath City (H) | |
| Conf | 8.3.11 | Forest Green (H) | |
| Conf | 12.3.11 | Wrexham (A) | |
| Conf | 19.3.11 | Southport (H) | 1 goal |
| Conf | 22.3.11 | Luton Town (H) | |
| Conf | 26.3.11 | AFC Wimbledon(A) | |
| Conf | 2.4.11 | Mansfield Town (A) | |
| Conf | 5.4.11 | Histon (A) | |
| Conf | 9.4.11 | Wrexham (H) | |
| Conf | 13.4.11 | Grimsby Town (A) | |
| Conf | 16.4.11 | Gateshead (A) | |
| Conf | 22.4.11 | Crawley Town (A) | |
| Conf | 30.4.11 | Darlington (A) | |