Craig Farrell
Craig Farrell
Born 5 December 1982 (Age 26 at debut)
Position: Forward
(Diamonds player #324)
Total appearances 78 – 15 goals
(70 League, 4 FA Cup, 4 FA Trophy)
Debut:
8 August 2009 (Home Salisbury City)
Final game:
30 April 2011 (Away Darlington)
Middlesborough born, Craig spent the early part of his career as a junior with the Middlesborough Youth set-up, before earning a scholarship with Leeds United after trialling as a 15 year old. He also played for England at Under 16 level. He earned his first contract in August 2002, and went out on loan to Carlisle United in November 2002 to gain some first team experience. In his one month loan, he scored 3 goals in 7 games, and he joined Carlisle on a permanent basis in November after a £50,000 transfer fee was agreed (subject to appearances) on a three year deal. The striker was released in May 2005 however, and joined Conference side Exeter City in August 2005. on a one year deal. The following season, he joined York City, and spent some four years with the Minstermen. In January 2009, he joined Oxford United on loan, until the end of the season, and was released in the summer. It was expected that he would join Oxford in the summer of 2009, but a deal was struck with Diamonds which saw Michael Rankine move to York City, with Craig joining Diamonds plus a £10,000 transfer fee. He made his Diamonds debut on 8 August 2009 as a substitute in the 2-0 defeat by Salisbury City at Nene Park. He scored his first goal for the Diamonds ten days later in the 2-1 victory over Hayes & Yeading United.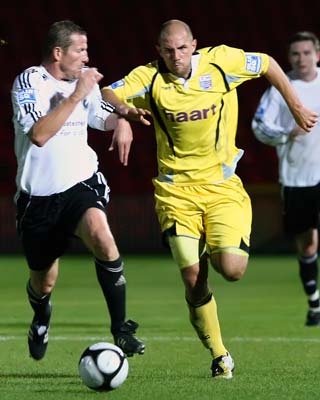 After a successful first season for the club, when he scored 13 goals in all competitions, the option to extend his contract for the 2010/2011 was taken up by the club. He went on to make a total of 78 appearances, scoring 15 goals. He was released in May 2011, and joined newly promoted Conference side AFC Telford on 27 June 2011. On 4 January 2012, he went on loan to Conference North side Hinckley United, before signing a permanent deal on 9 February 2012 to keep him with the Knitters until the end of the season. He left the club however at the end of the 2011/2012 season to relocate nearer his roots, and joined NPL Premier side Blyth Spartans on 9 June 2012. Due to continued work commitments, Craig had difficulty attending training sessions with the Spartans, and on 16 November 2012, he joined rival NPL Premier side Whitby Town – closer to his home town. He retired from the game due to injury in 2015.
Appearances
2009/2010 – squad number 9
Conf

8.8.09

Salisbury City (H)

as sub

Conf

11.8.09

York City (A)

Conf

15.8.09

Eastbourne B (A)

Conf

18.8.09

Hayes&Yeading(H)

as sub

1 goal

Conf

22.8.09

Forest Green (H)

1 goal

Conf

29.8.09

Stevenage Boro(A)

as sub

Conf

31.8.09

Cambridge Utd (H)

as sub

Conf

5.9.09

Barrow (A)

2 goals

Conf

8.9.09

Ebbsfleet Utd (A)

Conf

12.9.09

Grays Athletic (H)

Conf

19.9.09

Mansfield Tn (H)

Conf

22.9.09

Gateshead (A)

Conf

26.9.09

Crawley Tn (A)

1 goal

Conf

29.9.09

AFC Wimbledon(H)

Conf

3.10.09

Altrincham (H)

Conf

17.10.09

Tamworth (H)

FAC4q

24.10.09

Workington (A)

Conf

31.10.09

Luton Town (A)

FAC1

7.11.09

Hinckley Utd (A)

Conf

14.11.09

Histon (H)

Conf

21.11.09

Salisbury City (A)

Conf

24.11.09

Cambridge Utd (A)

as sub

FAC2

28.11.09

Brighton&HA (A)

Conf

1.12.09

York City (H)

as sub

Conf

5.12.09

Forest Green (A)

as sub

FAT1

12.12.09

Billericay Tn (H)

Conf

28.12.09

Kidderminster (H)

FAT2

19.1.10

Workington (A)

1 goal

Conf

23.1.10

Barrow (H)

1 goal

Conf

26.1.10

Wrexham (H)

Conf

30.1.10

Hayes&Yeading(A)

as sub

2 goals

Conf

6.2.10

Grays Athletic (A)

as sub

Conf

9.2.10

Eastbourne B (H)

Conf

13.2.10

Stevenage Boro(H)

Conf

16.2.10

Oxford Utd (A)

as sub

Conf

27.2.10

Kettering Tn (H)

as sub

Conf

3.3.10

Histon (A)

as sub

Conf

6.3.10

Tamworth (A)

as sub

Conf

13.3.10

Gateshead (H)

as sub

1 goal

Conf

20.3.10

Altrincham (A)

Conf

24.3.10

Oxford Utd (H)

1 goal

Conf

27.3.10

AFC Wimbledon(A)

1 goal

Conf

30.3.10

Kettering Tn (A)

1 goal

Conf

2.4.10

Crawley Tn (H)

Conf

10.4.10

Ebbsfleet Utd (H)

Conf

24.4.10

Luton Tn (H)

as sub

POSF1

29.4.10

Oxford Utd (H)

POSF2

3.5.10

Oxford Utd (A)

as sub
2010/2011 – squad number 9
Conf

14.8.10

Fleetwood Tn (H)

Conf

17.8.10

Bath City (A)

Conf

11.9.10

Newport Co (H)

as sub

Conf

18.9.10

Southport (A)

Conf

21.9.10

Histon (H)

Conf

30.10.10

Barrow (H)

as sub

FAC1

6.11.10

Yeovil Town (H)

as sub

Conf

9.11.10

Kidderminster (A)

as sub

Conf

20.11.10

York City (H)

as sub

Conf

27.11.10

Forest Green (A)

FAT1

11.12.10

Eastwood Tn (H)

Conf

3.1.11

Kettering Town (H)

as sub

Conf

8.1.11

Altrincham (H)

FAT1r

11.1.11

Eastwood Tn (A)

1 goal

Conf

22.1.11

Newport Co (A)

as sub

Conf

1.2.11

Cambridge U (H)

as sub

1 goal

Conf

5.2.11

Cambridge U (A)

as sub

Conf

12.2.11

Gateshead (H)

Conf

22.2.11

Eastbourne B (H)

as sub

Conf

1.3.11

Bath City (H)

as sub

Conf

5.3.11

Hayes&Yeading(H)

as sub

Conf

8.3.11

Forest Green (H)

as sub

Conf

12.3.11

Wrexham (A)

as sub

Conf

19.3.11

Southport (H)

Conf

26.3.11

AFC Wimbledon(A)

as sub

Conf

2.4.11

Mansfield Town (A)

as sub

Conf

5.4.11

Histon (A)

Conf

9.4.11

Wrexham (H)

Conf

13.4.11

Grimsby Town (A)

Conf

30.4.11

Darlington (A)

as sub