Neil Cousins
Neil Cousins
Born 23 April 1982 (Age 26 at debut)
Position: Forward
(Diamonds player #314)
Total appearances 36 – 2 goals
(34 League, 2 FA Cup)
Debut:
26 December 2008 (Away Stevenage Borough)
Final game:
30 April 2011 (Away Darlington)
Neil was the son of Chairman Keith Cousins and had started his career as an 18 year old in the Essex Senior League with Burnham Ramblers. In 2001, he joined Malden Town, before moving to Braintree Town the following season, although a move to Heybridge Swift followed midway through that season. The young forward has a good strike rate with the Swifts, and he joined Billericay Town at the start of the 2004/2005 season. A return to Heybridge Swifts followed midway through the 2005/2006 season. Neil joined Diamonds on 26 December 2008, after scoring 6 goals in 18 appearances for the Swifts. He made his Diamonds debut as a substitute in the Boxing Day game at Stevenage Borough, where he collected an "assist" for his part in the Diamonds consolation goal. He then made his home debut in the return fixture at Nene Park on New Year's Day. He went on the make 20 appearances during the remainder of the season, scoring just the one goal in Diamonds 2-1 victory over Salisbury City in April 2009. Neil spent much of the 2009/2010 season sidelined for a lengthy period after being stretchered off in the FA Cup tie at Brighton with a serious knee injury.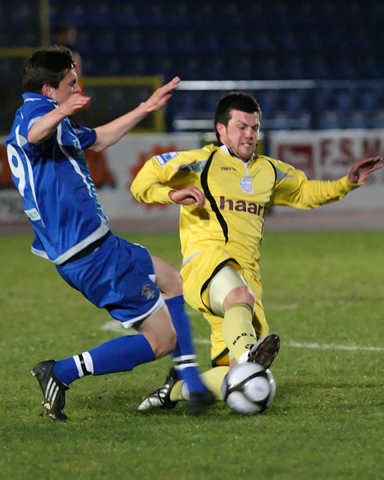 The injury saw him sidelined for some 16 months, and he made 6 substitute appearance at the end of the 2010/2011 season before being released in May 2011. On 30 June 2011, Neil joined Isthmian League Division One North side Maldon & Tiptree, where his elder brother Ian had become player/coach. On 8 December 2011, Neil re-joined Isthmian League Premier side Billericay Town, but his stay was short-lived, and he joined Isthmian Division One North side Brentwood Town on 16 February 2012. On 9 June 2013, it was announced that he had joined rivals Heybridge Swifts and remained there for a single season. Neil joined Isthmian Premier side Enfield Town on 5 June 2014. He retired from the game within a season to become a football agent.
Appearances
2008/2009 – squad number 12
| | | | |
| --- | --- | --- | --- |
| Conf | 26.12.08 | Stevenage B (A) | as sub |
| Conf | 1.1.09 | Stevenage B (H) | |
| Conf | 17.1.09 | Ebbsfleet Utd (A) | as sub |
| Conf | 23.1.09 | Forest Green (H) | as sub |
| Conf | 27.1.09 | Mansfield Tn (A) | |
| Conf | 1.2.09 | Cambridge Utd (H) | |
| Conf | 9.2.09 | Burton Albion (A) | as sub |
| Conf | 21.2.09 | Weymouth (A) | as sub |
| Conf | 24.2.09 | York City (H) | |
| Conf | 28.2.09 | Mansfield Tn (H) | |
| Conf | 14.3.09 | Crawley Tn (A) | as sub |
| Conf | 21.3.09 | Salisbury City (A) | as sub |
| Conf | 24.3.09 | Oxford Utd (H) | as sub |
| Conf | 28.3.09 | Northwich Vic (A) | |
| Conf | 31.3.09 | Grays Ath (A) | |
| Conf | 4.4.09 | Salisbury City (H) | 1 goal |
| Conf | 11.4.09 | Kettering Tn (H) | |
| Conf | 13.4.09 | Histon (A) | |
| Conf | 18.4.09 | Forest Green (A) | |
| Conf | 26.4.09 | Woking (H) | as sub |
2009/2010 – squad number 12
Conf

11.8.09

York City (A)

Conf

15.8.09

Eastbourne B (A)

Conf

5.9.09

Barrow (A)

as sub

1 goal

Conf

26.9.09

Crawley Tn (A)

as sub

Conf

29.9.09

Wimbledon (H)

as sub

Conf

17.10.09

Tamworth (H)

FAC4q

24.10.09

Workington (A)

Conf

31.10.09

Luton Town (A)

Conf

21.11.09

Salisbury City (A)

as sub

FAC2

28.11.09

Brighton&HA (A)
2010/2011 – squad number 12
| | | | |
| --- | --- | --- | --- |
| Conf | 9.4.11 | Wrexham (H) | as sub |
| Conf | 13.4.11 | Grimsby Town (A) | as sub |
| Conf | 16.4.11 | Gateshead (A) | as sub |
| Conf | 22.4.11 | Crawley Town (A) | as sub |
| Conf | 25.4.11 | Kidderminster (H) | as sub |
| Conf | 30.4.11 | Darlington (A) | as sub |