Michael Corcoran
Michael Corcoran
Born 28 December 1987 (Age 20 at debut)
Position: Defender
(Diamonds player #286)
Total appearances 120 – 8 goals
(103 League, 4 FA Cup, 7 FA Trophy, 1 League Cup, 4 Hillier Senior Cup, 1 Maunsell Cup)
Debut:
2 February 2008 (Away Halifax Town)
Final game:
30 April 2011 (Away Darlington)
Michael was born in Northern Ireland and started his career with Cardiff City, working his way up through the youth system. He earned a youth International cap for Northern Ireland whilst with the Bluebirds, and in January 2007, went on a three month loan to Oxford United to gain first team experience. In the summer, he joined Oxford on a permanent basis In 31 appearances, he scored twice before being given a free transfer to join Diamonds on 8 February 2008.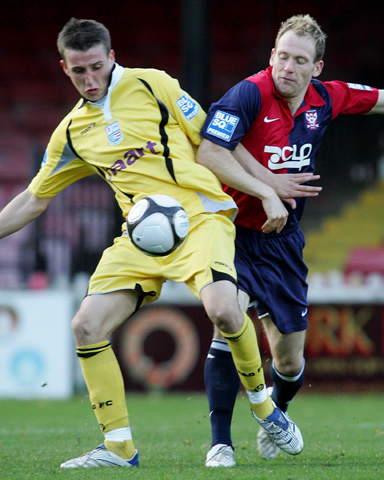 Able to play in midfield or defence, Michael became a good utility player during his time at Nene Park and was able to fit in anywhere he was asked to play. His contract option was taken up at the end of the season, and he signed an extension which kept him at Nene Park until the summer of 2011 later in the year. In the remainder of the 2007/2008 season he appeared 17 times for Diamonds and the following season, played 38 times for the Diamonds in League games, including 7 as substitute, playing in midfield early in the season, then reverting to full back, playing both left and right back, as well as a spell at centre back.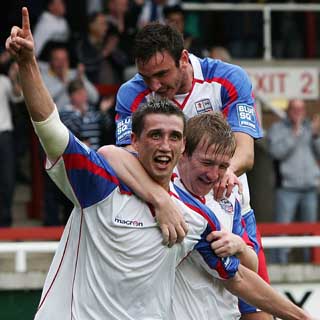 In the 2009/2010 season he played in various roles in the back four and went on to make 120 appearances in 3½ seasons at Nene Park, scoring 8 goals. He was released in May 2011, and joined Dover Athletic on 24 June 2011. After a season with the Whites, Michael joined newly promoted Conference North side Brackley Town on 13 July 2012 for a single season, helping them into the Play-Offs. He left at the end of the season however, and joined Conference South side Ebbsfleet United on 28 June 2013. He then moved to Wealdstone at the start of 2015, before joining Chelmsford City in May 2016. He joined Hendon for the 2017-18 season, before moving to Hampton & Richmond Borough prior to the 2018-19 season.
Appearances
2007/2008 – squad number 26
| | | | |
| --- | --- | --- | --- |
| FAT3 | 2.2.08 | Halifax Town (A) | as sub |
| Conf | 16.2.08 | Altrincham (H) | |
| FAT4 | 23.2.08 | York City (H) | |
| Conf | 1.3.08 | Woking (H) | |
| Conf | 4.3.08 | Farsley Celtic (A) | |
| Conf | 11.3.08 | Ebbsfleet Utd (A) | |
| Conf | 15.3.08 | Histon (A) | |
| Conf | 22.3.08 | York City (H) | |
| Conf | 24.3.08 | Kidderminster (A) | |
| Conf | 29.3.08 | Droylsden (H) | |
| Conf | 8.4.08 | Cambridge Utd (H) | |
| Conf | 12.4.08 | Forest Green (A) | |
| Conf | 15.4.08 | Stafford Rgrs (A) | |
| Conf | 19.4.08 | Exeter City (H) | |
| Conf | 22.4.08 | Oxford Utd (A) | |
| Conf | 26.4.08 | Aldershot Tn (H) | |
| HSCF | 29.4.08 | Brackley Town (H) | |
2008/2009 – squad number 24
MCF

26.7.08

Peterborough U(H)

as sub

Conf

9.8.08

Eastbourne B (A)

as sub

Conf

12.8.08

Ebbsfleet Utd (H)

as sub

Conf

17.8.08

Wrexham (H)

Conf

23.8.08

Kettering Tn (H)

Conf

25.8.08

Histon (H)

as sub

1 goal

Conf

2.9.08

Barrow (A)

Conf

6.9.08

Crawley Town (H)

Conf

11.9.08

Lewes (A)

as sub

HSC1

16.9.08

Rothwell Tn (A)

Conf

20.9.08

Burton Albion (H)

Conf

23.9.08

Wrexham (A)

Conf

29.9.08

Altrincham (H)

Conf

7.10.08

Grays Ath (H)

Conf

12.10.08

Torquay Utd (H)

Conf

18.10.08

York City (A)

FAC4q

25.10.08

Evesham Utd (A)

Conf

1.11.08

Cambridge Utd (A)

SS3

4.11.08

Stevenage B (H)

Conf

8.11.08

Weymouth (H)

as sub

HSCQF

11.11.08

Rothwell Corin (H)

Conf

15.11.08

Kidderminster (H)

Conf

22.11.08

Eastbourne B (H)

Conf

29.11.08

Altrincham (A)

Conf

6.12.08

Barrow (H)

Conf

9.12.08

Woking (A)

FAT1

13.12.08

Newport Co (A)

FAT1r

16.12.08

Newport Co (H)

Conf

20.12.08

Northwich Vic (H)

Conf

1.1.09

Stevenage B (H)

FAT2

10.1.09

Torquay Utd (A)

Conf

17.1.09

Ebbsfleet Utd (A)

as sub

Conf

23.1.09

Forest Green (H)

1 goal

Conf

27.1.09

Mansfield Tn (A)

Conf

1.2.09

Cambridge Utd (H)

Conf

9.2.09

Burton Albion (A)

Conf

21.2.09

Weymouth (A)

Conf

24.2.09

York City (H)

Conf

28.2.09

Mansfield Tn (H)

Conf

14.3.09

Crawley Tn (A)

as sub

Conf

21.3.09

Salisbury City (A)

Conf

24.3.09

Oxford Utd (H)

Conf

28.3.09

Northwich Vic (A)

Conf

13.4.09

Histon (A)

Conf

18.4.09

Forest Green (A)

Conf

26.4.09

Woking (H)
2009/2010 – squad number 16
| | | | |
| --- | --- | --- | --- |
| Conf | 11.8.09 | York City (A) | |
| Conf | 15.8.09 | Eastbourne B (A) | |
| Conf | 18.8.09 | Hayes&Yeading(H) | |
| Conf | 22.8.09 | Forest Green (H) | |
| Conf | 29.8.09 | Stevenage Boro (A) | |
| Conf | 12.9.09 | Grays Athletic (H) | as sub |
| Conf | 17.10.09 | Tamworth (H) | |
| FAC4q | 24.10.09 | Workington (A) | 2 goals |
| Conf | 31.10.09 | Luton Town (A) | |
| FAC1 | 7.11.09 | Hinckley Utd (A) | |
| Conf | 14.11.09 | Histon (H) | |
| Conf | 21.11.09 | Salisbury City (A) | |
| Conf | 24.11.09 | Cambridge Utd (A) | |
| Conf | 5.12.09 | Forest Green (A) | |
| FAT1 | 12.12.09 | Billericay Tn (H) | |
| Conf | 30.1.10 | Hayes&Yeading(A) | as sub |
| Conf | 6.2.10 | Grays Athletic (A) | 1 goal |
| Conf | 9.2.10 | Eastbourne B (H) | 1 goal |
| Conf | 13.2.10 | Stevenage Boro(H) | |
| Conf | 16.2.10 | Oxford Utd (A) | |
| Conf | 3.3.10 | Histon (A) | |
| Conf | 6.3.10 | Tamworth (A) | |
| Conf | 13.3.10 | Gateshead (H) | |
| Conf | 20.3.10 | Altrincham (A) | |
| Conf | 24.3.10 | Oxford Utd (H) | |
| Conf | 27.3.10 | AFC Wimbledon(A) | |
| Conf | 30.3.10 | Kettering Tn (A) | |
2010/2011 – squad number 16
| | | | |
| --- | --- | --- | --- |
| Conf | 14.8.10 | Fleetwood Tn (H) | 1 goal |
| Conf | 17.8.10 | Bath City (A) | |
| Conf | 21.8.10 | Barrow (A) | |
| Conf | 24.8.10 | AFC Wimbledon(H) | |
| HSC1 | 12.10.10 | Daventry Utd (H) | |
| Conf | 16.10.10 | Tamworth (A) | as sub |
| Conf | 30.10.10 | Barrow (H) | 1 goal |
| FAC1 | 6.11.10 | Yeovil Town (H) | |
| Conf | 9.11.10 | Kidderminster (A) | |
| Conf | 13.11.10 | Fleetwood Tn (A) | |
| Conf | 20.11.10 | York City (H) | |
| Conf | 1.1.11 | Luton Town (A) | as sub |
| Conf | 3.1.11 | Kettering Town (H) | |
| Conf | 8.1.11 | Altrincham (H) | |
| FAT1r | 11.1.11 | Eastwood Tn (A) | |
| Conf | 18.1.11 | Hayes&Yeading(A) | |
| Conf | 22.1.11 | Newport Co (A) | |
| Conf | 29.1.11 | Tamworth (H) | |
| Conf | 1.2.11 | Cambridge U (H) | |
| Conf | 5.2.11 | Cambridge U (A) | |
| Conf | 12.2.11 | Gateshead (H) | |
| Conf | 5.3.11 | Hayes&Yeading (H) | as sub |
| Conf | 19.3.11 | Southport (H) | as sub |
| Conf | 22.3.11 | Luton Town (H) | |
| Conf | 26.3.11 | AFC Wimbledon(A) | |
| Conf | 2.4.11 | Mansfield Town (A) | |
| Conf | 5.4.11 | Histon (A) | |
| Conf | 16.4.11 | Gateshead (A) | as sub |
| Conf | 25.4.11 | Kidderminster (H) | |
| Conf | 30.4.11 | Darlington (A) | |