Dale Roberts
Dale Roberts
Born 22 October 1986 (Age 21 at debut)
Position: Goalkeeper
(Diamonds player #283)
Total appearances 104
(90 League, 1 FA Cup, 7 FA Trophy, 5 League Cup, 1 Hillier Senior Cup)
First spell
Debut: 26 January 2008 (Home Weymouth)
Final game: 12 April 2008 (Away Forest Green Rovers)
Second spell
Debut: 4 October 2008 (Away Oxford United)
Final game: 11 September 2010 (Home Newport County)
Dale was born in Horden, County Durham, and started his career in the Middlesbrough Academy after joining from Sunderland at 16. The promising young goalkeeper joined Nottingham Forest in July 2005, as the third choice keeper to Rune Pedersen and Paul Gerrard, and in order to gain some first team experience, went out on loan to Northern Premier League Premier side Eastwood Town in March 2006 making 12 appearances. The following season, he joined Conference North side Alfreton Town on a season long loan, playing some 47 games for the Reds. He found himself on the Nottingham Forest bench on a number of occasions at the beginning of the 2007/2008 season, but joined Diamonds on a one month loan deal on 25 January 2008. This was later extended until the end of the season, although he was recalled by Forest on 14 April due to an injury to their own keeper and although he played in the Setanta Shield Final, he missed Diamonds final six League games.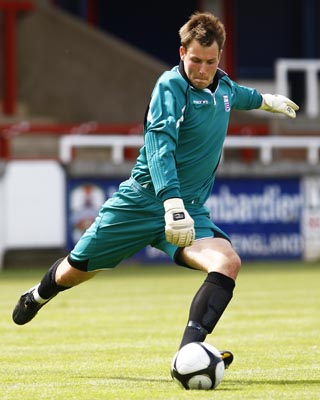 Dale arrived back at Nene Park on 1 October 2008 as cover for Alan Marriott who was facing stomach surgery. Although initially for just one month, on 18 October, this was extended until January 2009. At the end of the loan period, agreement was reached with Nottm Forest and he joined Diamonds on a permanent deal on 2 January 2009. His impressive performances during that season included an appearance for the England C team in their 4-0 victory over Malta. He also won the Rushden & Diamonds Travel Club Player of the Season award.
During the 2009/2010 season he played in all four England C games, and was voted the England C player of the season. He had played against Hungary Under-23s in Székésfehérvár, Poland Under-23's in Grodzisk Wielkopolski in November 2009 and then in a 1-0 friendly win against the East of Scotland League representative side in May 2010 and in the 2-1 win over the Republic of Ireland in the International Challenge Trophy later that month. Dale continued as Diamonds No.1 the following season, but an injury on International duty against Wales in Newtown on 15 September 2010 kept him sidelined for several weeks. He returned to action in a reserve game against Peterborough United on 19 October 2010, but was unable to oust Joe Day from the starting eleven.
Sadly, Dale passed away on 14 December 2010 at his home in Higham Ferrers after taking his own life, after making 90 league appearances for the club, plus another 14 cup games. The Number 1 jersey was withdrawn from use as a mark of respect.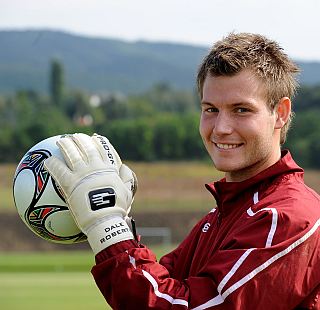 Rushden & Diamonds Manager Justin Edinburgh paid tribute to Dale, describing him as "the ultimate professional and a true gentleman".He added, "Obviously we are all shocked and devastated to lose someone who we thought so highly of. Dale was a fantastic person and I'm sure everyone will say the same. He was the ultimate professional from the first day when I met him. He was a credit to his family and the football club. Dale was on top of his game as England C's player of the year. He was also adored by the Diamonds fans and rightly so because he built up a fantastic rapport with them. Everything which is being said about Dale is genuine, true and comes from the heart of those who knew him. Personally I can't speak highly enough of him as a person and a professional."
Appearances
2007/2008 – squad number 30
| | | | |
| --- | --- | --- | --- |
| Conf | 26.1.08 | Weymouth (H) | |
| Conf | 29.1.08 | BurtonAlbion (A) | |
| FAT3 | 2.2.08 | Halifax Town (A) | |
| Conf | 9.2.08 | Halifax Town (H) | |
| Conf | 16.2.08 | Altrincham (H) | |
| FAT4 | 23.2.08 | York City (H) | |
| SS5 | 26.2.08 | Kidderminster (A) | |
| Conf | 1.3.08 | Woking (H) | |
| Conf | 4.3.08 | Farsley Celtic (A) | |
| SSQF | 8.3.08 | Northwich Vic (A) | |
| Conf | 11.3.08 | Ebbsfleet Utd (A) | |
| Conf | 15.3.08 | Histon (A) | |
| Conf | 22.3.08 | York City (H) | |
| Conf | 24.3.08 | Kidderminster (A) | |
| SSSF | 27.3.08 | Halifax Town (H) | |
| Conf | 29.3.08 | Droylsden (H) | |
| SSF | 3.4.08 | Aldershot Tn (A) | |
| Conf | 8.4.08 | Cambridge Utd(H) | |
| Conf | 12.4.08 | Forest Green (A) | |
2008/2009 – squad number 19
| | | | |
| --- | --- | --- | --- |
| Conf | 4.10.08 | Oxford Utd (A) | |
| Conf | 7.10.08 | Grays Ath (H) | |
| Conf | 12.10.08 | Torquay Utd (H) | |
| Conf | 18.10.08 | York City (A) | |
| FAC4q | 25.10.08 | Evesham Utd (A) | |
| Conf | 1.11.08 | Cambridge Utd(A) | |
| SS3 | 4.11.08 | Stevenage B (H) | |
| Conf | 8.11.08 | Weymouth (H) | |
| Conf | 15.11.08 | Kidderminster (H) | |
| Conf | 22.11.08 | Eastbourne B (H) | |
| Conf | 29.11.08 | Altrincham (A) | |
| Conf | 6.12.08 | Barrow (H) | |
| Conf | 9.12.08 | Woking (A) | |
| FAT1 | 13.12.08 | Newport Co (A) | |
| FAT1r | 16.12.08 | Newport Co (H) | |
| Conf | 20.12.08 | Northwich Vic (H) | |
| Conf | 26.12.08 | Stevenage B (A) | |
| Conf | 1.1.09 | Stevenage B (H) | |
| FAT2 | 10.1.09 | Torquay Utd (A) | |
| Conf | 17.1.09 | Ebbsfleet Utd (A) | |
| Conf | 23.1.09 | Forest Green (H) | |
| Conf | 27.1.09 | Mansfield Tn (A) | |
| Conf | 1.2.09 | Cambridge Utd(H) | |
| Conf | 9.2.09 | Burton Albion (A) | |
| Conf | 21.2.09 | Weymouth (A) | |
| Conf | 24.2.09 | York City (H) | |
| Conf | 28.2.09 | Mansfield Tn (H) | |
| Conf | 7.3.09 | Torquay Utd (A) | |
| Conf | 10.3.09 | Lewes (H) | |
| Conf | 14.3.09 | Crawley Tn (A) | |
| Conf | 21.3.09 | Salisbury City (A) | |
| Conf | 24.3.09 | Oxford Utd (H) | |
| Conf | 28.3.09 | Northwich Vic (A) | |
| Conf | 31.3.09 | Grays Ath (A) | |
| Conf | 4.4.09 | Salisbury City (H) | |
| Conf | 11.4.09 | Kettering Tn (H) | |
| Conf | 13.4.09 | Histon (A) | |
| Conf | 18.4.09 | Forest Green (A) | |
| Conf | 26.4.09 | Woking (H) | |
2009/2010 – squad number 1
| | | | |
| --- | --- | --- | --- |
| Conf | 8.8.09 | Salisbury City (H) | |
| Conf | 11.8.09 | York City (A) | |
| Conf | 15.8.09 | Eastbourne B (A) | |
| Conf | 18.8.09 | Hayes&Yeading(H) | |
| Coinf | 22.8.09 | Forest Gn Rvs (H) | |
| Conf | 29.8.09 | Stevenage Boro(A) | |
| Conf | 31.8.09 | Cambridge Utd(H) | |
| Conf | 5.9.09 | Barrow (A) | |
| Conf | 8.9.09 | Ebbsfleet Utd (A) | |
| Conf | 12.9.09 | Grays Athletic (H) | |
| HSC1 | 13.10.09 | Daventry Utd (A) | |
| Conf | 1.12.09 | York City (H) | |
| Conf | 5.12.09 | Forest Gn Rvrs(A) | |
| FAT1 | 12.12.09 | Billericay Tn (H) | |
| Conf | 28.12.09 | Kidderminster H(H) | |
| FAT2 | 19.1.10 | Workington (A) | |
| Conf | 23.1.10 | Barrow (H) | |
| Conf | 26.1.10 | Wrexham (H) | |
| Conf | 30.1.10 | Hayes&Yeading(A) | |
| Conf | 6.2.10 | Grays Athletic (A) | |
| Conf | 9.2.10 | Eastbourne Boro(H) | |
| Conf | 13.2.10 | Stevenage Boro(H) | |
| Conf | 16.2.10 | Oxford Utd (A) | |
| Conf | 27.2.10 | Kettering Tn (H) | |
| Conf | 3.3.10 | Histon (A) | |
| Conf | 6.3.10 | Tamworth (A) | |
| Conf | 13.3.10 | Gateshead (H) | |
| Conf | 20.3.10 | Altrincham (A) | |
| Conf | 24.3.10 | Oxford Utd (H) | |
| Conf | 27.3.10 | Wimbledon (A) | |
| Conf | 30.3.10 | Kettering Tn (A) | |
| Conf | 2.4.10 | Crawley Tn (H) | |
| Conf | 5.4.10 | Kidderminster H(A) | |
| Conf | 10.4.10 | Ebbsfleet Utd (H) | |
| Conf | 13.4.10 | Mansfield Tn (A) | |
| Conf | 24.4.10 | Luton Tn (H) | |
| POSF1 | 29.4.10 | Oxford Utd (H) | |
| POSF2 | 3.5.10 | Oxford Utd (A) | |
2010/2011 – squad number 1
| | | | |
| --- | --- | --- | --- |
| Conf | 14.8.10 | Fleetwood Tn (H) | |
| Conf | 17.8.10 | Bath City (A) | |
| Conf | 21.8.10 | Barrow (A) | |
| Conf | 24.8.10 | Wimbledon (H) | |
| Conf | 28.8.10 | Grimsby Town (H) | |
| Conf | 30.8.10 | Kettering Town (A) | |
| Conf | 4.9.10 | York City (A) | |
| Conf | 11.9.10 | Newport Co (H) | |