Michael Rankine
Michael Rankine
Born 15 January 1985 (Age 21 at debut)
Position: Forward
(Diamonds player #237)
Total appearances 145 – 40 goals
(116 League, 6 FA Cup, 10 FA Trophy, 3 League Cup, 8 Hillier Senior Cup, 2 Maunsell Cup)
Debut:
12 August 2006 (Away Crawley Town)
Final game:
26 April 2009 (Home Woking)
Michael began his career in the youth set up at Doncaster Rovers, during which time he went on work experience with Armthorpe Welfare. He failed to make the Rovers first team and was released in the summer of 2003 to join Barrow where he made over 50 appearances, scoring ten times. The following season, he had a trial at Scunthorpe United, and signed non-contract forms in September 2004, scoring on his debut. He signed a six month contract the following season, during which time he went back to Barrow on a two month loan. After a trial at Altrncham, he joined Conference North side Alfreton Town in January 2006.
Michael signed for Diamonds on 24 July 2006 after playing in several pre-season friendlies as manager Paul Hart prepared for life in the Conference. After the appointment of Garry Hill as manager, he agreed a 2 year deal on 7 March 2007 (with an option for another two years) to keep him at Nene Park until the summer of 2011.
After 12 goals in his first season, he netted 19 times the following season in all competitions, followed by a further 9 goals in 2008/2009. Although his two years extension had been agreed, he was transferred to York City on 12 June 2009, in a deal that brought Craig Farrell to Nene Park, plus an undisclosed fee, reported to be £10,000. He scored 24 times in 103 appearances for  the Minstermen. On 12 May 2011, he joined League Two side Aldershot Town, but his appearances were limited after damaging ankle ligaments midway through the season. Despite returning to the starting line-up the following season, poor form saw him drop down to making appearances off the bench. On 22 November 2012, he went on a loan deal to Conference side Grimsby Town, until 2 January 2013, returning to Aldershot on 3 January after just three substitute appearances. Michael returned to League Two side York City on 12 February 2013 on another loan deal, this time until the end of the season, but he returned to Aldershot on 4 April 2013 after a change of management at York. He was released by the Shots in the summer, and signed a one year deal with Conference side Hereford United on 30 July 2013. The club however were demoted at the end of the season, and after 7 goals in 32 appearances, Michael joined Conference side Gateshead on 30 June 2014 on a one year deal. From Gateshead he moved to Altrincham in June 2015 in order to get more first team action, and after a season there he signed for Guiseley also in the Football Conference. He spent 2017-18 at York City in Conference North before being released, and he then became a Football Consultant.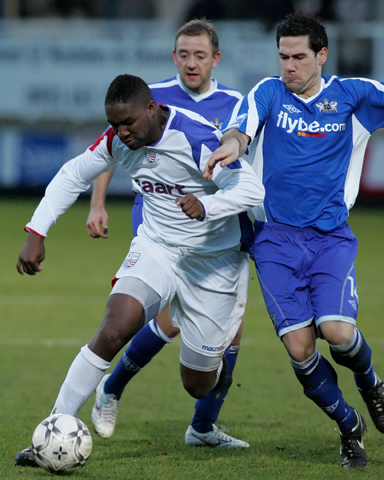 Appearances
2006/2007 – squad number 8
Conf

12.8.06

Crawley Town (A)

Conf

15.8.06

Grays Athletic (H)

1 goal

Conf

19.8.06

Forest Green (H)

Conf

26.8.06

Southport (A)

Conf

28.8.06

York City (H)

Conf

1.9.06

Kidderminster (A)

Conf

9.9.06

Altrincham (H)

Conf

12.9.06

Tamworth (A)

Conf

16.9.06

Stafford Rgrs (A)

Conf

19.9.06

Gravesend&Nflt(H)

Conf

30.9.06

Burton Albion (H)

as sub

Conf

3.10.06

Morecambe (A)

Conf

14.10.06

Northwich Vic (A)

as sub

HSC1

17.10.06

Cogenhoe Utd (H)

FAC4q

28.10.06

Altrincham (H)

as sub

HSCQF

31.10.06

Ford Sports (A)

1 goal

FAC1

11.11.06

Yeovil Town (H)

2 goals

Conf

18.11.06

St.Albans (A)

Conf

25.11.06

Aldershot Tn (H)

as sub

FAC2

2.12.06

Tamworth (H)

Conf

9.12.06

Oxford Utd (H)

FAT1

16.12.06

Scarborough (H)

Conf

26.12.06

Cambridge Utd (A)

Conf

30.12.06

Gravesend&Nflt(A)

Conf

1.1.07

Tamworth (H)

Conf

6.1.07

Altrincham (A)

FAT2

13.1.07

Witton Albion (A)

Conf

20.1.07

Stafford Rgrs (H)

as sub

Conf

23.1.07

Cambridge Utd (H)

as sub

1 goal

FAT3

3.2.07

Gravesend&Nflt(A)

as sub

1 goal

HSCSF

6.2.07

Rothwell Town (H)

1 goal

Conf

10.2.07

Dagenham&Rdg(A)

as sub

Conf

17.2.07

St.Albans (H)

as sub

Conf

20.2.07

Exeter City (A)

Conf

24.2.07

Aldershot Town(A)

as sub

Conf

3.3.07

Exeter City (H)

Conf

6.3.07

Morecambe (H)

1 goal

Conf

13.3.07

Halifax Town (A)

Conf

23.3.07

Crawley Town (H)

Conf

27.3.07

Grays Athletic (A)

Conf

31.3.07

Forest Green (A)

Conf

3.4.07

Weymouth (H)

2 goals

Conf

7.4.07

Southport (H)

1 goal

Conf

10.4.07

York City (A)

Conf

14.4.07

Kidderminster (H)

Conf

17.4.07

Stevenage Boro(A)

Conf

21.4.07

Woking (H)

1 goal

Conf

23.4.07

Northwich Vic (H)

Conf

28.4.07

Burton Albion (A)
2007/2008 – squad nmber 14
MCF

4.8.07

Northampton Tn(H)

Conf

11.8.07

Woking (A)

Conf

14.8.07

Farsley Celtic (H)

Conf

18.8.07

Ebbsfleet Utd (H)

as sub

Conf

25.8.07

Torquay Utd (A)

1 goal

Conf

27.8.07

Kidderminster (H)

Conf

30.8.07

York City (A)

1 goal

Conf

4.9.07

Crawley Town (H)

Conf

8.9.07

Salisbury City (A)

Conf

15.9.07

Burton Albion (H)

Conf

18.9.07

Weymouth (A)

Conf

22.9.07

Halifax Town (A)

Conf

25.9.07

Grays Athletic (H)

Conf

29.9.07

Stafford Rgrs (H)

as sub

HSC1

3.10.07

Corby Town (A)

2 goals

Conf

6.10.07

Altrincham (A)

1 goal

Conf

9.10.07

Cambridge Utd (A)

Conf

12.10.07

Forest Green (H)

as sub

Conf

20.10.07

Exeter City (A)

as sub

FAC4q

27.10.07

Solihull Moors (H)

as sub

1 goal

Conf

1.11.07

Oxford Utd (H)

as sub

FAC1

10.11.07

Macclesfield Tn(H)

as sub

HSC2

13.11.07

Cogenhoe Utd (H)

1 goal

Conf

17.11.07

Aldershot Tn (A)

as sub

Conf

24.11.07

Northwich Vic (A)

as sub

FAC2

1.12.07

Bristol Rvrs (A)

as sub

Conf

4.12.07

Histon (H)

as sub

Conf

8.12.07

Droylsden (A)

2 goals

FAT1

15.12.07

Bamber Bdge (A)

SS4

22.12.07

Cambridge Utd (A)

as sub

Conf

1.1.08

Stevenage B (A)

as sub

1 goal

Conf

5.1.08

Salisbury City (A)

FAT2

12.1.08

Exeter City (H)

Conf

19.1.08

Crawley Tn (A)

HSCSF

21.1.08

North'ton Spcr (H)

Conf

26.1.08

Weymouth (H)

as sub

Conf

29.1.08

BurtonAlbion (A)

as sub

FAT3

2.2.08

Halifax Town (A)

1 goal

Conf

9.2.08

Halifax Town (H)

Conf

16.2.08

Altrincham (H)

1 goal

FAT4

23.2.08

York City (H)

Conf

1.3.08

Woking (H)

1 goal

Conf

4.3.08

Farsley Celtic (A)

Conf

11.3.08

Ebbsfleet Utd (A)

as sub

1 goal

Conf

15.3.08

Histon (A)

Conf

22.3.08

York City (H)

as sub

Conf

24.3.08

Kidderminster (A)

SSSF

27.3.08

Halifax Town (H)

1 goal

Conf

29.3.08

Droylsden (H)

as sub

SSF

3.4.08

Aldershot Tn (A)

1 goal

Conf

8.4.08

Cambridge Utd (H)

1 goal

Conf

12.4.08

Forest Green (A)

Conf

15.4.08

Stafford Rgrs (A)

1 goal

Conf

17.4.08

Torquay Utd (H)

1 goal

Conf

19.4.08

Exeter City (H)

HSCF

29.4.08

Brackley Town (H)
2008/2009 – squad number 14
MCF

26.7.08

Peterborough U (H)

as sub

Conf

23.8.08

Kettering Tn (H)

Conf

30.8.08

Kidderminster (A)

as sub

Conf

6.9.08

Crawley Town (H)

as sub

Conf

11.9.08

Lewes (A)

as sub

HSC1

16.9.08

Rothwell Tn (A)

1 goal

Conf

20.9.08

Burton Albion (H)

as sub

Conf

23.9.08

Wrexham (A)

as sub

Conf

29.9.08

Altricham (H)

as sub

Conf

4.10.08

Oxford Utd (A)

as sub

Conf

8.11.08

Weymouth (H)

Conf

15.11.08

Kidderminster (H)

Conf

22.11.08

Eastbourne B (H)

1 goal

Conf

29.11.08

Altrincham (A)

Conf

6.12.08

Barrow (H)

Conf

9.12.08

Woking (A)

1 goal

FAT1

13.12.08

Newport Co (A)

1 goal

FAT1r

16.12.08

Newport Co (H)

Conf

20.12.08

Northwich Vic (H)

Conf

26.12.08

Stevenage B (A)

Conf

1.1.09

Stevenage B (H)

FAT2

10.1.09

Torquay Utd (A)

Conf

17.1.09

Ebbsfleet Utd (A)

Conf

23.1.09

Forest Green (H)

Conf

27.1.09

Mansfield Tn (A)

Conf

9.2.09

Burton Albion (A)

as sub

Conf

21.2.09

Weymouth (A)

2 goals

Conf

24.2.09

York City (H)

as sub

Conf

7.3.09

Torquay Utd (A)

Conf

10.3.09

Lewes (H)

1 goal

Conf

14.3.09

Crawley Tn (A)

Conf

21.3.09

Salisbury City (A)

Conf

24.3.09

Oxford Utd (H)

Conf

28.3.09

Northwich Vic (A)

as sub

1 goal

Conf

31.3.09

Grays Ath (A)

Conf

4.4.09

Salisbury City (H)

Conf

11.4.09

Kettering Tn (H)

Conf

13.4.09

Histon (A)

Conf

18.4.09

Forest Green (A)

as sub

Conf

26.4.09

Woking (H)

1 goal