Jon Ashton
Jon Ashton
Born 4 October 1982 (Age 23 at debut)
Position: Defender
(Diamonds player #235)
Total appearances 45 – 2 goals
(40 League, 1 FA Cup, 3 FA Trophy, 1 Hillier Senior Cup)
Debut:
12 August 2006 (Away Crawley Town)
Final game:
28 April 2007 (Away Burton Albion)
Jon joined the Leicester City Youth Academy at the age of 12 and progressed into the first team to make several Premier League appearances for the Foxes in the 2001/2002 season. Although the club were relegated that season, he was offered a three year contract. A powerful centre back, he struggled to keep his place in the side however, and went out on loan deals to Notts County (November 2002) and Oxford United (August 2003). He eventually joined Oxford United on a permanent basis in September 2003, making over 100 appearances in three seasons before being released in May 2006.
Paul Hart brought Jon to Nene Park on 15 June 2006 on a two year deal. He was originally played in a defensive holding midfield role, but eventually moved back into defence to cover for injuries.through the course of the season. Despite gaining recognition in the England 'C' side, he was transfer listed on 11 May 2007, joining Grays Athletic on a free transfer on 30 May.
Following financial difficulties at Grays, Jon rejoined Graham Westley at Stevenage Borough in January 2009 for an undisclosed fee and enjoyed success, winning the Coinference title at the end of the 2009/2010 season. In May 2010, he secured a two year deal to remain with Stevenage, staying with them until the summer of 2015. He had a season with Crawley Town before joining Braintree Town. In 2017 he moved to Nuneaton as player / assistant-manager in the summer of 2017. He then returned to Stevenage as their Fitness Coach prior to the 2018-19 season, before taking a similar role with Ipswich Town. His Wikipedia entry is here.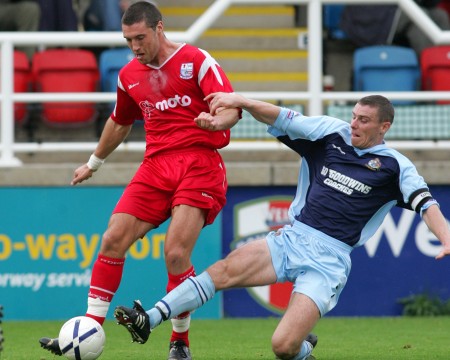 Appearances
2006/2007 – squad number 4
| | | | |
| --- | --- | --- | --- |
| Conf | 12.8.06 | Crawley Town (A) | |
| Conf | 15.8.06 | Grays Athletic (H) | |
| Conf | 19.8.06 | Forest Green (H) | |
| Conf | 26.8.06 | Southport (A) | |
| Conf | 28.8.06 | York City (H) | |
| Conf | 1.9.06 | Kidderminster (A) | |
| Conf | 9.9.06 | Altrincham (H) | |
| Conf | 12.9.06 | Tamworth (A) | 1 goal |
| Conf | 16.9.06 | Stafford Rgrs (A) | |
| Conf | 19.9.06 | Gravesend&Nflt(H) | |
| Conf | 23.9.06 | Woking (A) | |
| Conf | 30.9.06 | Burton Albion (H) | |
| Conf | 3.10.06 | Morecambe (A) | |
| Conf | 6.10.06 | Stevenage Boro(H) | |
| Conf | 10.10.06 | Halifax Town (H) | |
| Conf | 14.10.06 | Northwich Vic (A) | |
| Conf | 21.10.06 | Weymouth (A) | |
| FAC4q | 28.10.06 | Altrincham (H) | |
| Conf | 9.12.06 | Oxford Utd (H) | |
| FAT1 | 16.12.06 | Scarborough (H) | |
| Conf | 26.12.06 | Cambridge Utd(A) | |
| Conf | 30.12.06 | Gravesend&Nflt(A) | |
| Conf | 1.1.07 | Tamworth (H) | |
| Conf | 6.1.07 | Altrincham (A) | |
| FAT2 | 13.1.07 | Witton Albion (A) | |
| Conf | 20.1.07 | Stafford Rgrs (H) | |
| Conf | 23.1.07 | Cambridge Utd(H) | |
| Conf | 29.1.07 | Oxford Utd (A) | |
| FAT3 | 3.2.07 | Gravesend&Nflt(A) | |
| HSCSF | 6.2.07 | Rothwell Town (H) | |
| Conf | 17.2.07 | St.Albans (H) | |
| Conf | 20.2.07 | Exeter City (A) | |
| Conf | 24.2.07 | Aldershot Town(A) | |
| Conf | 3.3.07 | Exeter City (H) | |
| Conf | 6.3.07 | Morecambe (H) | |
| Conf | 13.3.07 | Halifax Town (A) | |
| Conf | 23.3.07 | Crawley Town (H) | |
| Conf | 27.3.07 | Grays Athletic (A) | |
| Conf | 31.3.07 | Forest Green (A) | 1 goal |
| Conf | 3.4.07 | Weymouth (H) | |
| Conf | 7.4.07 | Southport (H) | |
| Conf | 10.4.07 | York City (A) | |
| Conf | 14.4.07 | Kidderminster (H) | |
| Conf | 17.4.07 | Stevenage Boro(A) | |
| Conf | 28.4.07 | Burton Albion (A) | |