Glenn Wilson
Glenn Wilson
Born 16 March 1986 (Age 20 at debut)
Position: Defender
(Diamonds player #233)
Total appearances 38
(31 League, 3 FA Cup, 2 FA Trophy, 2 Hillier Senior Cup)
Debut:
12 August 2006 (Away Crawley Town)
Final game:
28 April 2007 (Away Burton Albion)
Glenn had begun his career as a trainee with Crystal Palace, but failed to break into their first team. He was released in the summer of 2006 and the 21 year old right back became one of Diamonds new manager Paul Hart's first signings, replacing the departed Rob Gier. His versatility allowed him to also play in a midfield role. During the later half of the season however, he went out on a one month loan to rivals Kidderminster Harriers on 21 March 2007 before returning.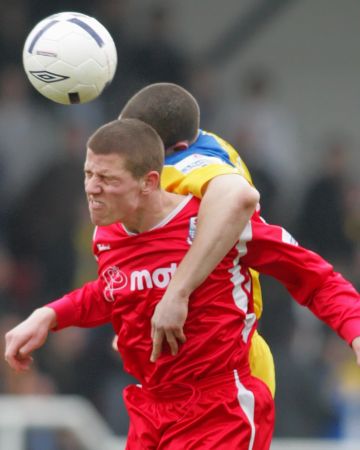 He was transfer listed by manager Garry Hill in May and joined Crawley Town on 10 July 2007. After more than four years at the Broadfield Stadium which included promotion to the Football League, he went out on a three month loan deal to Conference side Fleetwood Town on 12 October 2011, but was recalled in December after 5 appearances. On 21 March 2012, he went on a further loan to Conference South side Woking, until 28 April. Glenn made 157 appearances in total for the Red Devils before being released at the end of the 2011/2012 season, joining Conference side Gatesheadon 28 June 2012. On 31 January 2013, it was announced he would be joining Conference South side Salisbury City on a season long loan deal. He was released by Gateshead on 25 April 2013, but continued his loan spell at Salisbury City, helping them win the Conference South Play-Off Final in May 2013. On 2 August 2013, he agreed a deal to keep him with newly promoted Conference side Salisbury City. He was ever-present during the following season, making 48 appearances, before leaving at the end of the season following the club's demotion. On 24 June 2014, he joined Conference Premier side Aldershot Town on a one-year deal. He stayed with the Shots for a season, then spent a season with Margate before switching to Greenwich Borough in 2016. From there he signed for Wealdstone FC in 2017. Spells at Grays and AFC Hornchurch preceded a move to Enfield Town, where he started the 2019/20 season. He then moved to East Grinstead Town prior to the start of the 2020/21 season. His Wikipedia page is here.
Appearances
2006/2007 – squad number 2
| | | | |
| --- | --- | --- | --- |
| Conf | 12.8.06 | Crawley Town (A) | |
| Conf | 15.8.06 | Grays Athletic (H) | |
| Conf | 19.8.06 | Forest Green (H) | |
| Conf | 26.8.06 | Southport (A) | |
| Conf | 28.8.06 | York City (H) | |
| Conf | 1.9.06 | Kidderminster (A) | |
| Conf | 9.9.06 | Altrincham (H) | |
| Conf | 12.9.06 | Tamworth (A) | |
| Conf | 16.9.06 | Stafford Rgrs (A) | |
| Conf | 19.9.06 | Gravesend&Nflt(H) | |
| Conf | 23.9.06 | Woking (A) | |
| Conf | 30.9.06 | Burton Albion (H) | |
| Conf | 3.10.06 | Morecambe (A) | |
| Conf | 6.10.06 | Stevenage Boro(H) | as sub |
| Conf | 10.10.06 | Halifax Town (H) | as sub |
| Conf | 14.10.06 | Northwich Vic (A) | |
| Conf | 21.10.06 | Weymouth (A) | |
| FAC4q | 28.10.06 | Altrincham (H) | |
| Conf | 4.11.06 | Dagenham&Red(H) | |
| FAC1 | 11.11.06 | Yeovil Town (H) | |
| Conf | 25.11.06 | Aldershot Tn (H) | |
| FAC2 | 2.12.06 | Tamworth (H) | |
| Conf | 26.12.06 | Cambridge Utd (A) | |
| Conf | 30.12.06 | Gravesend&Nflt(A) | |
| Conf | 6.1.07 | Altrincham (A) | |
| FAT2 | 13.1.07 | Witton Albion (A) | |
| Conf | 20.1.07 | Stafford Rgrs (H) | |
| Conf | 23.1.07 | Cambridge Utd (H) | |
| Conf | 29.1.07 | Oxford Utd (A) | |
| FAT3 | 3.2.07 | Gravesend&Nflt(A) | |
| HSCSF | 6.2.07 | Rothwell Town (H) | |
| Conf | 10.2.07 | Dagenham&Rdg(A) | |
| Conf | 17.2.07 | St.Albans (H) | |
| Conf | 24.2.07 | Aldershot Town(A) | as sub |
| HSCF | 20.3.07 | Woodford Utd (A) | |
| Conf | 21.4.07 | Woking (H) | |
| Conf | 23.4.07 | Northwich Vic (H) | |
| Conf | 28.4.07 | Burton Albion (A) | as sub |