Scott Tynan
Scott Tynan
Born 27 November 1983 (Age 22 at debut)
Position: Goalkeeper
(Diamonds player #229)
Total appearances 42
(35 League, 2 FA Cup, 2 FA Trophy, 2 Hillier Senior Cup, 1 Maunsell Cup)
Debut:
24 January 2006 (Home Peterborough United)
Final game:
7 April 2007 (Home Southport)
Scott began his career with Wigan Athletic in 2001 as cover for the first and second choice goalkeepers, but failed to make an appearance for them during his stay. He left in the summer of 2002 to join Nottingham Forest on a two year contract, but again failed to make any first team appearances for them after breaking his elbow at the end of his first season. He went out on loan to Telford United in December 2003 for two months, but was released at the end of the season. A short spell with Bristol City was followed by a move to Conference side Barnet in September 2004 where he managed to get some experience between the posts, helping them to the promotion. He joined Diamonds from Barnet on 18 January 2006 on a four year deal for a £10,000 transfer fee as cover for Danny Crane following the departure of Jamie Young.
He made his debut in the Maunsell Cup Final win over Peterborough United and kept his place throughout the rest of the season. Nicky Eyre came in during the summer of 2006, leaving Scott as number two and he initially went out on loan to Hereford United on 8 August 2006 for one month, later extended to two, although he was recalled on 18 September. He regained his place in the team in October and also played for the England semi-professional side.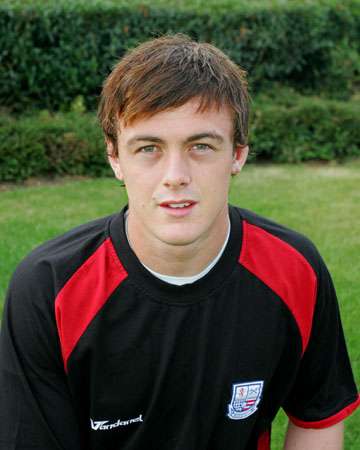 He was released by mutual consent on 1 May 2007 and later joined Ebbsfleet United as emergency cover on a non-contract basis. He signed for Northwich Victoria in October 2007, but suffered a cruciate ligament injury in January 2009, before being released in the summer of 2009. He played for Unibond Division One North side Salford City, before joining Conference North side Vauxhall Motors in the summer of 2010. He helped them to secure a polace in the FA Cup 1st Round in November 2010, before they lost to Hartlepool United. Scott retired in the summer of 2011 to concentrate on his Tattoo business and also a coaching role with goalkeeping Academy Just4Keepers, and is currently based in Liverpool. He came briefly out of retirement in February 2013, to play for Cheshire League Division One side Billinge.
Appearances
2005/2006 – squad number 47
| | | | |
| --- | --- | --- | --- |
| MCF | 24.1.06 | Peterborough U (H) | |
| CCL2 | 28.1.06 | Oxford Utd (H) | |
| CCL2 | 4.2.06 | Northampton Tn (A) | |
| CCL2 | 7.2.06 | Bury (A) | |
| CCL2 | 11.2.06 | Notts County (H) | |
| CCL2 | 14.2.06 | Wrexham (A) | |
| CCL2 | 11.3.06 | Lincoln City (A) | |
| CCL2 | 18.3.06 | Leyton Orient (H) | |
| CCL2 | 25.3.06 | Cheltenham Tn (A) | |
| CCL2 | 1.4.06 | Torquay Utd (H) | as sub |
| CCL2 | 8.4.06 | Bristol Rvrs (A) | |
| CCL2 | 15.4.06 | Rochdale (H) | |
| CCL2 | 18.4.06 | Shrewsbury Tn (A) | |
| CCL2 | 22.4.06 | Wycombe Wdrs(H) | |
| CCL2 | 29.4.06 | Boston Utd (A) | |
2006/2007 – squad number 20
| | | | |
| --- | --- | --- | --- |
| HSC1 | 17.10.06 | Cogenhoe Utd (H) | |
| HSCQF | 31.10.06 | Ford Sports (A) | |
| FAC1 | 11.11.06 | Yeovil Town (H) | |
| Conf | 18.11.06 | St.Albans (A) | |
| Conf | 25.11.06 | Aldershot Tn (H) | |
| FAC2 | 2.12.06 | Tamworth (H) | |
| Conf | 26.12.06 | Cambridge Utd (A) | |
| Conf | 30.12.06 | Gravesend&Nflt(A) | |
| Conf | 1.1.07 | Tamworth (H) | |
| Conf | 6.1.07 | Altrincham (A) | |
| FAT2 | 13.1.07 | Witton Albion (A) | |
| Conf | 20.1.07 | Stafford Rgrs (H) | |
| Conf | 23.1.07 | Cambridge Utd (H) | |
| Conf | 29.1.07 | Oxford Utd (A) | |
| FAT3 | 3.2.07 | Gravesend&Nflt(A) | |
| Conf | 10.2.07 | Dagenham&Rdg(A) | |
| Conf | 17.2.07 | St.Albans (H) | |
| Conf | 20.2.07 | Exeter City (A) | |
| Conf | 24.2.07 | Aldershot Town (A) | |
| Conf | 3.3.07 | Exeter City (H) | |
| Conf | 6.3.07 | Morecambe (H) | |
| Conf | 13.3.07 | Halifax Town (A) | |
| Conf | 23.3.07 | Crawley Town (H) | |
| Conf | 27.3.07 | Grays Athletic (A) | |
| Conf | 31.3.07 | Forest Green (A) | |
| Conf | 3.4.07 | Weymouth (H) | |
| Conf | 7.4.07 | Southport (H) | |