Justin Miller
Justin Miller
Born 16 December 1980 (Age 29 at debut)
Position: Defender
(Diamonds player #340)
Total appearances 37 – 3 goals
(32 League, 2 FA Cup, 2 FA Trophy, 1 Hillier Senior Cup)
Debut:
14 August 2010 (Home Fleetwood Town)
Final game:
30 April 2011 (Away Darlington)
South African born Justin started his career at Ipswich Town after coming over the this country from his home town of Johannesburg. He played for their youth team before signing a professional contract in June 2000. His appearances were limited to the reserves however, and he went out on a three month loan to Leyton Orient in September 2002, and also had a brief trial at AFC Bournemouth. He was released at the end of January 2003 without making a first team appearance, and joined Leyton Orient on a permanent basis. In four years with the O's he made 168 appearances (plus another 18 while on loan), mainly as a centre half, but also able to play in the right back position. In the summer of 2007, he was released and joined Port Vale on a two year contract, but was released after just a single season after falling from favour after a change of management. He joined Conference South side Chelmsford City in July 2008, but left in January 2009, returning to South Africa for family reasons. He played South African Premier Soccer League side Bidvest Wits (also known as for Wits University), before moving back to the UK, joining Diamonds on 23 June 2010.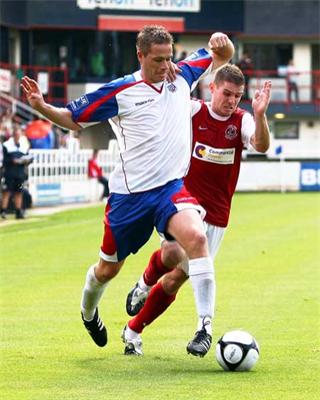 He made his Diamonds debut in the 1-1 draw against Fleetwood Town on 14 August 2010 at the start of the Conference season as a right back, and he scored his debut goal for the club on 28 August 2010 in the 4-1 victory over Grimsby Town. After falling out of favour briefly midway through the season, he was a regular during the last two months of the season but was allowed to leave at the end of the season. On 31 May 2011, he rejoined Conference South side Chelmsford City, preferring to go into part-time football in order to concentrate on his academic commitments. Justin had made 108 appearances for the Clarets by the end of the 2012/2013 season, and agreed an extension to his contract on 7 June 2013 for another season. He moved to Bury Town early in the 2014-15 season, and spent two seasons with the Suffolk Club, but after signing on for the 2016-17 season his whereabouts are now unknown.
Appearances
2010/2011 – squad number 2
| | | | |
| --- | --- | --- | --- |
| Conf | 14.8.10 | Fleetwood Tn (H) | |
| Conf | 17.8.10 | Bath City (A) | |
| Conf | 24.8.10 | Wimbledon (H) | as sub |
| Conf | 28.8.10 | Grimsby Town (H) | 1 goal |
| Conf | 30.8.10 | Kettering Town (A) | |
| Conf | 11.9.10 | Newport Co (H) | |
| Conf | 18.9.10 | Southport (A) | |
| Conf | 21.9.10 | Histon (H) | 1 goal |
| Conf | 26.9.10 | Crawley Town (H) | |
| Conf | 29.9.10 | Eastbourne B (A) | 1 goal |
| Conf | 2.10.10 | Altrincham (A) | |
| Conf | 5.10.10 | Darlington (H) | |
| HSC1 | 12.10.10 | Daventry Utd (H) | |
| FAC4q | 23.10.10 | Kettering Town (A) | as sub |
| Conf | 30.10.10 | Barrow (H) | as sub |
| FAC1 | 6.11.10 | Yeovil Town (H) | as sub |
| Conf | 27.11.10 | Forest Green (A) | |
| FAT1 | 11.12.10 | Eastwood Tn (H) | |
| Conf | 1.1.11 | Luton Town (A) | |
| Conf | 3.1.11 | Kettering Town (H) | |
| Conf | 8.1.11 | Altrincham (H) | as sub |
| FAT1r | 11.1.11 | Eastwood Tn (A) | |
| Conf | 1.2.11 | Cambridge U (H) | as sub |
| Conf | 1.3.11 | Bath City (H) | |
| Conf | 5.3.11 | Hayes&Yeading (H) | |
| Conf | 8.3.11 | Forest Green (H) | |
| Conf | 12.3.11 | Wrexham (A) | |
| Conf | 19.3.11 | Southport (H) | |
| Conf | 26.3.11 | AFCWimbledon(A) | as sub |
| Conf | 2.4.11 | Mansfield Town (A) | |
| Conf | 5.4.11 | Histon (A) | |
| Conf | 9.4.11 | Wrexham (H) | |
| Conf | 13.4.11 | Grimsby Town (A) | |
| Conf | 16.4.11 | Gateshead (A) | |
| Conf | 22.4.11 | Crawley Town (A) | |
| Conf | 25.4.11 | Kidderminster H (H) | |
| Conf | 30.4.11 | Darlington (A) | |