Neil McCafferty
Neil McCafferty
Born 19 July 1984 (Age 20 at debut)
Position: Midfielder
(Diamonds player #205)
Total appearances 45
(39 League, 3 FA Cup, 1 League Cup, 2 League Trophy)
Debut:
29 January 2005 (Away Rochdale)
Final game:
14 January 2006 (Home Wrexham)
Born in Derry, Northern Ireland, Neil began his career as a trainee with Charlton Athletic, but despite earning a contract at the end of his tenure in the youth team, failed to break into the first team. He went out on a months loan to Cambridge United in December 2003, extended by a further month returning to Charlton.
Neil arrived at Nene Park on 27 January 2005 on a one month loan deal, but this was extended to three months. At the end of the season, he was released by Charlton and signed a 2 year deal on 24 June 2005. Despite being a regular in the side during the opening five months, he suffered a torn groin muscle in what was to be his final game against against Wrexham and failed to regain his place in the side. He left by mutual consent on 31 March 2006.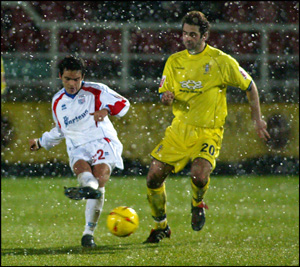 He returned to Northern Ireland to sign for his hometown club, Derry City where he remained until January 2008 when he signed a short term deal with Grays Athletic. On 1 July 2008, he went back to Donegal to joinFinn Harps in the eircom League of Ireland Premier Division. His stay however was short lived, and he joined Dungannon Swiftsfrom the same League on 8 December 2008, although he was unable to make his debut until the following month. On 12 June 2010, Neil joined Irish Premier side Portadown before going out on a loan spell with Ballymena United on 28 January 2011, until the end of the season. He returned to the Ports for the 2012/2013 season. After a spell with Coleraine Town from 2014 to 2017, he moved on to Warrenpoint Town for the 2017/18 season. He was no longer on their books in the 2018/19 season.
Appearances
2004/2005 – squad number 22
| | | | |
| --- | --- | --- | --- |
| CCL2 | 29.1.05 | Rochdale (A) | |
| CCL2 | 5.2.05 | Chester City (A) | |
| CCL2 | 12.2.05 | Wycombe W's (H) | |
| CCL2 | 19.2.05 | Notts County (A) | |
| CCL2 | 22.2.05 | Bury (H) | |
| CCL2 | 26.2.05 | Mansfield Town (H) | |
| CCL2 | 5.3.05 | Scunthorpe Utd (A) | |
| CCL2 | 12.3.05 | Northampton Tn (H) | |
| CCL2 | 19.3.05 | Kidderminster (A) | |
| CCL2 | 25.3.05 | Loincoln City (H) | |
| CCL2 | 28.3.05 | Grimsby Town (A) | |
| CCL2 | 2.4.05 | Yeovil Town (H) | |
| CCL2 | 9.4.05 | Bristol Rovers (A) | |
| CCL2 | 16.4.05 | Boston Utd (H) | |
| CCL2 | 23.4.05 | Darlington (A) | |
| CCL2 | 30.4.05 | Cambridge Utd (H) | |
2005/2006 – squad number 16
| | | | |
| --- | --- | --- | --- |
| CCL2 | 6.8.05 | Darlington (H) | |
| CCL2 | 9.8.05 | Mansfield Town (A) | |
| CCL2 | 20.8.05 | Chester City (H) | |
| CC1 | 24.8.05 | Coventry City (H) | |
| CCL2 | 27.8.05 | Lincoln City (H) | |
| CCL2 | 29.8.05 | Grimsby Town (A) | |
| CCL2 | 2.9.05 | Peterborough (H) | |
| CCL2 | 10.9.05 | Oxford Utd (A) | |
| CCL2 | 24.9.05 | Notts County (A) | as sub |
| CCL2 | 27.9.05 | Northampton Tn (H) | as sub |
| CCL2 | 1.10.05 | Rochdale (A) | |
| CCL2 | 7.10.05 | Bury (H) | |
| CCL2 | 15.10.05 | Wycombe W's (A) | |
| LDV1 | 18.10.05 | Southend Utd (H) | |
| CCL2 | 22.10.05 | Shrewsbury Tn (H) | |
| FAC1 | 6.11.05 | Halifax Town (A) | |
| CCL2 | 11.11.05 | Boston Utd (H) | |
| FAC1r | 15.11.05 | Halifax Town (H) | |
| LDV2 | 22.11.05 | Swansea City (A) | |
| CCL2 | 26.11.05 | Darlington (A) | |
| FAC2 | 3.12.05 | Leyton Orient (H) | |
| CCL2 | 6.12.05 | Carlisle Utd (H) | |
| CCL2 | 10.12.05 | Mansfield Tn (H) | |
| CCL2 | 17.12.05 | Chester City (A) | as sub |
| CCL2 | 26.12.05 | Leyton Orient (A) | as sub |
| CCL2 | 31.12.05 | Torquay Utd (A) | |
| CCL2 | 2.1.06 | Bristol Rovers (H) | |
| CCL2 | 7.1.06 | Peterborough (A) | |
| CCL2 | 14.1.06 | Wrexham (H) | |