Tom Shaw
Tom Shaw
Born 1 December 1986 (Age 17 at debut)
Position: Midfielder
(Diamonds player #196)
Total appearances 72 – 9 goals
(53 League, 4 FA Cup, 3 FA Trophy, 5 League Cup, 3 Hillier Senior Cup, 4 Maunsell Cup)
Debut:
14 September 2004 (Home Northampton Town)
Final game:
26 April 2008 (Home Aldershot Town)
Tom moved to Rushden & Diamonds youth set up as a 16 year old after leaving Nottingham Forest Academy. Following some impressive performances in midfield for the Youth team and playing in the County Cup games, he earned the opportunity to feature in the first team – making his league debut as a substitute against Barnet at the end of the 2005/2006 season after a short spell at Rugby Town on work experience in March 2006. He was then able to make his full debut the following season at Kidderminster after signing a one year professional contract, and kept Dave Savage out of the side on a number of occasions. With the changes in management during that season, he lost his place in the side and was sent out on a one month loan spell to Nuneaton Borough on 22 January 2007 (later extended till the end of the season), but was recalled when Garry Hill took the reins, quickly re-establishing his starting role in midfield and earning a new 2 year contract at the start of the 2007/2008 season. During that year, he kept a regular first team place, scoring four goals in a five game spell around Christmas. Although he was initially retained for the following season, he left the club by mutual consent in July 2008 after being advised that he would have little chance of making the starting eleven.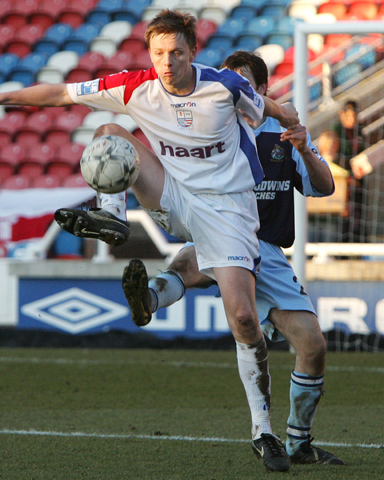 Tom joined Mansfield Town on a one year contract on 8 August 2008, but became totally disillusioned after being named on the bench for the first 11 games of the season without making a first team appearance. He was allowed to leave and joined Conference North side Tamworth on 9 October 2008, helping them to gain promotion that season. On 11 June 2010, he signed a one-year deal with Conference side Kidderminster Harriers. He left at the end of the season, and joined Cambridge United on 13 May 2011, on a two year contract. He scored 13 goals in 79 appearances for the U's, before leaving at the end of his contract. On 1 July 2013, Tom signed for fellow Conference side Alfreton Town on a two-year deal, and after the end of that deal he joined Chester FC. He moved to Tamworth FC in January 2018 before hanging up his boots at the end of that season to become Lincoln City Academy Coach. He has since also become first team manager at Gainsborough Trinity. His Wikipedia entry is here.
Appearances
2004/2005 – squad number 33
| | | | |
| --- | --- | --- | --- |
| MCSF | 14.9.04 | Northampton Tn (H) | |
2005/2006 – squad number 29
| | | | |
| --- | --- | --- | --- |
| MCSF | 8.11.05 | Rothwell Town (A) | |
| MCF | 24.1.06 | Peterborough U (H) | |
| CCL2 | 6.5.06 | Barnet (H) | as sub |
2006/2007 – squad number 18
Conf

26.8.06

Southport (A)

as sub

Conf

1.9.06

Kidderminster (A)

Conf

9.9.06

Altrincham (H)

Conf

12.9.06

Tamworth (A)

Conf

16.9.06

Stafford Rgrs (A)

Conf

6.10.06

Stevenage Boro(H)

Conf

10.10.06

Halifax Town (H)

Conf

14.10.06

Northwich Vic (A)

Conf

21.10.06

Weymouth (A)

as sub

FAC4q

28.10.06

Altrincham (H)

as sub

1 goal

Conf

4.11.06

Dagenham&Red(H)

as sub

FAC1

11.11.06

Yeovil Town (H)

Conf

18.11.06

St.Albans (A)

Conf

25.11.06

Aldershot Tn (H)

as sub

FAC2

2.12.06

Tamworth (H)

as sub

1 goal

Conf

9.12.06

Oxford Utd (H)

Conf

1.1.07

Tamworth (H)

as sub

Conf

6.1.07

Altrincham (A)

Conf

7.4.07

Southport (H)

as sub

Conf

10.4.07

York City (A)

Conf

14.4.07

Kidderminster (H)

Conf

17.4.07

Stevenage Boro(A)

Conf

21.4.07

Woking (H)
2007/2008 – squad number 16
MCF

4.8.07

Northampton Tn(H)

as sub

Conf

11.8.07

Woking (A)

Conf

14.8.07

Farsley Celtic (H)

as sub

Conf

18.8.07

Ebbsfleet Utd (H)

as sub

Conf

25.8.07

Torquay Utd (A)

as sub

Conf

27.8.07

Kidderminster (H)

Conf

30.8.07

York City (A)

as sub

Conf

4.9.07

Crawley Town (H)

as sub

Conf

8.9.07

Salisbury City (A)

as sub

HSC1

3.10.07

Corby Town (A)

1 goal

Conf

6.10.07

Altrincham (A)

as sub

Conf

9.10.07

Cambridge Utd (A)

as sub

Conf

12.10.07

Forest Green (H)

as sub

Conf

20.10.07

Exeter City (A)

as sub

FAC4q

27.10.07

Solihull Moors (H)

as sub

Conf

1.11.07

Oxford Utd (H)

as sub

HSC2

13.11.07

Cogenhoe Utd (H)

Conf

8.12.07

Droylsden (A)

as sub

SS4

21.12.07

Cambridge Utd (A)

1 goal

FAT2

12.1.08

Exeter City (H)

as sub

Conf

19.1.08

Crawley Tn (A)

as sub

1 goal

HSCSF

21.1.08

North'ton Spcr (H)

2 goals

Conf

26.1.08

Weymouth (H)

1 goal

Conf

29.1.08

BurtonAlbion (A)

FAT3

2.2.08

Halifax Town (A)

Conf

9.2.08

Halifax Town (H)

1 goal

Conf

16.2.08

Altrincham (H)

FAT4

23.2.08

York City (H)

SS5

26.2.08

Kidderminster (A)

as sub

Conf

1.3.08

Woking (H)

as sub

Conf

4.3.08

Farsley Celtic (A)

SSQF

8.3.08

Northwich Vic (A)

Conf

11.3.08

Ebbsfleet Utd (A)

Conf

15.3.08

Histon (A)

Conf

22.3.08

York City (H)

Conf

24.3.08

Kidderminster (A)

SSSF

27.3.08

Halifax Town (H)

SSF

3.4.08

Aldershot Tn (A)

Conf

8.4.08

Cambridge Utd (H)

Conf

12.4.08

Forest Green (A)

as sub

Conf

15.4.08

Stafford Rgrs (A)

as sub

Conf

17.4.08

Torquay Utd (H)

Conf

22.4.08

Oxford Utd (A)

as sub

Conf

24.4.08

Grays Ath (A)

Conf

26.4.08

Aldershot Tn (H)