Phil Gulliver
Phil Gulliver
Born 12 September 1982 (Age 21 at debut)
Position: Defender
(Diamonds player #187)
Total appearances 142 – 7 goals
(114 League, 8 FA Cup, 4 FA Trophy, 7 League Cup, 3 League Trophy, 4 Hillier Senior Cup, 2 Maunsell Cup)
First spell
Debut: 10 August 2004 (Away Northampton Town)
Final game: 6 May 2006 (Home Barnet)
Second spell
Debut : 4 August 2007 (Home Northampton Town)
Final game: 18 October 2008 (Away York City)
Phil has had two spells with Diamonds. He initially joined the club on 30 June 2004 after being released by Middlesbrough where he had been an apprentice. He played a vital role in central defence throughout the following two seasons, winning 'Player of the Season' in 2005/2006. After declining a contract for the next season, Phil signed for Hereford United in May 2006, but a misunderstanding over compensation led to a delay in signing, although agreement was eventually reached.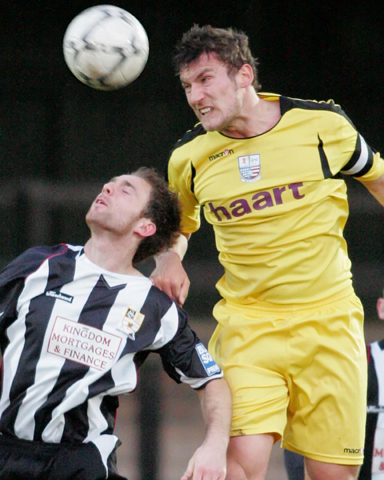 Although he won 'Player of the month' in December 2006, he failed to settle into a regular place at Edgar Street, and was released from his Hereford contract at the end in May 2007, re-signing the Diamonds on 29 May 2007, initially on a one year contract.
After impressing during that season he was offered a further contract which was to keep him at Nene Park until the end of the 2008/2009 season, but after a proposed move to Corby Town broke down midway through the season, and he left the club on 14 November 2008 to join Oxford City until January 2009. Corby Town renewed their interest in signing Phil, and he joined the Steelmen on 1 January 2009, taking over the captains armband and helping them to the Southern League Premier Division title. After 3½ years at Corby Town, he left in the summer of 2012, to join newly promoted Northern Premier League Division One South side King's Lynn Town on 5 July 2012. After some 61 appearances for the Linnets, Phil was released on 30 September 2013. No record of his involvement with the game has been found between 2014 and 2018.
Appearances
2004/2005 – squad number 20
| | | | |
| --- | --- | --- | --- |
| CCL2 | 10.8.04 | Northampton Tn(A) | |
| CCL2 | 14.8.04 | Lincoln City (A) | |
| CC1 | 24.8.04 | Swindon Town (H) | |
| CCL2 | 28.8.04 | Yeovil Town (A) | |
| CCL2 | 30.8.04 | Bristol Rvrs (H) | |
| CCL2 | 4.9.04 | Southend Utd (H) | |
| CCL2 | 11.9.04 | Oxford Utd (A) | |
| CCL2 | 18.9.04 | Cheltenham Tn (H) | |
| CCL2 | 25.9.04 | Swansea City (A) | |
| LDV1 | 28.9.04 | Walsall (A) | |
| CCL2 | 2.10.04 | Rochdale (H) | |
| CCL2 | 8.10.04 | Shrewsbury Tn (A) | |
| CCL2 | 16.10.04 | Chester City (H) | |
| CCL2 | 19.10.04 | Wycombe Wdrs(A) | |
| CCL2 | 23.10.04 | Bury (A) | |
| CCL2 | 30.10.04 | Notts County (H) | |
| CCL2 | 6.11.04 | Darlington (H) | |
| FAC1 | 13.11.04 | Bradford City (A) | |
| CCL2 | 20.11.04 | Cambridge Utd(A) | |
| CCL2 | 27.11.04 | Macclesfield Tn(H) | |
| FAC2 | 4.12.04 | Colchester Utd (H) | |
| CCL2 | 8.12.04 | Boston Utd (A) | |
| CCL2 | 11.12.04 | Mansfield Town (A) | |
| CCL2 | 18.12.04 | Scunthorpe Utd (H) | |
| CCL2 | 28.12.04 | Leyton Orient (A) | as sub |
| CCL2 | 1.1.05 | Southend Utd (A) | as sub |
| CCL2 | 22.1.05 | Leyton Orient (H) | |
| CCL2 | 29.1.05 | Rochdale (A) | |
| CCL2 | 5.2.05 | Chester City (A) | |
| CCL2 | 12.2.05 | Wycombe Wdrs(H) | |
| CCL2 | 25.3.05 | Lincoln City (H) | |
| CCL2 | 28.3.05 | Grimsby Town (A) | |
| CCL2 | 16.4.05 | Boston Utd (H) | as sub |
| CCL2 | 23.4.05 | Darlington (A) | |
| CCL2 | 30.4.05 | Cambridge Utd (H) | |
| CCL2 | 7.5.05 | Macclesfield Tn (A) | |
2005/2006 – squad number 2
| | | | |
| --- | --- | --- | --- |
| CCL2 | 6.8.05 | Darlington (H) | |
| CCL2 | 9.8.05 | Mansfield Town (A) | |
| CCL2 | 20.8.05 | Chester City (H) | |
| CC1 | 24.8.05 | Coventry City (H) | |
| CCL2 | 27.8.05 | Lincoln City (H) | |
| CCL2 | 29.8.05 | Grimsby Town (A) | |
| CCL2 | 2.9.05 | Peterborough U (H) | |
| CCL2 | 10.9.05 | Oxford Utd (A) | |
| CCL2 | 13.9.05 | Macclesfield Tn (A) | |
| CCL2 | 17.9.05 | Stockport Co (H) | 1 goal |
| CCL2 | 24.9.05 | Notts County (A) | |
| CCL2 | 27.9.05 | Northampton Tn(H) | |
| CCL2 | 1.10.05 | Rochdale (A) | |
| CCL2 | 7.10.05 | Bury (H) | |
| CCL2 | 15.10.05 | Wycombe Wdrs(A) | |
| LDV1 | 18.10.05 | Southend Utd (H) | |
| CCL2 | 22.10.05 | Shrewsbury Tn (H) | |
| CCL2 | 29.10.05 | Barnet (A) | |
| FAC1 | 6.11.05 | Halifax Town (A) | |
| CCL2 | 11.11.05 | Boston Utd (H) | 1 goal |
| FAC1r | 15.11.05 | Halifax Town (H) | |
| LDV2 | 22.11.05 | Swansea City (A) | |
| CCL2 | 26.11.05 | Darlington (A) | |
| FAC2 | 3.12.05 | Leyton Orient (H) | |
| CCL2 | 6.12.05 | Carlisle Utd (H) | |
| CCL2 | 10.12.05 | Mansfiled Town (H) | |
| CCL2 | 17.12.05 | Chester City (A) | |
| CCL2 | 26.12.05 | Leyton Orient (A) | |
| CCL2 | 28.12.05 | Cheltenham Tn (H) | |
| CCL2 | 31.12.05 | Torquay Utd (A) | |
| CCL2 | 2.1.06 | Bristol Rvrs (H) | |
| CCL2 | 7.1.06 | Peterborough U (A) | |
| CCL2 | 14.1.06 | Wrexham (H) | |
| CCL2 | 21.1.06 | Stockport Co (A) | 1 goal |
| CCL2 | 28.1.06 | Oxford Utd (H) | 1 goal |
| CCL2 | 4.2.06 | Northampton Tn(A) | |
| CCL2 | 7.2.06 | Bury (A) | |
| CCL2 | 11.2.06 | Notts County (H) | |
| CCL2 | 14.2.06 | Wrexham (A) | |
| CCL2 | 18.2.06 | Carlisle Utd (A) | |
| CCL2 | 4.3.06 | Grimsby Town (H) | |
| CCL2 | 11.3.06 | Lincoln City (A) | |
| CCL2 | 18.3.06 | Leyton Orient (H) | |
| CCL2 | 15.4.06 | Rochdale (H) | |
| CCL2 | 29.4.06 | Boston Utd (A) | |
| CCL2 | 6.5.06 | Barnet (H) | |
2007/2008 – squad number 4
| | | | |
| --- | --- | --- | --- |
| MCF | 4.8.07 | Northampton Tn(H) | |
| Conf | 11.8.07 | Woking (A) | |
| Conf | 18.8.07 | Ebbsfleet Utd (H) | as sub |
| Conf | 25.8.07 | Torquay Utd (A) | |
| Conf | 27.8.07 | Kidderminster (H) | |
| Conf | 8.9.07 | Salisbury City (A) | |
| Conf | 15.9.07 | Burton Albion (H) | |
| Conf | 18.9.07 | Weymouth (A) | |
| Conf | 22.9.07 | Halifax Town (A) | |
| HSC1 | 3.10.07 | Corby Town (A) | |
| Conf | 20.10.07 | Exeter City (A) | |
| FAC4q | 27.10.07 | Solihull Moors (H) | 1 goal |
| Conf | 1.11.07 | Oxford Utd (H) | |
| FAC1 | 10.11.07 | Macclesfield Tn (H) | |
| HSC2 | 13.11.07 | Cogenhoe Utd (H) | |
| Conf | 17.11.07 | Aldershot Tn (A) | |
| Conf | 24.11.07 | Northwich Vic (A) | |
| FAC2 | 1.12.07 | Bristol Rvrs (A) | |
| Conf | 4.12.07 | Histon (H) | |
| Conf | 8.12.07 | Droylsden (A) | |
| FAT1 | 15.12.07 | Bamber Bdge (A) | 1 goal |
| SS4 | 21.12.07 | Cambridge Utd (A) | |
| Conf | 26.12.07 | Stevenage B (H) | |
| Conf | 29.12.07 | Northwich Vic (H) | |
| Conf | 1.1.08 | Stevenage B (A) | |
| Conf | 5.1.08 | Salisbury City (A) | |
| FAT2 | 12.1.08 | Exeter City (H) | |
| Conf | 19.1.08 | Crawley Tn (A) | |
| Conf | 26.1.08 | Weymouth (H) | |
| Conf | 29.1.08 | BurtonAlbion (A) | |
| FAT3 | 2.2.08 | Halifax Town (A) | |
| Conf | 9.2.08 | Halifax Town (H) | 1 goal |
| Conf | 16.2.08 | Altrincham (H) | |
| FAT4 | 23.2.08 | York City (H) | |
| SS5 | 26.2.08 | Kidderminster (A) | |
| Conf | 1.3.08 | Woking (H) | as sub |
| Conf | 4.3.08 | Farsley Celtic (A) | |
| SSQF | 8.3.08 | Northwich Vic (A) | |
| Conf | 15.3.08 | Histon (A) | as sub |
| Conf | 24.3.08 | Kidderminster (A) | |
| SSSF | 27.3.08 | Halifax Town (H) | |
| Conf | 29.3.08 | Droylsden (H) | |
| SSF | 3.4.08 | Aldershot Tn (A) | |
| Conf | 8.4.08 | Cambridge Utd (H) | |
| Conf | 15.4.08 | Stafford Rgrs (A) | |
| Conf | 17.4.08 | Torquay Utd (H) | |
| Conf | 22.4.08 | Oxford Utd (A) | |
| Conf | 24.4.08 | Grays Ath (A) | |
| Conf | 26.4.08 | Aldershot Tn (H) | |
| HSCF | 29.4.08 | Brackley Town (H) | |
2008/2009 – squad number 4
| | | | |
| --- | --- | --- | --- |
| MCF | 26.7.08 | Peterborough U(H) | as sub |
| Conf | 9.8.08 | Eastbourne B (A) | as sub |
| Conf | 12.8.08 | Ebbsfleet Utd (H) | |
| Conf | 11.9.08 | Lewes (A) | as sub |
| HSC1 | 16.9.08 | Rothwell Tn (A) | |
| Conf | 23.9.08 | Wrexham (A) | |
| Conf | 29.9.08 | Altrincham (H) | |
| Conf | 7.10.08 | Grays Ath (H) | |
| Conf | 12.10.08 | Torquay Utd (H) | |
| Conf | 18.10.08 | York City (A) | |