Rob Gier
Rob Gier
Born 6 January 1980 (Age 24 at debut)
Position: Defender
(Diamonds player #183)
Total appearances 74 – 2 goals
(67 League, 3 FA Cup, 2 League Cup, 2 League Trophy)
Debut:
7 August 2004 (Home Kidderminster Harriers)
Final game:
6 May 2006 (Home Barnet)
Rob had started his youth career with Ascot United before joining Wimbledon at an early age and earning a professional contract with the club. Although lacking the height of the more typical centre half, his understanding of the game was second to none. While with the Wimbledon Youth team, he was coached by Ernie Tippett and Stewart Robson, and when Tippett was appointed manager at Diamonds, Rob became one of his first signings on 24 May 2004, just prior to his former club becoming the MK Dons.
In his first season at the club under Tippett and then Barry Hunter, he played centre back alongside Phil Gulliver or Graham Allen (and latterly Mark Williams), but in his second season at the club he was converted by Hunter into playing a right back role, with Gulliver playing with a number of different centre-back partners. Following relegation at the end of the 2005/2006 season, he was released in May 2006.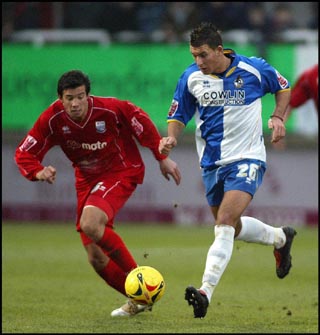 Rob joined Cambridge United for a brief period, before ending the season at Woking. In July 2007, he jpoined Aldershot Town and despite having helped them to the Conference title that season, he was released. He joined Grays Athletic in May 2008 on a one year contract, but was transfer listed in January 2009. It was during this period that he was called up for International duties with the Philippines National squad, and has earned three caps so far. On 12 November 2009, he signed for Hellenic League Premier Division side Ascot United, where he had begun his career. He stayed there until his retirement from the game in 2016.
Appearances
2004/2005 – squad number 6
| | | | |
| --- | --- | --- | --- |
| CCL2 | 7.8.04 | Kidderminster (H) | |
| CCL2 | 21.8.04 | Grimsby Town (H) | |
| CC1 | 24.8.04 | Swindon Town (H) | |
| CCL2 | 28.8.04 | Yeovil Town (A) | |
| CCL2 | 30.8.04 | Bristol Rvrs (H) | |
| CCL2 | 4.9.04 | Southend Utd (H) | |
| CCL2 | 16.10.04 | Chester City (H) | as sub |
| CCL2 | 19.10.04 | Wycombe Wdrs(A) | as sub |
| CCL2 | 30.10.04 | Notts County (H) | |
| CCL2 | 6.11.04 | Darlington (H) | |
| FAC2 | 4.12.04 | Colchester Utd(H) | as sub |
| CCL2 | 8.12.04 | Boston Utd (A) | |
| CCL2 | 11.12.04 | Mansfield Town(A) | |
| CCL2 | 18.12.04 | Scunthorpe Utd(H) | |
| CCL2 | 26.12.04 | Oxford Utd (H) | |
| CCL2 | 28.12.04 | Leyton Orient (A) | |
| CCL2 | 1.1.05 | Southend Utd (A) | |
| CCL2 | 3.1.05 | Swansea City (H) | |
| CCL2 | 8.1.05 | Shrewsbury Tn(H) | |
| CCL2 | 15.1.05 | Cheltenham Tn(A) | |
| CCL2 | 22.1.05 | Leyton Orient (H) | 1 goal |
| CCL2 | 29.1.05 | Rochdale (A) | |
| CCL2 | 19.2.05 | Notts County (A) | |
| CCL2 | 22.2.05 | Bury (H) | 1 goal |
| CCL2 | 26.2.05 | Mansfield Tn (H) | |
| CCL2 | 5.3.05 | Scunthorpe Utd(A) | |
| CCL2 | 12.3.05 | Northampton Tn(H) | |
| CCL2 | 19.3.05 | Kidderminster (A) | |
| CCL2 | 25.3.05 | Lincoln City (H) | |
| CCL2 | 28.3.05 | Grimsby Town (A) | |
| CCL2 | 2.4.05 | Yeovil Town (H) | |
| CCL2 | 9.4.05 | Bristol Rvrs (A) | |
| CCL2 | 16.4.05 | Boston Utd (H) | |
| CCL2 | 7.5.05 | Macclesfield Tn(A) | |
2005/2006 – squad number 6
| | | | |
| --- | --- | --- | --- |
| CCL2 | 6.8.05 | Darlington (H) | |
| CCL2 | 9.8.05 | Mansfield Town(A) | |
| CCL2 | 20.8.05 | Chester City (H) | |
| CC1 | 24.8.05 | Coventry City (H) | |
| CCL2 | 24.9.05 | Notts County (A) | |
| CCL2 | 27.9.05 | Northampton Tn(H) | |
| CCL2 | 1.10.05 | Rochdale (A) | |
| CCL2 | 7.10.05 | Bury (H) | |
| CCL2 | 15.10.05 | Wycombe Wdrs(A) | |
| LDV1 | 18.10.05 | Southend Utd (H) | |
| CCL2 | 22.10.05 | Shrewsbury Tn(H) | |
| CCL2 | 29.10.05 | Barnet (A) | |
| FAC1 | 6.11.05 | Halifax Town (A) | |
| CCL2 | 11.11.05 | Boston Utd (H) | |
| FAC1r | 15.11.05 | Halifax Town (H) | |
| LDV2 | 22.11.05 | Swansea City (A) | |
| CCL2 | 26.11.05 | Darlington (A) | |
| CCL2 | 10.12.05 | Mansfiled Town(H) | |
| CCL2 | 17.12.05 | Chester City (A) | |
| CCL2 | 26.12.05 | Leyton Orient (A) | |
| CCL2 | 28.12.05 | Cheltenham Tn(H) | |
| CCL2 | 31.12.05 | Torquay Utd (A) | |
| CCL2 | 2.1.06 | Bristol Rvrs (H) | |
| CCL2 | 7.1.06 | Peterborough U(A) | |
| CCL2 | 21.1.06 | Stockport Co (A) | |
| CCL2 | 28.1.06 | Oxford Utd (H) | |
| CCL2 | 4.2.06 | Northampton Tn(A) | |
| CCL2 | 7.2.06 | Bury (A) | |
| CCL2 | 11.2.06 | Notts County (H) | |
| CCL2 | 14.2.06 | Wrexham (A) | |
| CCL2 | 18.2.06 | Carlisle Utd (A) | |
| CCL2 | 25.2.06 | Macclesfield Tn(H) | |
| CCL2 | 4.3.06 | Grimsby Town (H) | |
| CCL2 | 18.3.06 | Leyton Orient (H) | |
| CCL2 | 25.3.06 | Cheltenham Tn(A) | |
| CCL2 | 1.4.06 | Torquay Utd (H) | |
| CCL2 | 8.4.06 | Bristol Rvrs (A) | |
| CCL2 | 18.4.06 | Shrewsbury Tn (A) | as sub |
| CCL2 | 22.4.06 | Wycombe Wdrs(H) | |
| CCL2 | 6.5.06 | Barnet (H) | |