Peter Hawkins
Peter Hawkins
Born 18 September 1978 (Age 25 at debut)
Position: Defender
(Diamonds player #181)
Total appearances 71 – 1 goal
(62 League, 4 FA Cup, 2 League Cup, 3 League Trophy)
Debut:
7 August 2004 (Home Kidderminster Harriers)
Final game:
31 December 2005 (Away Torquay United)
Peter started out with the Wimbledon youth set up, before signing a professional contract in 1998. After failing to break into the first team, he went on loan to York City in February 2000 where he made 14 appearances. The following season, he became a regular in the Wimbledon side, making over 130 appearances for the Dons. He was released I the summer of 2004 (just prior to he name change), and was one of the Diamonds first signings on their return to League 2 following their single season in the tier above. Peter had worked with Ernie Tippett and Stewart Robson in the Wimbledon Youth Academy, and joined Diamonds on a two year deal on 27 May 2004. Playing predominantly in the left-back role, one of his finest moments was scoring the opening goal in the 3-2 victory over Northampton own – his only goal for the club. He left Diamonds on 15 March 2006, by mutual consent joining Gravesend & Northfleet (later renamed Ebbsfleet United) on 23 March.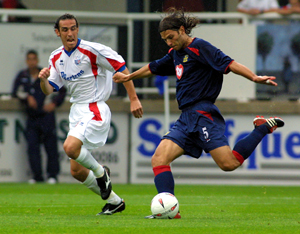 During his time with the Fleet, he helped them to win the FA Trophy in May 2008, and remained with them until mid-way through the 2008-09 season. Having been born in Maidstone, he took the opportunity of a loan deal with his hometown club, and following his release at the end of the season, he joined Maidstone United on a permanent basis on 22 May 2009 electing to go part-time. On 2 June 2010, he joined Isthmians Premier side Tonbridge Angels, but rejoined Maidstone United in September. He was released again in January 2011, and joined Isthmian Division One South Whitstable Town on 2 February 2011. A knee injury ended his career midway through the 2012/13 season, but he took up an Assistant Manager role at Chatham Town for the 2014/15 season.
Appearances
2004/2005 – squad number 3
| | | | |
| --- | --- | --- | --- |
| CCL2 | 7.8.04 | Kidderminster (H) | |
| CCL2 | 10.8.04 | Northampton Tn (A) | |
| CCL2 | 14.8.04 | Lincoln City (A) | |
| CCL2 | 21.8.04 | Grimsby Town (H) | |
| CC1 | 24.8.04 | Swindon Town (H) | |
| CCL2 | 28.8.04 | Yeovil Town (A) | |
| CCL2 | 30.8.04 | Bristol Rvrs (H) | |
| CCL2 | 4.9.04 | Southend Utd (H) | |
| CCL2 | 11.9.04 | Oxford Utd (A) | |
| CCL2 | 18.9.04 | Cheltenham Tn (H) | |
| CCL2 | 25.9.04 | Swansea City (A) | |
| LDV1 | 28.9.04 | Walsall (A) | |
| CCL2 | 2.10.04 | Rochdale (H) | |
| CCL2 | 8.10.04 | Shrewsbury Tn (A) | |
| CCL2 | 19.10.04 | Wycombe W (A) | |
| CCL2 | 23.10.04 | Bury (A) | |
| CCL2 | 30.10.04 | Notts County (H) | |
| FAC1 | 13.11.04 | Bradford City (A) | |
| CCL2 | 20.11.04 | Cambridge Utd (A) | |
| CCL2 | 27.11.04 | Macclesfield Tn (H) | |
| FAC2 | 4.12.04 | Colchester Utd (H) | |
| CCL2 | 8.12.04 | Boston Utd (A) | |
| CCL2 | 11.12.04 | Mansfield Town (A) | |
| CCL2 | 18.12.04 | Scunthorpe Utd (H) | |
| CCL2 | 26.12.04 | Oxford Utd (H) | |
| CCL2 | 28.12.04 | Leyton Orient (A) | |
| CCL2 | 1.1.05 | Southend Utd (A) | |
| CCL2 | 3.1.05 | Swansea City (H) | |
| CCL2 | 8.1.05 | Shrewsbury Tn (H) | |
| CCL2 | 15.1.05 | Cheltenham Tn (A) | |
| CCL2 | 22.1.05 | Leyton Orient (H) | |
| CCL2 | 29.1.05 | Rochdale (A) | |
| CCL2 | 5.2.05 | Chester City (A) | |
| CCL2 | 12.2.05 | Wycombe W (H) | |
| CCL2 | 19.2.05 | Notts County (A) | |
| CCL2 | 22.2.05 | Bury (H) | |
| CCL2 | 26.2.05 | Mansfield Tn (H) | |
| CCL2 | 5.3.05 | Scunthorpe Utd (A) | |
| CCL2 | 12.3.05 | Northampton Tn (H) | 1 goal |
| CCL2 | 28.3.05 | Grimsby Town (A) | |
| CCL2 | 2.4.05 | Yeovil Town (H) | |
| CCL2 | 9.4.05 | Bristol Rvrs (A) | |
| CCL2 | 16.4.05 | Boston Utd (H) | |
| CCL2 | 23.4.05 | Darlington (A) | |
| CCL2 | 30.4.05 | Cambridge Utd (H) | |
2005/2006 – squad number 3
| | | | |
| --- | --- | --- | --- |
| CCL2 | 6.8.05 | Darlington (H) | |
| CCL2 | 9.8.05 | Mansfield Town (A) | |
| CCL2 | 20.8.05 | Chester City (H) | |
| CC1 | 24.8.05 | Coventry City (H) | |
| CCL2 | 27.8.05 | Lincoln City (H) | |
| CCL2 | 29.8.05 | Grimsby Town (A) | |
| CCL2 | 2.9.05 | Peterborough U (H) | |
| CCL2 | 13.9.05 | Macclesfield Tn (A) | |
| CCL2 | 17.9.05 | Stockport Co (H) | |
| CCL2 | 24.9.05 | Notts County (A) | |
| CCL2 | 27.9.05 | Northampton Tn(H) | |
| CCL2 | 1.10.05 | Rochdale (A) | |
| CCL2 | 7.10.05 | Bury (H) | |
| CCL2 | 15.10.05 | Wycombe W (A) | |
| LDV1 | 18.10.05 | Southend Utd (H) | |
| CCL2 | 22.10.05 | Shrewsbury Tn (H) | |
| CCL2 | 29.10.05 | Barnet (A) | |
| FAC1r | 15.11.05 | Halifax Town (H) | as sub |
| LDV2 | 22.11.05 | Swansea City (A) | |
| CCL2 | 26.11.05 | Darlington (A) | as sub |
| FAC2 | 3.12.05 | Leyton Orient (H) | |
| CCL2 | 6.12.05 | Carlisle Utd (H) | |
| CCL2 | 17.12.05 | Chester City (A) | |
| CCL2 | 26.12.05 | Leyton Orient (A) | |
| CCL2 | 28.12.05 | Cheltenham Tn (H) | |
| CCL2 | 31.12.05 | Torquay Utd (A) | |