Rodney Jack
Rodney Jack
Born 28 September 1972 (Age 30 at debut)
Position: Forward
(Diamonds player #169)
Total appearances 49 – 13 goals
(45 League, 1 FA Cup, 1 League Cup, 2 League Trophy)
Debut:
9 August 2003 (Away Luton Town)
Final game:
8 May 2004 (Home Port Vale)
Born in Kingstown, St.Vincent, Rodney was spotted playing for a Caribbean select side FC Lambada. After arriving in England, he was offered a contract with Torquay United and signed for the Division Three side in October 1995. He scored some 30 goals for the Gulls in 110 appearances before he moved to Crewe Alexandra in November 1998 for a £650,000 transfer fee. He quickly became a fans favourite at Crewe, and in five years at Gresty Road, he made 188 appearances, scoring 42 goals. He continued to play International football with St.Vincent & Grenadines, earning 45 caps, and scoring 13 goals between 1992 and 2004.
Rodney arrived at Nene Park in the summer of 2003, in time for the Isle of Man tour in July as the Diamonds looked to progress after their promotion to Division 2. During that season, Rodney made 45 league appearances for the club, scoring 12 goals and was voted Players' Player of the Season.
When Diamonds were relegated at the end of that season, Jack put in a transfer request and he moved to Oldham Athletic, following ex-Diamonds manager Brian Talbot. Injury curtailed his appearances at Oldham, and he was released in the summer of 2005, joining Irish side Waterford United. The following year, Rodney returned to join Crewe Alexandra on a one year deal. In August 2007, he Conference North side Southport, but had to return at St.Vincent after his father became ill. He returned to Southport briefly, before joining Northern Premier League, Premier Division side Nantwich Townin November 2008. Rodney made the 2011/2012 season his last, and left the club in the summer of 2012, confirming his retirement from the game..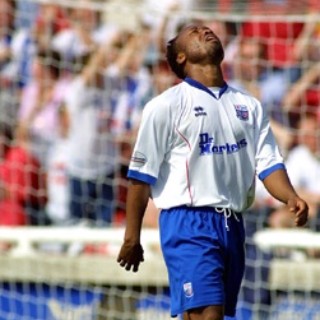 Appearances
2003/2004 – squad number 9
| | | | |
| --- | --- | --- | --- |
| D2 | 9.8.03 | Luton Town (A) | as sub |
| CC1 | 13.8.03 | West Ham Utd (A) | |
| D2 | 16.8.03 | Plymouth Arg (H) | 1 goal |
| D2 | 23.8.03 | Tranmere Rvrs (A) | 1 goal |
| D2 | 25.8.03 | QPR (H) | |
| D2 | 30.8.03 | Oldham Athletic(A) | |
| D2 | 6.9.03 | Wycombe Wdr(H) | 1 goal |
| D2 | 13.9.03 | Brentford (H) | |
| D2 | 16.9.03 | Notts County (A) | |
| D2 | 20.9.03 | Bournemouth (A) | |
| D2 | 27.9.03 | Stockport Co (H) | |
| D2 | 30.9.03 | Brighton & HA(H) | |
| D2 | 11.10.03 | Chesterfield (H) | 1 goal |
| LDV1 | 15.10.03 | Oxford Utd (A) | |
| D2 | 18.10.03 | Sheff Wed (A) | |
| D2 | 21.10.03 | Blackpool (A) | 1 goal |
| D2 | 25.10.03 | Wrexham (H) | |
| D2 | 1.11.03 | Grimsby Town (H) | |
| LDV2 | 4.11.03 | Luton Town (H) | 1 goal |
| FAC1 | 8.11.03 | Swansea City (A) | |
| D2 | 15.11.03 | Hartlepool Utd (A) | 1 goal |
| D2 | 22.11.03 | Colchester Utd (H) | |
| D2 | 29.11.03 | Port Vale (A) | |
| D2 | 13.12.03 | Bristol City (H) | |
| D2 | 20.12.03 | Peterborough U(A) | |
| D2 | 26.12.03 | Swindon Town (H) | |
| D2 | 28.12.03 | Wycombe Wdr(A) | 2 goals |
| D2 | 3.1.04 | QPR (A) | |
| D2 | 10.1.04 | Luton Town (H) | |
| D2 | 17.1.04 | Plymouth Arg (A) | |
| D2 | 31.1.04 | Oldham Athletic(H) | 1 goal |
| D2 | 7.2.04 | Swindon Town (A) | 1 goal |
| D2 | 14.2.04 | Chesterfield (A) | |
| D2 | 21.2.04 | Sheff Wed (H) | 1 goal |
| D2 | 24.2.04 | Tranmere Rvrs(H) | |
| D2 | 28.2.04 | Wrexham (A) | 1 goal |
| D2 | 2.3.04 | Blackpool (H) | |
| D2 | 6.3.04 | Peterborough U(H) | |
| D2 | 12.3.04 | Bristol City (A) | |
| D2 | 16.3.04 | Notts County (H) | |
| D2 | 20.3.04 | Brentford (A) | |
| D2 | 27.3.04 | Bournemouth (H) | |
| D2 | 3.4.04 | Stockport Co (A) | |
| D2 | 10.4.04 | Barnsley (H) | |
| D2 | 12.4.04 | Brighton & HA (A) | |
| D2 | 17.4.04 | Grimsby Town (A) | |
| D2 | 24.4.04 | Hartlepool Utd (H) | |
| D2 | 1.5.04 | Colchester Utd (A) | |
| D2 | 8.5.04 | Port Vale (H) | |