Duane Darby
Duane Darby
Born 17 October 1973 (Age 29 at debut)
Position: Forward
(Diamonds player #134)
Total appearances 130 – 51 goals
(117 League, 5 FA Cup, 3 FA Trophy, 3 League Cup, 1 League Trophy, 1 Maunsell Cup)
Debut:
19 August 2000 (Home Chester City)
Final game:
8 November 2003 (Away Swansea City)
Brian Talbot signed Duane from Notts County on 21 June 2000 for £120,000. Having signed prolific striker Justin Jackson the previous week for another six figure sum, he was looking to strengthen his Nationwide Conference squad after narrowly missing out on promotion the previous season. Darby and Jackson were seen as the perfect partnership to shoot Diamonds into the Football League.
Duane had started off his career at local side Cradley Town, before joining Torquay United as an 18 year old apprentice. He earned a professional contract with the Gulls in July 1992 and went on to make some 108 appearances, scoring 26 goals. In the summer of 1995, he joined Doncaster Rovers for £35,000although he was mainly on the bench making only 8 League starts. Rovers sold him to Hull City for £25,000 in March 1996 on a two year contract. During his successful time with Hull, he scored six goals in their FA Cup tie with Whitby Town – a record unlikely to be beaten.
At the termination of his contract, he joined Notts County in July 1998, although injury restricted his appearances for the Magpies. He went back to Hull City on loan in March 1999 to regain his fitness, and despite a good season the following year, was placed on the transfer list allowing Talbot to bring him to Nene Park.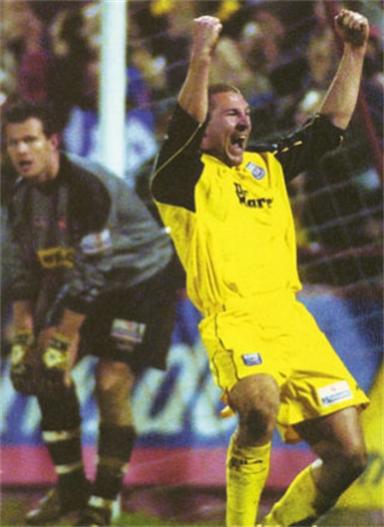 Duane quickly became a fans favourite – his powerful attributes and lethal finishing took Diamonds to thee top of the Conference. His partnership with Justin Jackson provided supporters with some memorable moments in the 2000/2001 season, including a magnificent brace away at rivals Kettering Town. He finished top scorer in that Championship winning season with 27 goals and won the supporters 'player of the season' title.
Following Diamonds promotion to the Football League, Duane continued to score goals and set an example to his team-mates by his approach to the game. And by the end of his time at Nene Park, had amassed 51 goals in 130 games. Of all the Diamonds players, he is probably the one many consider as a true legend. After some three and a half years including two promotions, manager Brian Talbot felt he was not good enough for Division 2 football, and he signed for Conference side Shrewsbury Town on 13 November 2003 for a minimal £15,000 fee.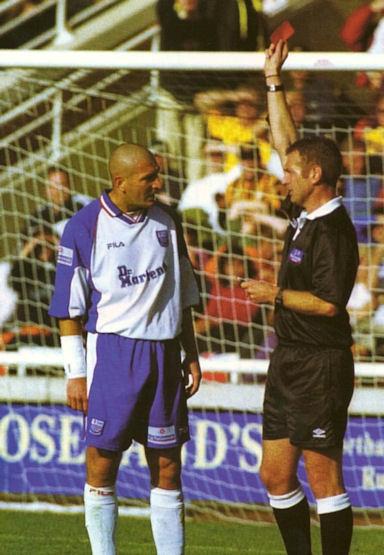 He immediately helped them return to the Football League and remained at Gay Meadow for three years. In February 2006, he was released and with several clubs trying to acquire his signature, he joined Nuneaton Borough. At the beginning of the 2007/2008 season, he moved to Halesowen Town, before taking up a management appointment at Bromsgrove Rovers in December 2007. He was unsuccessful in resurrecting Rovers fortunes however and was sacked in August 2008. He joined Stourbridge Swifts as a player and finished the season with Hednesford Town. After a brief spell with Evesham United, he joined Midland Alliance club Alvechurch on 19 October 2009, scoring on his debut. In July 2011, Duane joined West Midlands League side Cradley Town as assistant manager to Steve Daniels and also playing a central defensive role in addition to his managerial duties. Following a change in management, Duane continued with coaching duties and was still playing during the 2012/2013 season, but he left Cradley after the sacking of manager Adrian Mander in December 2012. After the new manager had left after just one month, Duane was appointed manager on 28 January 2013. Despite making plans for the new season, Duane decided to quit the club on 18 May 2013, in order to take up the position of First team Coach with Midland Combination Premier side Bromsgrove Sporting – the re-incarnation of the Bromsgrove Rovers which he had once managed and which had ceased to exist in August 2010. In a surprise move however, it was announced on 10 April 2014, that Duane would return to the managerial role at Cradley Town after completion of the clubs final 2013/2014 fixture on 11 May 2014. He left Cradley in the summer of 2015 and there is no record of his involvement with the game between then and 2018.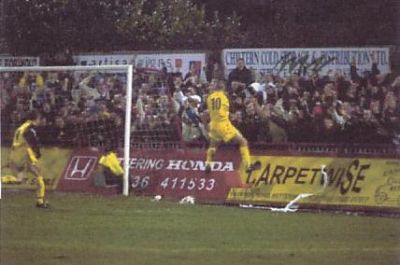 Appearances
2000/2001
| | | | |
| --- | --- | --- | --- |
| Conf | 19.8.00 | Chester City (H) | 1 goal |
| Conf | 21.8.00 | Hednesford Tn (A) | 1 goal |
| Conf | 26.8.00 | Dagenham&Red (A) | 1 goal |
| Conf | 28.8.00 | Southport (H) | 1 goal |
| Conf | 2.9.00 | Telford Utd (A) | 1 goal |
| Conf | 5.9.00 | Stevenage Boro (H) | |
| Conf | 9.9.00 | Forest Green (H) | |
| Conf | 16.9.00 | Woking (A) | 2 goals |
| Conf | 23.9.00 | Kettering Town (H) | |
| Conf | 26.9.00 | Dagenham&Red (H) | 1 goal |
| Conf | 30.9.00 | Kingstonian (A) | 1 goal |
| Conf | 3.10.00 | Leigh RMI (A) | |
| Conf | 8.10.00 | Boston Utd (H) | |
| Conf | 14.10.00 | Hereford Utd (A) | |
| Conf | 21.10.00 | Morecambe (A) | |
| Conf | 4.11.00 | Yeovil Town (H) | |
| Conf | 9.12.00 | Hayes (A) | |
| Conf | 16.12.00 | Hednesford Tn (H) | 2 goals |
| Conf | 26.12.00 | Nuneaton Boro (A) | |
| Conf | 1.1.01 | Nuneaton Boro (H) | 1 goal |
| Conf | 6.1.01 | Southport (A) | |
| FAT3 | 13.1.01 | Hayes (A) | 1 goal |
| Conf | 27.1.01 | Stevenage Boro (A) | 2 goals |
| FAT4 | 3.2.01 | Marine (A) | 2 goals |
| Conf | 10.2.01 | Forest Green (A) | |
| Conf | 17.2.01 | Scarborough (H) | |
| Conf | 20.2.01 | Northwich Vic (H) | 1 goal |
| FAT5 | 24.2.01 | Forest Green (A) | |
| Conf | 3.3.01 | Woking (H) | 1 goal |
| Conf | 10.3.01 | Boston Utd (A) | |
| Conf | 13.3.01 | Kettering Town (A) | 2 goals |
| Conf | 17.3.01 | Kingstonian (H) | 2 goals |
| Conf | 25.3.01 | Northwich Vic (A) | |
| Conf | 31.3.01 | Leigh RMI (H) | |
| Conf | 7.4.01 | Morecambe (H) | 3 goals |
| Conf | 14.4.01 | Hereford Utd (A) | |
| Conf | 16.4.01 | Doncaster Rvrs (H) | |
| Conf | 21.4.01 | Yeovil Town (A) | |
| Conf | 24.4.01 | Telford Utd (H) | |
| Conf | 28.4.01 | Dover Athletic (H) | 1 goal |
| Conf | 5.5.01 | Chester City (A) | |
2001/2002 – squad number 10
D3

11.8.01

York City (A)

as sub

D3

16.8.01

Lincoln City (H)

as sub

WC1

21.8.01

Burnley (A)

as sub

1 goal

D3

25.8.01

Macclesfield Tn(A)

as sub

D3

27.8.01

Plymouth Arg (H)

2 goals

D3

1.9.01

Oxford Utd (A)

2 goals

D3

8.9.01

Southend Utd (H)

D3

20.10.01

Hull City (H)

D3

23.10.01

Shrewsbury Tn (A)

1 goal

D3

27.10.01

Mansfield Town (H)

D3

3.11.01

Swansea City (A)

D3

10.11.01

Halifax Town (A)

FAC1

17.11.01

Worcester City (A)

D3

20.11.01

Scunthorpe Utd(H)

MCF

12.12.01

Peterborough (H)

D3

15.12.01

Luton Town (A)

D3

26.12.01

Southend Utd (A)

as sub

D3

29.12.01

Plymouth Arg (A)

as sub

D3

12.1.02

Lincoln City (A)

as sub

1 goal

D3

19.1.02

York City (H)

1 goal

D3

22.1.02

Carlisle Utd (A)

D3

29.1.02

Macclesfield Tn(H)

D3

2.2.02

Darlington (H)

D3

5.2.02

Oxford Utd (H)

as sub

D3

9.2.02

Hull City (A)

as sub

D3

16.2.02

Rochdale (H)

as sub

D3

26.2.02

Torquay Utd (A)

as sub

D3

2.3.02

Cheltenham Tn (A)

as sub

D3

5.3.02

Exeter City (H)

as sub

D3

9.3.02

Luton Town (H)

as sub

D3

16.3.02

Bristol Rvrs (A)

D3

23.3.02

Shrewsbury Tn (H)

D3

30.3.02

Mansfield Town (A)
2002/2003 – squad number 10
| | | | |
| --- | --- | --- | --- |
| D3 | 10.8.02 | Swansea City (A) | |
| D3 | 13.8.02 | Torquay Utd (H) | 1 goal |
| D3 | 17.8.02 | Kidderminster (H) | 1 goal |
| D3 | 24.8.02 | Shrewsbury Tn (A) | 1 goal |
| D3 | 26.8.02 | Scunthorpe Utd(H) | |
| D3 | 31.8.02 | Cambridge Utd (A) | |
| D3 | 7.9.02 | Southend Utd (H) | |
| WC1 | 10.9.02 | Millwall (H) | |
| D3 | 14.9.02 | York City (A) | |
| D3 | 17.9.02 | Bournemouth (A) | |
| D3 | 5.10.02 | Leyton Orient (H) | 2 goals |
| D3 | 12.10.02 | Exeter City (A) | 1 goal |
| D3 | 19.10.02 | Bury (H) | |
| LDV1 | 22.10.02 | Cambridge Utd (A) | as sub |
| D3 | 26.10.02 | Hull City (A) | |
| D3 | 29.10.02 | Boston Utd (H) | |
| D3 | 2.11.02 | Rochdale (A) | 1 goal |
| D3 | 9.11.02 | Darlington (H) | |
| FAC1 | 16.11.02 | Kidderminster (A) | |
| D3 | 23.11.02 | Lincoln City (A) | |
| FAC1r | 26.11.02 | Kidderminster (H) | |
| D3 | 30.11.02 | Bristol Rvrs (H) | as sub |
| FAC2 | 7.12.02 | Exeter City (A) | as sub |
| D3 | 14.12.02 | Macclesfield Tn(A) | |
| D3 | 26.12.02 | Scunthorpe Utd(A) | |
| D3 | 28.12.02 | Oxford Utd (H) | |
| D3 | 1.1.03 | Shrewsbury Tn (H) | 2 goals |
| D3 | 4.1.03 | Torquay Utd (A) | 1 goal |
| D3 | 11.1.03 | Kidderminter (A) | |
| D3 | 22.2.03 | Southend Utd (A) | as sub |
| D3 | 1.3.03 | York City (H) | |
| D3 | 4.3.03 | Bournemouth (H) | 1 goal |
| D3 | 15.3.03 | Hull City (H) | |
| D3 | 18.3.03 | Bury (A) | 1 goal |
| D3 | 22.3.03 | Boston Utd (A) | 1 goal |
| D3 | 24.3.03 | Rochdale (H) | |
| D3 | 29.3.03 | Exeter City (H) | 1 goal |
| D3 | 12.4.03 | Lincoln City (H) | |
| D3 | 19.4.03 | Carlisle Utd (A) | |
| D3 | 21.4.03 | Macclesfield Tn(H) | |
| D3 | 26.4.03 | Leyton Orient (A) | |
| D3 | 3.5.03 | Hartlepool Utd (H) | |
2003/2004 – squad number 10
| | | | |
| --- | --- | --- | --- |
| D2 | 9.8.03 | Luton Town (A) | |
| CC1 | 13.8.03 | West Ham Utd (A) | as sub |
| D2 | 16.8.03 | Plymouth Arg (H) | as sub |
| D2 | 23.8.03 | Tranmere Rvrs (A) | |
| D2 | 25.8.03 | QPR (H) | 1 goal |
| D2 | 6.9.03 | Wycombe Wds(H) | as sub |
| D2 | 13.9.03 | Brentford (H) | as sub |
| D2 | 16.9.03 | Notts County (A) | 1 goal |
| D2 | 20.9.03 | Bournemouth (A) | |
| D2 | 27.9.03 | Stockport Co (H) | |
| D2 | 30.9.03 | Brighton & HA (H) | |
| D2 | 4.10.03 | Barnsley (A) | |
| D2 | 11.10.03 | Chesterfield (H) | |
| FAC1 | 8.11.03 | Swansea City (A) | |