Justin Jackson
Justin Jackson
Born 10 December 1974 (Age 25 at debut)
Position: Forward
(Diamonds player #133)
Total appearances 53 – 20 goals
(45 League, 2 FA Cup, 3 FA Trophy, 2 League Cup, 1 League Trophy)
Debut:
19 August 2000 (Home Chester City)
Final game:
1 September 2001 (Away Oxford United)
Justin had started out at non-league Lancaster City, before moving to Scotland in 1994 where he joined Ayr United. In his first season, he scored four goals in 27 appearances before moving south of the border for spells with Penrith, Ilkeston Town, Morecambe and Woking. In 1997, he joined Notts County where he spent two season, going out on loan to Morecambe, Rotherham united and Halifax Town. He came to prominence when he joined Morecambe for a third spell in the summer of 1999, scoring some 29 goals in 38 appearances, and Brian Talbot was quick to sign the striker up. He arrived at nene Park on 12 June 2000, for a massive £180,000 transfer fee, signalling Diamonds intention to gain promotion to the Football League. He proved to be a key factor in the Conference winning campaign striking up a tremendous partnership with Duane Darby, and scoring 20 goals. His willingness to run at defenders also allowed Darby the space to capitalise and add another 27 goals.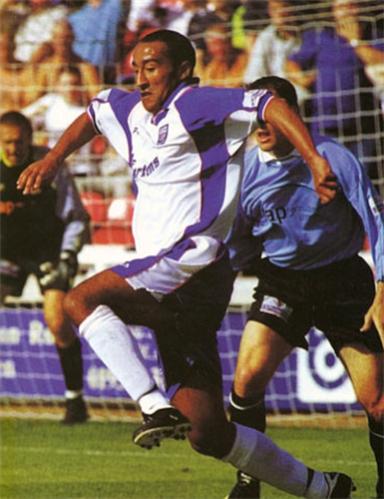 After the club began its first season in the Football League however, he was quickly discarded by manager Brian Talbot, and made only five league starts before being sold to Doncaster Rovers in September 2001 for £150,000. After an unsuccessful period at Doncaster, he moved on to Accrington Stanley, before moving to Australia and playing in the amateur game there. He played last played for Casey Comets SC, before trying to return to Tamworth in March 2007, but the FA ruled that he could not sign outside the transfer window. In summer of 2007, he joined Southern League Premier side Brackley Town before having spells at Corby Town and Bromsgrove Rovers, where he linked up again with his former strike partner, Duane Darby. Although currently without a club, he was on trial with Unibond Division One North side Lancaster City during July 2009.
Appearances
2000/2001
| | | | |
| --- | --- | --- | --- |
| Conf | 19.8.00 | Chester City (H) | 1 goal |
| Conf | 21.8.00 | Hednesford Tn (A) | 1 goal |
| Conf | 26.8.00 | Dagenham&Red(A) | |
| Conf | 28.8.00 | Southport (H) | 1 goal |
| Conf | 2.9.00 | Telford Utd (A) | |
| Conf | 5.9.00 | Stevenage Boro(H) | 1 goal |
| Conf | 9.9.00 | Forest Green (H) | |
| Conf | 12.9.00 | Scarborough (A) | 1 goal |
| Conf | 16.9.00 | Woking (A) | 1 goal |
| Conf | 23.9.00 | Kettering Town (H) | 1 goal |
| Conf | 26.9.00 | Dagenham&Red(H) | |
| Conf | 30.9.00 | Kingstonian (A) | 1 goal |
| Conf | 3.10.00 | Leigh RMI (A) | |
| Conf | 8.10.00 | Boston Utd (H) | |
| Conf | 14.10.00 | Hereford Utd (A) | 1 goal |
| Conf | 21.10.00 | Morecambe (A) | |
| FAC4q | 28.10.00 | Grantham Town(H) | 1 goal |
| Conf | 31.10.00 | Hayes (H) | 1 goal |
| Conf | 4.11.00 | Yeovil Town (H) | 1 goal |
| Conf | 11.11.00 | Doncaster Rvrs(A) | |
| FAC1 | 17.11.00 | Luton Town (A) | |
| LDV1 | 28.11.00 | Barnet (A) | |
| Conf | 2.12.00 | Dover Athletic(A) | |
| Conf | 9.12.00 | Hayes (A) | 1 goal |
| NWT3 | 19.12.00 | Kingstonian (A) | |
| Conf | 26.12.00 | Nuneaton Boro(A) | 1 goal |
| Conf | 1.1.01 | Nuneaton Boro(H) | |
| Conf | 6.1.01 | Southport (A) | 2 goals |
| FAT3 | 13.1.01 | Hayes (A) | |
| Conf | 27.1.01 | Stevenage Boro(A) | |
| FAT4 | 3.2.01 | Marine (A) | 1 goal |
| Conf | 10.2.01 | Forest Green (A) | |
| Conf | 17.2.01 | Scarborough (H) | |
| Conf | 20.2.01 | Northwich Vic (H) | 1 goal |
| FAT5 | 24.2.01 | Forest Green (A) | |
| Conf | 3.3.01 | Woking (H) | |
| Conf | 10.3.01 | Boston Utd (A) | 1 goal |
| Conf | 13.3.01 | Kettering Town(A) | |
| Conf | 17.3.01 | Kingstonian (H) | |
| Conf | 25.3.01 | Northwich Vic (A) | |
| Conf | 7.4.01 | Morecambe (H) | |
| Conf | 14.4.01 | Hereford Utd (A) | |
| Conf | 16.4.01 | Doncaster Rvrs(H) | |
| Conf | 21.4.01 | Yeovil Town (A) | |
| Conf | 24.4.01 | Telford Utd (H) | 1 goal |
| Conf | 28.4.01 | Dover Athletic (H) | |
| Conf | 5.5.01 | Chester City (A) | |
2001/2002 – squad number 9
| | | | |
| --- | --- | --- | --- |
| D3 | 11.8.01 | York City (A) | |
| D3 | 16.8.01 | Lincoln City (H) | |
| WC1 | 21.8.01 | Burnley (A) | |
| D3 | 25.8.01 | Macclesfield Tn(A) | |
| D3 | 27.8.01 | Plymouth Arg (H) | |
| D3 | 1.9.01 | Oxford Utd (A) | |