Billy Turley
Billy Turley
Born 15 July 1972 (Age 27 at debut)
Position: Goalkeeper
(Diamonds player #118)
Total appearances 253
(218 League, 14 FA Cup, 10 FA Trophy, 7 League Cup, 2 League Trophy, 1 Maunsell Cup, 1 Conference Shield)
Debut:
31 July 1999 (Home Northampton Town)
Final game:
18 December 2004 (Home Scunthorpe United)
Diamonds fans will remember Billy as a great, if rather controversial, goalkeeper. He started his career at Evesham United, and played against Diamonds in 1994 as they were pushing for promotion. He joined Northampton Town in July 1995, but in the four years he was with the Cobblers, he made a relatively small number of appearances and went out on loan to Leyton Orient in February 1998. He signed for Diamonds on 14 June 1999 for a £120,000 transfer fee after falling out of favour at Sixfields. Although Billy originally proved an unpopular choice by manager Talbot, the fans soon realised what a good goalkeeper he was. Billy had fantastic agility and had a commanding presence in his own penalty area. In 2001, he helped Rushden achieve league status for the very first time and was named player's player of the year. He was also part of the side that won the Division 3 title and promotion to Division 2 in 2003.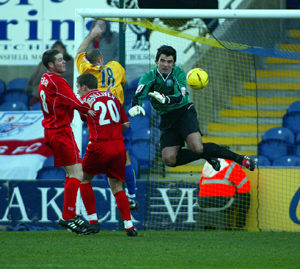 However, his 5-year spell at Rushden and Diamonds ended unceremoniously as he failed a routine drugs test after a match in December 2004. On 22 February 2005, the FA issued him with a 12month suspension, six of which were suspended for two years, plus a £300 fine, and he was subsequently sacked on 25 February 2005. Following the end of his ban he was snapped up by Oxford United. Billy's time at Diamonds brought as many high points as it did lows. However, despite off field trouble, Billy produced consistent displays in goal for Rushden and made some 253 appearances for the club.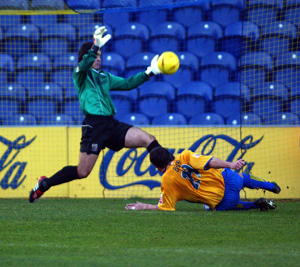 Billy remained with Oxford United for five seasons, although after four years as the No.1, he spent most of his final year at the Kassam Stadium on the bench. After over 170 appearances for the U's, he was released at the end of the 2009/2010 season, joining Southern League Premier side Brackley Town on 29 May 2010. After more than two successful seasons with the Saints, it was announced on 11 October 2012, that the 40 year old keeper had left the club by 'mutual consent', but rejoined again ten days later after a truce with the manager. After a further season and a half with the Saints, Billy was released by the club on 4 June 2014 and retired from the game.
Appearances
1999/2000
| | | | |
| --- | --- | --- | --- |
| MCF | 31.7.99 | Northampton Tn (H) | |
| Conf | 14.8.99 | Morecambe (A) | |
| Conf | 17.8.99 | Telford Utd (H) | |
| Conf | 21.8.99 | Kidderminster (H) | |
| Conf | 28.8.99 | Sutton Utd (A) | |
| Conf | 30.8.99 | Welling Utd (H) | |
| Conf | 4.9.99 | Northwich Vic (A) | |
| Conf | 7.9.99 | Hayes (H) | |
| Conf | 11.9.99 | Woking (H) | |
| Conf | 14.9.99 | Kettering Town (A) | |
| Conf | 18.9.99 | Southport (H) | |
| Conf | 25.9.99 | Hednesford Tn (A) | |
| Conf | 28.9.99 | Hereford Utd (A) | |
| Conf | 2.10.99 | Altrincham (A) | |
| Conf | 9.10.99 | Kingstonian (H) | |
| FAC4q | 16.10.99 | Sutton Utd (H) | |
| Conf | 23.10.99 | Scarborough (A) | |
| FAC1 | 29.10.99 | Scunthorpe Utd (H) | |
| Conf | 2.11.99 | Nuneaton Boro (A) | |
| Conf | 6.11.99 | Dover Athetic (H) | |
| Conf | 13.11.99 | Yeovil Town (A) | |
| FAC2 | 20.11.99 | Ilkeston Town (A) | |
| NT2 | 23.11.99 | Telford Utd (H) | |
| FAT2 | 27.11.99 | Havant & W (H) | |
| FAC2r | 30.11.99 | Ilkeston Town (H) | |
| Conf | 4.12.99 | Hayes (A) | |
| FAC3 | 12.12.99 | Sheffield Utd (A) | |
| Conf | 18.12.99 | Telford Utd (A) | |
| FAC3r | 21.12.99 | Sheffield Utd (H) | |
| Conf | 27.12.99 | Stevenage Boro (H) | |
| Conf | 3.1.00 | Stevenage Boro (A) | |
| FAT3 | 15.1.00 | Bath City (A) | |
| Conf | 22.1.00 | Forest Green (A) | |
| Conf | 29.1.00 | Northwich Vic (H) | |
| FAT4 | 5.2.00 | Billericay Tn (A) | |
| FAT4r | 8.2.00 | Billericay Tn (H) | |
| Conf | 12.2.00 | Dover Athletic (A) | |
| Conf | 15.2.00 | Forest Green (H) | |
| Conf | 19.2.00 | Doncaster Rvrs (A) | |
| Conf | 22.2.00 | Hednesford Tn (H) | |
| FAT5 | 26.2.00 | Marine (H) | |
| Conf | 4.3.00 | Kingstonian (A) | |
| Conf | 7.3.00 | Yeovil Town (H) | |
| FAT6 | 11.3.00 | Sutton Utd (A) | |
| FAT6r | 14.3.00 | Sutton Utd (H) | |
| Conf | 18.3.00 | Sutton Utd (H) | |
| Conf | 25.3.00 | Hereford Utd (H) | |
| Conf | 28.3.00 | Kettering Town (H) | |
| Conf | 1.4.00 | Nuneaton Boro (H) | |
| Conf | 4.4.00 | Morecambe (H) | |
| Conf | 8.4.00 | Kidderminster (A) | |
| Conf | 11.4.00 | Woking (A) | |
| Conf | 15.4.00 | Altrincham (H) | |
| Conf | 1.5.00 | Welling (A) | |
| Conf | 6.5.00 | Doncaster Rvrs (H) | |
2000/2001
| | | | |
| --- | --- | --- | --- |
| Conf | 19.8.00 | Chester City (H) | |
| Conf | 21.8.00 | Hednesford Tn (A) | |
| Conf | 26.8.00 | Dagenham&Red (A) | |
| Conf | 28.8.00 | Southport (H) | |
| Conf | 2.9.00 | Telford Utd (A) | |
| Conf | 5.9.00 | Stevenage Boro (H) | |
| Conf | 9.9.00 | Forest Green (H) | |
| Conf | 12.9.00 | Scarborough (A) | |
| Conf | 16.9.00 | Woking (A) | |
| Conf | 23.9.00 | Kettering Town (H) | |
| Conf | 26.9.00 | Dagenham&Red (H) | |
| Conf | 30.9.00 | Kingstonian (A) | |
| Conf | 3.10.00 | Leigh RMI (A) | |
| Conf | 8.10.00 | Boston Utd (H) | |
| Conf | 14.10.00 | Hereford Utd (A) | |
| Conf | 21.10.00 | Morecambe (A) | |
| FAC4q | 28.10.00 | Grantham Town (H) | |
| Conf | 31.10.00 | Hayes (H) | |
| Conf | 4.11.00 | Yeovil Town (H) | |
| Conf | 11.11.00 | Doncaster Rvrs (A) | |
| FAC1 | 17.11.00 | Luton Town (A) | |
| Conf | 2.12.00 | Dover Athletic (A) | |
| Conf | 9.12.00 | Hayes (A) | |
| Conf | 26.12.00 | Nuneaton Boro (A) | |
| Conf | 1.1.01 | Nuneaton Boro (H) | |
| Conf | 6.1.01 | Southport (A) | |
| FAT3 | 13.1.01 | Hayes (A) | |
| Conf | 27.1.01 | Stevenage Boro (A) | |
| FAT4 | 3.2.01 | Marine (A) | |
| Conf | 10.2.01 | Forest Green (A) | |
| Conf | 17.2.01 | Scarborough (H) | |
| Conf | 20.2.01 | Northwich Vic (H) | |
| FAT5 | 24.2.01 | Forest Green (A) | |
| Conf | 3.3.01 | Woking (H) | |
| Conf | 10.3.01 | Boston Utd (A) | |
| Conf | 13.3.01 | Kettering Town (A) | |
| Conf | 17.3.01 | Kingstonian (H) | |
| Conf | 25.3.01 | Northwich Vic (A) | |
| Conf | 31.3.01 | Leigh RMI (H) | |
| Conf | 7.4.01 | Morecambe (H) | |
| Conf | 14.4.01 | Hereford Utd (A) | |
| Conf | 16.4.01 | Doncaster Rvrs (H) | |
| Conf | 21.4.01 | Yeovil Town (A) | |
| Conf | 24.4.01 | Telford Utd (H) | |
| Conf | 28.4.01 | Dover Athletic (H) | |
| Conf | 5.5.01 | Chester City (A) | |
2001/2002 – squad number 1
| | | | |
| --- | --- | --- | --- |
| D3 | 11.8.01 | York City (A) | |
| D3 | 16.8.01 | Lincoln City (H) | |
| WC1 | 21.8.01 | Burnley (A) | |
| D3 | 25.8.01 | Macclesfield Tn (A) | |
| D3 | 27.8.01 | Plymouth Arg (H) | |
| D3 | 1.9.01 | Oxford Utd (A) | |
| D3 | 8.9.01 | Southend Utd (H) | |
| WC2 | 11.9.01 | Crewe Alex (A) | |
| D3 | 15.9.01 | Leyton Orient (A) | |
| D3 | 18.9.01 | Torquay Utd (H) | |
| D3 | 22.9.01 | Cheltenham Tn (H) | |
| D3 | 13.10.01 | Rochdale (A) | |
| LDV1 | 16.10.01 | Cardiff City (A) | |
| D3 | 20.10.01 | Hull City (H) | |
| D3 | 23.10.01 | Shrewsbury Tn (A) | |
| D3 | 27.10.01 | Mansfield Town (H) | |
| D3 | 3.11.01 | Swansea City (A) | |
| D3 | 10.11.01 | Halifax Town (A) | |
| CS | 13.11.01 | Chester City (H) | |
| FAC1 | 17.11.01 | Worcester City (A) | |
| D3 | 20.11.01 | Scunthorpe Utd (H) | |
| D3 | 24.11.01 | Kidderminster (A) | |
| D3 | 1.12.01 | Bristol Rvrs (H) | |
| FAC2 | 8.12.01 | Brighton &HA (A) | |
| D3 | 15.12.01 | Luton Town (A) | |
| D3 | 22.12.01 | Carlisle Utd (H) | |
| D3 | 26.12.01 | Southend Utd (A) | |
| D3 | 29.12.01 | Plymouth Arg (A) | |
| D3 | 12.1.02 | Lincoln City (A) | |
| D3 | 19.1.02 | York City (H) | |
| D3 | 22.1.02 | Carlisle Utd (A) | |
| D3 | 26.1.02 | Hartlepool Utd (A) | |
| D3 | 29.1.02 | Macclesfield Tn (H) | |
| D3 | 2.2.02 | Darlington (H) | |
| D3 | 5.2.02 | Oxford Utd (H) | |
| D3 | 9.2.02 | Hull City (A) | |
| D3 | 16.2.02 | Rochdale (H) | |
| D3 | 23.2.02 | Leyton Orient (H) | |
| D3 | 26.2.02 | Torquay Utd (A) | |
| D3 | 2.3.02 | Cheltenham Tn (A) | |
| D3 | 5.3.02 | Exeter City (H) | |
| D3 | 9.3.02 | Luton Town (H) | |
| D3 | 16.3.02 | Bristol Rvrs (A) | |
| D3 | 23.3.02 | Shrewsbury Tn (H) | |
| D3 | 30.3.02 | Mansfield Town (A) | |
| D3 | 1.4.02 | Swansea City (H) | |
| D3 | 6.4.02 | Scunthorpe Utd (A) | |
| D3 | 13.4.02 | Kidderminster (H) | |
| D3 | 20.4.02 | Halifax Town (A) | |
| D3PO/1 | 27.4.02 | Rochdale (H) | |
| D3PO/2 | 30.4.02 | Rochdale (A) | |
| D3POF | 6.5.02 | Cheltenham Tn (N) | |
2002/2003 – squad number 1
| | | | |
| --- | --- | --- | --- |
| D3 | 10.8.02 | Swansea City (A) | |
| D3 | 13.8.02 | Torquay Utd (H) | |
| D3 | 17.8.02 | Kidderminster (H) | |
| D3 | 24.8.02 | Shrewsbury Tn (A) | |
| D3 | 26.8.02 | Scunthorpe Utd (H) | |
| D3 | 31.8.02 | Cambridge Utd (A) | |
| D3 | 7.9.02 | Southend Utd (H) | |
| WC1 | 10.9.02 | Millwall (H) | |
| D3 | 14.9.02 | York City (A) | |
| D3 | 17.9.02 | Bournemouth (A) | |
| D3 | 21.9.02 | Wrexham (H) | |
| D3 | 28.9.02 | Hartlepool Utd (A) | |
| WC2 | 2.10.02 | Coventry City (A) | |
| D3 | 5.10.02 | Leyton Orient (H) | |
| D3 | 12.10.02 | Exeter City (A) | |
| D3 | 19.10.02 | Bury (H) | |
| D3 | 26.10.02 | Hull City (A) | |
| D3 | 29.10.02 | Boston Utd (H) | |
| D3 | 2.11.02 | Rochdale (A) | |
| D3 | 9.11.02 | Darlington (H) | |
| FAC1 | 16.11.02 | Kidderminster (A) | |
| D3 | 23.11.02 | Lincoln City (A) | |
| FAC1r | 26.11.02 | Kidderminster (H) | |
| D3 | 30.11.02 | Bristol Rvrs (H) | |
| D3 | 21.12.02 | Carlisle Utd (A) | as sub |
| D3 | 26.12.02 | Scunthorpe Utd (A) | |
| D3 | 28.12.02 | Oxford Utd (H) | |
| D3 | 1.1.03 | Shrewsbury Tn (H) | |
| D3 | 4.1.03 | Torquay Utd (A) | |
| D3 | 11.1.03 | Kidderminter (A) | |
| D3 | 18.1.03 | Cambridge Utd (H) | |
| D3 | 25.1.03 | Oxford Utd (A) | |
| D3 | 1.2.03 | Swansea City (H) | |
| D3 | 8.2.03 | Darlington (A) | |
| D3 | 22.2.03 | Southend Utd (A) | |
| D3 | 1.3.03 | York City (H) | |
| D3 | 4.3.03 | Bournemouth (H) | |
| D3 | 8.3.03 | Wrexham (A) | |
| D3 | 15.3.03 | Hull City (H) | |
| D3 | 18.3.03 | Bury (A) | |
| D3 | 22.3.03 | Boston Utd (A) | |
| D3 | 24.3.03 | Rochdale (H) | |
| D3 | 29.3.03 | Exeter City (H) | |
| D3 | 5.4.03 | Bristol Rvrs (A) | |
| D3 | 12.4.03 | Lincoln City (H) | |
| D3 | 19.4.03 | Carlisle Utd (A) | |
| D3 | 21.4.03 | Macclesfield Tn (H) | |
| D3 | 26.4.03 | Leyton Orient (A) | |
| D3 | 3.5.03 | Hartlepool Utd (H) | |
2003/2004 – squad number 1
| | | | |
| --- | --- | --- | --- |
| D2 | 9.8.03 | Luton Town (A) | |
| CC1 | 13.8.03 | West Ham Utd (A) | |
| D2 | 16.8.03 | Plymouth Arg (H) | |
| D2 | 23.8.03 | Tranmere Rvrs (A) | |
| D2 | 25.8.03 | QPR (H) | |
| D2 | 30.8.03 | Oldham Athletic (A) | |
| D2 | 6.9.03 | Wycombe Wdrs (H) | |
| D2 | 13.9.03 | Brentford (H) | |
| D2 | 16.9.03 | Notts County (A) | |
| D2 | 20.9.03 | Bournemouth (A) | |
| D2 | 27.9.03 | Stockport Co (H) | |
| D2 | 30.9.03 | Brighton & HA (H) | |
| D2 | 4.10.03 | Barnsley (A) | |
| D2 | 11.10.03 | Chesterfield (H) | |
| D2 | 18.10.03 | Sheff Wed (A) | |
| D2 | 21.10.03 | Blackpool (A) | |
| D2 | 16.3.04 | Notts County (H) | |
| D2 | 20.3.04 | Brentford (A) | |
| D2 | 27.3.04 | Bournemouth (H) | |
| D2 | 3.4.04 | Stockport Co (A) | |
| D2 | 10.4.04 | Barnsley (H) | |
| D2 | 12.4.04 | Brighton & HA (A) | |
| D2 | 17.4.04 | Grimsby Town (A) | |
| D2 | 24.4.04 | Hartlepool Utd (H) | |
| D2 | 1.5.04 | Colchester Utd (A) | |
| D2 | 8.5.04 | Port Vale (H) | |
2004/2005 – squad number 1
| | | | |
| --- | --- | --- | --- |
| CCL2 | 7.8.04 | Kidderminster (H) | |
| CCL2 | 10.8.04 | Northampton Tn (A) | |
| CCL2 | 14.8.04 | Lincoln City (A) | |
| CCL2 | 21.8.04 | Grimsby Town (H) | |
| CC1 | 24.8.04 | Swindon Town (H) | |
| CCL2 | 28.8.04 | Yeovil Town (A) | |
| CCL2 | 30.8.04 | Bristol Rvrs (H) | |
| CCL2 | 4.9.04 | Southend Utd (H) | |
| CCL2 | 11.9.04 | Oxford Utd (A) | |
| CCL2 | 18.9.04 | Cheltenham Tn (H) | |
| CCL2 | 25.9.04 | Swansea City (A) | |
| LDV1 | 28.9.04 | Walsall (A) | |
| CCL2 | 2.10.04 | Rochdale (H) | |
| CCL2 | 8.10.04 | Shrewsbury Tn (A) | |
| CCL2 | 16.10.04 | Chester City (H) | |
| CCL2 | 19.10.04 | Wycombe Wdrs (A) | |
| CCL2 | 23.10.04 | Bury (A) | |
| CCL2 | 30.10.04 | Notts County (H) | |
| CCL2 | 6.11.04 | Darlington (H) | |
| FAC1 | 13.11.04 | Bradford City (A) | |
| CCL2 | 20.11.04 | Cambridge Utd (A) | |
| CCL2 | 27.11.04 | Macclesfield Tn (H) | |
| FAC2 | 4.12.04 | Colchester Utd (H) | |
| CCL2 | 8.12.04 | Boston Utd (A) | |
| CCL2 | 11.12.04 | Mansfield Town (A) | |
| CCL2 | 18.12.04 | Scunthorpe Utd (H) | |