Miquel de Souza
Miquel de Souza
Born 11 February 1970 (Age 28 at debut)
Position: Forward
(Diamonds player #110)
Total appearances 73 – 19 goals
(54 League, 7 FA Cup, 8 FA Trophy, 1 League Cup, 3 Hillier Senior Cup)
Debut:
12 December 1998 (Away Telford United)
Final game:
22 April 2000 (Away Southport)
Miquel was spotted playing for Clapton as a young 18 year old striker and was signed by League side Charlton Athletic in July 1989. He failed to make the first team squad, and was released the following summer, joining Bristol City. He was again released after just four months, and dropped down to non-league football with Bashley, Dorchester Town, Yeovil Town and Dagenham & Redbridge over the next three years. On 1 February 1994, he signed for Birmingham City for a £25,000 fee and went on to make 18 appearances before going out on a two-month loan spell with Bury in November 1994. He was recalled on 27 January 1995 in order to complete a £100,000 move to Wycombe Wanderers, where he had a prolific spell scoring 33 goals in some 98 games.
Peterborough United manager Barry Fry paid £50,000 for his services on 26 March 1997 in an effort to avoid relegation, but two goals in eight games failed to halt them from the drop. Although he became their first choice striker the following season, injury early in the campaign saw him struggle to get back into the first team, and the majority of his appearances were off the bench. He went on a one month loan to Southend United in August 1998, and then for another month to Rochdale in October 1998, before joining Diamonds on 11 December 1998, in an exchange deal that took Ritchie Hanlon to London Road.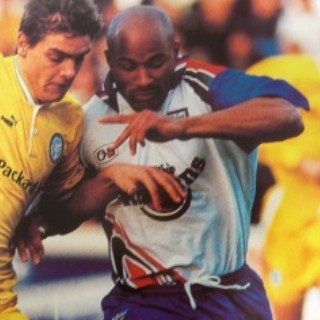 Miquel scored after just 38 minutes on his Diamonds debut at Telford on 12 December 1998 and went on to score 10 goals in 31 appearances that season. The following season, the arrival of David Town to partner Darren Collins meant he spent a lot of time on the bench. His last goal for Diamonds was a memorable effort in a 1-0 win at Doncaster Rovers in February, but he was eventually released in May 2000, joining Boston United on 1 June. His time at Boston was relatively short and he went out on loan to Farnborough in September 2000, before making a permanent move on 17 January 2001 for a four figure sum. The following season, he helped them to Southern League success, while also studying for a degree in Sports Science. He joined St. Albans City in August 2002, and later became a coach with the Saints. He left in November 2004 after some 28 goals in 104 appearances, joining Boreham Wood before a brief spell with Dulwich Hamlet at the start of the following season. He signed for Wealdstone in February 2006, where he finished his playing career. He spent six years coaching in the Leyton Orient Academy before a move to become the Charlton Athletic Academy Recruitment Manager and then onto a similar role for Fulham FC.
Appearances
1998/1999
Conf

12.12.98

Telford Utd (A)

1 goal

Conf

19.12.98

Farnborough Tn(H)

Conf

26.12.98

Stevenage Boro(A)

Conf

28.12.98

Woking (H)

1 goal

FAC3

2.1.99

Leeds Utd (H)

Conf

9.1.99

Barrow (A)

1 goal

FAC3r

13.1.99

Leeds Utd (A)

Conf

23.1.99

Doncaster Rvrs(H)

FAT3

25.1.99

Slough Town (A)

Conf

30.1.99

Northwich Vic (A)

1 goal

Conf

2.2.99

Kidderminster (H)

FAT4

6.2.99

Woking (A)

as sub

Conf

13.2.99

Kidderminster (A)

Conf

16.2.99

Welling Utd (A)

Conf

20.2.99

Hednesford Tn (H)

Conf

23.2.99

Southport (H)

as sub

HSCSF

2.3.99

Cogenhoe Utd(A)

Conf

13.3.99

Leek Town (H)

as sub

Conf

16.3.99

Dover Athletic (H)

as sub

Conf

20.3.99

Morecambe (A)

as sub

Conf

23.3.99

Leek Town (A)

1 goal

Conf

27.3.99

Kettering Town(A)

Conf

3.4.99

Cheltenham Tn(H)

1 goal

Conf

5.4.99

Woking (A)

HSCSr

10.4.99

Cogenhoe Utd (H)

2 goals

Conf

13.4.99

Yeovil Jct (H)

HSCF

18.4.99

Raunds Town (A)

as sub

1 goal

Conf

20.4.99

Kingstonian (H)

as sub

Conf

24.4.99

Hereford Utd (A)

Conf

26.4.99

Forest Green (H)

1 goal

Conf

1.5.99

Kettering Town (H)
1999/2000
Conf

17.8.99

Telford Utd (H)

as sub

Conf

21.8.99

Kidderminster (H)

as sub

Conf

11.9.99

Woking (H)

as sub

Conf

14.9.99

Kettering Town (A)

1 goal

Conf

18.9.99

Southport (H)

Conf

25.9.99

Hednesford Tn(A)

1 goal

Conf

28.9.99

Hereford Utd (A)

FAC4q

16.10.99

Sutton Utd (H)

as sub

Conf

23.10.99

Scarborough (A)

as sub

FAC1

29.10.99

Scunthorpe Utd(H)

Conf

2.11.99

Nuneaton Boro (A)

1 goal

Conf

6.11.99

Dover Athetic (H)

Conf

13.11.99

Yeovil Town (A)

FAC2

20.11.99

Ilkeston Town (A)

1 goal

NT2

23.11.99

Telford Utd (H)

FAT2

27.11.99

Havant & W (H)

Conf

4.12.99

Hayes (A)

as sub

1 goal

FAC3

12.12.99

Sheffield Utd (A)

as sub

Conf

18.12.99

Telford Utd (A)

as sub

FAC3r

21.12.99

Sheffield Utd (H)

as sub

Conf

27.12.99

Stevenage Boro(H)

Conf

3.1.00

Stevenage Boro(A)

FAT3

15.1.00

Bath City (A)

Conf

22.1.00

Forest Green (A)

as sub

FAT4

5.2.00

Billericay Tn (A)

as sub

FAT4r

8.2.00

Billericay Tn (H)

as sub

1 goal

Conf

12.2.00

Dover Athletic (A)

2 goals

Conf

15.2.00

Forest Green (H)

Conf

19.2.00

Doncaster Rvrs(A)

1 goal

Conf

22.2.00

Hednesford Tn (H)

Conf

4.3.00

Kingstonian (A)

Conf

7.3.00

Yeovil Town (H)

FAT6

11.3.00

Sutton Utd (A)

FAT6r

14.3.00

Sutton Utd (H)

as sub

Conf

18.3.00

Sutton Utd (H)

Conf

25.3.00

Hereford Utd (H)

Conf

28.3.00

Kettering Town (H)

Conf

1.4.00

Nuneaton Boro (H)

Conf

4.4.00

Morecambe (H)

Conf

8.4.00

Kidderminster (A)

Conf

15.4.00

Altrincham (H)

as sub

Conf

22.4.00

Southport (A)

as sub