Ray Warburton
Ray Warburton
Born 7 October 1967 (Age 31 at debut)
Position: Defender
(Diamonds player #106)
Total appearances 115 – 7 goals
(87 League, 13 FA Cup, 12 FA Trophy, 2 League Cup,1 League Trophy, 1 Hillier Senior Cup)
Debut:
9 November 1998 (Away Leatherhead)
Final game:
22 January 2002 (Away Carlisle United)
'Razor' started his football career as an apprentice with Rotherham United, making 8 appearances before being released in the summer of 1989. After 4½ years with York City, in February 1994, he signed for Northampton Town. While with the Cobblers, he became team captain and led them to two successive play-off finals becoming a fans favourite. The decision to sell the central defender after making over 200 appearances did not go down well at Sixfields, but it didn't take him long to become the fans favourite with Diamonds. It was Brian Talbot who brought him to Nene Park on 1 November 1998 for a fee reported to be in the region of £35,000 and he scored on his debut in the FA Cup tie at Leatherhead. During his stay, he became captain and was instrumental in Diamonds promotion into the Football League, playing 44 games in the Championship winning season. Injury ruled him out of the last few games of that memorable season.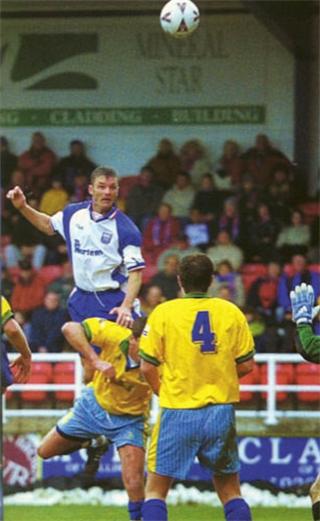 He was plagued by injury the following season and only made one appearance, on a cold wet wintry night in Carlisle before being released on 21 March 2002. He joining Conference side Boston United and again, led the team into the Football League. He ended his playing days with a move to Aldershot Town in January 2003, before retiring from the game in the summer of 2005. He linked up with ex-team mate Jon Brady at Brackley Town in June 2009, taking on coaching role for the Saints. After the single season at Brackley, he returned to Northampton Town as coach for the Under-18 side, but left the club in October 2012 in order to concentrate on his own business venture – winning a national award for his Care Home Business in 2018.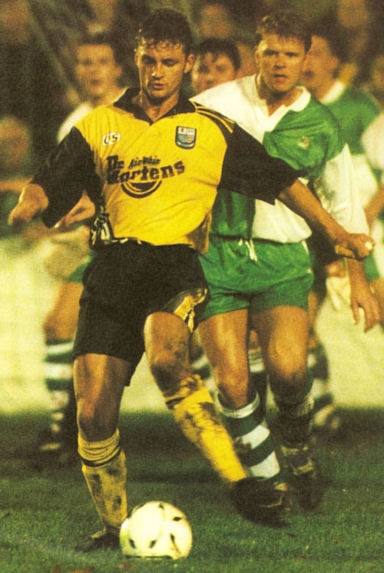 Appearances
1998/1999
| | | | |
| --- | --- | --- | --- |
| FAC4q | 9.11.98 | Leatherhead (A) | 1 goal |
| FAC4qr | 11.11.98 | Leatherhead (H) | as sub |
| FAC1 | 14.11.98 | Shrewsbury Tn (H) | |
| FAT2 | 21.11.98 | Bath City (H) | |
| Conf | 28.11.98 | Cheltenham Tn (A) | |
| FAC2 | 5.12.98 | Doncaster Rvrs (A) | |
| Conf | 12.12.98 | Telford Utd (A) | |
| FAC2r | 15.12.98 | Doncaster Rvrs (H) | |
| Conf | 19.12.98 | Farnborough T (H) | |
| FAT4r | 9.2.99 | Woking (H) | 1 goal |
| Conf | 13.2.99 | Kidderminster (A) | |
| Conf | 16.2.99 | Welling Utd (A) | |
| Conf | 20.2.99 | Hednesford Tn (H) | |
| Conf | 23.2.99 | Southport (H) | |
| Conf | 6.3.99 | Hayes (A) | |
| Conf | 9.3.99 | Stevenage Boro(H) | |
| Conf | 13.3.99 | Leek Town (H) | |
1999/2000
| | | | |
| --- | --- | --- | --- |
| Conf | 21.8.99 | Kidderminster (H) | |
| Conf | 28.8.99 | Sutton Utd (A) | |
| Conf | 30.8.99 | Welling Utd (H) | |
| Conf | 4.9.99 | Northwich Vic (A) | |
| Conf | 7.9.99 | Hayes (H) | |
| Conf | 11.9.99 | Woking (H) | |
| Conf | 14.9.99 | Kettering Town (A) | |
| Conf | 18.9.99 | Southport (H) | |
| Conf | 25.9.99 | Hednesford Tn (A) | |
| Conf | 28.9.99 | Hereford Utd (A) | |
| Conf | 2.10.99 | Altrincham (A) | |
| Conf | 9.10.99 | Kingstonian (H) | |
| FAC4q | 16.10.99 | Sutton Utd (H) | |
| Conf | 23.10.99 | Scarborough (A) | |
| FAC1 | 29.10.99 | Scunthorpe Utd (H) | 1 goal |
| Conf | 2.11.99 | Nuneaton Boro (A) | |
| Conf | 6.11.99 | Dover Atletic (H) | |
| Conf | 13.11.99 | Yeovil Town (A) | |
| FAC2 | 20.11.99 | Ilkeston Town (A) | |
| NT2 | 23.11.99 | Telford Utd (H) | |
| FAT2 | 27.11.99 | Havant & W (H) | |
| FAC2r | 30.11.99 | Ilkeston Town (H) | |
| Conf | 4.12.99 | Hayes (A) | 1 goal |
| FAC3 | 12.12.99 | Sheffield Utd (A) | |
| Conf | 18.12.99 | Telford Utd (A) | |
| FAC3r | 21.12.99 | Sheffield Utd (H) | 1 goal |
| Conf | 27.12.99 | Stevenage Boro(H) | |
| Conf | 3.1.00 | Stevenage Boro(A) | |
| FAT3 | 15.1.00 | Bath City (A) | |
| Conf | 22.1.00 | Forest Green (A) | |
| Conf | 29.1.00 | Northwich Vic (H) | |
| FAT4 | 5.2.00 | Billericay Tn (A) | |
| FAT4r | 8.2.00 | Billericay Tn (H) | |
| Conf | 12.2.00 | Dover Athletic (A) | |
| Conf | 15.2.00 | Forest Green (H) | |
| Conf | 19.2.00 | Doncaster Rvrs (A) | |
| FAT5 | 26.2.00 | Marine (H) | |
| Conf | 4.3.00 | Kingstonian (A) | |
| Conf | 7.3.00 | Yeovil Town (H) | |
| FAT6 | 11.3.00 | Sutton Utd (A) | |
| FAT6r | 14.3.00 | Sutton Utd (H) | |
| Conf | 18.3.00 | Sutton Utd (H) | |
| Conf | 25.3.00 | Hereford Utd (H) | |
| Conf | 28.3.00 | Kettering Town (H) | 1 goal |
| Conf | 1.4.00 | Nuneaton Boro (H) | |
| Conf | 4.4.00 | Morecambe (H) | |
| Conf | 8.4.00 | Kidderminster (A) | |
| Conf | 11.4.00 | Woking (A) | |
| Conf | 15.4.00 | Altrincham (H) | |
| Conf | 22.4.00 | Southport (A) | |
| Conf | 29.4.00 | Scarborough (H) | |
| Conf | 1.5.00 | Welling (A) | |
| Conf | 6.5.00 | Doncaster Rvrs (H) | |
2000/2001
| | | | |
| --- | --- | --- | --- |
| Conf | 19.8.00 | Chester City (H) | |
| Conf | 21.8.00 | Hednesford Tn (A) | |
| Conf | 26.8.00 | Dagenham&Red (A) | |
| Conf | 28.8.00 | Southport (H) | |
| Conf | 2.9.00 | Telford Utd (A) | |
| Conf | 5.9.00 | Stevenage Boro (H) | |
| Conf | 9.9.00 | Forest Green (H) | |
| Conf | 12.9.00 | Scarborough (A) | 1 goal |
| Conf | 16.9.00 | Woking (A) | |
| Conf | 23.9.00 | Kettering Town (H) | |
| Conf | 26.9.00 | Dagenham&Red (H) | |
| Conf | 30.9.00 | Kingstonian (A) | |
| Conf | 3.10.00 | Leigh RMI (A) | |
| Conf | 8.10.00 | Boston Utd (H) | |
| Conf | 14.10.00 | Hereford Utd (A) | |
| Conf | 21.10.00 | Morecambe (A) | |
| FAC4q | 28.10.00 | Grantham Town (H) | |
| Conf | 31.10.00 | Hayes (H) | |
| Conf | 4.11.00 | Yeovil Town (H) | |
| FAC1 | 17.11.00 | Luton Town (A) | |
| LDV1 | 28.11.00 | Barnet (A) | |
| Conf | 2.12.00 | Dover Athletic (A) | |
| Conf | 9.12.00 | Hayes (A) | |
| NWT3 | 19.12.00 | Kingstonian (A) | |
| Conf | 26.12.00 | Nuneaton Boro (A) | |
| Conf | 1.1.01 | Nuneaton Boro (H) | |
| Conf | 6.1.01 | Southport (A) | |
| FAT3 | 13.1.01 | Hayes (A) | |
| Conf | 27.1.01 | Stevenage Boro (A) | |
| FAT4 | 3.2.01 | Marine (A) | |
| Conf | 10.2.01 | Forest Green (A) | |
| Conf | 17.2.01 | Scarborough (H) | |
| Conf | 20.2.01 | Northwich Vic (H) | |
| FAT5 | 24.2.01 | Forest Green (A) | |
| Conf | 3.3.01 | Woking (H) | |
| Conf | 10.3.01 | Boston Utd (A) | |
| Conf | 13.3.01 | Kettering Town (A) | |
| Conf | 17.3.01 | Kingstonian (H) | |
| Conf | 25.3.01 | Northwich Vic (A) | |
| Conf | 31.3.01 | Leigh RMI (H) | |
| Conf | 7.4.01 | Morecambe (H) | |
| Conf | 14.4.01 | Hereford Utd (A) | |
| Conf | 16.4.01 | Doncaster Rvrs (H) | |
| Conf | 21.4.01 | Yeovil Town (A) | |
2001/2002 – squad number 6
| | | | |
| --- | --- | --- | --- |
| D3 | 22.1.02 | Carlisle Utd (A) | |