Carl Heggs
Carl Heggs
Born 11 October 1970 (Age 28 at debut)
Position: Forward
(Diamonds player #105)
Total appearances 49 – 5 goals
(33 League, 9 FA Cup, 4 FA Trophy, 3 Hillier Senior Cup)
Debut:
24 October 1998 (Home Morecambe)
Final game:
26 February 2000 (Home Marine)
Born in Leicester, Carl started his career with the Leicester City youth set up. Although failing to make a first team start for the Foxes, West Bromwich Albion offered £25,000 for his services and he joined the West midlands club on 22 August 1991. He spent some four seasons at the Hawthorns, spending a month out on loan to Bristol Rovers in January 1995. The striker moved to Swansea City in July 1995 for £60,000 scoring 8 goals in 51 appearances during his two year stay. In August 1997, he joined Northampton Town for £25,000 and played 63 games before Brian Talbot brought the striker to Nene Park on 1 October 1998 for a reported fee of £55,000 (together with Ray Warburton for £45,000). He made his debut on a difficult windy afternoon at Nene Park, scoring a goal against Morecambe. Goals however were to prove rather elusive for Carl during his stay with the club, although he did score the memorable opening goal against Leeds United in the FA Cup replay at Elland Road in January 1999. His appearances in the 1999/2000 season were almost exclusively as a substitute, and he went out on loan to Chester City in March 2000, until the end of the season. He was released in the summer, and joined Carlisle United on a free transfer in July 2000.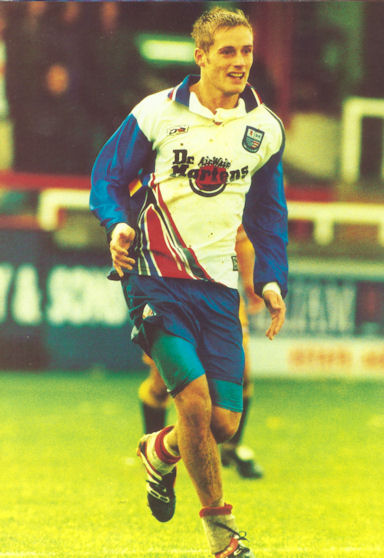 After one season, he moved on to Forest Green Rovers, before playing for Ilkeston Town. In June 2005, he joined Tamworth, before spending the following season at Hinckley United and Redditch United. He then returned to Tamworth in May 2007 but the lack of first team football saw him leave in October, and rejoin Redditch United to become a player/coach/assistant manager. In June 2009, Carl was appointed manager at Northern Premier League side Kings Lynn, but the club was wound up on 25 November 2009 while he was in charge with overwhelming debts of £77,000. He went back for brief spells with Redditch United and then Hinckley United on 8 February 2010. In the summer of 2010, Carl took up the position of Chief Scout at Notts County, but following the departure of manager Paul Ince on 3 April 2011, he was appointed care-taker manager for two games before the arrival of Martin Allen later in the month. In August 2011, he joined East Midlands Counties side Oadby Town where he remained for a single season. On 3 June 2012, Carl took up the appointment of Assistant Manager at Conference North side Hinckley United. Following the resignation of manager Dean Thomas on 9 October 2012, Carl was appointed dual caretaker manager with Neil Lyne and accepted the appointment of manager until the end of the season on 15 November 2012. Due to the clubs financial constraints and lack of players, he was forced back into playing again, mainly making a substitute appearances but was unable to avoid relegation at the end of the season. With the start of his teacher training course in Derby, he announced his resignation as manager on 21 May 2013. After retiring from the game he went on to run a Football Academy in Leicestershire.
Appearances
1998/1999
| | | | |
| --- | --- | --- | --- |
| Conf | 24.10.98 | Morecambe (H) | 1 goal |
| FAC4q | 9.11.98 | Leatherhead (A) | |
| FAC4qr | 11.11.98 | Leatherhead (H) | 1 goal |
| FAC1 | 14.11.98 | Shrewsbury Tn (H) | |
| FAT2 | 21.11.98 | Bath City (H) | |
| Conf | 28.11.98 | Cheltenham Tn (A) | |
| FAC2 | 5.12.98 | Doncaster Rvrs (A) | |
| Conf | 12.12.98 | Telford Utd (A) | 1 goal |
| FAC2r | 15.12.98 | Doncaster Rvrs (H) | |
| Conf | 19.12.98 | Farnborough Tn(H) | |
| Conf | 26.12.98 | Stevenage Boro(A) | |
| Conf | 28.12.98 | Woking (H) | |
| FAC3 | 2.1.99 | Leeds Utd (H) | |
| Conf | 9.1.99 | Barrow (A) | |
| FAC3r | 13.1.99 | Leeds Utd (A) | 1 goal |
| Conf | 23.1.99 | Doncaster Rvrs (H) | |
| Conf | 30.1.99 | Northwich Vic (A) | as sub |
| FAT4r | 9.2.99 | Woking (H) | as sub |
| Conf | 13.2.99 | Kidderminster (A) | |
| Conf | 16.2.99 | Welling Utd (A) | |
| Conf | 20.2.99 | Hednesford Tn (H) | |
| Conf | 23.2.99 | Southport (H) | |
| HSCSF | 2.3.99 | Cogenhoe Utd (A) | |
| Conf | 6.3.99 | Hayes (A) | |
| Conf | 9.3.99 | Stevenage Boro(H) | |
| Conf | 13.3.99 | Leek Town (H) | |
| Conf | 16.3.99 | Dover Athletic (H) | 1 goal |
| Conf | 23.3.99 | Leek Town (A) | |
| Conf | 27.3.99 | Kettering Town (A) | |
| Conf | 3.4.99 | Cheltenham Tn(H) | |
| Conf | 5.4.99 | Woking (A) | as sub |
| Conf | 13.4.99 | Yeovil Jct (H) | |
| HSCF | 18.4.99 | Raunds Town (A) | as sub |
| Conf | 20.4.99 | Kingstonian (H) | |
| Conf | 24.4.99 | Hereford Utd (A) | as sub |
1999/2000
| | | | |
| --- | --- | --- | --- |
| Conf | 25.9.99 | Hednesford Tn (A) | as sub |
| Conf | 28.9.99 | Hereford Utd (A) | as sub |
| FAT2 | 27.11.99 | Havant & W (H) | as sub |
| FAC2r | 30.11.99 | Ilkeston Town (H) | as sub |
| Conf | 4.12.99 | Hayes (A) | as sub |
| FAC3 | 12.12.99 | Sheffield Utd (A) | as sub |
| Conf | 18.12.99 | Telford Utd (A) | as sub |
| Conf | 27.12.99 | Stevenage Boro(H) | as sub |
| Conf | 3.1.00 | Stevenage Boro(A) | as sub |
| Conf | 22.1.00 | Forest Green (A) | |
| HSC2 | 25.1.00 | Kettering Town (A) | |
| Conf | 29.1.00 | Northwich Vic (H) | as sub |
| Conf | 22.2.00 | Hednesford Tn (H) | as sub |
| FAT5 | 26.2.00 | Marine (H) | as sub |