Mark Cooper
Mark Cooper
Born 18 December 1968 (Age 29 at debut)
Position: Midfielder
(Diamonds player #95)
Total appearances 56 – 12 goals
(46 League, 4 FA Trophy, 1 League Cup, 4 Hillier Senior Cup, 1 Maunsell Cup)
Debut:
24 January 1998 (Away Dover Athletic)
Final game:
4 April 2000 (Home Morecambe)
Mark is the son of former England defender Terry Cooper and followed in his father into football, starting his career with Bristol City's youth set-up, but failed to make a League appearance for them. He got his break when his father, manager of Exeter City brought him to St.James' Park in October 1989, and the midfielder played more than 64 games in two seasons with the Grecians, scoring 13 goals. He went on loan to Southend United in March 1990 before moving to Birmingham City in September 1991. On 21 November 1992, he signed for Fulham for a £40,000 fee, but only made 19 appearances before a loan spell with Huddersfield Town in March 1993. In January 1994, he had a brief spell with Wycombe Wanderers, before returning to Exeter City where he became a regular in the side for the next two and a half seasons. He then had a season at Hartlepool United, before a two month loan spell with Macclesfield Town in September 1997, but was then released in December. After a brief non-contract spell with Leyton Orient, before Brian Talbot brought him to Nene Park on 1 February 1998.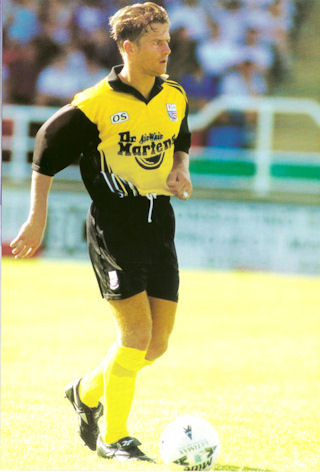 Although he remained at Nene Park for two and a half season, he never really established himself as a first-choice / first-team regular, missing the entire pre-Christmas period in the 1998/1999 season, but making a surprise return at Barrow early in 1999, scoring a memorable goal.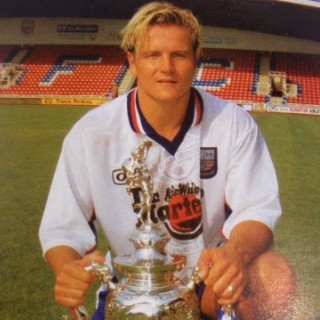 After some 56 games, he was released in June 2000, and joined Hednesford Town, before moving to Forest Green Rovers at the beginning of the 2001/2002 season, where he became club captain. In May 2002, he joined Tamworth, and at the start of the following season, was appointed player/assistant manager. With the departure of Darron Gee in the summer of 2004, he became manager and had a couple of successful season in the FA Cup. Poor results in the League however led to his departure and he left by mutual consent on 24 January 2007 after some 104 appearances, and 31 goals. He joined Hinckley United as a player for the remainder of the season.
His managerial career was resurrected on 16 May 2007 when he was appointed manager at Conference North side Kettering Town, and took them to the League title in his first season with the Poppies. He attracted interest from Football League sides and on 13 November 2009, he became manager at Peterborough United, replacing Darren Ferguson. Just 13 games into his reign of manager however, he was sacked after a run of poor results and left the club on 1 February 2010. On 29 June 2010, he signed a two year deal to manage Darlington – just relegated from the Football League into the Conference. On 24 October 2011, he was dismissed by Darlington, before returning to Kettering Town on 4 January 2012 to become caretaker-manager until the end of the season.
That role did not last long, due to off-field issues at the club, and he stepped down before the end of January. After a years break, Mark was appointed Interim Manager at Conference side AFC Telford on 31 January 2013, until the end of the season. However, following the appointment of Kevin MacDonald as Manager of League One side Swindon Town on 28 February, Mark left the following day to take up the position of Assistant Manager. Following the departure of MacDonald on 13 July 2013, Mark was appointed Caretaker Manager, and agreed a two-year deal as Manager on 20 August 2013.  He left Swindon in October 2015 and took over the reins at Notts County the following March, from where he moved to become Forest Green Rovers Manager in 2016. After five seasons at the New Lawn, he took over the reins as Manager of Barrow AFC in May 2021, but left that post in March 2022.
Appearances
1997/1998
| | | | |
| --- | --- | --- | --- |
| Conf | 24.1.98 | Dover Athletic (A) | as sub |
| HSCSF | 27.1.98 | Raunds Town (H) | |
| FAT2 | 31.1.98 | Cheltenham Tn (A) | as sub |
| Conf | 7.2.98 | Halifax Town (H) | as sub |
| Conf | 14.2.98 | Gateshead (A) | as sub |
| Conf | 21.2.98 | Kettering Town (A) | |
| Conf | 28.2.98 | Stalybridge Cltc(H) | as sub |
| Conf | 7.3.98 | Cheltenham Tn (H) | 1 goal |
| Conf | 23.3.98 | Hednesford Tn (A) | |
| Conf | 28.3.98 | Morecambe (H) | |
| Conf | 4.4.98 | Telford Utd (A) | 1 goal |
| Conf | 13.4.98 | Stalybridge Cltc(A) | 1 goal |
| Conf | 21.4.98 | Yeovil Town (H) | |
| Conf | 25.4.98 | Hereford Utd (A) | |
| Conf | 28.4.98 | Welling Utd (H) | |
| Conf | 2.5.98 | Telford Utd (H) | as sub |
1998/1999
| | | | |
| --- | --- | --- | --- |
| HSC2 | 1.12.98 | Rothwell Town (A) | |
| ET2 | 22.12.98 | Farnborough Tn(A) | |
| Conf | 9.1.99 | Barrow (A) | 1 goal |
| Conf | 23.1.99 | Doncaster Rvrs (H) | as sub |
| FAT3 | 25.1.99 | Slough Town (A) | |
| Conf | 16.2.99 | Welling Utd (A) | |
| Conf | 20.2.99 | Hednesford Tn (H) | |
| Conf | 23.2.99 | Southport (H) | 1 goal |
| Conf | 6.3.99 | Hayes (A) | |
| Conf | 9.3.99 | Stevenage Boro(H) | |
| Conf | 13.3.99 | Leek Town (H) | |
| Conf | 16.3.99 | Dover Athletic (H) | 1 goal |
| Conf | 20.3.99 | Morecambe (A) | 1 goal |
| Conf | 23.3.99 | Leek Town (A) | |
| Conf | 27.3.99 | Kettering Town (A) | |
| Conf | 3.4.99 | Cheltenham Tn (H) | |
| Conf | 5.4.99 | Woking (A) | |
| Conf | 13.4.99 | Yeovil Jct (H) | |
| HSCF | 18.4.99 | Raunds Town (A) | |
| Conf | 24.4.99 | Hereford Utd (A) | 1 goal |
| Conf | 26.4.99 | Forest Green (H) | 1 goal |
| Conf | 1.5.99 | Kettering Town (H) | |
1999/2000
MCF

31.7.99

Northampton Tn(H)

1 goal

Conf

14.8.99

Morecambe (A)

Conf

17.8.99

Telford Utd (H)

Conf

21.8.99

Kidderminster (H)

1 goal

Conf

28.8.99

Sutton Utd (A)

Conf

30.8.99

Welling Utd (H)

Conf

4.9.99

Northwich Vic (A)

Conf

7.9.99

Hayes (H)

Conf

11.9.99

Woking (H)

Conf

14.9.99

Kettering Town (A)

Conf

28.9.99

Hereford Utd (A)

as sub

Conf

2.10.99

Altrincham (A)

as sub

HSC2

25.1.00

Kettering Town (A)

FAT4

5.2.00

Billericay Tn (A)

FAT6r

14.3.00

Sutton Utd (H)

as sub

1 goal

Conf

18.3.00

Sutton Utd (H)

Conf

25.3.00

Hereford Utd (H)

Conf

4.4.00

Morecambe (H)

as sub