Chris Whyte
Chris Whyte
Born 2 September 1961 (Age 36 at debut)
Position: Defender
(Diamonds player #83)
Total appearances 65 – 1 goal
(53 League, 3 FA Cup, 3 FA Trophy, 2 League Cup. 4 Hillier Senior Cup)
Debut:
20 September 1997 (Away Yeovil Town)
Final game:
18 April 1999 (Away Raunds Town)
The veteran defender joined Diamonds on loan from Oxford United in September 1997 after the team had made a poor start to that campaign. With a long and distinguished career, Chris started at Arsenal, before going on loan to Crystal Palace. After a short spell in the USA, he returned to join West Bromwich Albion in 1988 and joined Leeds United in 1990 for £400,000 where he won a League Championship medal in 1992. After some 147 appearances for Leeds, he had joined Birmingham, before spells with Coventry City, Charlton Athletic, Detroit Neon and Leyton Orient before joining Oxford United. He made his Conference debut in a 2-1 victory at Yeovil Town in September 1997, and his despite his age, the class and composure in defence won him many friends at Nene Park as he helped shore up a leaky defence. The 1998 / 1999 season started well with six straight wins, but an injury at Farnborough Town in October led to a six week break. With the likes of Darren Bradshaw, Jim Rodwell and Ray Warburton all in contention for a first team spot, his days were numbered. Manager Brian Talbot did bring him off the bench at Elland Road, where he received a standing ovation He moved to Harlow Town on 4 November 1999 and played for part of the season, before spending some time back in the USA.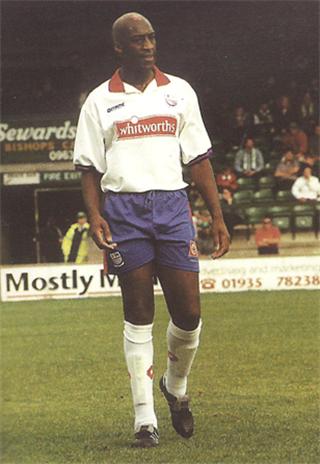 Appearances
1997/1998
| | | | |
| --- | --- | --- | --- |
| Conf | 20.9.97 | Yeovil Town (A) | |
| Conf | 27.9.97 | Southport (A) | |
| Conf | 4.10.97 | Woking (H) | |
| SC1 | 7.10.97 | Hayes (A) | |
| Conf | 11.10.97 | Hereford Utd (H) | |
| Conf | 18.10.97 | Kidderminster (A) | |
| FAC4q | 25.10.97 | Boreham Wood(H) | |
| FAC4qr | 28.10.97 | Boreham Wood(A) | |
| Conf | 1.11.97 | Slough Town (H) | |
| Conf | 8.11.97 | Welling Utd (A) | |
| Conf | 15.11.97 | Kidderminster (H) | |
| Conf | 22.11.97 | Morecambe (A) | |
| Conf | 25.11.97 | Kettering Town (H) | |
| Conf | 29.11.97 | Hayes (H) | |
| Conf | 6.12.97 | Northwich Vic (A) | |
| Conf | 13.12.97 | Dover Athletic (H) | |
| Conf | 20.12.97 | Hayes (A) | |
| Conf | 26.12.97 | Stevenage Boro (H) | |
| Conf | 1.1.98 | Stevenage Boro (A) | |
| FAT1 | 10.1.98 | Farnborough Tn (H) | |
| Conf | 17.1.98 | Southport (H) | |
| Conf | 24.1.98 | Dover Athletic (A) | |
| FAT2 | 31.1.98 | Cheltenham Tn (A) | |
| Conf | 7.2.98 | Halifax Town (H) | |
| Conf | 14.2.98 | Gateshead (A) | |
| Conf | 21.2.98 | Kettering Town (A) | |
| Conf | 28.2.98 | Stalybridge Cltc (H) | |
| Conf | 7.3.98 | Cheltenham Tn (H) | |
| Conf | 14.3.98 | Woking (A) | |
| Conf | 21.3.98 | Halifax Town (A) | |
| Conf | 23.3.98 | Hednesford Tn (A) | |
| Conf | 28.3.98 | Morecambe (H) | |
| Conf | 4.4.98 | Telford Utd (A) | |
| Conf | 13.4.98 | Stalybridge Cltc (A) | |
| Conf | 18.4.98 | Leek Town (H) | |
| Conf | 21.4.98 | Yeovil Town (H) | |
| Conf | 25.4.98 | Hereford Utd (A) | |
| Conf | 28.4.98 | Welling Utd (H) | |
| Conf | 2.5.98 | Telford Utd (H) | |
1998/1999
| | | | |
| --- | --- | --- | --- |
| Conf | 15.8.98 | Forest Green (A) | 1 goal |
| Conf | 18.8.98 | Welling Utd (H) | |
| Conf | 22.8.98 | Barrow (H) | |
| Conf | 25.8.98 | Kingstonian (A) | |
| Conf | 29.8.98 | Southport (A) | |
| Conf | 5.9.98 | Yeovil Jct (A) | |
| Conf | 8.9.98 | Dover Athletic (A) | |
| Conf | 12.9.98 | Telford Utd (H) | |
| Conf | 19.9.98 | Doncaster Rvrs(A) | |
| Conf | 26.9.98 | Hereford Utd (H) | |
| Conf | 3.10.98 | Northwich Vic (H) | |
| Conf | 10.10.98 | Farnborough Tn(A) | |
| HSC2 | 1.12.98 | Rothwell Town (A) | |
| ET2 | 22.12.98 | Farnborough Tn(A) | |
| FAC3r | 13.1.99 | Leeds Utd (A) | as sub |
| Conf | 2.2.99 | Kidderminster (H) | |
| FAT4 | 6.2.99 | Woking (A) | |
| Conf | 13.2.99 | Kidderminster (A) | |
| Conf | 16.2.99 | Welling Utd (A) | |
| HSCSF | 2.3.99 | Cogenhoe Utd (A) | |
| Conf | 6.3.99 | Hayes (A) | as sub |
| Conf | 16.3.99 | Dover Athletic (H) | |
| Conf | 20.3.99 | Morecambe (A) | |
| HSCSr | 10.4.99 | Cogenhoe Utd (H) | |
| Conf | 13.4.99 | Yeovil Jct (H) | as sub |
| HSCF | 18.4.99 | Raunds Town (A) | |