Adrian Foster
Adrian Foster
Born 19 March 1971 (Age 26 at debut)
Position: Forward
(Diamonds player #81)
Total appearances 56 – 25 goals
(44 League, 5 FA Cup, 2 FA Trophy, 2 League Cup, 3 Hillier Senior Cup)
Debut:
6 September 1997 (Away Cheltenham Town)
Final game:
10 April 1999 (Home Cogenhoe United)
Adrian had begun his career at West Bromwich Albion, where he had played under Diamonds boss Brian Talbot. He moved to Torquay United in the summer of 1992 where his goalscoring abilities came to the fore. In two seasons, he scored 28 goals for the Gulls in some 91 appearances before spending the next two seasons at Gillingham. In March 1996, he went on loan to Exeter City, before moving to Hereford United in August 1996. Following relegation at the end of the 1996/1997 season, the Bulls agreed a transfer fee of £35,000 at the end of August 1997 and the striker arrived at Nene Park to team up with manager Brian Talbot again.
He made a memorable home debut (and first start) when replacing Carl Alford in the starting line-up for the 5-5 draw against Farnborough Town – "Fozzie" scoring 4 goals in that game. Injury at the beginning of November restricted the number of games he played that year, making only seven starts during the remainder of the season. He started the 1998/1999 season in fine form, with his goals helping the Diamonds to win their first seven league games, but then faced another injury layoff missing six weeks during November and December. It was perhaps a lack of match sharpness that caused him to miss what looked like an easy chance to break the deadlock between Diamonds and Leeds United in the FA Cup game at Nene Park, and from then on his Diamonds career was in decline.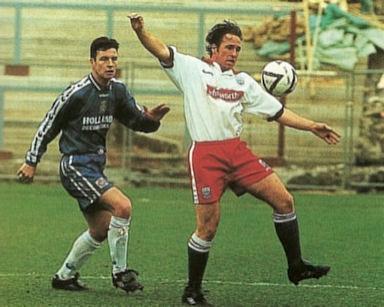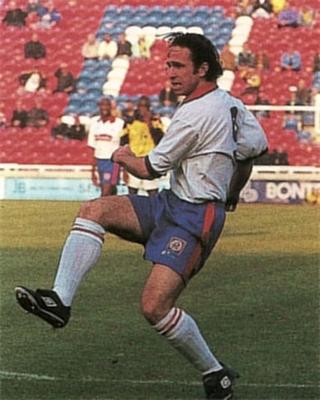 He was released in May 1999, and joined Yeovil Town for a one year, before spending the following season at Forest Green Rovers. In the summer of 2001, he dropped down a level, joining Bath City before enjoying a period in the Wessex League. He joined Frome Town briefly in 2003, before spells with Taunton Town, Street, and joining Chard Town in September 2005. In July 2007, Adrian took up the role of player/manager at Toolstation Western Division One side Gillingham Town in Dorset, and won promotion in his first season with the Gills. At the age of 39, was still playing (and scoring) regularly, but after six years, Adrian left on 23 December 2013 to become manager at Southern Premier side Frome Town. After steering them away from the relegation zone to a 14th place finish, he agreed a further two year contract on 16 May 2014. He then returned to Gillingham Town in Setptember 2015 to take up the reins there, and was still in charge at the start of the 2018-19 season.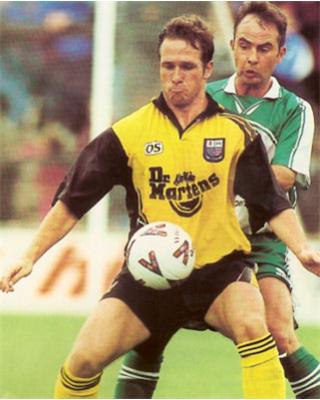 Appearances
1997/1998
Conf

6.9.97

Cheltenham Tn(A)

as sub

Conf

13.9.97

Farnborough Tn(H)

4 goals

Conf

20.9.97

Yeovil Town (A)

Conf

27.9.97

Southport (A)

1 goal

Conf

4.10.97

Woking (H)

1 goal

SC1

7.10.97

Hayes (A)

Conf

11.10.97

Hereford Utd (H)

Conf

18.10.97

Kidderminster (A)

FAC4q

25.10.97

Boreham Wood(H)

FAC4qr

28.10.97

Boreham Wood(A)

Conf

1.11.97

Slough Town (H)

Conf

14.2.98

Gateshead (A)

as sub

Conf

21.2.98

Kettering Town (A)

as sub

Conf

28.2.98

Stalybridge Cltc(H)

as sub

1 goal

Conf

7.3.98

Cheltenham Tn(H)

1 goal

Conf

14.3.98

Woking (A)

1 goal

Conf

21.3.98

Halifax Town (A)

Conf

23.3.98

Hednesford Tn (A)

Conf

28.3.98

Morecambe (H)

Conf

4.4.98

Telford Utd (A)

as sub

Conf

13.4.98

Stalybridge Cltc(A)

Conf

18.4.98

Leek Town (H)

Conf

25.4.98

Hereford Utd (A)

as sub
1998/1999
Conf

18.8.98

Welling Utd (H)

as sub

1 goal

Conf

22.8.98

Barrow (H)

1 goal

Conf

25.8.98

Kingstonian (A)

3 goals

Conf

29.8.98

Southport (A)

Conf

31.8.98

Hayes (H)

2 goals

Conf

5.9.98

Yeovil Jct (A)

1 goal

Conf

8.9.98

Dover Athletic (A)

1 goal

Conf

12.9.98

Telford Utd (H)

1 goal

Conf

19.9.98

Doncaster Rvrs(A)

1 goal

Conf

26.9.98

Hereford Utd (H)

Conf

3.10.98

Northwich Vic (H)

FAC3q

17.10.98

Forest Green (H)

HSC2

1.12.98

Rothwell Town (A)

as sub

ET2

22.12.98

Farnborough Tn(A)

1 goal

Conf

28.12.98

Woking (H)

1 goal

FAC3

2.1.99

Leeds Utd (H)

Conf

9.1.99

Barrow (A)

FAC3r

13.1.99

Leeds Utd (A)

Conf

23.1.99

Doncaster Rvrs(H)

Conf

30.1.99

Northwich Vic (A)

as sub

Conf

2.2.99

Kidderminster (H)

1 goal

FAT4

6.2.99

Woking (A)

FAT4r

9.2.99

Woking (H)

as sub

Conf

20.2.99

Hednesford Tn (H)

as sub

Conf

23.2.99

Southport (H)

1 goal

HSCSF

2.3.99

Cogenhoe Utd (A)

Conf

6.3.99

Hayes (A)

as sub

Conf

9.3.99

Stevenage Boro(H)

Conf

13.3.99

Leek Town (H)

Conf

16.3.99

Dover Athletic (H)

Conf

20.3.99

Morecambe (A)

Conf

5.4.99

Woking (A)

as sub

1 goal

HSCSr

10.4.99

Cogenhoe Utd (H)