Michael Mison
Michael Mison
Born 8 November 1975 (Age 21 at debut)
Position: Midfielder
(Diamonds player #74)
Total appearances 72 – 10 goals
(55 League, 8 FA Cup, 2 FA Trophy, 3 League Cup, 3 Hillier Senior Cup, 1 Maunsell Cup)
Debut:
16 August 1997 (Home Northwich Victoria)
Final game:
8 April 2000 (Away Kidderminster Harriers)
Michael started his career at Fulham (alongside John Hamsher), when they were in the lowest tier of the Football League. He progressed through the youth team, earning a professional contract. In three years, he made 73 appearances for Fulham, scoring 7 times, before going on a loan spell with Stevenage Borough in March 1997. On his return to Fulham, he was released. He had played mainly in midfield for Fulham, although at 6′ tall, was very capable in defence if required. Manager Brian Talbot brought him to Nene Park prior to the 1997/1998 season and Michael's no-nonsense style made him a hit with the Nene Park fans, as did his ability to score vital goals from midfield.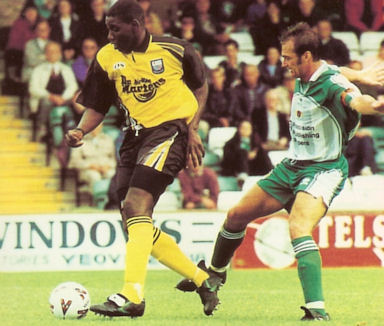 His career suffered when Brian Talbot decided to play him as a striker at the start of the 1999/2000 season. He only made seven League starts during that season and he was released in May 2000.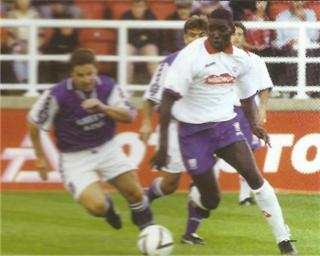 After leaving Diamonds, he joined St.Albans City, although work commitments with a car company meant he never made an appearance for them. He signed for Sutton United in August 2001 for a four figure compensation fee, but then picked up an injury during a pre-season game which left him sidelined for the early part of the season. He took over the captaincy at Sutton in December 2001, and eventually left in September 2003. In July 2004, he joined Isthmian Division One side Metropolitan Police and he is believed to have retired from the game after leaving the club.
Appearances
1997/1998
| | | | |
| --- | --- | --- | --- |
| Conf | 16.8.97 | Northwich Vic (H) | |
| Conf | 20.8.97 | Farnborough Tn(A) | |
| Conf | 23.8.97 | Leek Town (A) | |
| Conf | 25.8.97 | Hednesford Tn (H) | |
| Conf | 30.8.97 | Gateshead (H) | 1 goal |
| Conf | 2.9.97 | Slough Town (A) | 1 goal |
| Conf | 13.9.97 | Farnborough Tn(H) | |
| Conf | 20.9.97 | Yeovil Town (A) | |
| Conf | 27.9.97 | Southport (A) | |
| Conf | 4.10.97 | Woking (H) | 1 goal |
| SC1 | 7.10.97 | Hayes (A) | |
| Conf | 11.10.97 | Hereford Utd (H) | |
| Conf | 18.10.97 | Kidderminster (A) | 1 goal |
| FAC4q | 25.10.97 | Boreham Wood(H) | |
| FAC4qr | 28.10.97 | Boreham Wood(A) | |
| Conf | 1.11.97 | Slough Town (H) | |
| Conf | 8.11.97 | Welling Utd (A) | |
| Conf | 15.11.97 | Kidderminster (H) | |
| HSCQF | 18.11.97 | Brackley Town (A) | |
| Conf | 6.12.97 | Northwich Vic (A) | |
| Conf | 13.12.97 | Dover Athletic (H) | |
| Conf | 20.12.97 | Hayes (A) | |
| Conf | 26.12.97 | Stevenage Boro(H) | |
| Conf | 1.1.98 | Stevenage Boro(A) | |
| Conf | 24.1.98 | Dover Athletic (A) | |
| HSCSF | 27.1.98 | Raunds Town (H) | |
| FAT2 | 31.1.98 | Cheltenham Tn(A) | |
| Conf | 7.2.98 | Halifax Town (H) | |
| Conf | 14.2.98 | Gateshead (A) | |
| Conf | 21.2.98 | Kettering Town (A) | 1 goal |
| Conf | 28.2.98 | Stalybridge Ctc(H) | 1 goal |
| Conf | 14.3.98 | Woking (A) | 1 goal |
| Conf | 21.3.98 | Halifax Town (A) | |
| Conf | 23.3.98 | Hednesford Tn (A) | |
| Conf | 28.3.98 | Morecambe (H) | |
1998/1999
| | | | |
| --- | --- | --- | --- |
| Conf | 15.8.98 | Forest Green (A) | |
| Conf | 18.8.98 | Welling Utd (H) | |
| Conf | 22.8.98 | Barrow (H) | 1 goal |
| Conf | 25.8.98 | Kingstonian (A) | |
| Conf | 29.8.98 | Southport (A) | |
| Conf | 31.8.98 | Hayes (H) | |
| Conf | 5.9.98 | Yeovil Jct (A) | |
| Conf | 8.9.98 | Dover Athletic (A) | |
| Conf | 12.9.98 | Telford Utd (H) | |
| Conf | 3.10.98 | Northwich Vic (H) | as sub |
| Conf | 10.10.98 | Farnborough Tn(A) | |
| FAC3q | 17.10.98 | Forest Green (H) | 1 goal |
| Conf | 24.10.98 | Morecambe (H) | |
| Conf | 7.11.98 | Hednesford Tn(A) | |
| FAC4q | 9.11.98 | Leatherhead (A) | as sub |
| FAC4qr | 11.11.98 | Leatherhead (H) | |
| FAC1 | 14.11.98 | Shrewsbury Tn(H) | |
| FAT2 | 21.11.98 | Bath City (H) | |
| Conf | 28.11.98 | Cheltenham Tn(A) | |
| FAC2 | 5.12.98 | Doncaster Rvrs(A) | |
| FAC2r | 15.12.98 | Doncaster Rvrs(H) | as sub |
| Conf | 19.12.98 | Farnborough Tn(H) | as sub |
| ET2 | 22.12.98 | Farnborough Tn(A) | |
1999/2000
| | | | |
| --- | --- | --- | --- |
| MCF | 31.7.99 | Northampton Tn(H) | |
| Conf | 14.8.99 | Morecambe (A) | |
| Conf | 17.8.99 | Telford Utd (H) | 1 goal |
| Conf | 21.8.99 | Kidderminster (H) | as sub |
| Conf | 14.9.99 | Kettering Town (A) | |
| Conf | 18.9.99 | Southport (H) | |
| Conf | 25.9.99 | Hednesford Tn (A) | |
| Conf | 28.9.99 | Hereford Utd (A) | |
| Conf | 13.11.99 | Yeovil Town (A) | as sub |
| NT2 | 23.11.99 | Telford Utd (H) | as sub |
| HSC2 | 25.1.00 | Kettering Town (A) | |
| Conf | 18.3.00 | Sutton Utd (H) | as sub |
| Conf | 4.4.00 | Morecambe (H) | as sub |
| Conf | 8.4.00 | Kidderminster (A) | |