Paul Underwood
Paul Underwood
Born 16 August 1973 (Age 24 at debut)
Position: Defender
(Diamonds player #73)
Total appearances 301 – 18 goals
(248 League, 24 FA Cup, 15 FA Trophy, 7 League Cup, 3 League Trophy, 3 Hillier Senior Cup, 1 Maunsell Cup)
Debut:
16 August 1997 (Home Northwich Victoria)
Final game:
20 March 2004 (Away Brentford)
Paul was signed for Diamonds on 1 July 1997 for £50,000 from Enfield, when he became one of Brian Talbot's first signings. He had previously played at Carshalton Athletic, Sutton United, Dorking and Molesey before spending a year with Enfield.
Initially playing as a left-winger Paul dropped back into the role of Left Back where he excelled, eventually becoming the Club Captain. He helped The Diamonds win the Conference and promotion to Division 3 in 2001, then the playoff place in Division 3 in 2003, and finally the Division 3 Championship and promotion to Division 2 in 2003. He appeared in many memorable games for R&DFC, and also managed to pick up winners medals in the Northants FA Maunsell Cup in 2000 and the Hillier Senior Cup in 1999.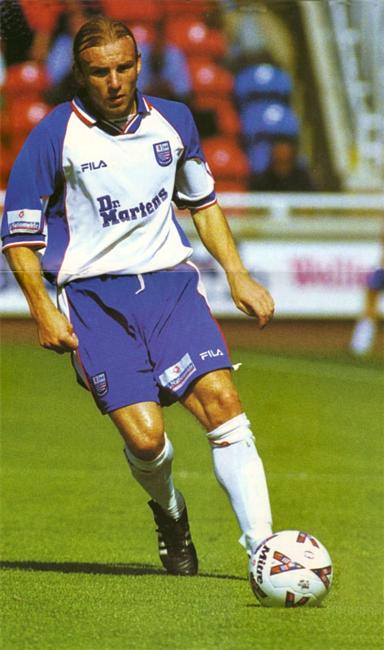 Paul established himself as a Diamonds favourite under Brian Talbot and as well as representing the England Semi-Professional team. He was named as The Diamonds player of the season in 2003. In a 2004 BBC survey, and was voted Rushden & Diamonds all time cult hero ahead of Duane Darby and Gary Butterworth.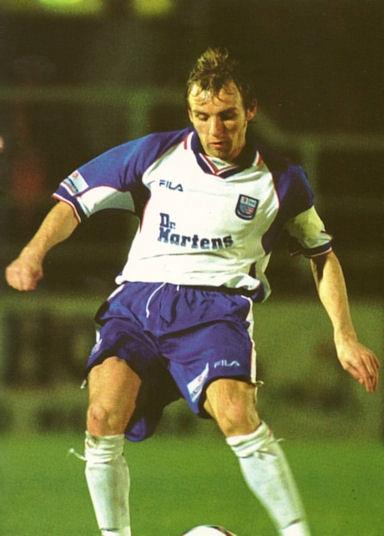 After more than 200 appearances for Rushden, Paul was released on a free transfer to Luton in March 2004, when Rushden & Diamonds were facing financial difficulty. Paul was in the promotion winning team at Luton under Mike Newell, but an infection after a routine knee operation kept him out of the side for an extended period. His final game for Luton was in March 2006, and after over two years battling the complications following the injury, he was still unable to gain a place back in the Luton side and decided to leave them by mutual consent on 1 October 2008.
Appearances
1997/1998
| | | | |
| --- | --- | --- | --- |
| Conf | 16.8.97 | Northwich Vic (H) | |
| Conf | 20.8.97 | Farnborough Tn(A) | |
| Conf | 23.8.97 | Leek Town (A) | |
| Conf | 30.8.97 | Gateshead (H) | as sub |
| Conf | 2.9.97 | Slough Town (A) | as sub |
| Conf | 6.9.97 | Cheltenham Tn (A) | as sub |
| Conf | 13.9.97 | Farnborough Tn(H) | 1 goal |
| Conf | 20.9.97 | Yeovil Town (A) | |
| Conf | 27.9.97 | Southport (A) | |
| Conf | 4.10.97 | Woking (H) | |
| SC1 | 7.10.97 | Hayes (A) | |
| Conf | 11.10.97 | Hereford Utd (H) | |
| Conf | 18.10.97 | Kidderminster (A) | |
| FAC4q | 25.10.97 | Boreham Wood(H) | |
| FAC4qr | 28.10.97 | Boreham Wood(A) | |
| Conf | 1.11.97 | Slough Town (H) | |
| Conf | 8.11.97 | Welling Utd (A) | 1 goal |
| Conf | 15.11.97 | Kidderminster (H) | |
| HSCQF | 18.11.97 | Brackley Town (A) | |
| Conf | 22.11.97 | Morecambe (A) | |
| Conf | 25.11.97 | Kettering Town (H) | |
| FAT1 | 10.1.98 | Farnborough Tn(H) | as sub |
| Conf | 17.1.98 | Southport (H) | |
| Conf | 24.1.98 | Dover Athletic (A) | 1 goal |
| FAT2 | 31.1.98 | Cheltenham Tn (A) | |
| Conf | 7.2.98 | Halifax Town (H) | 1 goal |
| Conf | 14.2.98 | Gateshead (A) | |
| Conf | 21.2.98 | Kettering Town (A) | 1 goal |
| Conf | 28.2.98 | Stalybridge Cltc(H) | |
| Conf | 7.3.98 | Cheltenham Tn (H) | |
| Conf | 14.3.98 | Woking (A) | |
| Conf | 21.3.98 | Halifax Town (A) | |
| Conf | 23.3.98 | Hednesford Tn (A) | |
| Conf | 28.3.98 | Morecambe (H) | 1 goal |
| Conf | 13.4.98 | Stalybridge Cltc(A) | as sub |
1998/1999
| | | | |
| --- | --- | --- | --- |
| Conf | 15.8.98 | Forest Green (A) | |
| Conf | 18.8.98 | Welling Utd (H) | |
| Conf | 22.8.98 | Barrow (H) | 1 goal |
| Conf | 25.8.98 | Kingstonian (A) | |
| Conf | 29.8.98 | Southport (A) | |
| Conf | 31.8.98 | Hayes (H) | |
| Conf | 5.9.98 | Yeovil Jct (A) | |
| Conf | 8.9.98 | Dover Athletic (A) | |
| Conf | 12.9.98 | Telford Utd (H) | |
| Conf | 19.9.98 | Doncaster Rvrs (A) | |
| Conf | 26.9.98 | Hereford Utd (H) | |
| Conf | 3.10.98 | Northwich Vic (H) | |
| Conf | 10.10.98 | Farnborough Tn(A) | |
| FAC3q | 17.10.98 | Forest Green (H) | |
| Conf | 24.10.98 | Morecambe (H) | |
| Conf | 7.11.98 | Hednesford Tn (A) | |
| FAC4q | 9.11.98 | Leatherhead (A) | |
| FAC4qr | 11.11.98 | Leatherhead (H) | |
| FAC1 | 14.11.98 | Shrewsbury Tn (H) | 1 goal |
| FAT2 | 21.11.98 | Bath City (H) | |
| Conf | 28.11.98 | Cheltenham Tn (A) | |
| FAC2 | 5.12.98 | Doncaster Rvrs (A) | |
| Conf | 12.12.98 | Telford Utd (A) | |
| FAC2r | 15.12.98 | Doncaster Rvrs (H) | |
| Conf | 19.12.98 | Farnborough Tn(H) | |
| Conf | 26.12.98 | Stevenage Boro(A) | |
| Conf | 28.12.98 | Woking (H) | |
| FAC3 | 2.1.99 | Leeds Utd (H) | |
| Conf | 9.1.99 | Barrow (A) | |
| FAC3r | 13.1.99 | Leeds Utd (A) | |
| Conf | 23.1.99 | Doncaster Rvrs (H) | |
| FAT3 | 25.1.99 | Slough Town (A) | |
| Conf | 30.1.99 | Northwich Vic (A) | |
| Conf | 2.2.99 | Kidderminster (H) | |
| FAT4 | 6.2.99 | Woking (A) | |
| FAT4r | 9.2.99 | Woking (H) | |
| Conf | 16.2.99 | Welling Utd (A) | |
| Conf | 20.2.99 | Hednesford Tn (H) | |
| Conf | 23.2.99 | Southport (H) | |
| Conf | 6.3.99 | Hayes (A) | |
| Conf | 13.3.99 | Leek Town (H) | |
| Conf | 16.3.99 | Dover Athletic (H) | |
| Conf | 20.3.99 | Morecambe (A) | |
| Conf | 23.3.99 | Leek Town (A) | 1 goal |
| Conf | 27.3.99 | Kettering Town (A) | |
| Conf | 3.4.99 | Cheltenham Tn (H) | |
| Conf | 5.4.99 | Woking (A) | |
| HSCSr | 10.4.99 | Cogenhoe Utd (H) | |
| Conf | 13.4.99 | Yeovil Jct (H) | |
| HSCF | 18.4.99 | Raunds Town (A) | |
| Conf | 20.4.99 | Kingstonian (H) | |
| Conf | 24.4.99 | Hereford Utd (A) | |
| Conf | 26.4.99 | Forest Green (H) | |
| Conf | 1.5.99 | Kettering Town (H) | |
1999/2000
| | | | |
| --- | --- | --- | --- |
| MCF | 31.7.99 | Northampton Tn(H) | |
| Conf | 14.8.99 | Morecambe (A) | |
| Conf | 17.8.99 | Telford Utd (H) | |
| Conf | 21.8.99 | Kidderminster (H) | 1 goal |
| Conf | 28.8.99 | Sutton Utd (A) | |
| Conf | 30.8.99 | Welling Utd (H) | |
| Conf | 4.9.99 | Northwich Vic (A) | |
| Conf | 7.9.99 | Hayes (H) | |
| Conf | 11.9.99 | Woking (H) | |
| Conf | 14.9.99 | Kettering Town (A) | |
| Conf | 18.9.99 | Southport (H) | |
| Conf | 25.9.99 | Hednesford Tn (A) | |
| Conf | 28.9.99 | Hereford Utd (A) | |
| Conf | 2.10.99 | Altrincham (A) | |
| Conf | 9.10.99 | Kingstonian (H) | |
| FAC4q | 16.10.99 | Sutton Utd (H) | |
| Conf | 23.10.99 | Scarborough (A) | |
| FAC1 | 29.10.99 | Scunthorpe Utd (H) | |
| Conf | 2.11.99 | Nuneaton Boro (A) | |
| Conf | 6.11.99 | Dover Athetic (H) | 1 goal |
| Conf | 13.11.99 | Yeovil Town (A) | 1 goal |
| FAC2 | 20.11.99 | Ilkeston Town (A) | |
| NT2 | 23.11.99 | Telford Utd (H) | |
| FAT2 | 27.11.99 | Havant & W (H) | |
| FAC2r | 30.11.99 | Ilkeston Town (H) | |
| Conf | 4.12.99 | Hayes (A) | |
| FAC3 | 12.12.99 | Sheffield Utd (A) | |
| Conf | 18.12.99 | Telford Utd (A) | |
| FAC3r | 21.12.99 | Sheffield Utd (H) | |
| Conf | 27.12.99 | Stevenage Boro(H) | |
| Conf | 3.1.00 | Stevenage Boro(A) | 1 goal |
| FAT3 | 15.1.00 | Bath City (A) | |
| Conf | 22.1.00 | Forest Green (A) | |
| FAT4 | 5.2.00 | Billericay Tn (A) | |
| FAT4r | 8.2.00 | Billericay Tn (H) | |
| Conf | 12.2.00 | Dover Athletic (A) | |
| Conf | 15.2.00 | Forest Green (H) | |
| Conf | 19.2.00 | Doncaster Rvrs (A) | |
| Conf | 22.2.00 | Hednesford Tn (H) | |
| FAT5 | 26.2.00 | Marine (H) | |
| Conf | 4.3.00 | Kingstonian (A) | |
| Conf | 7.3.00 | Yeovil Town (H) | |
| FAT6 | 11.3.00 | Sutton Utd (A) | |
| FAT6r | 14.3.00 | Sutton Utd (H) | |
| Conf | 18.3.00 | Sutton Utd (H) | |
| Conf | 25.3.00 | Hereford Utd (H) | |
| Conf | 28.3.00 | Kettering Town (H) | |
| Conf | 1.4.00 | Nuneaton Boro (H) | |
| Conf | 4.4.00 | Morecambe (H) | |
| Conf | 8.4.00 | Kidderminster (A) | |
| Conf | 11.4.00 | Woking (A) | |
| Conf | 15.4.00 | Altrincham (H) | |
| Conf | 22.4.00 | Southport (A) | |
| Conf | 29.4.00 | Scarborough (H) | |
| Conf | 1.5.00 | Welling (A) | |
| Conf | 6.5.00 | Doncaster Rvrs (H) | |
2000/2001
| | | | |
| --- | --- | --- | --- |
| Conf | 19.8.00 | Chester City (H) | |
| Conf | 21.8.00 | Hednesford Tn (A) | |
| Conf | 26.8.00 | Dagenham&Red (A) | |
| Conf | 28.8.00 | Southport (H) | |
| Conf | 2.9.00 | Telford Utd (A) | |
| Conf | 5.9.00 | Stevenage Boro (H) | |
| Conf | 9.9.00 | Forest Green (H) | |
| Conf | 12.9.00 | Scarborough (A) | |
| Conf | 16.9.00 | Woking (A) | |
| Conf | 21.10.00 | Morecambe (A) | as sub |
| NWT2 | 24.10.00 | Stevenage Boro (H) | |
| FAC4q | 28.10.00 | Grantham Town (H) | 1 goal |
| Conf | 31.10.00 | Hayes (H) | |
| Conf | 4.11.00 | Yeovil Town (H) | |
| Conf | 11.11.00 | Doncaster Rvrs (A) | 1 goal |
| FAC1 | 17.11.00 | Luton Town (A) | |
| Conf | 2.12.00 | Dover Athletic (A) | 1 goal |
| Conf | 9.12.00 | Hayes (A) | 1 goal |
| Conf | 16.12.00 | Hednesford Tn (H) | |
| Conf | 26.12.00 | Nuneaton Boro (A) | |
| Conf | 1.1.01 | Nuneaton Boro (H) | |
| Conf | 6.1.01 | Southport (A) | |
| FAT3 | 13.1.01 | Hayes (A) | |
| Conf | 27.1.01 | Stevenage Boro (A) | |
| FAT4 | 3.2.01 | Marine (A) | |
| Conf | 17.2.01 | Scarborough (H) | |
| Conf | 21.4.01 | Yeovil Town (A) | as sub |
| Conf | 24.4.01 | Telford Utd (H) | |
| Conf | 28.4.01 | Dover Athletic (H) | |
| Conf | 5.5.01 | Chester City (A) | |
2001/2002 – squad number 3
| | | | |
| --- | --- | --- | --- |
| D3 | 11.8.01 | York City (A) | |
| D3 | 16.8.01 | Lincoln City (H) | |
| WC1 | 21.8.01 | Burnley (A) | |
| D3 | 25.8.01 | Macclesfield Tn (A) | |
| D3 | 27.8.01 | Plymouth Arg (H) | |
| D3 | 1.9.01 | Oxford Utd (A) | |
| D3 | 8.9.01 | Southend Utd (H) | |
| WC2 | 11.9.01 | Crewe Alex (A) | |
| D3 | 15.9.01 | Leyton Orient (A) | |
| D3 | 22.9.01 | Cheltenham Tn (H) | |
| D3 | 5.10.01 | Hartlepool Utd (H) | |
| D3 | 13.10.01 | Rochdale (A) | |
| LDV1 | 16.10.01 | Cardiff City (A) | |
| D3 | 20.10.01 | Hull City (H) | |
| D3 | 23.10.01 | Shrewsbury Tn (A) | |
| D3 | 27.10.01 | Mansfield Town (H) | |
| D3 | 10.11.01 | Halifax Town (A) | |
| FAC1 | 17.11.01 | Worcester City (A) | |
| D3 | 20.11.01 | Scunthorpe Utd (H) | |
| D3 | 24.11.01 | Kidderminster (A) | |
| D3 | 1.12.01 | Bristol Rvrs (H) | |
| FAC2 | 8.12.01 | Brighton &HA (A) | |
| D3 | 15.12.01 | Luton Town (A) | |
| D3 | 22.12.01 | Carlisle Utd (H) | |
| D3 | 26.12.01 | Southend Utd (A) | |
| D3 | 29.12.01 | Plymouth Arg (A) | |
| D3 | 12.1.02 | Lincoln City (A) | |
| D3 | 19.1.02 | York City (H) | |
| D3 | 29.1.02 | Macclesfield Tn (H) | |
| D3 | 2.2.02 | Darlington (H) | |
| D3 | 5.2.02 | Oxford Utd (H) | |
| D3 | 9.2.02 | Hull City (A) | |
| D3 | 16.2.02 | Rochdale (H) | |
| D3 | 23.2.02 | Leyton Orient (H) | |
| D3 | 26.2.02 | Torquay Utd (A) | |
| D3 | 2.3.02 | Cheltenham Tn (A) | |
| D3 | 5.3.02 | Exeter City (H) | |
| D3 | 9.3.02 | Luton Town (H) | |
| D3 | 16.3.02 | Bristol Rvrs (A) | |
| D3 | 23.3.02 | Shrewsbury Tn (H) | |
| D3 | 30.3.02 | Mansfield Town (A) | |
| D3 | 1.4.02 | Swansea City (H) | |
| D3 | 6.4.02 | Scunthorpe Utd (A) | |
| D3 | 13.4.02 | Kidderminster (H) | |
| D3 | 20.4.02 | Halifax Town (A) | |
| D3PO/1 | 27.4.02 | Rochdale (H) | |
| D3PO/2 | 30.4.02 | Rochdale (A) | |
| D3POF | 6.5.02 | Cheltenham Tn (N) | |
2002/2003 – squad number 3
| | | | |
| --- | --- | --- | --- |
| D3 | 10.8.02 | Swansea City (A) | 1 goal |
| D3 | 13.8.02 | Torquay Utd (H) | |
| D3 | 17.8.02 | Kidderminster (H) | |
| D3 | 24.8.02 | Shrewsbury Tn (A) | |
| D3 | 26.8.02 | Scunthorpe Utd (H) | |
| D3 | 31.8.02 | Cambridge Utd (A) | |
| D3 | 7.9.02 | Southend Utd (H) | |
| WC1 | 10.9.02 | Millwall (H) | |
| D3 | 14.9.02 | York City (A) | |
| D3 | 17.9.02 | Bournemouth (A) | |
| D3 | 21.9.02 | Wrexham (H) | |
| D3 | 28.9.02 | Hartlepool Utd (A) | |
| D3 | 12.10.02 | Exeter City (A) | |
| D3 | 19.10.02 | Bury (H) | |
| D3 | 9.11.02 | Darlington (H) | |
| FAC1 | 16.11.02 | Kidderminster (A) | |
| D3 | 23.11.02 | Lincoln City (A) | |
| FAC1r | 26.11.02 | Kidderminster (H) | |
| D3 | 30.11.02 | Bristol Rvrs (H) | |
| FAC2 | 7.12.02 | Exeter City (A) | |
| D3 | 14.12.02 | Macclesfield Tn (A) | |
| D3 | 21.12.02 | Carlisle Utd (A) | |
| D3 | 26.12.02 | Scunthorpe Utd (A) | |
| D3 | 28.12.02 | Oxford Utd (H) | |
| D3 | 1.1.03 | Shrewsbury Tn (H) | |
| D3 | 4.1.03 | Torquay Utd (A) | |
| D3 | 11.1.03 | Kidderminter (A) | |
| D3 | 18.1.03 | Cambridge Utd (H) | |
| D3 | 25.1.03 | Oxford Utd (A) | |
| D3 | 1.2.03 | Swansea City (H) | |
| D3 | 8.2.03 | Darlington (A) | |
| D3 | 22.2.03 | Southend Utd (A) | |
| D3 | 1.3.03 | York City (H) | |
| D3 | 4.3.03 | Bournemouth (H) | |
| D3 | 15.3.03 | Hull City (H) | |
| D3 | 18.3.03 | Bury (A) | |
| D3 | 24.3.03 | Rochdale (H) | |
| D3 | 29.3.03 | Exeter City (H) | |
| D3 | 5.4.03 | Bristol Rvrs (A) | |
| D3 | 12.4.03 | Lincoln City (H) | |
| D3 | 19.4.03 | Carlisle Utd (A) | |
| D3 | 21.4.03 | Macclesfield Tn (H) | |
| D3 | 26.4.03 | Leyton Orient (A) | |
| D3 | 3.5.03 | Hartlepool Utd (H) | |
2003/2004 – squad number 3
| | | | |
| --- | --- | --- | --- |
| D2 | 9.8.03 | Luton Town (A) | |
| CC1 | 13.8.03 | West Ham Utd (A) | |
| D2 | 16.8.03 | Plymouth Arg (H) | |
| D2 | 23.8.03 | Tranmere Rvrs (A) | |
| D2 | 25.8.03 | QPR (H) | |
| D2 | 30.8.03 | Oldham Athletic (A) | |
| D2 | 6.9.03 | Wycombe Wdrs (H) | |
| D2 | 13.9.03 | Brentford (H) | |
| D2 | 16.9.03 | Notts County (A) | |
| D2 | 20.9.03 | Bournemouth (A) | |
| D2 | 27.9.03 | Stockport Co (H) | |
| D2 | 30.9.03 | Brighton & HA (H) | |
| D2 | 4.10.03 | Barnsley (A) | |
| D2 | 11.10.03 | Chesterfield (H) | |
| LDV1 | 15.10.03 | Oxford Utd (A) | |
| D2 | 18.10.03 | Sheff Wed (A) | |
| D2 | 21.10.03 | Blackpool (A) | |
| D2 | 25.10.03 | Wrexham (H) | |
| D2 | 1.11.03 | Grimsby Town (H) | |
| LDV2 | 4.11.03 | Luton Town (H) | |
| FAC1 | 8.11.03 | Swansea City (A) | |
| D2 | 15.11.05 | Hartlepool Utd (A) | |
| D2 | 22.11.03 | Colchester Utd (H) | |
| D2 | 29.11.03 | Port Vale (A) | |
| D2 | 13.12.03 | Bristol City (H) | |
| D2 | 20.12.03 | Peterborough U (A) | |
| D2 | 21.2.04 | Sheff Wed (H) | |
| D2 | 24.2.04 | Tranmere Rvrs (H) | |
| D2 | 28.2.04 | Wrexham (A) | |
| D2 | 2.3.04 | Blackpool (H) | |
| D2 | 6.3.04 | Peterborough U (H) | |
| D2 | 12.3.04 | Bristol City (A) | |
| D2 | 16.3.04 | Notts County (H) | |
| D2 | 20.3.04 | Brentford (A) | |