Simeon Hodson
Simeon Hodson
Born 5 March 1966 (Age 30 at debut)
Position: Defender
(Diamonds player #66)
Total appearances 26
(25 League, 1 FA Trophy)
Debut:
7 December 1996 (Away Telford United)
Final game:
22 November 1997 (Away Morecambe)
After progressing through the youth set up at Notts County, Simeon signed professional terms and went on to make some 27 appearances for them. After a short period at Charlton Athletic, he joined non-League Lincoln United in his home town, before joining Lincoln City in January 1986. After one and a half season's, he spent the 1987/1988 season at Newport County before joining West Bromwich Albion where he spent some four years. In the summer of 1992, he joined Doncaster Rovers, before finishing the season at Mansfield Town. In 1993, he joined Kidderminster Harriers where he had his most productive spell. Simeon had suffered several relegations in his career – with Notts County, Lincoln City, West Bromwich Albion and Mansfield Town, but with Kidderminster, he was captain of the Conference winning side of 1993/1994. He also won several caps with the England semi-professional side. At the beginning of December 1996, Roger Ashby brought him to Nene Park for a £10,000 transfer fee and he became a regular at the right-back position for the remainder of the season. The following year however, he lost his place in the side after the first couple of games, and eventually departed to Telford United in January 1998.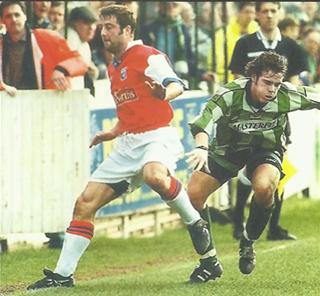 He joined Altrincham in the summer, and suffered another relegation. In the summer of 2000, he joined Sutton Coldfield Town but he was forced into retirement at the end of the season due to a knee injury. Simeon is currently with the Warwickshire Police.
Appearances
1996/1997
| | | | |
| --- | --- | --- | --- |
| Conf | 7.12.96 | Telford Utd (A) | |
| Conf | 14.12.96 | Bromsgrove Rvrs(H) | |
| Conf | 21.12.96 | Kidderminster (H) | |
| Conf | 28.12.96 | Stalybridge Cltc(A) | |
| FAT1 | 18.1.97 | Farnborough Tn(H) | |
| Conf | 25.1.97 | Farnborough Tn(A) | |
| Conf | 1.2.97 | Morecambe (H) | |
| Conf | 8.2.97 | Hednesford Tn(H) | |
| Conf | 15.2.97 | Macclesfield Tn(A) | |
| Conf | 22.2.97 | Gateshead (A) | |
| Conf | 1.3.97 | Slough Town (H) | |
| Conf | 8.3.97 | Kettering Town (A) | |
| Conf | 15.3.97 | Bromsgrove Rvrs(A) | |
| Conf | 18.3.97 | Kettering Town H) | |
| Conf | 29.3.97 | Dover Athletic (A) | |
| Conf | 31.3.97 | Hayes (H) | |
| Conf | 5.4.97 | Southport (H) | |
| Conf | 12.4.97 | Bath City (A) | |
| Conf | 21.4.97 | Stevenage Boro(A) | |
| Conf | 26.4.97 | Halifax Town (H) | |
| Conf | 29.4.97 | Woking (H) | |
| Conf | 3.5.97 | Altrincham (H) | |
1997/1998
| | | | |
| --- | --- | --- | --- |
| Conf | 16.8.97 | Northwich Vic (H) | |
| Conf | 20.8.97 | Farnborough Tn(A) | |
| Conf | 23.8.97 | Leek Town (A) | |
| Conf | 22.11.97 | Morecambe (A) | |