Jim Rodwell
Jim Rodwell
Born 20 November 1970 (Age 25 at debut)
Position: Defender
(Diamonds player #62)
Total appearances 208 – 11 goals
(157 League, 17 FA Cup, 13 FA Trophy, 7 League Cup, 2 League Trophy, 8 Hillier Senior Cup, 3 Maunsell Cup, 1 Conference Shield)
Debut:
17 August 1996 (Away Altrincham)
Final game:
26 December 2001 (Away Southend United)
Jim was born in Lincoln, and won an apprenticeship with Lincoln City, but the club's relegation from the Football League led to uncertainty at Sincil Bank, so he elected to sign for Darlington's youth set up. He went on to make just a single start for the first team, but was released in May 1989. He went to play for Sabah FA in Malaysia for a short period, and after unable to progress in League football, dropped down into the non league scene. He played for Hednesford Town and was with Nuneaton Borough for two seasons before joining Halesowen Town in August 1995. He spent just one season with the Yeltz before attracting the attention of Diamonds manager Roger Ashby. He signed for Diamonds in May 1996 for a £40,000 fee prior to their first season in the Conference. The central defender was a popular figure at Nene Park, and picked up two "Player of the Season" awards during his 5½ years at the club.
He made 30 League appearances in the Conference title winning season of 2000/2001, and went on to make 208 appearances in total. He found it difficult to gain a first team place following the arrival of former Northern Ireland International Barry Hunter, and went on loan to Dagenham & Redbridge on 18 January 2002, before returning and transferring to Boston United on 15 February and helping them into the Football League.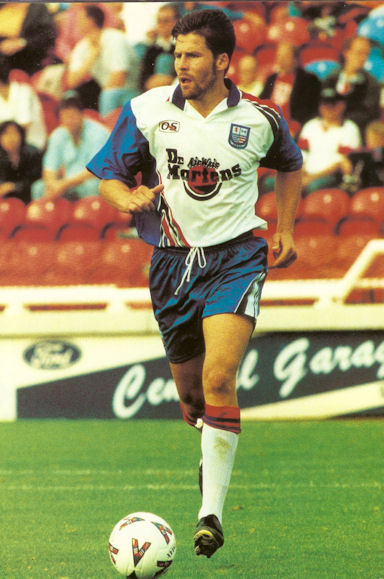 Jim spent the next season at Farnborough Town, before brief spells with Aldershot Town, Tamworth and Havant & Waterlooville, before returning to Boston United as caretaker manager in January 2004. Following the appointment and return of Steve Evans, he took a role as Director of Football at the club. In June 2006, he became Chairman of Boston United, but resigned in July 2007. On 11 February 2010, he became Chief Executive at Notts County. He left there in March 2015 to become CEO at Scunthorpe United Football Club. He combines that role with being a Director of the EFL since June 2013. That led to serving on the FA Council from June 2014 and being elected to the main FA Board in June 2016. In February 2022 he was confirmed as the CEO for the newly formed board at Hull City.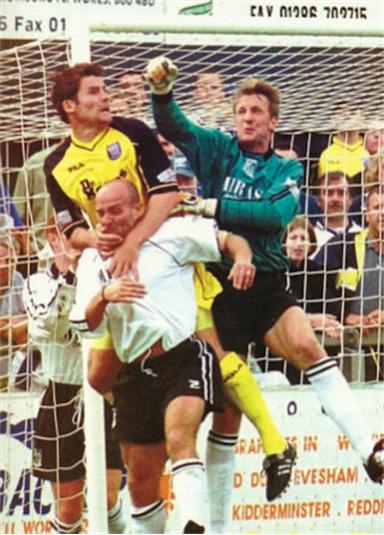 Appearances
1996/1997
| | | | |
| --- | --- | --- | --- |
| Conf | 17.8.96 | Altrincham (A) | |
| Conf | 20.8.96 | Slough Town (A) | |
| Conf | 24.8.96 | Northwich Vic (H) | |
| Conf | 26.8.96 | Hayes (A) | |
| Conf | 31.8.96 | Stalybridge Ctc(H) | |
| Conf | 3.9.96 | Macclesfield Tn(H) | |
| Conf | 7.9.96 | Halifax Town (A) | 1 goal |
| Conf | 9.9.96 | Northwich Vic (A) | 1 goal |
| FAC1q | 14.9.96 | Westfields (A) | |
| Conf | 17.9.96 | Farnborough (H) | |
| Conf | 21.9.96 | Woking (A) | |
| Conf | 24.9.96 | Stevenage Boro(H) | |
| FAC2q | 28.9.96 | Gresley Rvrs (H) | |
| Conf | 30.9.96 | Hednesford Tn (A) | |
| Conf | 5.10.96 | Welling Utd (H) | |
| SC1 | 8.10.96 | Dover Athletic (A) | |
| FAC3q | 12.10.96 | Bilston Town (H) | |
| Conf | 14.10.96 | Kidderminster (A) | |
| Conf | 19.10.96 | Gateshead (H) | |
| FAC4q | 26.10.96 | Bognor Regis (H) | |
| Conf | 2.11.96 | Southport (A) | |
| Conf | 9.11.96 | Dover Athletic (H) | |
| HSC2 | 12.11.96 | Kettering Town (A) | |
| FAC1 | 16.11.96 | Boreham Wood(A) | |
| SC1 | 19.11.96 | Stevenage Boro(H) | |
| Conf | 23.11.96 | Morecambe (A) | |
| FAC1r | 26.11.96 | Boreham Wood(H) | |
| Conf | 30.11.96 | Bath City (H) | |
| Conf | 7.12.96 | Telford Utd (A) | 1 goal |
| Conf | 21.12.96 | Kidderminster (H) | |
| Conf | 28.12.96 | Stalybridge Ctc(A) | |
| FAT1 | 18.1.97 | Farnborough Tn(H) | |
| Conf | 25.1.97 | Farnborough Tn(A) | |
| Conf | 1.2.97 | Morecambe (H) | |
| Conf | 8.2.97 | Hednesford Tn (H) | |
| Conf | 15.2.97 | Macclesfield Tn(A) | |
| Conf | 22.2.97 | Gateshead (A) | |
| Conf | 1.3.97 | Slough Town (H) | |
| Conf | 8.3.97 | Kettering Town (A) | |
| Conf | 15.3.97 | BromsgroveRvrs(A) | |
| Conf | 22.3.97 | Telford Utd (H) | 1 goal |
| Conf | 25.3.97 | Welling Utd (A) | |
| Conf | 29.3.97 | Dover Athletic (A) | |
| Conf | 31.3.97 | Hayes (H) | |
| Conf | 5.4.97 | Southport (H) | |
| Conf | 12.4.97 | Bath City (A) | |
| Conf | 21.4.97 | Stevenage Boro(A) | |
| Conf | 26.4.97 | Halifax Town (H) | |
| Conf | 29.4.97 | Woking (H) | |
| Conf | 3.5.97 | Altrincham (H) | |
1997/1998
| | | | |
| --- | --- | --- | --- |
| Conf | 16.8.97 | Northwich Vic (H) | |
| Conf | 20.8.97 | Farnborough Tn(A) | |
| Conf | 23.8.97 | Leek Town (A) | |
| Conf | 25.8.97 | Hednesford Tn(H) | |
| Conf | 30.8.97 | Gateshead (H) | |
| Conf | 2.9.97 | Slough Town (A) | |
| Conf | 6.9.97 | Cheltenham Tn(A) | |
| Conf | 13.9.97 | Farnborough Tn(H) | |
| Conf | 20.9.97 | Yeovil Town (A) | |
| Conf | 27.9.97 | Southport (A) | |
| FAC4q | 25.10.97 | Boreham Wood(H) | |
| FAC4qr | 28.10.97 | Boreham Wood(A) | |
| HSCQF | 18.11.97 | Brackley Town (A) | |
| Conf | 25.11.97 | Kettering Town (H) | as sub |
| HSCSF | 27.1.98 | Raunds Town (H) | |
| Conf | 7.3.98 | Cheltenham Tn(H) | as sub |
| Conf | 4.4.98 | Telford Utd (A) | as sub |
| Conf | 18.4.98 | Leek Town (H) | |
| Conf | 25.4.98 | Hereford Utd (A) | |
1998/1999
| | | | |
| --- | --- | --- | --- |
| Conf | 31.8.98 | Hayes (H) | |
| Conf | 3.10.98 | Northwich Vic (H) | |
| Conf | 10.10.98 | Farnborough Tn(A) | 1 goal |
| FAC3q | 17.10.98 | Forest Green (H) | |
| Conf | 24.10.98 | Morecambe (H) | |
| Conf | 7.11.98 | Hednesford Tn (A) | |
| FAC4qr | 11.11.98 | Leatherhead (H) | |
| HSC2 | 1.12.98 | Rothwell Town (A) | |
| ET2 | 22.12.98 | Farnborough Tn(A) | |
| Conf | 26.12.98 | Stevenage Boro(A) | |
| Conf | 28.12.98 | Woking (H) | |
| FAC3 | 2.1.99 | Leeds Utd (H) | |
| Conf | 9.1.99 | Barrow (A) | |
| FAC3r | 13.1.99 | Leeds Utd (A) | |
| Conf | 23.1.99 | Doncaster Rvrs(H) | |
| FAT3 | 25.1.99 | Slough Town (A) | |
| Conf | 30.1.99 | Northwich Vic (A) | |
| Conf | 2.2.99 | Kidderminster (H) | |
| FAT4 | 6.2.99 | Woking (A) | |
| FAT4r | 9.2.99 | Woking (H) | |
| Conf | 13.2.99 | Kidderminster (A) | |
| Conf | 16.2.99 | Welling Utd (A) | |
| Conf | 20.2.99 | Hednesford Tn (H) | |
| Conf | 23.2.99 | Southport (H) | |
| HSCSF | 2.3.99 | Cogenhoe Utd (A) | 1 goal |
| Conf | 6.3.99 | Hayes (A) | |
| Conf | 9.3.99 | Stevenage Boro(H) | |
| Conf | 13.3.99 | Leek Town (H) | |
| Conf | 16.3.99 | Dover Athletic (H) | |
| Conf | 20.3.99 | Morecambe (A) | 1 goal |
| Conf | 23.3.99 | Leek Town (A) | |
| Conf | 27.3.99 | Kettering Town (A) | |
| Conf | 3.4.99 | Cheltenham Tn(H) | |
| Conf | 5.4.99 | Woking (A) | |
| Conf | 13.4.99 | Yeovil Jct (H) | |
| HSCF | 18.4.99 | Raunds Town (A) | |
| Conf | 20.4.99 | Kingstonian (H) | |
| Conf | 24.4.99 | Hereford Utd (A) | |
| Conf | 26.4.99 | Forest Green (H) | |
| Conf | 1.5.99 | Kettering Town (H) | |
1999/2000
| | | | |
| --- | --- | --- | --- |
| MCF | 31.7.99 | Northampton Tn(H) | |
| Conf | 14.8.99 | Morecambe (A) | |
| Conf | 17.8.99 | Telford Utd (H) | |
| Conf | 7.9.99 | Hayes (H) | |
| Conf | 11.9.99 | Woking (H) | |
| Conf | 14.9.99 | Kettering Town (A) | |
| Conf | 18.9.99 | Southport (H) | |
| Conf | 25.9.99 | Hednesford Tn (A) | |
| Conf | 2.10.99 | Altrincham (A) | as sub |
| Conf | 13.11.99 | Yeovil Town (A) | |
| FAC2 | 20.11.99 | Ilkeston Town (A) | |
| NT2 | 23.11.99 | Telford Utd (H) | |
| FAT2 | 27.11.99 | Havant & W (H) | |
| FAC2r | 30.11.99 | Ilkeston Town (H) | |
| Conf | 4.12.99 | Hayes (A) | |
| FAC3 | 12.12.99 | Sheffield Utd (A) | |
| Conf | 18.12.99 | Telford Utd (A) | |
| FAC3r | 21.12.99 | Sheffield Utd (H) | |
| Conf | 27.12.99 | Stevenage Boro (H) | |
| Conf | 3.1.00 | Stevenage Boro (A) | |
| FAT3 | 15.1.00 | Bath City (A) | |
| Conf | 22.1.00 | Forest Green (A) | |
| Conf | 29.1.00 | Northwich Vic (H) | |
| FAT4 | 5.2.00 | Billericay Tn (A) | |
| FAT4r | 8.2.00 | Billericay Tn (H) | |
| Conf | 12.2.00 | Dover Athletic (A) | 1 goal |
| Conf | 15.2.00 | Forest Green (H) | |
| Conf | 19.2.00 | Doncaster Rvrs (A) | |
| Conf | 22.2.00 | Hednesford Tn (H) | |
| FAT5 | 26.2.00 | Marine (H) | |
| Conf | 4.3.00 | Kingstonian (A) | |
| Conf | 7.3.00 | Yeovil Town (H) | |
| FAT6 | 11.3.00 | Sutton Utd (A) | 1 goal |
| FAT6r | 14.3.00 | Sutton Utd (H) | |
| Conf | 18.3.00 | Sutton Utd (H) | |
| Conf | 25.3.00 | Hereford Utd (H) | |
| Conf | 28.3.00 | Kettering Town (H) | |
| Conf | 1.4.00 | Nuneaton Boro (H) | |
| Conf | 4.4.00 | Morecambe (H) | |
| Conf | 8.4.00 | Kidderminster (A) | |
| Conf | 11.4.00 | Woking (A) | |
| Conf | 15.4.00 | Altrincham (H) | |
| Conf | 22.4.00 | Southport (A) | |
| Conf | 29.4.00 | Scarborough (H) | |
| Conf | 1.5.00 | Welling Utd (A) | |
| Conf | 6.5.00 | Doncaster Rvrs (H) | |
2000/2001
Conf

19.8.00

Chester City (H)

Conf

21.8.00

Hednesford Tn (A)

Conf

26.8.00

Dagenham&Red(A)

Conf

28.8.00

Southport (H)

Conf

2.9.00

Telford Utd (A)

Conf

5.9.00

Stevenage Boro(H)

Conf

9.9.00

Forest Green (H)

Conf

12.9.00

Scarborough (A)

Conf

16.9.00

Woking (A)

Conf

23.9.00

Kettering Town (H)

Conf

26.9.00

Dagenham&Red(H)

Conf

30.9.00

Kingstonian (A)

Conf

3.10.00

Leigh RMI (A)

Conf

8.10.00

Boston Utd (H)

Conf

14.10.00

Hereford Utd (A)

Conf

21.10.00

Morecambe (A)

Conf

31.10.00

Hayes (H)

Conf

4.11.00

Yeovil Town (H)

Conf

11.11.00

Doncaster Rvrs(A)

FAC1

17.11.00

Luton Town (A)

LDV1

28.11.00

Barnet (A)

Conf

2.12.00

Dover Athletic (A)

Conf

9.12.00

Hayes (A)

Conf

16.12.00

Hednesford Tn (H)

NWT3

19.12.00

Kingstonian (A)

Conf

26.12.00

Nuneaton Boro (A)

Conf

1.1.01

Nuneaton Boro (H)

Conf

6.1.01

Southport (A)

FAT3

13.1.01

Hayes (A)

FAT4

3.2.01

Marine (A)

as sub

1 goal

HSCSF

21.2.01

Corby Town (A)

Conf

7.4.01

Morecambe (H)

as sub

HSCF

10.4.01

Kettering Town (H)

Conf

21.4.01

Yeovil Town (A)

as sub

Conf

24.4.01

Telford Utd (H)

Conf

28.4.01

Dover Athletic (H)

Conf

5.5.01

Chester City (A)
2001/2002 – squad number 12
| | | | |
| --- | --- | --- | --- |
| D3 | 11.8.01 | York City (A) | |
| D3 | 16.8.01 | Lincoln City (H) | |
| WC1 | 21.8.01 | Burnley (A) | |
| D3 | 25.8.01 | Macclesfield Tn(A) | |
| D3 | 27.8.01 | Plymouth Arg (H) | |
| D3 | 1.9.01 | Oxford Utd (A) | |
| D3 | 8.9.01 | Southend Utd (H) | |
| WC2 | 11.9.01 | Crewe Alex (A) | |
| D3 | 22.9.01 | Cheltenham Tn(H) | as sub |
| LDV1 | 16.10.01 | Cardiff City (A) | |
| MCSF | 6.11.01 | Northampton Tn(H) | |
| CS | 13.11.01 | Chester City (H) | 1 goal |
| D3 | 1.12.01 | Bristol Rvrs (H) | |
| MCF | 12.12.01 | Peterborough (H) | |
| D3 | 26.12.01 | Southend Utd (A) | |