Steve Stott
Steve Stott
Born 3 February 1965 (Age 30 at debut)
Position: Midfielder
(Diamonds player #55)
Total appearances 61 – 3 goals
(54 League, 3 FA Cup, 2 FA Trophy, 1 League Cup, 1 Conference Shield)
Debut:
16 December 1995 (Home Hastings Town)
Final game:
6 September 1997 (Away Cheltenham Town)
Steve had been playing in non league football was with Bromsgrove Rovers during the early-1990's, before a move to Kettering Town just before the start of the 1995/1995 season. An attacking midfielder, he came to the attention of manager Roger Ashby and signed for Diamonds in December 1995 for a £30,000 transfer fee. After helping Diamonds to the Beazer Home Premier Division title, he also helped them to survive their first season in the Conference, making 37 appearances that season, despite suffering an injury in the FA Cup tie against Bilston Town in October 1996 which kept him sidelined for three months. Diamonds had a poor start to the 1997/1998 season and when Yeovil Town put in an offer of £9.000 in September 1997, it was accepted and he joined the Glovers.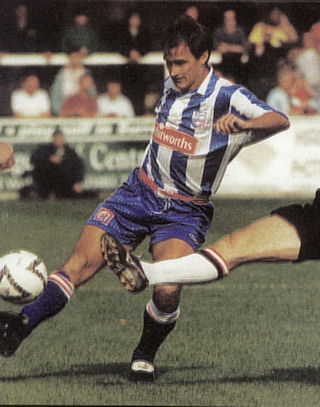 He became Yeovil's club captain under Gary Johnson, but suffered a knee injury early in the 1999/2000 season resulting in an operation on 20 December 1999. He had little chance of returning to first team action at Huish Park, so left at the end of March 2000 to join Woking. He was released in the summer of 2001, and joined Slough Town, later becoming their assistant manager. In September 2002, Steve moved a step down again, this time with Wessex League side Thatcham Town where he ended his career.
Appearances
1995/1996
| | | | |
| --- | --- | --- | --- |
| BHP | 16.12.95 | Hastings Town (H) | |
| BHP | 23.12.95 | Ilkeston Town (H) | |
| BHP | 13.1.96 | Atherstone Utd(A) | |
| FAT1 | 20.1.96 | Purfleet (H) | |
| BHP | 3.2.96 | Worcester City (H) | |
| BHP | 10.2.96 | Gravesend&Nflt(H) | |
| BHP | 13.2.96 | Baldock Town (A) | 1 goal |
| BHP | 17.2.96 | Cheltenham Tn(H) | |
| BHP | 24.2.96 | Newport (A) | |
| BHP | 23.3.96 | Ilkeston Town (A) | as sub |
| BHP | 30.3.96 | Halesowen Tn (H) | |
| BHP | 4.4.96 | Dorchester Tn (H) | |
| BHP | 6.4.96 | Cambridge City(H) | |
| BHP | 8.4.96 | Sudbury Town (A) | as sub |
| BHP | 13.4.96 | Newport (H) | |
| BHP | 16.4.96 | Gresley Rovers(H) | |
| BHP | 20.4.96 | Gloucester City(A) | |
| BHP | 24.4.96 | Salisbury City (A) | |
| BHP | 27.4.96 | Stafford Rgrs (A) | |
| BHP | 4.5.96 | Merthyr Tydfil (H) | |
1996/1997
| | | | |
| --- | --- | --- | --- |
| SLCS | 10.8.96 | Nuneaton Boro(H) | |
| Conf | 17.8.96 | Altrincham (A) | |
| Conf | 20.8.96 | Slough Town (A) | |
| Conf | 24.8.96 | Northwich Vic (H) | |
| Conf | 26.8.96 | Hayes (A) | |
| Conf | 31.8.96 | Stalybridge Ctc(H) | |
| Conf | 3.9.96 | Macclesfield Tn(H) | |
| Conf | 7.9.96 | Halifax Town (A) | |
| Conf | 9.9.96 | Northwich Vic (A) | |
| FAC1q | 14.9.96 | Westfields (A) | |
| Conf | 17.9.96 | Farnborough (H) | |
| Conf | 21.9.96 | Woking (A) | |
| Conf | 24.9.96 | Stevenage Boro(H) | |
| FAC2q | 28.9.96 | Gresley Rvrs (H) | |
| Conf | 30.9.96 | Hednesford Tn (A) | |
| Conf | 5.10.96 | Welling Utd (H) | 1 goal |
| SC1 | 8.10.96 | Dover Athletic (A) | |
| FAC3q | 12.10.96 | Bilston Town (H) | |
| FAT1 | 18.1.97 | Farnborough Tn(H) | |
| Conf | 25.1.97 | Farnborough Tn(A) | |
| Conf | 1.2.97 | Morecambe (H) | |
| Conf | 8.2.97 | Hednesford Tn (H) | |
| Conf | 15.2.97 | Macclesfield Tn(A) | |
| Conf | 1.3.97 | Slough Town (H) | |
| Conf | 8.3.97 | Kettering Town (A) | |
| Conf | 15.3.97 | Bromsgrove R (A) | |
| Conf | 18.3.97 | Kettering Town (H) | 1 goal |
| Conf | 22.3.97 | Telford Utd (H) | |
| Conf | 25.3.97 | Welling Utd (A) | |
| Conf | 29.3.97 | Dover Athletic (A) | |
| Conf | 31.3.97 | Hayes (H) | |
| Conf | 5.4.97 | Southport (H) | |
| Conf | 12.4.97 | Bath City (A) | |
| Conf | 21.4.97 | Stevenage Boro(A) | |
| Conf | 26.4.97 | Halifax Town (H) | |
| Conf | 29.4.97 | Woking (H) | |
| Conf | 3.5.97 | Altrincham (H) | |
1997/1998
| | | | |
| --- | --- | --- | --- |
| Conf | 16.8.97 | Northwich Vic (H) | as sub |
| Conf | 20.8.97 | Farnborough Tn(A) | as sub |
| Conf | 23.8.97 | Leek Town (A) | |
| Conf | 6.9.97 | Cheltenham Tn(A) | |