Nick Ashby
Nick Ashby
Born 29 December 1970 (Age 24 at debut)
Position: Defender
(Diamonds player #50)
Total appearances 75 – 4 goals
(60 League, 8 FA Cup, 1 FA Trophy, 3 League Cup, 2 Hillier Senior Cup, 1 Maunsell Cup)
Debut:
31 July 1995 (Away Kettering Town)
Final game:
22 February 1997 (Away Gateshead)
Northampton born Nick was signed from Kettering Town in June 1995 for a £14,000 price tag and was considered one of the best left backs in non-league football. He was also the son of Diamonds manager Roger Ashby and his consistent performances were the backbone of the club's promotion into the Conference. He had begun his playing career under Brian Clough at Nottingham Forest, with a brief spell at Northampton Town, before following his father to Rushden Town to continue in non-league football and combine a career in HR recruitment. After a move to Aylesbury United in 1991, he joined Kettering Town in 1994, where he won the first of five England 'C' caps. He actually made his debut against his former club in the Maunsell Cup Final Replay, and went on to make a total of 75 appearances.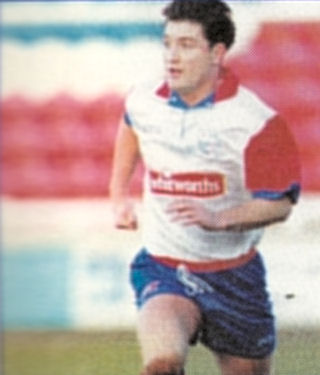 He was released in May 1997 and joined Burton Albion and then moved on to Raunds Town and Stamford of the UCL. While at Stamford, he took up the position of assistant manager, learning the ropes with former Diamonds coach Billy Jeffery. He took over as player-manager at Raunds Town in January 2004, but left that position at the end of the season. He rejoined them midway through the following season, to guide them out of relegation. In May 2006, he took over as player manager at Wellingborough Town, where he remained until November 2007. He finished his playing career at Cogenhoe United during the 2008/09 season officially retiring in the summer of 2010. After a short break, Nick was appointed assistant manager (to Steve Farmer) at Southern League Division One Central side Bedworth United on 5 August 2011. He left after a few months, joining Watford as their non-league scout during early-October 2011.
Appearances
1995/1996
| | | | |
| --- | --- | --- | --- |
| HSCFr | 31.7.95 | Kettering Town (A) | |
| BHP | 19.8.95 | Salisbury City (H) | |
| BHP | 21.8.95 | Chelmsford City(A) | |
| BHP | 26.8.95 | Crawley Town (H) | |
| BHP | 28.8.95 | Burton Albion (A) | |
| BHP | 2.9.95 | Hastings Town (A) | |
| NHP | 5.9.95 | VS Rugby (H) | 1 goal |
| FAC1q | 9.9.95 | Grantham Town(H) | |
| BHP | 16.9.95 | Worcester City(A) | |
| BHP | 19.9.95 | Chelmsford City(H) | |
| FAC2q | 23.9.95 | EastwoodHanley(H) | |
| BHP | 30.9.95 | Cheltenham Tn(A) | |
| FAC3q | 7.10.95 | Sandwell Boro (A) | |
| BHP | 14.10.95 | Gresley Rovers(A) | |
| FAC4 | 21.10.95 | Purfleet (A) | |
| FAC4r | 24.10.95 | Purfleet (H) | |
| BHP | 28.10.95 | Merthyr Tydfil (A) | |
| DMC1/1 | 1.11.95 | Kings Lynn (H) | |
| BHP | 4.11.95 | Stafford Rgrs (H) | |
| FAC1 | 11.11.95 | Cardiff City (H) | |
| BHP | 15.11.95 | VS Rugby (A) | |
| BHP | 18.11.95 | Gravesend&Nflt(A) | |
| BHP | 21.11.95 | Burton Albion (H) | |
| BHP | 25.11.95 | Atherstone Utd (H) | 1 goal |
| BHP | 28.11.95 | Baldock Town (H) | |
| BHP | 2.12.95 | Crawley Town (A) | |
| DMC1/2 | 5.12.95 | Kings Lynn (A) | |
| BHP | 9.12.95 | Dorchester Tn (A) | |
| BHP | 12.12.95 | Gloucester City (H) | |
| BHP | 16.12.95 | Hastings Town (H) | |
| BHP | 23.12.95 | Ilkeston Town (H) | |
| BHP | 13.1.96 | Atherstone Utd (A) | |
| FAT1 | 20.1.96 | Purfleet (H) | |
| HSCSF | 30.1.96 | Raunds Town (H) | |
| BHP | 3.2.96 | Worcester City (H) | |
| BHP | 10.2.96 | Gravesend&Nflt(H) | |
| BHP | 13.2.96 | Baldock Town (A) | |
| BHP | 17.2.96 | Cheltenham Tn (H) | |
| BHP | 24.2.96 | Newport (A) | 1 goal |
| BHP | 5.3.96 | Sudbury Town (H) | |
| BHP | 16.3.96 | Cambridge City (A) | |
| BHP | 19.3.96 | Halesowen Tn (A) | |
| BHP | 23.3.96 | Ilkeston Town (A) | |
| HSCF | 26.3.96 | Rothwell Town (A) | |
| BHP | 30.3.96 | Halesowen Tn (H) | |
| BHP | 4.4.96 | Dorchester Tn (H) | |
| BHP | 6.4.96 | Cambridge City (H) | |
| BHP | 8.4.96 | Sudbury Town (A) | |
| BHP | 13.4.96 | Newport (H) | 1 goal |
| BHP | 16.4.96 | Gresley Rovers (H) | |
| BHP | 20.4.96 | Gloucester City (A) | |
| BHP | 24.4.96 | Salisbury City (A) | |
1996/1997
| | | | |
| --- | --- | --- | --- |
| Conf | 17.8.96 | Altrincham (A) | |
| Conf | 20.8.96 | Slough Town (A) | |
| Conf | 24.8.96 | Northwich Vic (H) | |
| Conf | 26.8.96 | Hayes (A) | |
| Conf | 31.8.96 | Stalybridge Cltc(H) | |
| Conf | 3.9.96 | Macclesfield Tn(H) | |
| Conf | 7.9.96 | Halifax Town (A) | |
| Conf | 9.9.96 | Northwich Vic (A) | |
| FAC1q | 14.9.96 | Westfields (A) | |
| Conf | 17.9.96 | Farnborough (H) | |
| Conf | 21.9.96 | Woking (A) | |
| Conf | 24.9.96 | Stevenage Boro(H) | |
| FAC2q | 28.9.96 | Gresley Rvrs (H) | |
| Conf | 19.10.96 | Gateshead (H) | |
| Conf | 14.12.96 | Bromsgrove Rvrs(H) | |
| SC3 | 16.12.96 | Kidderminster (A) | |
| Conf | 21.12.96 | Kidderminster (H) | |
| Conf | 28.12.96 | Stalybridge Cltc(A) | |
| Conf | 25.1.97 | Farnborough Tn (A) | |
| Conf | 1.2.97 | Morecambe (H) | |
| Conf | 8.2.97 | Hednesford Tn (H) | |
| Conf | 15.2.97 | Macclesfield Tn(A) | |
| Conf | 22.2.97 | Gateshead (A) | |