Graham Benstead
Graham Benstead
Born 20 August 1963 (Age 31 at debut)
Position: Goalkeeper
(Diamonds player #49)
Total appearances 58
(45 League, 6 FA Cup, 1 FA Trophy, 1 League Cup, 1 Championship Shield, 3 Hillier Senior Cup, 1 Maunsell Cup)
Debut:
31 July 1995 (Away Kettering Town)
Final game:
8 February 1997 (Home Hednesford Town)
Graham began his career as a goalkeeper with Wimbledon, before signing for QPR in 1982. Although he only made one first team appearance, he also won an England cap at youth level. In March 85, he moved to Norwich City, where he became understudy to Chris Woods and later Bryan Gunn. First team appearances were again limited, although after Woods departure, he went on to play 19 games for the Canaries, mainly at the start of the 1986/87 season, but the arrival of Gunn push him onto the bench again. He had loan spells with Sheffield United and Colchester United, but left in July 1988, and joined Sheffield United on a permanent basis. He played 47 games for the Blades before moving to Brentford in the summer of 1990, making some 110 appearances for the Bees in three seasons. Graham dropped down to the non-league scene, joining Kettering Town, and it was from the Poppies that he signed for Diamonds in June 1995. He made several England C appearances while with Kettering and Diamonds and was a key player in Diamonds push to reach the Conference. After a poor start to life in the Conference the following season however, he made way for Martin Davies and was released in May 1997.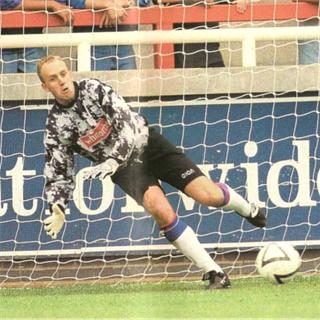 Initially, he joined Kingstonian for the start of the 1997/98 season, but an offer to become player / coach at Brentford saw him return to League action again when he was drafted in to make another two appearances in October 1997 due to an injury to Kevin Dearden. He was released in March 1998, and joined Basingstoke Town, before a loan spell with Chertsey Town in March 1999. The following summer, he became player / coach at Farnborough Town, remaining with the club until early in 2003. When Farnborough manager Graham Westley moved to Stevenage Borough, Graham joined him and in May 2004, took up the position of assistant manager. He was forced to step down in October that year due to personal circumstances. More recently, Graham has taken part in the Masters Football Tournament, playing in goal for Sheffield United. He was most recently seen as goalkeeper coach at Frimley Green FC who he joined prior to the 2017/18 season.
Appearances
1995/1996
| | | | |
| --- | --- | --- | --- |
| HSCFr | 31.7.95 | Kettering Town (A) | |
| BHP | 19.8.95 | Salisbury City (H) | |
| BHP | 21.8.95 | Chelmsford City(A) | |
| BHP | 26.8.95 | Crawley Town (H) | |
| BHP | 28.8.95 | Burton Albion (A) | |
| BHP | 2.9.95 | Hastings Town (A) | |
| BHP | 5.9.95 | VS Rugby (H) | |
| FAC1q | 9.9.95 | Grantham Town(H) | |
| BHP | 16.9.95 | Worcester City (A) | |
| BHP | 19.9.95 | Chelmsford City(H) | |
| FAC2q | 23.9.95 | EastwoodHanley(H) | |
| BHP | 30.9.95 | Cheltenham Tn (A) | |
| FAC3q | 7.10.95 | Sandwell Boro (A) | |
| BHP | 14.10.95 | Gresley Rovers (A) | |
| FAC4 | 21.10.95 | Purfleet (A) | |
| FAC4r | 24.10.95 | Purfleet (H) | |
| BHP | 28.10.95 | Merthyr Tydfil (A) | |
| DMC1/1 | 1.11.95 | Kings Lynn (H) | |
| BHP | 4.11.95 | Stafford Rgrs (H) | |
| HSCQF | 7.11.95 | Long Buckby (H) | |
| FAC1 | 11.11.95 | Cardiff City (H) | |
| BHP | 15.11.95 | VS Rugby (A) | |
| BHP | 18.11.95 | Gravesend&Nflt(A) | |
| BHP | 21.11.95 | Burton Albion (H) | |
| BHP | 25.11.95 | Atherstone Utd (H) | |
| BHP | 28.11.95 | Baldock Town (H) | |
| BHP | 2.12.95 | Crawley Town (A) | |
| BHP | 9.12.95 | Dorchester Tn (A) | |
| BHP | 12.12.95 | Gloucester City(H) | |
| BHP | 16.12.95 | Hastings Town (H) | |
| BHP | 23.12.95 | Ilkeston Town (H) | |
| BHP | 13.1.96 | Atherstone Utd(A) | |
| FAT1 | 20.1.96 | Purfleet (H) | |
| HSCSF | 30.1.96 | Raunds Town (H) | |
| BHP | 3.2.96 | Worcester City(H) | |
| BHP | 10.2.96 | Gravesend&Nflt(H) | |
| BHP | 13.2.96 | Baldock Town (A) | |
| BHP | 17.2.96 | Cheltenham Tn(H) | |
| BHP | 24.2.96 | Newport (A) | |
| BHP | 5.3.96 | Sudbury Town (H) | |
| BHP | 16.3.96 | Cambridge City(A) | |
| BHP | 19.3.96 | Halesowen Tn (A) | |
| BHP | 23.3.96 | Ilkeston Town (A) | |
| HSCF | 26.3.96 | Rothwell Town (A) | |
| BHP | 30.3.96 | Halesowen Tn (H) | |
| BHP | 13.4.96 | Newport (H) | |
| BHP | 16.4.96 | Gresley Rovers (H) | |
| BHP | 20.4.96 | Gloucester City(A) | |
| BHP | 24.4.96 | Salisbury City (A) | |
| BHP | 27.4.96 | Stafford Rgrs (A) | |
| BHP | 4.5.96 | Merthyr Tydfil (H) | |
1996/1997
| | | | |
| --- | --- | --- | --- |
| SLCS | 10.8.96 | Nuneaton Boro (H) | |
| Conf | 17.8.96 | Altrincham (A) | |
| Conf | 20.8.96 | Slough Town (A) | |
| Conf | 24.8.96 | Northwich Vic (H) | |
| Conf | 26.8.96 | Hayes (A) | |
| Conf | 1.2.97 | Morecambe (H) | |
| Conf | 8.2.97 | Hednesford Tn (H) | |