Neil Smith
Neil Smith
Born 29 December 1970 (Age 24 at debut)
Position: Midfielder
(Diamonds player #48)
Total appearances 58 – 1 goal
(40 League, 8 FA Cup, 1 FA Trophy, 4 League Cup, 3 Hillier Senior Cup, 2 Maunsell Cup)
Debut:
29 July 1995 (Home Kettering Town)
Final game:
28 December 1996 (Away Stalybridge Celtic)
Neil started his career at Shrewsbury Town, progressing from the youth team, but only made just a single appearance during the 1987/1988 season before moving on to Redditch United. In 1989, he signed for Lincoln City but the young midfielder was unable to gain a regular place in the first team. In July 1992, he joined Cheltenham Town and eventually took up the club captaincy in his third year with the club. Roger Ashby signed Neil in June 1995, for a £14,000 fee, and he captained the side which won promotion to the Conference. He played in all games during that 1995/1996 season until an injury in the Hillier Senior Cup Final against Rothwell Town ruled him out for the remainder of the season. Injuries continued to affect his first team chances as the club played its first season in the Conference, but he returned to action in October 1996. Neil made just 12 appearances the following season and he was eventually released in May 1997, joining Hednesford Town in his native West Midlands.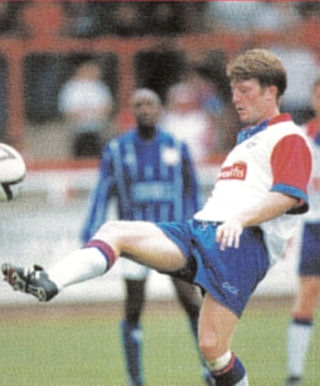 He moved on from there to Halesowen Town (the team he helped Diamonds to beat to the Southern Premier title) in 1999, and made 48 appearances before joining Stafford Rangers at the end of the season. In November 2000 however, he made a return to Halesowen Town and spent a further three years there. He had another spell with Redditch United in 2006, but is thought to have retired from the game around this time.
Appearances
1995/1996
| | | | |
| --- | --- | --- | --- |
| HSCF | 29.7.95 | Kettering Town (H) | |
| HSCFr | 31.7.95 | Kettering Town (A) | |
| BHP | 19.8.95 | Salisbury City (H) | |
| BHP | 21.8.95 | Chelmsford City(A) | |
| BHP | 26.8.95 | Crawley Town (H) | |
| BHP | 28.8.95 | Burton Albion (A) | |
| BHP | 2.9.95 | Hastings Town (A) | |
| BHP | 5.9.95 | VS Rugby (H) | |
| FAC1q | 9.9.95 | Grantham Town(H) | |
| BHP | 16.9.95 | Worcester City (A) | |
| BHP | 19.9.95 | Chelmsford City(H) | |
| FAC2q | 23.9.95 | EastwoodHanley(H) | |
| BHP | 30.9.95 | Cheltenham Tn(A) | |
| FAC3q | 7.10.95 | Sandwell Boro (A) | |
| BHP | 14.10.95 | Gresley Rovers (A) | |
| FAC4 | 21.10.95 | Purfleet (A) | |
| FAC4r | 24.10.95 | Purfleet (H) | |
| BHP | 28.10.95 | Merthyr Tydfil (A) | |
| DMC1/1 | 1.11.95 | Kings Lynn (H) | |
| BHP | 4.11.95 | Stafford Rgrs (H) | |
| HSCQF | 7.11.95 | Long Buckby (H) | |
| FAC1 | 11.11.95 | Cardiff City (H) | |
| BHP | 15.11.95 | VS Rugby (A) | |
| BHP | 18.11.95 | Gravesend&Nflt(A) | 1 goal |
| BHP | 21.11.95 | Burton Albion (H) | |
| BHP | 25.11.95 | Atherstone Utd(H) | |
| BHP | 28.11.95 | Baldock Town (H) | |
| BHP | 2.12.95 | Crawley Town (A) | |
| DMC1/2 | 5.12.95 | Kings Lynn (A) | |
| BHP | 9.12.95 | Dorchester Tn (A) | |
| BHP | 12.12.95 | Gloucester City(H) | |
| BHP | 16.12.95 | Hastings Town (H) | |
| BHP | 23.12.95 | Ilkeston Town (H) | |
| BHP | 13.1.96 | Atherstone Utd(A) | |
| FAT1 | 20.1.96 | Purfleet (H) | |
| HSCSF | 30.1.96 | Raunds Town (H) | |
| BHP | 3.2.96 | Worcester City (H) | |
| BHP | 10.2.96 | Gravesend&Nflt(H) | |
| BHP | 13.2.96 | Baldock Town (A) | |
| BHP | 17.2.96 | Cheltenham Tn(H) | |
| BHP | 24.2.96 | Newport (A) | |
| BHP | 5.3.96 | Sudbury Town (H) | |
| BHP | 16.3.96 | Cambridge City(A) | |
| BHP | 19.3.96 | Halesowen Tn (A) | |
| BHP | 23.3.96 | Ilkeston Town (A) | |
| HSCF | 26.3.96 | Rothwell Town (A) | |
1996/1997
| | | | |
| --- | --- | --- | --- |
| Conf | 5.10.96 | Welling Utd (H) | as sub |
| SC1 | 8.10.96 | Dover Athletic (A) | as sub |
| FAC3q | 12.10.96 | Bilston Town (H) | |
| Conf | 14.10.96 | Kidderminster (A) | |
| Conf | 19.10.96 | Gateshead (H) | |
| FAC1r | 26.11.96 | Boreham Wood (H) | |
| Conf | 30.11.96 | Bath City (H) | |
| Conf | 7.12.96 | Telford Utd (A) | |
| Conf | 14.12.96 | Bromsgrove Rvs(H) | |
| SC3 | 16.12.96 | Kidderminster (A) | |
| Conf | 21.12.96 | Kidderminster (H) | |
| Conf | 28.12.96 | Stalybridge Cltc(A) | |