Steve Spooner
Steve Spooner
Born 25 January 1961 (Age 33 at debut)
Position: Midfielder
(Diamonds player #43)
Total appearances 59 – 3 goals
(37 League, 2 FA Cup, 7 FA Trophy, 6 League Cup, 7 Hillier Senior Cup)
Debut:
14 January 1995 (Away VS Rugby)
Final game:
10 April 2001 (Home Kettering Town)
Steve started his career at Derby County, earning his first contract after coming up through the youth ranks in 1978. He only played a total of 8 League games before moving to Halifax Town in January 1982, having a successful 1½ seasons. He played 72 games, scoring 13 goals, before joining Chesterfield. He made nearly 100 appearances for the Spireites, helping them to the Division 4 title during the 1984/1985 season. In 1986, he went to Hereford United for two seasons, before moving on to York City. He started the 1990/1991 season with Rotherham United, but finished the season at Mansfield Town, where he played over 50 games for the Stags. He had a brief spell with Blackpool, before rejoining Chesterfield in 1993. In his two spells at Saltergate, he made 124 appearances, scoring 15 goals. Roger Ashby brought Steve to Nene Park in January 1995, midway through Diamonds first season in the Southern League Premier. At 33 years old, he had made 420 Football League appearances and scored 61 goals. He made his debut as a 78th minute substitute at VS Rugby on 14 January 1995. He quickly became a regular in the side, but the following season, found himself on the bench more often than in the starting eleven.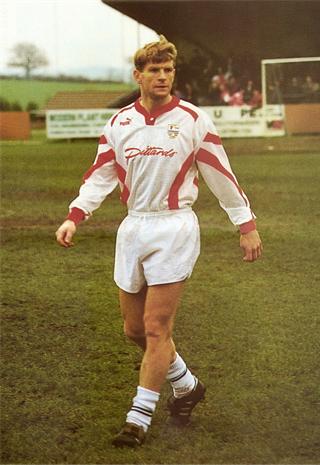 He was released in May 1996, and joined Burton Albion where he finished his playing career. He gained his coaching badges and when the Brewers sacked manager John Barton in September 1998, found himself as caretaker manager with Andy Garner until the appointment of Nigel Clough the following month. He remained at Eton Park until October 2000, when he returned to Nene Park to take up the position of Youth Team coach with Diamonds. He played a further single game for Diamonds, in the Hillier Senior Cup Final in April 2001, but was substitutes after an hour. His reign as Youth Team Coach saw a very successful period for the Youth setup. Under his guidance, the youth side won the Northants Senior Youth League and Cup 'double' in 2000/2001, and then finished fourth in their first season in the Football League Youth Alliance before winning their end-of-season Merit Division. He continued in his role as Youth Team coach until the spring of 2002, when he became First Team coach following the departure of Terry Westley, helping Brian Talbot to the Division Three title in 2002/2003.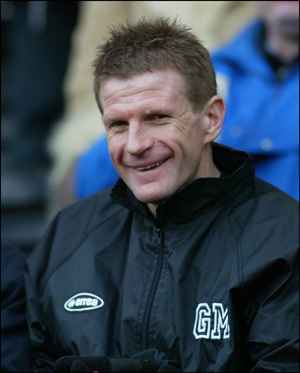 Steve left the club mid-way through the following season, and in May 2004, joined Derby County as their Centre of Excellence Manager. After a brief period as First Team coach at Notts County, he became the Birmingham City Academy Under-18 coach in July 2006. He has remained with the Blues for many years, progressing to Lead Professional Development Coach and being in charge of their Premier League 2 Development side.
Appearances
1994/1995
| | | | |
| --- | --- | --- | --- |
| BHP | 14.1.95 | VS Rugby (A) | as sub |
| DMCQ | 16.1.95 | Worcester City (A) | |
| FAT1 | 24.1.95 | Sudbury Town (H) | 1 goal |
| BHP | 28.1.95 | Cheltenham Tn (A) | |
| BHP | 4.2.95 | Sittingbourne (H) | 1 goal |
| DMCQr | 7.2.95 | Worcester City (H) | |
| BHP | 18.2.95 | Atherstone Utd (A) | |
| FAT2 | 20.2.95 | Farnborough Tn(A) | |
| BHP | 25.2.95 | Gresley Rovers (H) | |
| DMCS/1 | 28.2.95 | Leek Town (H) | |
| FAT3 | 4.3.95 | Halesowen Tn (H) | |
| DMCS/2 | 7.3.95 | Leek Town (A) | |
| BHP | 11.3.95 | Corby Town (H) | |
| HSCSF | 14.3.95 | Rothwell Town (A) | |
| BHP | 18.3.95 | Gloucester City(A) | |
| BHP | 21.3.95 | Leek Town (H) | |
| FAT4 | 25.3.95 | Enfield (A) | |
| FAT4r | 28.3.95 | Enfield (H) | |
| BHP | 30.3.95 | Gravesend&Nflt(H) | |
| BHP | 1.4.95 | Atherstone Utd (H) | |
| BHP | 3.4.95 | Hednesford Tn (A) | |
| FATS/1 | 8.4.95 | Woking (H) | |
| BHP | 11.4.95 | Hednesford Tn (H) | as sub |
| FATS/2 | 15.4.95 | Woking (A) | |
| BHP | 17.4.95 | Cambridge City(H) | |
| BHP | 22.4.95 | Solihull Boro (A) | |
| BHP | 24.4.95 | Chelmsford City(A) | |
| BHP | 29.4.95 | Worcester City (A) | |
| BHP | 2.5.95 | Dorchester Tn (H) | |
| BHP | 4.5.95 | Sudbury Town (A) | |
| BHP | 6.5.95 | Sudbury Town (H) | |
1995/1996
| | | | |
| --- | --- | --- | --- |
| HSCF | 29.7.95 | Kettering Town (H) | |
| HSCFr | 31.7.95 | Kettering Town (A) | |
| BHP | 21.8.95 | ChelmsfordCity(A) | 1 goal |
| BHP | 26.8.95 | Crawley Town (H) | as sub |
| BHP | 28.8.95 | Burton Albion (A) | |
| BHP | 2.9.95 | Hastings Town (A) | |
| BHP | 5.9.95 | VS Rugby (H) | as sub |
| FAC1q | 9.9.95 | Grantham Tn (H) | as sub |
| DMC1/1 | 1.11.95 | Kings Lynn (H) | as sub |
| HSCQF | 7.11.95 | Long Buckby (H) | |
| FAC1 | 11.11.95 | Cardiff City (H) | as sub |
| DMC1/2 | 5.12.95 | Kings Lynn (A) | |
| BHP | 12.12.95 | Gloucester City(H) | as sub |
| BHP | 13.1.96 | Atherstone Utd(A) | as sub |
| HSCSF | 30.1.96 | Raunds Town (H) | |
| BHP | 3.2.96 | Worcester City(H) | as sub |
| BHP | 13.2.96 | Baldock Town (A) | as sub |
| BHP | 17.2.96 | Cheltenham Tn(H) | as sub |
| BHP | 5.3.96 | Sudbury Town (H) | |
| HSCF | 26.3.96 | Rothwell Town (A) | |
| BHP | 6.4.96 | Cambridge City(H) | as sub |
| BHP | 8.4.96 | Sudbury Town (A) | |
| BHP | 13.4.96 | Newport (H) | |
| BHP | 16.4.96 | Gresley Rovers(H) | |
| BHP | 20.4.96 | Gloucester City(A) | |
| BHP | 24.4.96 | Salisbury City (A) | |
| BHP | 27.4.96 | Stafford Rgrs (A) | |
2000/2001
| | | | |
| --- | --- | --- | --- |
| HSCF | 10.4.01 | Kettering Town (H) | |