Julian Capone
Julian Capone
Born 3 June 1972 (Age 22 at debut)
Position: Midfielder
(Diamonds player #37)
Total appearances 62 – 7 goals
(46 League, 4 FA Cup, 3 FA Trophy, 2 League Cup, 7 Hillier Senior Cup)
Debut:
10 August 1994 (Away Eastwood Hanley)
Final game:
10 April 1999 (Home Cogenhoe United)
Julian was a youth team player with Tottenham Hotspur and Northampton Town, before moving on to Raunds Town (1992/1993) and Bedford Town. He joined Diamonds from the Eagles during the summer of 1994 but his first two seasons saw him struggling to gain regular first team football.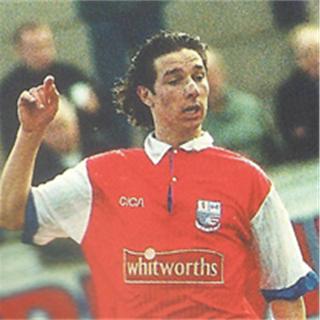 He did manage to get a longer spell in the first team in the latter part of the Diamonds first Conference season, and then became a regular in the team the following a season. A number of injuries and loan spells followed before he was released in May 1999.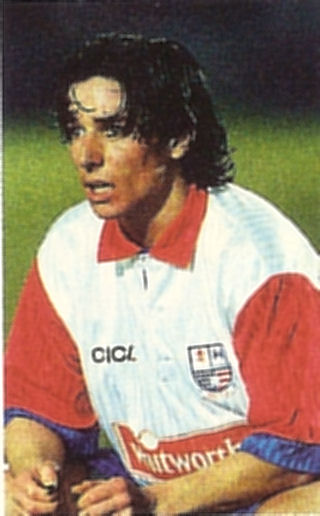 After leaving Diamonds, Julian was to transfer to Nuneaton Borough, but the deal fell through and he went on to play for Enfield and Boreham Wood, before joining Chesham United. In September 2002, he decided to try to get a contract in the USA, but returned after a few weeks, rejoining Chesham United. In July 2003, he joined Bedford Town again, remaining with the Eagles until May 2004, when he left to become manager of Minerva Spartan South Midlands side Bedford United & Valerio. His side were relegated at the end of the 2004/2005 season, and he rejoined Bedford Town for a third spell, but left to in September 2005 to rejoin Bedford United & Valerio briefly before going to Arlesey Town in December. He only played six games for the Blues before retiring.
Appearances
1994/1995
FAC1q

10.9.94

EastwoodHanley(A)

as sub

HSC1

27.9.94

Desborough (H)

as sub

1 goal

BHP

8.10.94

Crawley Town (H)

as sub

DMC3

14.12.94

Baldock Town (H)

as sub

BHP

29.4.95

Worcester City (A)

as sub

BHP

2.5.95

Dorchester Tn (H)

BHP

4.5.95

Sudbury Town (A)

as sub

BHP

6.5.95

Sudbury Town (H)

as sub

HSCF

29.7.95

Kettering Town (H)

as sub

HSCFr

31.7.95

Kettering Town (A)

as sub
1995/1996
| | | | |
| --- | --- | --- | --- |
| DMC1/1 | 1.11.95 | Kings Lynn (H) | as sub |
1996/1997
| | | | |
| --- | --- | --- | --- |
| FAC1r | 26.11.96 | Boreham Wood(H) | as sub |
| Conf | 30.11.96 | Bath City (H) | 1 goal |
| FAT1 | 18.1.97 | Farnborough Tn(H) | |
| Conf | 8.2.97 | Hednesford Tn (H) | |
| Conf | 15.2.97 | Macclesfield Tn(A) | |
| Conf | 22.2.97 | Gateshead (A) | |
| Conf | 1.3.97 | Slough Town (H) | 2 goals |
| Conf | 8.3.97 | Kettering Town (A) | |
| Conf | 15.3.97 | BromsgroveRvs(A) | |
| Conf | 18.3.97 | Kettering Town H) | |
| Conf | 22.3.97 | Telford Utd (H) | |
| Conf | 25.3.97 | Welling Utd (A) | |
| Conf | 29.3.97 | Dover Athletic (A) | |
1997/1998
Conf

16.8.97

Northwich Vic (H)

Conf

20.8.97

Farnborough Tn(A)

Conf

23.8.97

Leek Town (A)

FAC4q

25.10.97

Boreham Wood(H)

as sub

FAC4qr

28.10.97

Boreham Wood(A)

as sub

Conf

1.11.97

Slough Town (H)

as sub

Conf

8.11.97

Welling Utd (A)

as sub

HSCQF

18.11.97

Brackley Town (A)

Conf

22.11.97

Morecambe (A)

as sub

1 goal

Conf

25.11.97

Kettering Town (H)

as sub

Conf

29.11.97

Hayes (H)

as sub

Conf

6.12.97

Northwich Vic (A)

1 goal

Conf

13.12.97

Dover Athletic (H)

Conf

20.12.97

Hayes (A)

Conf

26.12.97

Stevenage Boro(H)

1 goal

Conf

1.1.98

Stevenage Boro(A)

FAT1

10.1.98

Farnborough Tn(H)

Conf

17.1.98

Southport (H)

as sub

Conf

24.1.98

Dover Athletic (A)

as sub

HSCSF

27.1.98

Raunds Town (H)

as sub

FAT2

31.1.98

Cheltenham Tn (A)

as sub

Conf

7.2.98

Halifax Town (H)

as sub

Conf

14.2.98

Gateshead (A)

as sub

Conf

21.2.98

Kettering Town (A)

Conf

28.2.98

Stalybridge Ctc(H)

Conf

7.3.98

Cheltenham Tn (H)

Conf

14.3.98

Woking (A)

Conf

21.3.98

Halifax Town (A)

as sub

Conf

28.3.98

Morecambe (H)

Conf

4.4.98

Telford Utd (A)

Conf

13.4.98

Stalybridge Ctc(A)

Conf

18.4.98

Leek Town (H)

Conf

21.4.98

Yeovil Town (H)

Conf

25.4.98

Hereford Utd (A)

as sub

Conf

28.4.98

Welling Utd (H)

as sub

Conf

2.5.98

Telford Utd (H)
1998/1999
| | | | |
| --- | --- | --- | --- |
| HSCSF | 2.3.99 | Cogenhoe Utd (A) | as sub |
| HSCSr | 10.4.99 | Cogenhoe Utd (H) | |