Tim Wooding
Tim Wooding
Born 5 July 1973 (Age 20 at debut)
Position: Defender
(Diamonds player #32)
Total appearances 247 – 15 goals
(169 League, 26 FA Cup, 23 FA Trophy, 13 League Cup, 13 Hillier Senior Cup, 2 Maunsell Cup, 1 Conference Shield)
Debut:
5 February 1994 (Home Yate Town)
Final game:
14 March 2000 (Home Sutton United)
For many years, Tim Wooding was synonymous with Rushden & Diamonds FC. A product of the Rushden Rangers Youth set-up, Tim was born in Wellingborough and had spent time as a trainee at Norwich City before joining AFC Bournemouth. He joined Diamonds in February 1994 and enjoyed a remarkable start to his Diamonds career, his debut at Yate heralding a twenty game unbeaten run in the League which culminated in the Beazer Homes Midland Division title. Of the nineteen games he played that season, Diamonds won 14, drew 5 and lost 0. In the thrilling 3-2 victory over rivals West-super-Mare on March 19th, Tim had a hand in all three Diamonds goals, his sweetly struck long passes and viciously fired free kicks becoming his Nene Park trademark. Only injury put his place at risk over the next couple of seasons, his calm presence a feature as the club rose to Conference level. Injury ended his first Conference campaign in November 1997 and it was not until the crucial trip to Yeovil Town in September 1998 that he returned to first team action. The new look Diamonds won 2-1 and Tim was virtually ever present for the rest of the season, which saw Brian Talbot's team achieve a creditable fourth. Tim's long association with the club came to an end when he was released at the close of the 1999/2000 season.
He joined Boston United as a free agent on 10 May 2000 before going on loan to Cambridge City in December 2000 – a move that was made permanent on 9 February 2001. In August 2003, he linked up with Roger Ashby again, this time at Grantham Town. After some 100 appearances, Tim was released in November 2005, and joined Rugby Town for the remainder of the season. In the summer of 2006, he joined his hometown club, Wellingborough Town. After a period away from football, he joined UCL Premier side Long Buckby on 11 November 2011 in a player/coach role, the Bucks winning the UCL Premier title in May 2012. Following the resignation of the Long Buckby manager Glenn Botterill after the club were unable to take promotion to the Southern League, Tim followed him to UCL Division One side Sileby Rangers in a coaching role. Once again, he achieving promotion, this time to the UCL Premier in May 2013, but following the resignation of Manager Glenn Botterill on 22 July 2013, Tim also left the club.
No further record of his involvement with the game has been found through to 2018.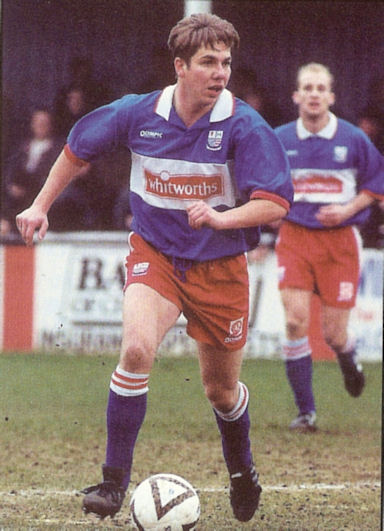 Appearances
1993/1994
| | | | |
| --- | --- | --- | --- |
| BHM | 5.2.94 | Yate Town (H) | |
| BHM | 8.2.94 | Kings Lynn (A) | |
| BHM | 12.2.94 | Evesham Utd (A) | |
| BHM | 19.2.94 | Newport AFC (H) | |
| BHM | 26.2.94 | Leicester Utd (H) | |
| BHM | 1.3.94 | Bedworth Utd (A) | |
| BHM | 5.3.94 | Bilston Town (A) | |
| BHM | 8.3.94 | Bridgnorth Town(H) | |
| BHM | 12.3.94 | Yate Town (A) | |
| BHM | 19.3.94 | Weston-s-Mare(H) | |
| BHM | 23.3.94 | Clevedon Town (A) | |
| BHM | 9.4.94 | RC Warwick (A) | |
| BHM | 12.4.94 | Grantham Town(H) | |
| BHM | 16.4.94 | Armitage 90 (H) | |
| BHM | 23.4.94 | SuttonColdfield(A) | |
| HSCF | 26.4.94 | N'ton Spencer (H) | 1 goal |
| BHM | 30.4.94 | Evesham Utd (H) | |
| BHM | 2.5.94 | Forest Green (H) | |
| BHM | 7.5.94 | Redditch Utd (H) | 1 goal |
1994/1995
| | | | |
| --- | --- | --- | --- |
| MCF | 2.8.94 | Peterboro Utd (H) | |
| BHP | 20.8.94 | Cheltenham Tn (H) | |
| BHP | 23.8.94 | Gravesend&Nflt(A) | |
| BHP | 27.8.94 | Halesowen Tn (H) | |
| BHP | 29.8.94 | Trowbridge Tn (H) | |
| BHP | 3.9.94 | BurtonAlbion (H) | |
| BHP | 6.9.94 | Crawley Town (A) | |
| FAC1q | 10.9.94 | EastwoodH'ley(A) | |
| FAT1rq | 17.9.94 | Hendon (H) | |
| FAT1r | 20.9.94 | Hendon (A) | |
| BHP | 1.10.94 | Gresley Rovers(A) | |
| BHP | 8.10.94 | Crawley Town (H) | |
| FAT2q | 15.10.94 | Wembley (H) | |
| DMC1/2 | 18.10.94 | Rothwell Town (A) | |
| BHP | 22.10.94 | Dorchester Tn (A) | 1 goal |
| HSC2 | 25.10.94 | N'ton Spencer (H) | |
| BHP | 29.10.94 | Gloucester City(H) | |
| BHP | 5.11.94 | Burton Albion (A) | 1 goal |
| DMC2 | 8.11.94 | Bedworth Utd (H) | |
| BHP | 12.11.94 | VS Rugby (H) | |
| BHP | 15.11.94 | Trowbridge Tn (A) | |
| BHP | 19.11.94 | Corby Town(A) | |
| FAT3q | 26.11.94 | Crawley Town(H) | |
| BHP | 3.12.94 | Leek Town (A) | |
| DMCQ | 16.1.95 | Worcester City (A) | |
| FAT1 | 24.1.95 | Sudbury Town (H) | |
| BHP | 28.1.95 | Cheltenham Tn (A) | |
| BHP | 4.2.95 | Sittingbourne (H) | |
| DMCQr | 7.2.95 | Worcester City (H) | 1 goal |
| BHP | 18.2.95 | Atherstone Utd (A) | |
| FAT2 | 20.2.95 | Farnborough Tn(A) | |
| BHP | 25.2.95 | Gresley Rovers(H) | |
| DMCS/1 | 28.2.95 | Leek Town (H) | 1 goal |
| FAT3 | 4.3.95 | Halesowen Tn (H) | |
| DMCS/2 | 7.3.95 | Leek Town (A) | |
| BHP | 11.3.95 | Corby Town (H) | |
| HSCSF | 14.3.95 | Rothwell Town (A) | |
| BHP | 18.3.95 | Gloucester City(A) | |
| BHP | 21.3.95 | Leek Town (H) | |
| FAT4 | 25.3.95 | Enfield (A) | 1 goal |
| FAT4r | 28.3.95 | Enfield (H) | |
| BHP | 30.3.95 | Gravesend&Nflt(H) | |
| BHP | 1.4.95 | Atherstone td (H) | |
| BHP | 3.4.95 | Hednesford Tn (A) | |
| FATS/1 | 8.4.95 | Woking (H) | |
| BHP | 11.4.95 | Hednesford Tn (H) | |
| BHP | 29.4.95 | Worcester City(A) | 1 goal |
| BHP | 2.5.95 | Dorchester Tn (H) | |
| BHP | 4.5.95 | Sudbury Town (A) | |
1995/1996
| | | | |
| --- | --- | --- | --- |
| HSCF | 29.7.95 | Kettering Town (H) | 1 goal |
| HSCFr | 31.7.95 | Kettering Town (A) | |
| BHP | 28.8.95 | Burton Albion (A) | as sub |
| BHP | 2.9.95 | Hastings Town (A) | |
| NHP | 5.9.95 | VS Rugby (H) | |
| FAC1q | 9.9.95 | Grantham Town(H) | |
| BHP | 16.9.95 | Worcester City(A) | |
| BHP | 19.9.95 | Chelmsford City(H) | |
| FAC2q | 23.9.95 | Eastwood H'ley(H) | |
| BHP | 30.9.95 | Cheltenham Tn(A) | |
| FAC3q | 7.10.95 | Sandwell Boro(A) | |
| BHP | 14.10.95 | Gresley Rovers(A) | |
| FAC4 | 21.10.95 | Purfleet (A) | |
| FAC4r | 24.10.95 | Purfleet (H) | |
| BHP | 28.10.95 | Merthyr Tydfil (A) | |
| DMC1/1 | 1.11.95 | Kings Lynn (H) | |
| BHP | 4.11.95 | Stafford Rgrs (H) | 1 goal |
| FAC1 | 11.11.95 | Cardiff City (H) | |
| BHP | 15.11.95 | VS Rugby (A) | |
| BHP | 18.11.95 | Gravesend&Nflt(A) | |
| BHP | 21.11.95 | Burton Albion (H) | |
| BHP | 25.11.95 | Atherstone Utd(H) | |
| BHP | 28.11.95 | Baldock Town (H) | |
| BHP | 2.12.95 | Crawley Town (A) | 1 goal |
| DMC1/2 | 5.12.95 | Kings Lynn (A) | |
| BHP | 9.12.95 | Dorchester Tn (A) | |
| BHP | 12.12.95 | Gloucester City(H) | |
| BHP | 16.12.95 | Hastings Town (H) | |
| HSCSF | 30.1.96 | Raunds Town (H) | |
| BHP | 24.2.96 | Newport (A) | as sub |
| BHP | 5.3.96 | Sudbury Town (H) | |
| BHP | 16.3.96 | Cambridge City(A) | |
| BHP | 19.3.96 | Halesowen Tn (A) | |
| BHP | 23.3.96 | Ilkeston Town (A) | |
| HSCF | 26.3.96 | Rothwell Town (A) | |
| BHP | 30.3.96 | Halesowen Tn (H) | |
| BHP | 4.4.96 | Dorchester Tn (H) | |
| BHP | 6.4.96 | Cambridge City(H) | |
| BHP | 8.4.96 | Sudbury Town (A) | |
1996/1997
| | | | |
| --- | --- | --- | --- |
| SLCS | 10.8.96 | Nuneaton Boro(H) | as sub |
| Conf | 20.8.96 | Slough Town (A) | as sub |
| Conf | 24.8.96 | Northwich Vic (H) | |
| Conf | 26.8.96 | Hayes (A) | |
| Conf | 31.8.96 | Stalybridge Cltc(H) | |
| Conf | 3.9.96 | Macclesfield Tn(H) | |
| Conf | 7.9.96 | Halifax Town (A) | |
| Conf | 9.9.96 | Northwich Vic (A) | |
| FAC1q | 14.9.96 | Westfields (A) | |
| Conf | 17.9.96 | Farnborough (H) | |
| Conf | 21.9.96 | Woking (A) | |
| Conf | 24.9.96 | Stevenage Boro(H) | |
| FAC2q | 28.9.96 | Gresley Rvrs (H) | |
| Conf | 30.9.96 | Hednesford Tn (A) | |
| Conf | 5.10.96 | Welling Utd (H) | |
| SC1 | 8.10.96 | Dover Athletic (A) | |
| FAC3q | 12.10.96 | Bilston Town (H) | |
| Conf | 14.10.96 | Kidderminster (A) | |
| Conf | 19.10.96 | Gateshead (H) | |
| FAC4q | 26.10.96 | Bognor Regis (H) | |
| Conf | 2.11.96 | Southport (A) | |
| Conf | 9.11.96 | Dover Athletic (H) | |
| HSC2 | 12.11.96 | Kettering Town (A) | |
| FAC1 | 16.11.96 | Boreham Wood(A) | |
| SC1 | 19.11.96 | Stevenage Boro(H) | |
| Conf | 23.11.96 | Morecambe (A) | |
| FAC1r | 26.11.96 | Boreham Wood(H) | |
| Conf | 30.11.96 | Bath City (H) | |
| SC3 | 16.12.96 | Kidderminster (A) | |
1997/1998
| | | | |
| --- | --- | --- | --- |
| Conf | 20.9.97 | Yeovil Town (A) | |
| Conf | 27.9.97 | Southport (A) | |
| SC1 | 7.10.97 | Hayes (A) | as sub |
| Conf | 18.10.97 | Kidderminster (A) | |
| FAC4q | 25.10.97 | Boreham Wood(H) | |
| FAC4qr | 28.10.97 | Boreham Wood(A) | |
| Conf | 1.11.97 | Slough Town (H) | |
| Conf | 15.11.97 | Kidderminster (H) | |
| HSCQF | 18.11.97 | Brackley Town (A) | |
| Conf | 6.12.97 | Northwich Vic (A) | |
| Conf | 13.12.97 | Dover Athletic (H) | |
| Conf | 20.12.97 | Hayes (A) | |
| Conf | 26.12.97 | Stevenage Boro(H) | |
| Conf | 1.1.98 | Stevenage Boro(A) | |
| FAT1 | 10.1.98 | Farnborough Tn(H) | |
| Conf | 17.1.98 | Southport (H) | |
| Conf | 24.1.98 | Dover Athletic (A) | |
| HSCSF | 27.1.98 | Raunds Town (H) | |
| FAT2 | 31.1.98 | Cheltenham Tn(A) | |
| Conf | 7.2.98 | Halifax Town (H) | |
| Conf | 14.2.98 | Gateshead (A) | |
| Conf | 21.2.98 | Kettering Town (A) | |
| Conf | 28.2.98 | Stalybridge Cltc(H) | |
| Conf | 7.3.98 | Cheltenham Tn(H) | |
| Conf | 14.3.98 | Woking (A) | |
| Conf | 21.3.98 | Halifax Town (A) | |
| Conf | 23.3.98 | Hednesford Tn (A) | |
| Conf | 28.3.98 | Morecambe (H) | |
| Conf | 4.4.98 | Telford Utd (A) | |
| Conf | 13.4.98 | Stalybridge Cltc(A) | |
| Conf | 18.4.98 | Leek Town (H) | |
| Conf | 21.4.98 | Yeovil Town (H) | |
| Conf | 25.4.98 | Hereford Utd (A) | |
| Conf | 28.4.98 | Welling Utd (H) | |
| Conf | 2.5.98 | Telford Utd (H) | |
1998/1999
| | | | |
| --- | --- | --- | --- |
| Conf | 15.8.98 | Forest Green (A) | |
| Conf | 18.8.98 | Welling Utd (H) | |
| Conf | 22.8.98 | Barrow (H) | |
| Conf | 25.8.98 | Kingstonian (A) | 1 goal |
| Conf | 29.8.98 | Southport (A) | |
| Conf | 31.8.98 | Hayes (H) | 1 goal |
| Conf | 5.9.98 | Yeovil Jct (A) | |
| Conf | 8.9.98 | Dover Athletic (A) | |
| Conf | 12.9.98 | Telford Utd (H) | |
| Conf | 19.9.98 | Doncaster Rvrs (A) | |
| Conf | 26.9.98 | Hereford Utd (H) | |
| Conf | 3.10.98 | Northwich Vic (H) | |
| FAC4q | 9.11.98 | Leatherhead (A) | |
| FAC1 | 14.11.98 | Shrewsbury Tn (H) | |
| FAT2 | 21.11.98 | Bath City (H) | |
| Conf | 28.11.98 | Cheltenham Tn(A) | |
| FAC2 | 5.12.98 | Doncaster Rvrs (A) | |
| Conf | 12.12.98 | Telford Utd (A) | |
| FAC2r | 15.12.98 | Doncaster Rvrs (H) | |
| Conf | 19.12.98 | Farnborough Tn(H) | |
| Conf | 26.12.98 | Stevenage Boro(A) | |
| Conf | 28.12.98 | Woking (H) | |
| FAC3 | 2.1.99 | Leeds Utd (H) | |
| Conf | 9.1.99 | Barrow (A) | |
| FAC3r | 13.1.99 | Leeds Utd (A) | |
| Conf | 23.1.99 | Doncaster Rvrs (H) | |
| FAT3 | 25.1.99 | Slough Town (A) | |
| Conf | 30.1.99 | Northwich Vic (A) | |
| Conf | 2.2.99 | Kidderminster (H) | |
| FAT4 | 6.2.99 | Woking (A) | |
| FAT4r | 9.2.99 | Woking (H) | |
| HSCSF | 2.3.99 | Cogenhoe Utd (A) | |
| Conf | 9.3.99 | Stevenage Boro(H) | as sub |
| Conf | 16.3.99 | Dover Athletic (H) | |
| Conf | 23.3.99 | Leek Town (A) | 1 goal |
| Conf | 3.4.99 | Cheltenham Tn (H) | |
| Conf | 5.4.99 | Woking (A) | as sub |
| HSCSr | 10.4.99 | Cogenhoe Utd (H) | |
| Conf | 13.4.99 | Yeovil Jct (H) | as sub |
| HSCF | 18.4.99 | Raunds Town (A) | |
| Conf | 24.4.99 | Hereford Utd (A) | |
| Conf | 26.4.99 | Forest Green (H) | as sub |
| Conf | 1.5.99 | Kettering Town (H) | as sub |
1999/2000
| | | | |
| --- | --- | --- | --- |
| MCF | 31.7.99 | Northampton Tn(H) | |
| Conf | 14.8.99 | Morecambe (A) | |
| Conf | 17.8.99 | Telford Utd (H) | |
| Conf | 28.8.99 | Sutton Utd (A) | as sub |
| Conf | 7.9.99 | Hayes (H) | as sub |
| Conf | 25.9.99 | Hednesford Tn (A) | as sub |
| Conf | 28.9.99 | Hereford Utd (A) | |
| FAC1 | 29.10.99 | Scunthorpe Utd(H) | as sub |
| Conf | 2.11.99 | Nuneaton Boro(A) | |
| Conf | 6.11.99 | Dover Athetic (H) | |
| FAC2 | 20.11.99 | Ilkeston Town (A) | |
| NT2 | 23.11.99 | Telford Utd (H) | |
| FAT2 | 27.11.99 | Havant & W (H) | |
| FAC2r | 30.11.99 | Ilkeston Town (H) | 1 goal |
| Conf | 4.12.99 | Hayes (A) | |
| FAC3 | 12.12.99 | Sheffield Utd (A) | |
| Conf | 18.12.99 | Telford Utd (A) | |
| FAC3r | 21.12.99 | Sheffield Utd (H) | |
| Conf | 27.12.99 | Stevenage Boro(H) | |
| Conf | 3.1.00 | Stevenage Boro(A) | |
| FAT3 | 15.1.00 | Bath City (A) | |
| Conf | 22.1.00 | Forest Green (A) | |
| Conf | 29.1.00 | Northwich Vic (H) | |
| FAT4 | 5.2.00 | Billericay Tn (A) | |
| FAT4r | 8.2.00 | Billericay Tn (H) | |
| Conf | 12.2.00 | Dover Athletic (A) | |
| Conf | 15.2.00 | Forest Green (H) | |
| Conf | 22.2.00 | Hednesford Tn (H) | |
| FAT5 | 26.2.00 | Marine (H) | |
| Conf | 4.3.00 | Kingstonian (A) | |
| Conf | 7.3.00 | Yeovil Town (H) | |
| FAT6 | 11.3.00 | Sutton Utd (A) | |
| FAT6r | 14.3.00 | Sutton Utd (H) | |