Mickey Nuttell
Mickey Nuttell
Born 22 November 1968 (Age 24 at debut)
Position: Forward
(Diamonds player #28)
Total appearances 115 – 63 goals
(73 League, 10 FA Cup, 11 FA Trophy, 12 League Cup, 8 Hillier Senior Cup. 1 Maunsell Cup)
Debut:
21 August 1993 (Home Clevedon Town)
Final game:
20 January 1996 (Home Purfleet)
Boston born striker Mickey (Michael) Nuttell started his career with Peterborough United in 1985. During his time at the Posh, he went out on loan to Crewe Alexandra and Carlisle United, before being sold to Cheltenham Town for £8000. in January 1989. Wycombe Wanderers paid £6000 for his services in September 1990, before he joined Boston United in 1991 for £14,000 before joining Kettering Town, then Dagenham & Redbridge, where scouts from Tottenham Hotspur took an interest. He moved to Nene Park in July 1993, for a £10,000 fee and was top scorer in the 1993 / 1994 season with 29 league goals as the Diamonds won the Beazer Homes Midland Division .He appeared in 40 of the 42 league games. He also played in the Beazer Homes Premier Division for the Diamonds, and maintained an excellent goalscoring record throughout. He made only a dozen or so appearances in the 1995/1996 season, mainly off the bench, and went out on loan to his hometown club of Boston United in January 1996. He was released in March 1996 to join Burton Albion.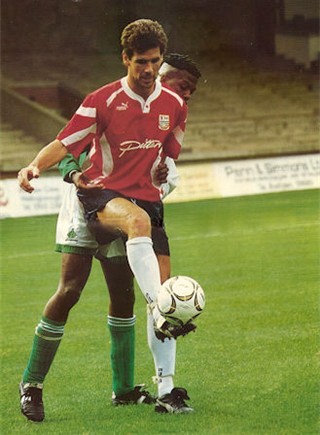 After completing the season with the Brewers, he joined Kettering Town, but was released by the Poppies manager Peter Morris in the summer of 1998 and joined Kings Lynn. The following year, he was back for a third spell at Boston United, before a spells with Wisbech Town in July 2001, Bedford Town and Holbeach United. He joined Spalding United in the summer of 2003 and it was while he was with Spalding that his wife was killed in a car accident in May 2004. He later spent two seasons with Bourne Town, before joining Boston Town in the summer of 2006. He needed a hernia operation and his appearances were limited. He went back for a 4th spell at Boston United in February 2008. Mickey returned to Boston Town again, an was still making appearances at the age of 43, and combining his appearances, with coaching the Under16 / 18's at Boston United. He is still linked to the Boston area, but has hung up his boots.
Appearances
1993/1994
| | | | |
| --- | --- | --- | --- |
| BHM | 21.8.93 | Clevedon Tn (H) | 1 goal |
| BHM | 24.8.93 | Tamworth (A) | 1 goal |
| FACp | 28.8.93 | Rocester (A) | 1 goal |
| BHM | 30.8.93 | Bedworth Utd (H) | 2 goals |
| BHM | 4.9.93 | Stourbridge (A) | |
| DMCp/1 | 7.9.93 | Grantham Tn (A) | |
| FAC1q | 11.9.93 | SuttonColdfield(H) | |
| BHM | 14.9.93 | Kings Lynn (H) | 1 goal |
| BHM | 18.9.93 | Bridgnorth Tn (A) | |
| DMCp/2 | 21.9.93 | Grantham Tn (H) | 1 goal |
| FAC2q | 25.9.93 | Rothwell Town (H) | 1 goal |
| FAC2qr | 28.9.93 | Rothwell Town (A) | |
| BHM | 2.10.93 | Dudley Town (A) | 2 goals |
| FAC3q | 9.10.93 | BurtonAlbion (H) | 1 goal |
| HSC1 | 12.10.93 | Cogenhoe Utd (H) | 3 goals |
| FAT2q | 16.10.93 | Burton Albion (H) | |
| DMC1/1 | 19.10.93 | Bedworth Utd (H) | 1 goal |
| FAC4q | 23.10.93 | Bromsgrove R(H) | |
| DMC1/2 | 26.10.93 | Bedworth Utd (A) | |
| BHM | 30.10.93 | Redditch Utd (A) | |
| BHM | 6.11.93 | Hinckley Town(H) | |
| DMC2 | 9.11.93 | Cambridge C (H) | 1 goal |
| BHM | 13.11.93 | Bilston Town (H) | 2 goals |
| BHM | 20.11.93 | Tamworth (H) | 1 goal |
| BHM | 27.11.93 | Stourbridge (H) | |
| HSC2 | 30.11.93 | Rothwell Town(A) | |
| BHM | 4.12.93 | Dudley Town (H) | |
| DMC2r | 7.12.93 | Cambridge C (A) | |
| BHM | 18.12.93 | Leicester Utd (A) | |
| BHM | 27.12.93 | VS Rugby (H) | 1 goal |
| BHM | 1.1.94 | Grantham Tn (A) | |
| BHM | 3.1.94 | RC Warwick (H) | |
| BHM | 8.1.94 | Armitage 90 (A) | 2 goals |
| BHM | 26.1.94 | Newport AFC (A) | |
| BHM | 29.1.94 | Weston-s-M (A) | 1 goal |
| BHM | 5.2.94 | Yate Town (H) | 1 goal |
| BHM | 8.2.94 | Kings Lynn (A) | |
| BHM | 12.2.94 | Evesham Utd (A) | 2 goals |
| BHM | 19.2.94 | Newport AFC (H) | |
| BHM | 26.2.94 | Leicester Utd (H) | 1 goal |
| BHM | 1.3.94 | Bedworth Utd (A) | 1 goal |
| BHM | 5.3.94 | Bilston Town (A) | |
| BHM | 8.3.94 | Bridgnorth Tn (H) | |
| BHM | 12.3.94 | Yate Town (A) | |
| BHM | 19.3.94 | Weston-s-M (H) | 1 goal |
| BHM | 23.3.94 | Clevedon Tn (A) | |
| BHM | 26.3.94 | Hinckley Town (A) | 1 goal |
| HSCSF | 29.3.94 | Kettering Tn (H) | 1 goal |
| BHM | 2.4.94 | VS Rugby (A) | 1 goal |
| BHM | 9.4.94 | RC Warwick (A) | |
| BHM | 12.4.94 | Grantham Tn (H) | 2 goals |
| BHM | 16.4.94 | Armitage 90 (H) | 2 goals |
| BHM | 23.4.94 | SuttonColdfield(A) | |
| HSCF | 26.4.94 | N'ton Spencer (H) | |
| BHM | 30.4.94 | Evesham Utd (H) | |
| BHM | 2.5.94 | Forest Green (H) | 2 goals |
| BHM | 7.5.94 | Redditch Utd (H) | 1goal |
1994/1995
| | | | |
| --- | --- | --- | --- |
| MCF | 2.8.94 | Peterboro Utd (H) | 1 goal |
| BHP | 20.8.94 | Cheltenham Tn(H) | |
| BHP | 23.8.94 | Gravesend&Nflt(A) | |
| BHP | 27.8.94 | Halesowen Tn (H) | |
| BHP | 29.8.94 | Trowbridge Tn (H) | |
| BHP | 3.9.94 | BurtonAlbion (H) | |
| BHP | 6.9.94 | Crawley Town (A) | 2 goals |
| FAC1q | 10.9.94 | E'wood Hanley(A) | |
| FAT1rq | 17.9.94 | Hendon (H) | |
| FAT1r | 20.9.94 | Hendon (A) | |
| HSC1 | 27.9.94 | Desborough (H) | 2 goals |
| BHP | 1.10.94 | Gresley Rovers(A) | 1 goal |
| DMC1/1 | 4.10.94 | Rothwell Town (H) | |
| BHP | 8.10.94 | Crawley Town (H) | 1 goal |
| FAT2q | 15.10.94 | Wembley (H) | |
| DMC1/2 | 18.10.94 | Rothwell Town (A) | |
| BHP | 22.10.94 | Dorchester Tn (A) | |
| HSC2 | 25.10.94 | N'ton Spencer (H) | 2 goals |
| BHP | 29.10.94 | Gloucester City(H) | |
| BHP | 15.11.94 | Trowbridge Tn (A) | |
| BHP | 19.11.94 | Corby Town(A) | 1 goal |
| FAT3q | 26.11.94 | Crawley Town(H) | |
| BHP | 3.12.94 | Leek Town (A) | 1 goal |
| BHP | 10.12.94 | Halesowen Tn (H) | 1 goal |
| DMC3 | 14.12.94 | Baldock Town (H) | |
| BHP | 17.12.94 | Solihull Boro (H) | 1 goal |
| BHP | 26.12.94 | Cambridge City(A) | |
| BHP | 31.12.94 | Hastings Town (A) | 1 goal |
| BHP | 2.1.95 | Chelmsford City(H) | |
| BHP | 7.1.95 | Worcester City(H) | |
| BHP | 14.1.95 | VS Rugby (A) | |
| DMCS/1 | 28.2.95 | Leek Town (H) | as sub |
| FAT3 | 4.3.95 | Halesowen Tn (H) | 2 goals |
| DMCS/2 | 7.3.95 | Leek Town (A) | |
| BHP | 11.3.95 | Corby Town (H) | 1 goal |
| HSCSF | 14.3.95 | Rothwell Town (A) | |
| BHP | 21.3.95 | Leek Town (H) | 2 goals |
| FAT4 | 25.3.95 | Enfield (A) | |
| FAT4r | 28.3.95 | Enfield (H) | |
| BHP | 30.3.95 | Gravesend&Nflt(H) | 2 goals |
| BHP | 1.4.95 | Atherstone td (H) | 1 goal |
| BHP | 3.4.95 | Hednesford Tn (A) | |
| FATS/1 | 8.4.95 | Woking (H) | |
| FATS/2 | 15.4.95 | Woking (A) | |
| BHP | 22.4.95 | Solihull Boro (A) | |
| BHP | 26.4.95 | Sittingbourne (A) | |
1995/1996
| | | | |
| --- | --- | --- | --- |
| BHP | 2.9.95 | Hastings Tn (A) | as sub |
| BHP | 19.9.95 | Chelmsford C (H) | |
| FAC2q | 23.9.95 | E'wood Hanley(H) | |
| BHP | 30.9.95 | Cheltenham Tn(A) | as sub |
| FAC4 | 21.10.95 | Purfleet (A) | as sub |
| DMC1/1 | 1.11.95 | Kings Lynn (H) | |
| BHP | 4.11.95 | Stafford Rgrs (H) | as sub |
| HSCQF | 7.11.95 | Long Buckby (H) | 2 goals |
| FAC1 | 11.11.95 | Cardiff City (H) | |
| BHP | 25.11.95 | Atherstone Utd(H) | as sub |
| BHP | 28.11.95 | Baldock Town (H) | as sub |
| FAT1 | 20.1.96 | Purfleet (H) | as sub |