Richard Bailey
Richard Bailey
Born 29 October 1974 (Age 18 at debut)
Position: Forward
(Diamonds player #23)
Total appearances 70 – 12 goals
(44 League, 7 FA Cup, 5 FA Trophy, 10 League Cup, 4 Hillier Senior Cup)
Debut:
6 January 1993 (Home Stewarts & Lloyds)
Final game:
15 March 1997 (Away Bromsgrove Rovers)
Richard was a member of the Diamonds youth team and joined the first team squad midway through their inaugural season. He rarely commanded a regular starting place in the first team during five seasons at the club, with many of his league appearances being from the bench. He was the elder brother of another former Diamond, Trevor Benjamin. Following promotion to the Southern League Premier Division, he continued to find his first team opportunities limited, with just nine starts in 1994/1995 season and only a single start in the 1995/1996 season, with just a couple more the following season as the Diamonds reached the Conference. He left the club in May 1997 after being released and joined Nuneaton Borough.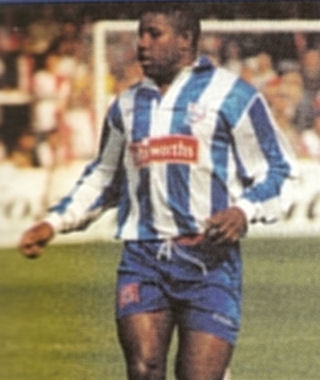 In 1999, Richard joined Stamford, spending several years there before moving to Raunds Town in the summer of 2003. After several years at Raunds, he spent a brief period at Long Buckby before signing for Wellingborough Town in November 2008. He returned to Stamford the following year, before retiring from the game. At the age of 39, he returned to the game signing for UCL Division One side Burton Park Wanderers at the end of March 2014 as a possible cover in a midfield role, although did not make an appearance. No further record of his involvement with the game has been found through to 2018.
Appearances
1992/1993
| | | | |
| --- | --- | --- | --- |
| HSC2 | 6.1.93 | Stewarts&Lloyds(H) | |
| BHM | 9.1.93 | Stourbridge (H) | as sub |
1993/1994
DMCp/1

7.9.93

Grantham Tn (A)

as sub

FAC1q

11.9.93

Sutton C'field(H)

as sub

HSC1

12.10.93

Cogenhoe Utd (H)

as sub

FAC4q

23.10.93

Bromsgrove R (H)

as sub

DMC1/2

26.10.93

Bedworth Utd (A)

DMC2r

7.12.93

Cambridge C (A)

as sub

BHM

18.12.93

Leicester Utd (A)

as sub

BHM

3.1.94

RC Warwick (H)

as sub

BHM

15.1.94

Sutton C'field(H)

as sub

1 goal

BHM

22.1.94

Forest Green (A)

BHM

29.1.94

Weston-s-M (A)

as sub

BHM

5.2.94

Yate Town (H)

as sub

1 goal

BHM

8.2.94

Kings Lynn (A)

as sub

BHM

19.2.94

Newport AFC (H)

as sub

BHM

26.2.94

Leicester Utd (H)

as sub

1 goal

BHM

5.3.94

Bilston Town (A)

as sub

BHM

12.3.94

Yate Town (A)

2 goals

BHM

19.3.94

Weston-s-M (H)

BHM

23.3.94

Clevedon Town(A)

BHM

26.3.94

Hinckley Town (A)

as sub

BHM

9.4.94

RC Warwick (A)

as sub

BHM

12.4.94

Grantham Tn (H)

as sub

HSCF

26.4.94

N'ton Spencer (H)

as sub

BHM

30.4.94

Evesham Utd (H)

as sub
1994/1995
DMC2

8.11.94

Bedworth Utd (H)

as sub

1 goal

BHP

19.11.94

Corby Town(A)

as sub

2 goals

FAT3q

26.11.94

Crawley Town(H)

as sub

BHP

3.12.94

Leek Town (A)

BHP

10.12.94

Halesowen Tn (H)

as sub

BHP

17.12.94

Solihull Boro (H)

as sub

DMCQ

16.1.95

Worcester City(A)

FAT1

24.1.95

Sudbury Town (H)

BHP

28.1.95

Cheltenham Tn(A)

as sub

BHP

4.2.95

Sittingbourne (H)

1 goal

DMCQr

7.2.95

Worcester City(H)

FAT2

20.2.95

Farnborough Tn(A)

BHP

25.2.95

Gresley Rovers(H)

as sub

BHP

21.3.95

Leek Town (H)

as sub

FAT4

25.3.95

Enfield (A)

FAT4r

28.3.95

Enfield (H)

BHP

30.3.95

Gravesend&Nflt(H)

as sub

BHP

17.4.95

Cambridge City(H)

as sub

BHP

22.4.95

Solihull Boro (A)

as sub

BHP

23.4.95

Hastings Town (H)

BHP

24.4.95

Chelmsford City(A)

BHP

26.4.95

Sittingbourne (A)

BHP

29.4.95

Worcester City(A)

BHP

2.5.95

Dorchester Tn (H)

1 goal

BHP

4.5.95

Sudbury Town (A)

BHP

6.5.95

Sudbury Town (H)
1995/1996
| | | | |
| --- | --- | --- | --- |
| BHP | 5.9.95 | VS Rugby (H) | 1 goal |
| BHP | 19.9.95 | Chelmsford City(H) | as sub |
| FAC2q | 23.9.95 | EastwoodHanley(H) | as sub |
| DMC1/1 | 1.11.95 | Kings Lynn (H) | as sub |
| DMC1/2 | 5.12.95 | Kings Lynn (A) | |
| HSCSF | 30.1.96 | Raunds Town (H) | as sub |
| BHP | 13.4.96 | Newport (H) | as sub |
1996/1997
| | | | |
| --- | --- | --- | --- |
| Conf | 21.9.96 | Woking (A) | 1 goal |
| FAC3q | 12.10.96 | Bilston Town (H) | as sub |
| Conf | 14.10.96 | Kidderminster (A) | |
| Conf | 19.10.96 | Gateshead (H) | |
| FAC4q | 26.10.96 | Bognor Regis (H) | as sub |
| FAC1 | 16.11.96 | Boreham Wood(A) | as sub |
| SC1 | 19.11.96 | Stevenage Boro(H) | |
| Conf | 23.11.96 | Morecambe (A) | |
| FAC1r | 26.11.96 | Boreham Wood(H) | as sub |
| SC3 | 16.12.96 | Kidderminster (A) | as sub |
| Conf | 15.3.97 | Bromsgrove Rvs(A) | as sub |