Andy Kirkup
Andy Kirkup
Born 17 October 1964 (Age 27 at debut)
Position: Midfielder
(Diamonds player #19)
Total appearances 166 – 48 goals
(109 League, 16 FA Cup, 3 FA Trophy, 5 FA Vase, 18 League Cup, 13 Hillier Senior Cup, 1 Maunsell Cup, 1 Conference Shield)
Debut:
26 September 1992 (Away Hednesford Town)
Final game:
28 September 1996 (Home Gresley Rovers)
Andy started his career with Corby Town, before spending a couple of seasons with Wellingborough Town in the late-1980's. He joined Rushden Town, and was one of a number of players to transfer to the new club in the summer of 1992. Playing mainly as a winger / striker, Andy was very much a utility player and he made his debut for the new club in their first FA Cup game defeat, at Hednesford. He scored the first Diamonds hat-trick – against Evesham, as he broke his duck in the league for the club. He worked as a warehouse manager and remained with the club as they gained promotion into the Conference via the Southern League Premier Division. During the first season in the Conference however, his opportunities were limited to just seven League substitute appearances and an offer of £4,500 from Gloucester City in October 1996 was accepted.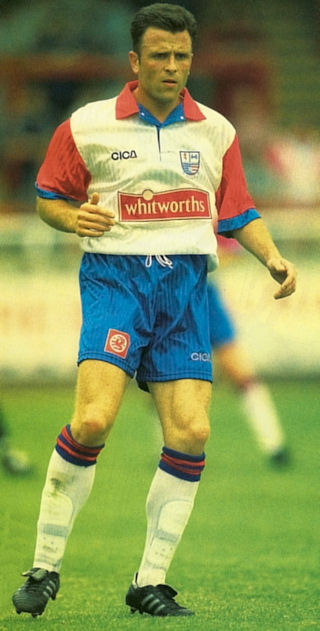 He spent just a single season at Gloucester making 25 appearances for them, before moving back to Northamptonshire with Rothwell Town in July 1997, for whom he captained the side. He moved to Raunds Town at the start of the following season, but moved Nuneaton Borough in December 1998. He was released again in May 1999, and joined Cambridge City briefly before returning to Rothwell Town. He had another spell at Cambridge City, where he took up the role of caretaker manager before becoming assistant to David Batch, but both were dismissed in December 2002. He then retired from the football scene.
Appearances
1992/1993
FAC2q

26.9.92

Hednesford Tn (A)

as sub

FAVp

3.10.92

Anstey Nomads(H)

CSC1/1

6.10.92

Atherstone Utd (H)

1 goal

BHM

10.10.92

Bridgnorth Tn (A)

HSC1

13.10.92

Brackley Town (H)

1 goal

BHM

17.10.92

Yate Town (H)

CSC1/2

20.10.92

Atherstone Utd(A)

BHM

24.10.92

Forest Green (A)

BHM

27.10.92

Redditch Utd (H

FAV1

31.10.92

Halesowen Hrs(H)

FAV1r

3.11.92

Halesowen Hrs(A)

CSC2

10.11.92

Buckingham Tn(H)

BHM

17.11.92

GranthamTn (H)

as sub

FAV2

21.11.92

Gresley Rvrs (H)

as sub

1 goal

FAV2r

24.11.92

Gresley Rvrs (A)

as sub

1 goal

BHM

28.11.92

Evesham Utd (H)

3 goals

BHM

5.12.92

Dudley Town (A)

BHM

12.12.92

Newport AFC (H)

1 goal

BHM

19.12.92

Gresley Rvrs (A)

BHM

28.12.92

Kings Lynn (H)

3 goals

BHM

2.1.93

Bilston Town (A)

HSC2

6.1.93

Stewarts&Lloyds(H)

BHM

9.1.93

Stourbridge (H)

CSC3

12.1.93

Gresley Rvrs (H)

BHM

23.1.93

Bedworth Utd (H)

CSCQ

26.1.93

Stourbridge (A)

BHM

30.1.93

Tamworth (A)

CSCQr

2.2.93

Stourbridge (H)

BHM

6.2.93

Dudley Town (H)

HSCSF

9.2.93

Long Buckby (A)

BHM

13.2.93

Yate Town (A)

BHM

20.2.93

Weston-s-Mare(H)

1 goal

BHM

24.2.93

Newport AFC (A)

BHM

6.3.93

Forest Green (H)

BHM

18.3.93

Nuneaton Boro(H)

as sub

BHM

3.4.93

Bedworth Utd (A)

as sub

2 goals

BHM

10.4.93

Leicester Utd (H)

BHM

12.4.93

Kings Lynn (A)

BHM

17.4.93

Sutton Coldfield(H)

1 goal

BHM

22.4.93

Stourbidge (A)

1 goal

BHM

24.4.93

Evesham Utd (A)

HSCF

27.4.93

Kettering Town(A)

1 goal

BHM

1.5.93

Gresley Rovers(H)
1993/1994
| | | | |
| --- | --- | --- | --- |
| BHM | 21.8.93 | Clevedon Town (H) | |
| BHM | 24.8.93 | Tamworth (A) | as sub |
| FACp | 28.8.93 | Rocester (A) | |
| BHM | 30.8.93 | Bedworth Utd (H) | |
| BHM | 4.9.93 | Stourbridge (A) | |
| DMCp/1 | 7.9.93 | Grantham Tn (A) | 1 goal |
| FAC1q | 11.9.93 | Sutton Coldf'ld(H) | |
| BHM | 14.9.93 | Kings Lynn (H) | 1 goal |
| BHM | 18.9.93 | Bridgnorth Tn (A) | |
| DMCp/2 | 21.9.93 | Grantham Tn (H) | |
| FAC2q | 25.9.93 | Rothwell Town (H) | |
| FAC2qr | 28.9.93 | Rothwell Town (A) | |
| BHM | 2.10.93 | Dudley Town (A) | |
| FAC3q | 9.10.93 | BurtonAlbion (H) | |
| HSC1 | 12.10.93 | Cogenhoe Utd (H) | as sub |
| FAT2q | 16.10.93 | Burton Albion (H) | |
| DMC1/1 | 19.10.93 | Bedworth Utd (H) | |
| FAC4q | 23.10.93 | BromsgroveRvs(H) | 1 goal |
| DMC1/2 | 26.10.93 | Bedworth Utd (A) | |
| BHM | 6.11.93 | Hinckley Town (H) | 1 goal |
| DMC2 | 9.11.93 | Cambridge City(H) | |
| BHM | 13.11.93 | Bilston Town (H) | |
| BHM | 20.11.93 | Tamworth (H) | 1 goal |
| BHM | 27.11.93 | Stourbridge (H) | |
| HSC2 | 30.11.93 | Rothwell Town(A) | |
| BHM | 4.12.93 | Dudley Town (H) | 1 goal |
| DMC2r | 7.12.93 | Cambridge City(A) | 1 goal |
| BHM | 18.12.93 | Leicester Utd (A) | 2 goal |
| BHM | 27.12.93 | VS Rugby (H) | |
| BHM | 1.1.94 | Grantham Tn (A) | 1 goal |
| BHM | 15.1.94 | Sutton Coldf'ld(H) | |
| BHM | 23.3.94 | Clevedon Town (A) | |
| BHM | 26.3.94 | Hinckley Town (A) | |
| HSCSF | 29.3.94 | Kettering Town (H) | 2 goal |
| BHM | 2.4.94 | VS Rugby (A) | |
1994/1995
MCF

2.8.94

Peterboro Utd (H)

as sub

BHP

20.8.94

Cheltenham Tn(H)

as sub

BHP

27.8.94

Halesowen Tn (H)

as sub

BHP

29.8.94

Trowbridge Tn (H)

as sub

FAC1q

10.9.94

EastwoodH'ley(A)

DMC1/1

4.10.94

Rothwell Town (H)

as sub

FAT2q

15.10.94

Wembley (H)

as sub

DMC1/2

18.10.94

Rothwell Town (A)

as sub

1 goal

BHP

22.10.94

Dorchester Tn (A)

as sub

HSC2

25.10.94

N'ton Spencer (H)

as sub

BHP

5.11.94

Burton Albion (A)

DMC2

8.11.94

Bedworth Utd (H)

DMC3

14.12.94

Baldock Town (H)

as sub

DMCQ

16.1.95

Worcester City(A)

as sub

DMCQr

7.2.95

Worcester City(H)

as sub

BHP

30.3.95

Gravesend&Nflt(H)

BHP

11.4.95

Hednesford Tn (H)

as sub

BHP

17.4.95

Cambridge City (H)

as sub

BHP

22.4.95

Solihull Boro (A)

as sub

BHP

23.4.95

Hastings Town (H)

2 goals

BHP

24.4.95

Chelmsford City(A)

1 goal

BHP

26.4.95

Sittingbourne (A)

1 goal

BHP

29.4.95

Worcester City (A)

BHP

2.5.95

Dorchester Tn (H)

1 goal

BHP

4.5.95

Sudbury Town (A)

as sub

BHP

6.5.95

Sudbury Town (H)

1 goal
1995/1996
| | | | |
| --- | --- | --- | --- |
| HSCF | 29.7.95 | Kettering Town (H) | as sub |
| HSCFr | 31.7.95 | Kettering Town (A) | as sub |
| BHP | 19.8.95 | Salisbury City (H) | 1 goal |
| BHP | 21.8.95 | Chelmsford City(A) | as sub |
| BHP | 26.8.95 | Crawley Town (H) | |
| BHP | 28.8.95 | Burton Albion (A) | as sub |
| BHP | 2.9.95 | Hastings Town (A) | |
| FAC1q | 9.9.95 | Grantham Town (H) | |
| BHP | 16.9.95 | Worcester City (A) | as sub |
| FAC2q | 23.9.95 | EastwoodHanley(H) | as sub |
| BHP | 30.9.95 | Cheltenham Tn(A) | 1 goal |
| FAC3q | 7.10.95 | Sandwell Boro (A) | |
| BHP | 14.10.95 | Gresley Rovers(A) | |
| FAC4 | 21.10.95 | Purfleet (A) | |
| FAC4r | 24.10.95 | Purfleet (H) | |
| BHP | 28.10.95 | Merthyr Tydfil (A) | 1 goal |
| BHP | 4.11.95 | Stafford Rgrs (H) | |
| HSCQF | 7.11.95 | Long Buckby (H) | 1 goal |
| FAC1 | 11.11.95 | Cardiff City (H) | |
| BHP | 15.11.95 | VS Rugby (A) | |
| BHP | 18.11.95 | Gravesend&Nflt(A) | |
| BHP | 21.11.95 | Burton Albion (H) | |
| BHP | 25.11.95 | Atherstone Utd(H) | |
| BHP | 28.11.95 | Baldock Town (H) | 1 goal |
| BHP | 2.12.95 | Crawley Town (A) | |
| BHP | 9.12.95 | Dorchester Tn (A) | |
| BHP | 12.12.95 | Gloucester City(H) | 1 goal |
| BHP | 16.12.95 | Hastings Town (H) | |
| BHP | 23.12.95 | Ilkeston Town (H) | |
| BHP | 13.1.96 | Atherstone Utd(A) | |
| FAT1 | 20.1.96 | Purfleet (H) | |
| HSCSF | 30.1.96 | Raunds Town (H) | |
| BHP | 3.2.96 | Worcester City (H) | |
| BHP | 10.2.96 | Gravesend&Nflt(H) | |
| BHP | 13.2.96 | Baldock Town (A) | |
| BHP | 17.2.96 | Cheltenham Tn(H) | 2 goals |
| BHP | 24.2.96 | Newport (A) | |
| BHP | 5.3.96 | Sudbury Town (H) | 1 goal |
| BHP | 16.3.96 | Cambridge City(A) | |
| BHP | 19.3.96 | Halesowen Tn (A) | |
| BHP | 23.3.96 | Ilkeston Town (A) | |
| HSCF | 26.3.96 | Rothwell Town (A) | |
| BHP | 30.3.96 | Halesowen Tn (H) | |
| BHP | 4.4.96 | Dorchester Tn (H) | as sub |
| BHP | 6.4.96 | Cambridge City(H) | |
| BHP | 8.4.96 | Sudbury Town (A) | |
| BHP | 13.4.96 | Newport (H) | |
| BHP | 16.4.96 | Gresley Rovers(H) | |
| BHP | 20.4.96 | Gloucester City(A) | |
| BHP | 24.4.96 | Salisbury City (A) | 1 goal |
| BHP | 27.4.96 | Stafford Rgrs (A) | 2 goals |
| BHP | 4.5.96 | Merthyr Tydfil (H) | |
1996/1997
| | | | |
| --- | --- | --- | --- |
| SLCS | 10.8.96 | Nuneaton Boro (H) | as sub |
| Conf | 20.8.96 | Slough Town (A) | as sub |
| Conf | 24.8.96 | Northwich Vic (H) | as sub |
| Conf | 31.8.96 | Stalybridge Cltc(H) | as sub |
| Conf | 9.9.96 | Northwich Vic (A) | as sub |
| FAC1q | 14.9.96 | Westfields (A) | as sub |
| Conf | 17.9.96 | Farnborough (H) | as sub |
| Conf | 21.9.96 | Woking (A) | as sub |
| Conf | 24.9.96 | Stevenage Boro(H) | as sub |
| FAC2q | 28.9.96 | Gresley Rvrs (H) | as sub |